Recipe: gougères
For some reason, I had this naive notion in my head that there was plenty of time to get all of the holiday, work, house, and social tasks done before leaving town. I hadn't counted on losing three of those days to back pain which turned my three remaining days into an all out assault on my to-do list. Do you bakers ever think to yourself in the middle of mixing a batch of cookie dough, "Maybe I'll just give them three kinds of cookies instead of four…"? Because I think that quite a bit – especially when I reach up to scratch my forehead and wind up leaving a smear of creamed butter and brown sugar where the itch was. Still, I stuck with four types of cookies and tossed in a batch of brittle at the last minute to boot! At some point around midnight, I looked up from the hundreds of cookies on cooling racks covering every known inch of counter space and said, "I hate cookies." Jeremy, who was in the final stretch of his exam-grading marathon held his hand up, his gaze still fixed upon the exam, muttering, "I'll commiserate with you in just a moment."
Truth is, I love giving cookies to people and watching their faces light up with smiles. Cookies are miniature edible gifts. Kids love cookies, adults love cookies, strangers love cookies. Most are hand-delivered although a few get shipped. If I happen to see you in that 48-hour window of time between The End of Baking and when I leave town, you should probably expect cookies. Wednesday was the day to wrap up all business, clean the house (because it sucks to come back home to a dirty house), deliver cookies, pack for Crested Butte, and meet up with people I don't get to see very often.

ramen lunch at oak with erin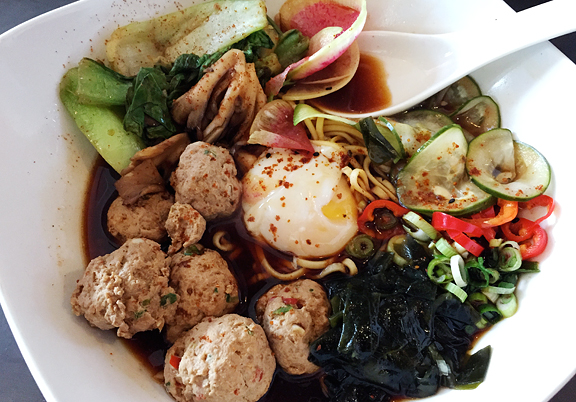 happy hour selfie with my baby cousin!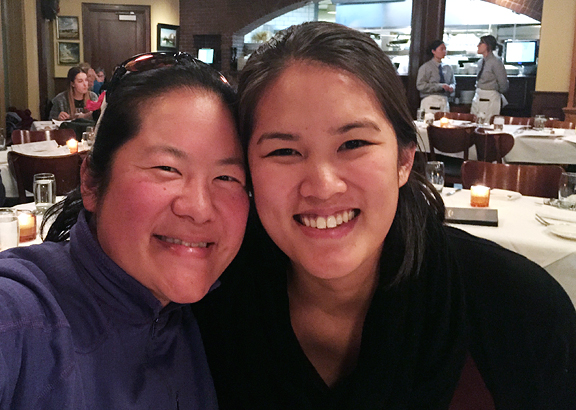 My aunt, cousins, and cousin-in-law made a detour to Boulder en route to Vail for a happy hour get together. When Mom learned that her younger sister was going to be seeing us in Colorado, she instructed me to gift them a bunch of food stuffs because… well, because Chinese mothers always think you will starve. I tucked four kinds of cookies in the bag, too. My aunt was recovering from the flu and she apologized for not making some cookies to give us. I reassured her that cookies were the last things I wanted to see for a while. The hope is that my immediate future involves three flavors of skiing, savory snacks, and time spent with my guy. Now, if you are knee-deep in party season, I have a nice savory appetizer to share. It's cheesy, elegant, and has a French name.
gougères: water, white pepper, flour, gruyère, eggs, salt, sugar, butter
Gougères are savory little baked puffs of choux pastry. It's similar to the puffs in cream puffs, but these are baked with cheese. You can use all sorts of cheeses, but Gruyère is my favorite in gougères. They even rhyme!
combine the butter, sugar, salt, and water in a pan
add the flour all at once
quickly stir the flour into the liquid
I've ordered gougères at a restaurant before – expecting to be transported to another world. They really aren't that much better than what I can produce in my kitchen, and you know my rule about not ordering something that I can make myself. Gougères are difficult to screw up. Just make sure you stir the flour into the melted butter mixture all at once and quickly. The dough should ball up. Keep stirring it around in the pot for about two minutes so that any excess moisture is evaporated from the dough.
stirring the dough
after beating in the eggs
stir in the cheese
The eggs are then thoroughly beaten into the dough. You can do this with a stand mixer and paddle attachment or by hand. It's a great arm workout. The dough will transform into a thick batter that should be smooth and satiny. Stir in the grated cheese and the batter is ready for piping. If you don't have piping equipment, a rounded spoonful of batter will work too. Use parchment or silpat on your baking sheet and be sure to give the gougères an inch or two of space between them.
pipe little mounds onto parchment-lined baking sheets
sprinkle with cheese
baked golden brown
Once the gougères are light golden brown, they should be hollow in the center (split one open to check for doneness) and the dough will be moist (but cooked). If you are making them ahead, store them in an airtight container in the freezer for up to a month. Reheat the gougères in a low oven for 5-10 minutes. Serve them hot and enjoy the party!
gougère is french for puffs of cheesy goodness
Gougères
[print recipe]
based on this recipe
1 cup water
7 tbsps unsalted butter, cut into pieces
1/2 tsp kosher salt (original recipe calls for 1 tbsp, but I think they're on crack)
pinch of sugar
1 1/4 cups all-purpose flour
4 (up to 5) large eggs
1 1/4 cups grated Gruyère cheese
white pepper, freshly ground
Set oven to 450°F and line two baking sheets with parchment paper or silpats. Place the water, butter, salt, and sugar in a medium saucepan over medium high heat. When the contents come to a boil, add the flour all at once. Reduce heat to medium and stir the flour into the liquid until it comes together and forms a ball of dough. Keep stirring to evaporate some of the water content from the dough for about 2 minutes. Remove the pan from the heat and place the dough in the bowl of a stand mixer. Using the paddle attachment, beat the dough on medium for 30 seconds to release some of the heat. Add the eggs one at a time, beating well after each addition, until the dough flows more like a batter and is smooth and silky in texture. If you pull the paddle out of the batter and turn it upside down, it should form a peak that will fall to the side. If the dough is too stiff, you can add some of the remaining egg to achieve the right consistency. Mix in 3/4 cup of the Gruyère and season with white pepper.
Pour the batter into a pastry bag fitted with a 3/8-inch plain pastry tip. Pipe 1-tablespoon mounds of batter 2 inches apart on the baking sheets. Sprinkle the gougères with the remaining grated cheese. Bake 7-8 minutes or until the gougères puff up and hold their shape. Turn the oven down to 350°F and bake another 20-25 minutes until the gougères are light golden in color. When you break one open, the inside should be hollow and the dough should be moist but cooked (think cream puffs). Remove from oven and serve hot. Makes about 4 dozen.
more goodness from the use real butter archives