Recipe: chinese lemon chicken
Welcome to 2015! What's new? Most of you already know that little changes for me with the new year (although I keep writing 2014 instead of 2015 on checks, waiver forms, and consent forms). But, it just so happens that I got a new hat. That might not be a big deal to you, but it is for me. When I find something that works for me, I use it until it is dead, threadbare, broken, kaput. The part I loathe is shopping around for a replacement. My trusty Patagonia fleece hat has kept my noggin warm and itch-free (because I'm allergic to wool) for 19 years. I've sewn it up over 11 times. I'll continue to bring it with me into the backcountry, but the new hat will take over noggin-duty in town.

my sauce headware tulip hat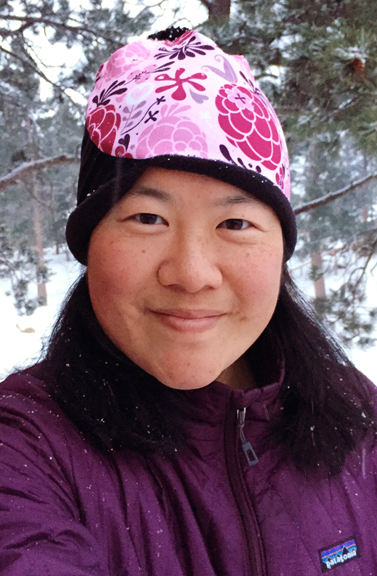 I found the brand in Crested Butte when I was in search of a good thin breathable toque for skate skiing in cold weather (I heat up very easily, even in single digit temperatures). There was a bigger selection online at
Sauce Headwear
and then of course, I went looking at other styles and fell in love with the tulip hat. My favorite feature of my toque is the ponytail hole (optional) – because I have a ponytail and most winter sports hats are made for dudes. So if you're active outside in winter and you need a functional, yet fun hat, you might want to check these out. Sauce doesn't know I'm telling you about their hats, I just really dig how well they work for me. I test drove the toque on a backcountry ski tour Sunday morning in 50 mph winds and it was great (the hat, not the winds). I also got to spend some quality time with my pals, Erin and Banjo, despite ground snow rudely blowing into my ears and mouth as well as winds literally knocking us over. What's up with that, Front Range?!?!
banjo kisses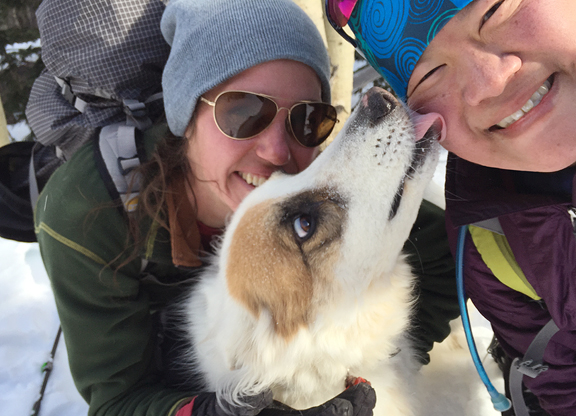 the best selfie we could manage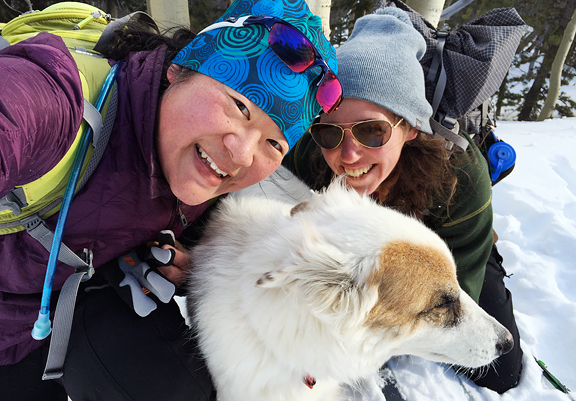 banjo leads us out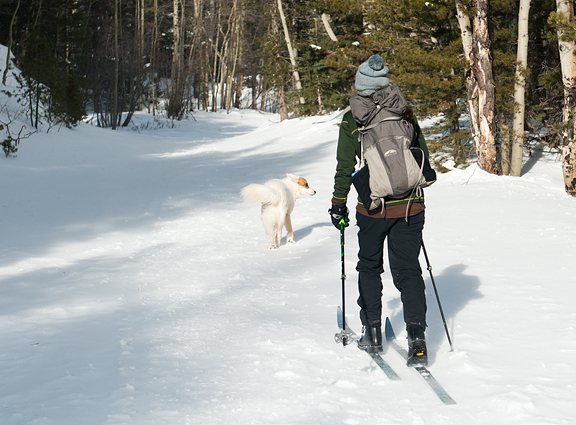 It was so nice to get some puppy time. I've been in withdrawal ever since Kaweah left us. It's gotten to the point where I pet each and every dog I encounter on trails, sidewalks, in yards, stores… I was like this for years before we got Kaweah. Back then, it was just an obsession of mine to have a dog, but now I actually know what is missing from my life. Kaweah left a big hole in my heart and I'm trying to fill it by loving on fifty different dogs in passing, which is like eating a bag of Skittles in place of dinner.
Jeremy's out of town at a meeting and he texted me after his talk to let me know he was heading to dinner with a colleague. I texted back: I want a puppy.
We are not impulsive people, so I know it will take time and a lot of deliberate thought before we bring a dog into our home – before we bring our dog into our lives. Jeremy isn't ready yet, but he's getting there. Eventually, we'll find our Colorado mountain dog, and you'll meet her too.
In the meantime, it's back to business as usual. We kept our holiday meal planning simple in Crested Butte because we didn't want to spend our time in the kitchen if we could be out skiing. It was a good break. And now I'm regarding recipes with anticipation rather than dread, like this lemon chicken.

flour, cornstarch (3 times), sugar, salt, sesame seeds, water, soy sauce, shoaxing cooking wine, lemons, chicken thighs
cut the chicken into pieces and juice the lemons
I haven't had lemon chicken in over 35 years. It isn't something I order in restaurants and the only time I've ever had it was when my dad made it during one of his occasional weekend dinner extravaganzas. Even though both of my parents are great cooks, my mother and grandmother prepared all of the meals during the week when I was little. It was only when Dad had some free time on weekends that he would plan and execute a special menu for dinner. Kris and I used to bounce and giggle watching Dad cook as he referred to recipes written in Chinese characters on the thin, delicate pages of a hefty old tome. He was always in a good mood when he cooked instead of concentrating on the equations and calculations in his study room. This was family fun time.
add soy sauce, cornstarch, and shaoxing wine to the chicken
mix and marinate for 30 minutes
combine the water, lemon juice, sugar, cornstarch, and salt to make the sauce
boil until the sauce is thickened
Dad's version of lemon chicken involved breading and frying a chicken breast and then slicing it before ladling the lemon sauce over it. This recipe from
Rasa Malaysia
fries the chicken pieces individually, which involves a little more labor, but I rather like the result. Restaurants tend to batter fry the chicken to the point of being mostly batter and not much chicken. I prefer how this method is mostly chicken with a light coating of flour and cornstarch. If you want to make it gluten-free, just dredge in all cornstarch (and sub in a gluten-free soy sauce in the marinade). Use chicken breast or chicken thigh meat. Since I'm a fan of dark meat, I opted for chicken thighs.
whisk the flour and cornstarch together (or just use all cornstarch)
coat the chicken in the cornstach mixture
fry the chicken until golden and drain on paper towels
While you may be tempted to use bottled lemon juice for the sauce, I think it's worth the extra (itty bitty) effort to squeeze a lemon or two if you have them. Taste the sauce and add more sugar if it's too sour for your liking. Once the chicken is fried, toss it with the hot lemon sauce until the pieces are all coated. Sprinkle the sesame seeds over the chicken – they should stick because of the sauce action.
pour the sauce over the chicken (and toss)
add sesame seeds
and serve
We quite liked the lemon chicken because it was mostly chicken rather than greasy fried batter. And the lemon sauce tasted of lemon instead of that overly sweet "sauce" that one typically finds on Americanized Chinese food. While the flavor was probably superior to the lemon chicken that my dad made 35 years ago, it was definitely lacking in the memories and carefree goofing off of childhood. Perhaps I'll surprise my parents and make this for them next time.
great with some vegetables and rice
Chinese Lemon Chicken
[print recipe]
from Rasa Malaysia
1 lb. chicken breast or thight, cut into small pieces (like two bites-sized pieces)
1/4 cup cornstarch
1/4 cup all-purpose flour (use 1/4 cup cornstarch instead of flour for gluten-free recipe)
vegetable oil for frying
1 tsp sesame seeds
marinade
1 tbsp soy sauce (use gluten-free soy sauce for gluten-free recipe)
1 tbsp Shaoxing cooking wine
1 tbsp cornstarch
sauce
6 tbsps lemon juice (fresh is best)
2 tbsps sugar (or more to taste)
5 tbsps water
1 tsp cornstarch
pinch of salt
Place the chicken and the marinade ingredients (soy sauce, Shaoxing cooking wine, and 1 tbsp cornstarch) in a medium bowl and mix together until the chicken is completely coated. Let marinate for 30 minutes. Mix the 1/4 cup of cornstarch and 1/4 cup of flour (or use 1/2 cup of cornstarch and omit the flour for gluten-free) together in a shallow bowl. Set aside. Whisk all of the sauce ingredients together in a small saucepan and bring to a boil until thickened. Turn off the heat and cover.
Heat 2-inches of oil in a wok or a frying pan to 375°F. Coat the chicken pieces in the cornstarch mixture and fry several pieces of chicken at a time until golden brown (about 3-4 minutes for me). Remove the fried chicken pieces from the oil and drain on a paper towel-lined cooling rack or plate. When all of the chicken is fried, place the pieces in a large bowl. If the sauce is cool, rewarm it until hot and then pour the sauce over the chicken. Toss to coat the chicken. Sprinkle sesame seeds over the chicken and serve hot. Serves 4.
more goodness from the use real butter archives