Recipe: homemade pizza sauce
Windstorms in winter accompany large temperature throws in our area. So when we go from single digits to well above freezing in a day, it's a good idea to secure any outdoor furniture, grills, trampolines, small children, and pets. The winds were quite nasty earlier in the week, but now that the neighbors' fences have stopped blowing over and the large tree branches are done snapping, we're back to our normal dose of winds in the 20-40 mph range. It is what it is. As if to apologize for its bad behavior, the atmosphere made nice with the sun Tuesday evening.

cotton candy sunset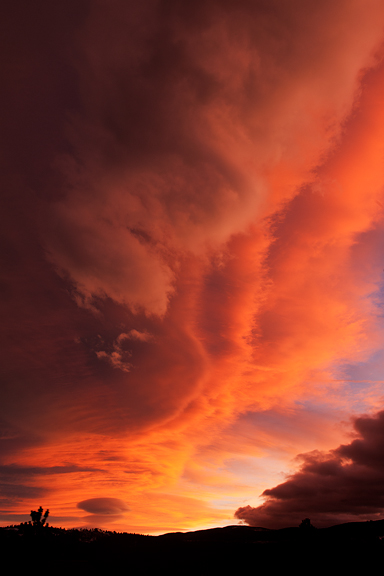 I've been in cleaning mode lately. That's what I do when Jeremy is out of town. I start cleaning out closets or reorganizing shelves at night, which produces heaps of donations and recycling. This activity always makes Jeremy a little nervous because I desperately want to clean his mess of a desk, but I usually get too frustrated when I try to figure out where to start. While returning some canning jars to the canning cabinet in the basement, I took inventory of my tomatoes. Tomatoes are what I use the most in the non-summer months – mostly diced tomatoes. When I first began canning, I incorrectly assumed that I used diced tomatoes and tomato sauce at the same rate. By the following summer, my diced tomatoes were nearly finished and my sauce remained untouched. Why not make pizza sauce? Until last year, I bought a pretty spendy pizza sauce from Whole Foods because it wasn't loaded with sugar and it tasted the best. But then I began searching for a pizza sauce that I could make from my own tomato sauce. Most of the recipes I researched called for diced tomatoes, which didn't solve my problem, but this one uses tomato sauce – and it is AWESOME.
black pepper, tomato paste, tomato sauce, garlic, brown sugar, red pepper flakes, parmesan, onion, water, olive oil, salt, oregano, basil
dice the onion and mince the garlic
everything measured and prepped
Sure, this pizza sauce isn't as simple as opening a jar, but it's straight forward enough that you can make a double or triple batch, fridge or freeze it, and have it ready when you want to whip up some pizza. It involves some knife work (dicing, mincing, and chopping), sauté, and a long simmer. And that's it! I prefer to use fresh herbs, but dried will work too. A little sugar adds flavor, but you can reduce (or increase) as you see fit. That's why I like making my own sauce – because I get to control what goes into it. And it's far far more economical than the spendy (but good!) sauce in a jar.
add minced garlic to the sautéed onions
stir in the herbs and seasonings
add the rest of the ingredients
You can buy tomato sauce if you don't have your own, or substitute diced tomatoes because it all gets cooked down for at least an hour. I suggest simmering for two hours to reduce the water content and concentrate the flavors. Watery pizza sauce makes my pizza crust soggy. Once the sauce is ready, you can use it immediately or you can store it in a jar with an airtight lid in the refrigerator. Or you can freeze the sauce however you like freezing things. My sauce never makes it past two weeks in the refrigerator because we use it up – so I know it's good for refrigerated storage up to that point.
simmered down
one batch yielded 2.5 cups of sauce for me
I said earlier that this sauce is awesome. Jeremy raves about it every time we make pizza now. The flavor is most certainly fresher and brighter than any store-bought pizza sauce. I think that has a lot to do with using my tomato sauce made from ripe local summer organic tomatoes – but I'm pretty sure using purchased tomato sauce would still give you a better result than store-bought pizza sauce. I liked that it was thick (by my design) rather than runny. My pizza sauce has chunks of soft onion in it, but if you prefer a smooth sauce, just run that sucker through a blender or food processor (immersion blender is also handy, but potentially messy). It's just a good feeling to know what is in your food.
spreading sauce on pizza dough
it's pizza time!
Homemade Pizza Sauce
[print recipe]
from oh, sweet basil
2 tbsps olive oil
1 medium onion, fine dice
4 cloves garlic, minced
1/2 tsp red pepper flakes
2 tsps fresh basil, chopped (or 1 tsp dried basil)
1 tsp fresh oregano, chopped (or 1/2 tsp dried oregano)
16 oz. tomato sauce
4 tbsps tomato paste
5 tbsps Parmesan, grated
2 tsps brown sugar
2/3 cup warm water
salt to taste
pepper to taste
Place the olive oil in a large sauté pan or stock pot over medium heat. When the oil is hot, add the onions and sauté until soft, about 5 minutes. Stir the garlic into the onions. Stir in the red pepper flakes, basil, and oregano. Add the tomato sauce, tomato paste, Parmesan cheese, brown sugar, water, salt, and pepper and stir to combine. Bring the sauce to a boil and reduce to a simmer over low heat for 1 to 2 hours. I simmered for 2 hours and got 2.5 cups of sauce. Can be stored in an airtight jar for up to 2 weeks.

more goodness from the use real butter archives