Recipe: bananas foster
Winter is coming and going, but mostly it's going. If I can stand on the deck at sunset in short sleeves, then winter is most certainly on her way out. The R-word has entered the forecasts… Rain. When I look toward the local ski resort from our house, I can see if there is weather over the mountain. But lately, the weather up the valley has been darker with more streaks. That's rain.

a late evening surprise sunset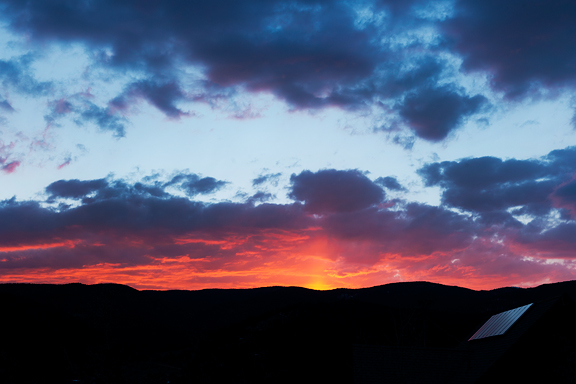 We are both wondering if we'll be able to start lacing up our trail runners this month around here. April, sure. March? That's a little disheartening. And even though the sun and atmosphere have conspired to kill our snowpack, we're gonna ski until we can't. Besides, you can always count on getting that 1-2 foot dump the day after the local ski hill closes for the season. And it always manages to snow on Mother's Day. Plenty to look forward to. For now, we'll make due with what we've got.
high sun at 5pm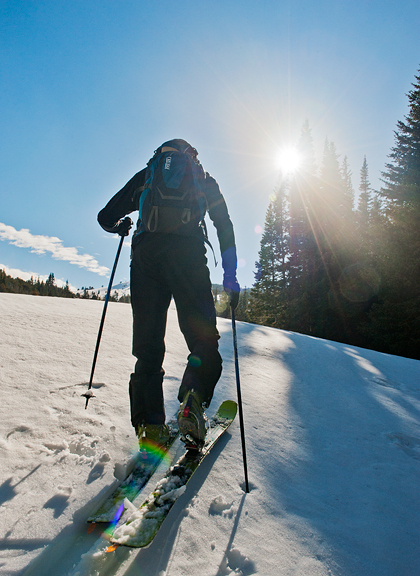 great views of the surrounding high country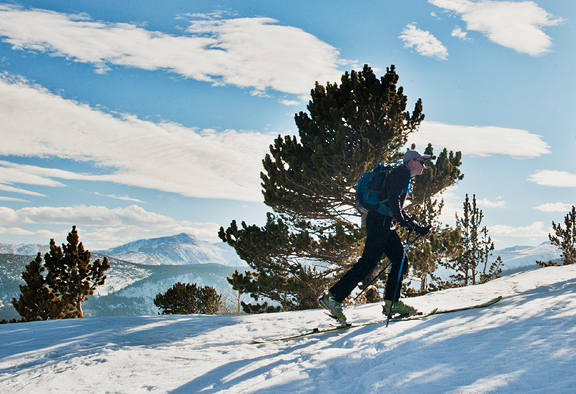 ready for some turns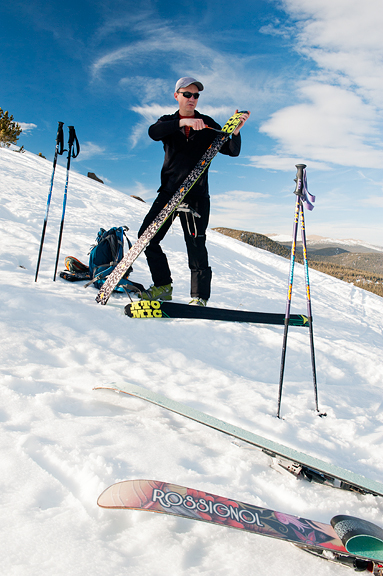 time to ski out and get some dinner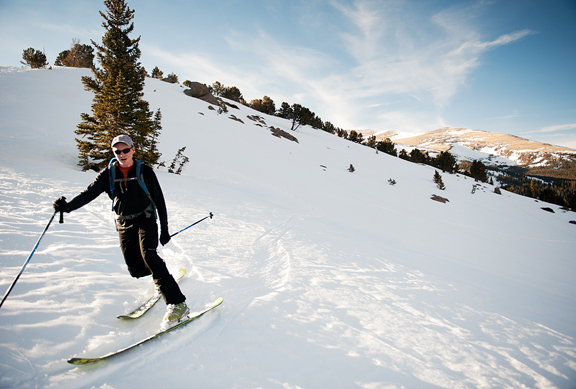 I am adjusting with the seasons. Jeremy always puts the kettle on when we get home from skiing. He sweetly asks me what I'd like: hot cocoa, hot cider, tea? Something to warm me up from the cold. Except it hasn't been very cold lately, so I politely decline and grab a glass of cold water – maybe drop two or three big ice cubes into it. That's how stupidly warm it has been. Jeremy still likes a mug of hot coffee or hot tea and won't transition to cold beverages until the dead of summer when you feel like your skin is going to go up in flames. This intermediate period is a good time for a compromise – hot and cold. Something for everyone. Like bananas foster!
vanilla, rum, amaretto, butter, brown sugar, cinnamon , salt, bananas
quarter the bananas
it goes quickly, so get your mise en place!
I've never actually made bananas foster before, and I might have had it once in my life by accident. Bananas do not rank high on my fruit list. In fact, they rank pretty low on my fruit list. What drew me to this dessert: 1) I had homemade vanilla ice cream in the freezer and 2) I had rum. There was the temptation to just pour rum over vanilla ice cream, but that's a little ghetto. Bananas give it the pretense of being more than just booze and sugar, and FIRE makes it a real dessert. It's a simple recipe – crazy simple. Just get everything ready to go because it comes together in mere minutes.
Most versions of bananas foster combine banana liqueur and rum, but I read a recommendation that subbing amaretto for the banana liqueur works nicely. Since I tend to collect bottles of random liqueurs and booze for the sole purpose of making desserts, I really really really didn't want to own a bottle of banana liqueur. There, I said it.

combine the vanilla, rum, and amaretto
melting butter, brown sugar, pinch of salt, and cinnamon
adding bananas to the brown sugar and butter
The butter and brown sugar mixture will get a little grainy and may separate. Don't worry, it will turn into a proper sauce after you add the booze. Cook the bananas for about a minute per side or less, because they can start to lose their structural integrity. When the bananas are done, turn the heat off and add the booze. Then light it with a long match or a long lighter. It should go up in spectacular flames, except mine didn't. We added more rum and lit it. I could hear the "whoomp!" of the alcohol igniting, but couldn't see the flames. We added more rum. Same thing. More rum… at which point I turned to Jeremy and said, "We're just burning money now."
pour the rum mixture over the bananas
light it up
spoon the bananas and sauce over vanilla ice cream
We both really enjoyed the sauce on the vanilla ice cream. Who wouldn't? It's butter, sugar, cinnamon, and booze! We were both "meh" about the bananas. I think it would be much better with apples. Apples foster sounds pretty good. Now, I've read that despite burning off all the alcohol, you don't actually burn off ALL the alcohol. There will be some residual. If this is problematic for you, then might I suggest a banana split instead? If it isn't a problem, then bananas foster is a fast, easy, and delicious dessert to whip up in no time. Just remember that once you combine the sauce with the ice cream, the laws of thermodynamics conspire to turn everything into a giant puddle. So eat up!
melty, but good
Bananas Foster
[print recipe]
from Food Wishes and Epicurious
4 bananas
6 tbsps unsalted butter
1/2 cup packed dark brown sugar
1/2 tsp cinnamon
pinch salt
1/4 cup dark rum
1 oz. amaretto (original calls for banana liqueur)
1 tsp vanilla extract
vanilla ice cream
Peel the bananas and cut them into quarters (cut them in half, then cut the halves lengthwise). Place the butter, brown sugar, cinnamon, and salt in a large (10-inch) frying pan over medium high heat. If you make half of this recipe, use a smaller frying pan. Stir to help dissolve the brown sugar as the butter melts. When it begins to bubble, add the bananas to the pan in a single layer. Cook for 30 seconds to a minute then flip the bananas over. Cook another 30 seconds to a minute. Remove from heat. Combine the rum, amaretto, and vanilla extract in a small vessel and pour into the pan. Light the alcohol with a long match or long lighter and watch the alcohol burn (not all of it will burn off, so there is some alcohol in the dessert). Spoon the sauce and bananas over vanilla ice cream and consume immediately. Serves 4.

more goodness from the use real butter archives