Recipe: chocolate banana bombes
It's easy to catch sunset. You start to notice the light softening and getting longer (in terms of wavelength λ – actually what happens is that the shorter wavelengths are getting kicked out by scattering off the atmosphere) and there are all these signs that it's going to happen so you have time to get ready. Sunrise is another matter. Sunrise happens backwards and you start in the dark. In winter, you start in the dark and cold and lonely because everyone, including the dog, is snoring away under the covers still happily chasing bunnies in dreamland. Tons of people catch sunset, but not as many catch sunrise. Sunrise is glorious and I usually witness it alone, but it's lovely to share with others too. I like sunrise because it's the beginning of the day and I love beginnings. It means the long winter night is over, or it means you have a little peace before the mosquitoes of alpine summer begin to stir (and bite!). Sunrise can be quiet, peaceful, pensive. It also feels like opportunity. I'm feeling it!

pink light of sunrise ignites the tips of our lofty high peaks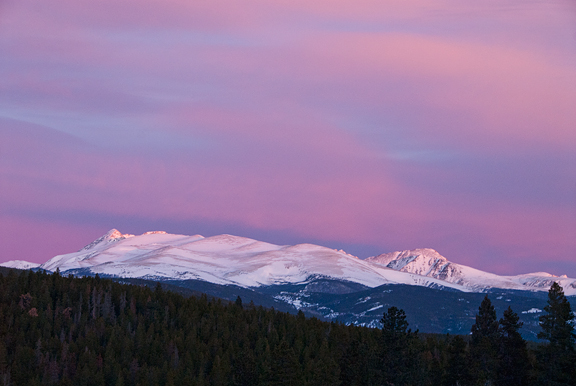 If you will recall I discovered the joys of
single-ingredient ice cream
a while back. I finally found a way to use up overripe bananas as well as make a non-dairy ice cream alternative that is healthy and pretty creamy. It got me thinking about chocolate-dipped frozen bananas and how I had a lot of trouble eating those as a kid because the bananas were frozen solid like a rock. I wanted something similar, but easier to consume.
you just need some chocolate chips
i prefer to temper the chocolate
Okay, I just wanted an excuse to use my bombe molds. They're so cute and whenever you give someone a bombe, a smile spreads across their face. You don't have to temper the chocolate, but if you do it winds up with a beautiful sheen and snap. Just a note based on my experience – if you
temper the chocolate
it's easiest with a minimum of one pound of chocolate even though you'll only need a fraction of that amount for the actual coating. The heat capacity of a smaller amount is just too low to maintain a steady working temperature for very long.
paint the bombe molds with three coats
chop some peanuts
These days when I have a couple of bananas beyond the point of ripeness for eating, I slice them up and toss them into a big ziploc bag and freeze them. This is quite handy for making a batch of single-ingredient ice cream on demand. I let them thaw just a tad before whirring them up in the food processor.
ah, my overripe frozen sliced bananas
blending in the food processor
finally smooth and creamy banana "ice cream"
The thing with bombes is that they are usually filled with something that sets – mousse, ice cream, single-ingredient ice cream… So it's best to have the coating completed and dried/hardened on the bombe molds before you start making the filling. The reason is that once you have made the filling, you will want to pipe it into the bombe molds pretty much right away. A pastry bag makes the process fast and neat. If you take too long noodling about, the ice cream becomes a little frothy and weird. Top it off with some chopped peanuts and gently press them down into the ice cream. Set in the freezer.
stuffing it into my pastry bag
pipe the banana ice cream into each shell
top with peanuts
Take care when unmolding the bombes. They flip out with gusto! You definitely want to unmold them when they are completely frozen or else you may crack the delicate chocolate shell if the insides are soft. You can unmold them and put them back in the freezer too. Before serving, I'd let them thaw a little because the ice cream is fairly hard when it freezes. It only takes about ten minutes or so depending on your ambient temperature. And there you will have, in essence, a chocolate-dipped frozen banana… but cuter.
serve partially thawed
Chocolate Banana Bombes
[print recipe]
1 pound semi-sweet chocolate, chopped or chips, tempered
1 batch single-ingredient ice cream
1/2 cup toasted peanuts, chopped
Brush tempered chocolate on the insides of twelve 2 3/4-inch silicone hemisphere molds. When the first layer has cooled and hardened, brush another layer. Repeat until there are three or four layers of chocolate. Let cool and set aside. [This is when you would make the banana ice cream.] Fill a pastry bag fitted with a plain 1/2-inch piping tip with the banana ice cream. Pipe each mold full of ice cream to the edge (don't go over, it will look funky when you serve it). Sprinkle chopped peanuts over the ice cream and gently press the peanuts down into the banana without drowning them. Place in freezer until the ice cream is completely frozen through. Carefully release the bombes from their molds when ice cream is frozen solid. To serve, let thaw for 5-10 minutes or until ice cream yields under moderate pressure. Makes 12 bombes.