The more time I spend in Crested Butte, the more enchanted I become with the town. I'm referring to the vibrant community, great local businesses, and a myriad of fun festivities year-round. It's that charming mountain town vibe I keep coming back to, but each time I discover another little gem that makes me love Crested Butte even more. Last summer, Jeremy and I popped into Bacchanale to see what was what and we couldn't wait to get back there for another dinner.

bacchanale on elk avenue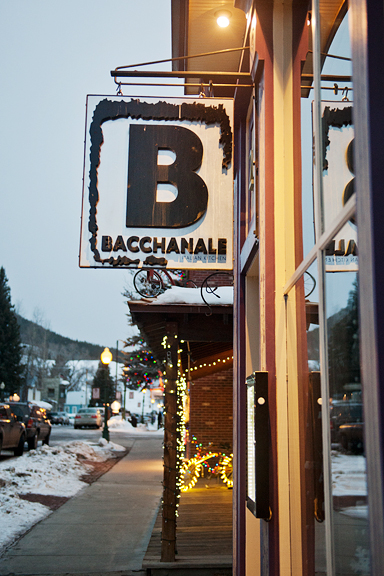 Something visitors should be aware of is that ski towns have high seasons and off or shoulder seasons. Crested Butte is hopping in summer and winter, but the pace mellows way out during mud season (spring melt) and pre-ski season (pre-snow). The off season is when some local businesses, who have been taking care of all those visitors in the high season, need a break and may close down for a few weeks so employees and families can get a well-deserved vacation. To avoid any disappointments, it helps to call ahead to make sure the places you want to go will be open when you visit.
Situated on Elk Avenue between Second and Third Streets, Bacchanale occupies a spacious building with plenty of seating at tables, the bar, or upstairs. High ceilings above the bar and half of the downstairs lend an open feeling to the interior.

inside bacchanale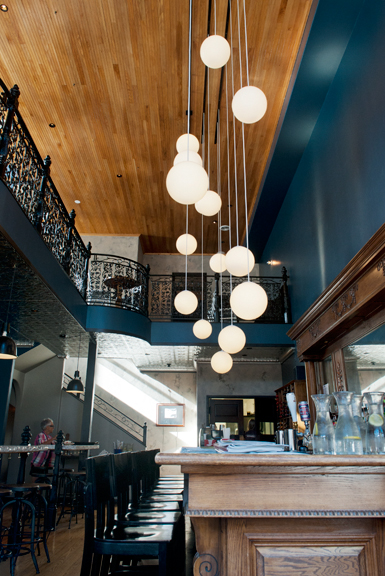 Both times we've been to Bacchanale, we enjoyed attentive, accommodating, and genuinely friendly service. The staff know how each dish is prepared and can recommend excellent wine pairings, as well as share some great trail runs, ski routes, or even other places to eat. It's clear that their main objective is to ensure that you have a great experience both with them and in Crested Butte.
When you sit down, the first thing you'll likely peruse is the wine and cocktail list which has all Italian wines, beer (draft on tap, bottles, cans), cocktails, bubbles, whiskey, and dessert cordials. The wines are a good and diverse selection in varietal and price, and it appears they update the list periodically. Wines by the glass are well-matched to the dishes served on the menu – feel free to ask the staff for pairing advice. They even brought out tasting glasses to help Jeremy choose.

wine by the glass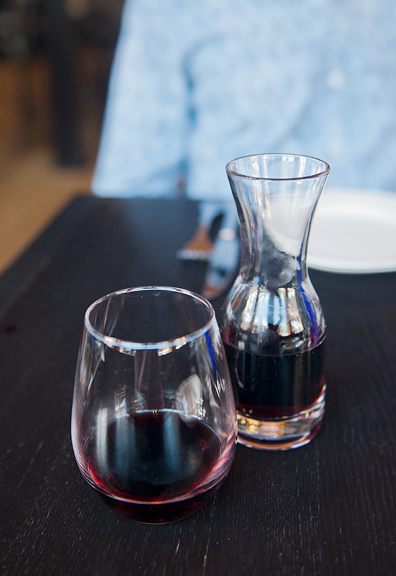 Bacchanale's Italian menu rotates, taking advantage of seasonal ingredients and offering a nice selection of bruschetta or flatbread boards, salads, antipasti, pastas, mains, and desserts. For the last 3 months, in addition to à la carte, the restaurant made available a prix fixe menu – appetizer, main, and dessert (your choice of each) – for $25. It is an exceptional value and I hope they continue to offer it in the future.
The restaurant serves light Italian fare, but don't think you're going to walk away from your dinner hungry. Simply prepared, the dishes are big on fresh, clean, seasonal flavors that are pleasing to the palate. For the great quality of the food, the portions are quite reasonable, almost generous.
We started both our meals with appetizers or salads because how could we not? So many options, all so tempting! The panzanella salad (ordered in summer) piled sweet, juicy heirloom tomatoes, fresh beans, asparagus, and grilled bread on greens that were tossed with a light dressing. The fried fresh artichokes (summer) came encased in a crisp, delicate batter with a side of tangy lemon aioli. On our most recent visit in March, we tried their tender beef carpaccio with a nice cracked-pepper crust sprinkled with sea salt, fresh dill, paper thin slices of radish and fennel, and a drizzle of mustard vinaigrette. Perfectly balanced in flavor and texture. We also ordered the eggplant pillows which had been soaked in milk then batter-fried and topped with Pomodoro sauce and basil chiffonade, with balsamic reduction and whipped chèvre on the side. Also delectable.

panzanella salad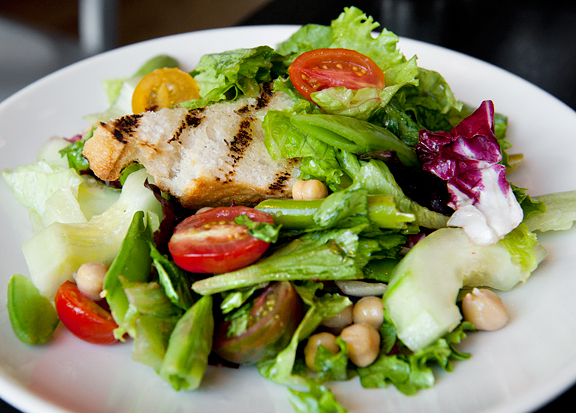 fried artichokes with lemon aioli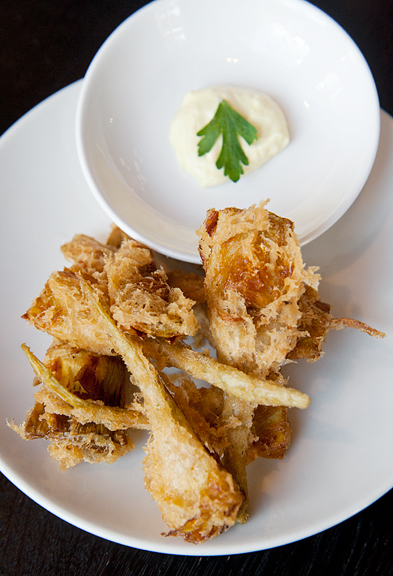 beef carpaccio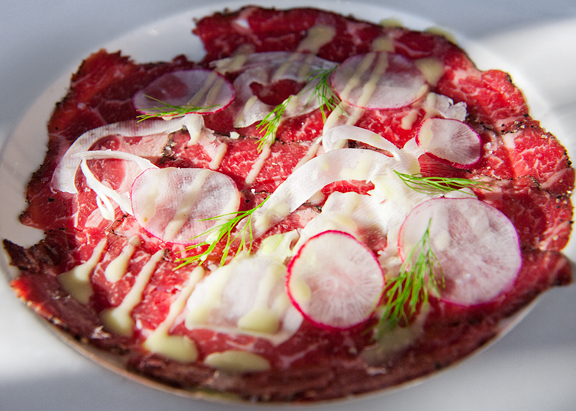 eggplant pillows – melanzane fritte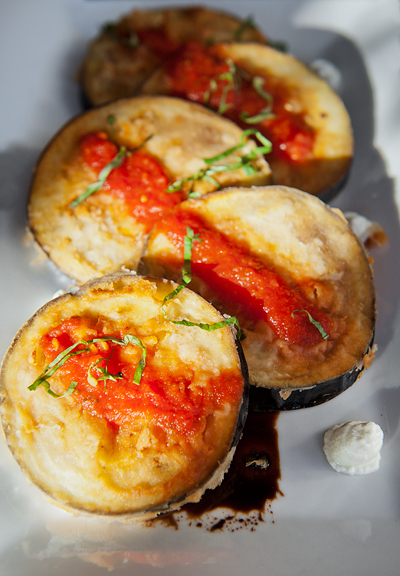 Part of the reason we had to dine at Bacchanale twice before I could write about it was because we wanted to try more items on the menu as they all sounded so good. The other part was to establish that the food and service were consistently awesome. Check and check. I had to order the braised lamb pappardelle (summer). I mean handmade pappardelle cooked al dente and slow-braised (fourteen hours!) Colorado lamb are a magical combination. To this, they added fresh fava beans and a long-simmered flavorful broth for a heady dining experience. My other "must-order" dish was the Bacchanale meatballs, because I'm a sucker for good meatballs. In summer, they were listed as a main, but in March I saw they had moved the meatballs to the antipasti column. As long as they are on the menu, go ahead and order these luscious pork and beef meatballs braised in marinara made from fresh tomatoes with a hint of wine. Serious comfort food. Seriously delicious.
On our most recent dinner, we tried out the lighter mains to see how well they compared with their meatier counterparts. I ordered the grilled striped bass served with roasted cauliflower and sautéed garlic-chili zucchini, topped with olive and sun-dried tomato tapenade. The fish was buttery, juicy, and grilled just right playing well with the brine of the tapenade and the nuttiness of the cauliflower. Jeremy's cannelloni di mare featured perfectly cooked fresh pasta filled with sweet lump crab meat, fresh shrimp with that just-right crisp texture, and ricotta, all bathed in a slightly sweet and tangy creamy roasted red bell pepper sauce. Both dishes were delightfully big on flavor without skimping on portions.

braised lamb pappardelle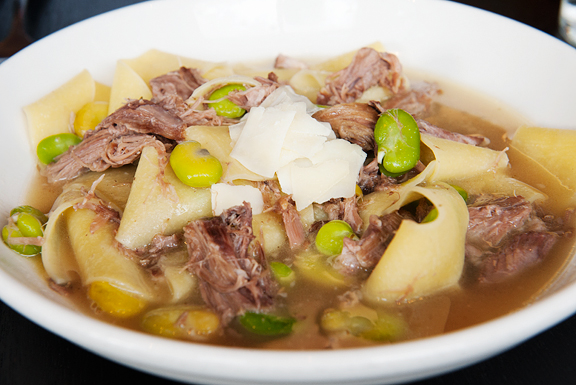 bacchanale meatballs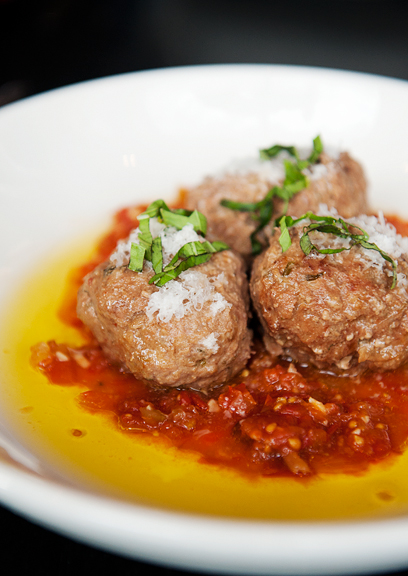 grilled colorado striped bass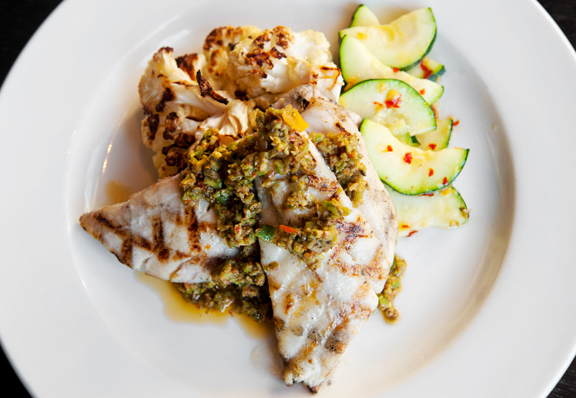 cannelloni di mare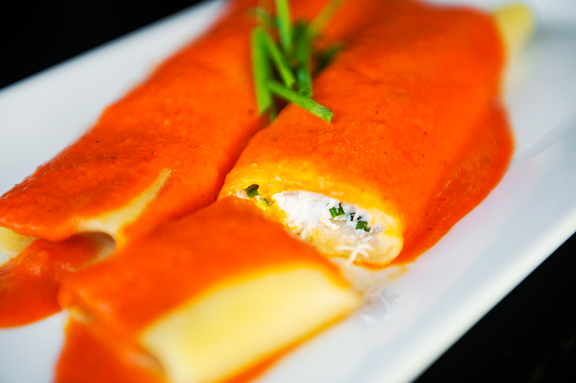 I know it's easy to fill up on the appetizers and mains, but do leave yourself some room for dessert. We had the choice of gelatos, sorbets, affogato, tart, and cake. The first desserts we sampled were the affogato and the chocolate budino tart. The second time around, the affogato had been upgraded to a tiramisu affogato. Jeremy ordered that one. I went for the polenta cake.
As someone who makes a lot of desserts on a regular basis, I tend to hold restaurants to a higher standard when it comes to that sweet ending to a fine meal. I want to enjoy a dessert that is as good as or better than what I produce at home. Bacchanale does not dissapoint. The heavenly tiramisu affogato combines a scoop of smooth mascarpone-vanilla bean ice cream, whipped cream, and lady fingers with Camp 4 (Crested Butte's finest) espresso. It has crunch, height, creamy, bitter, hot, and cold. The ultimate, in my book. Creamy caffeinated goodness in Jeremy's book. And while I never order anything because it is gluten-free, I found their gluten-free polenta cake tremendously enjoyable. The cake itself was warm, fluffy, and light (as opposed to dense) with hints of refreshing citrus. I think it spent a minute or two on the grill as the edges were nicely browned and crisp. A small dollop of not-too-sweet whipped cream and supremed orange segments rounded it out.
Now I have to discuss the chocolate budino tart. We sampled the full size budino tart on our first visit. I'm not a big chocolate fan, but it sounded nice. Boy, was it good. It was so good I've been thinking of it ever since. The tart base is a crunchy, but crumbly (crumbly is good), dark chocolate cookie crust with a touch of salt and either butter or olive oil to help bind it. The pudding is thick, rich, glossy, and smooth without being overly sweet (also good). Then they sprinkle some sea salt and drizzle quality olive oil over the top. It's the kind of dessert you start to obsess over. I liked it. I liked it very much. I'm guessing it's the pride of their dessert menu because when I didn't order it on our second dinner, they brought out a little two-bite version for us to try, not knowing that I had tried the hell out of it before. It's still as amazing as ever. Probably my favorite chocolate dessert anywhere in Colorado – and that is saying a lot.

tiramisu affogato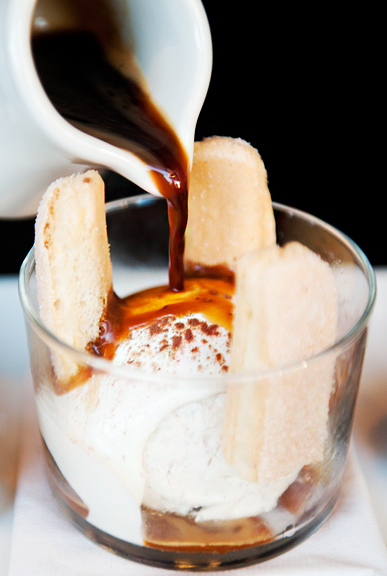 polenta cake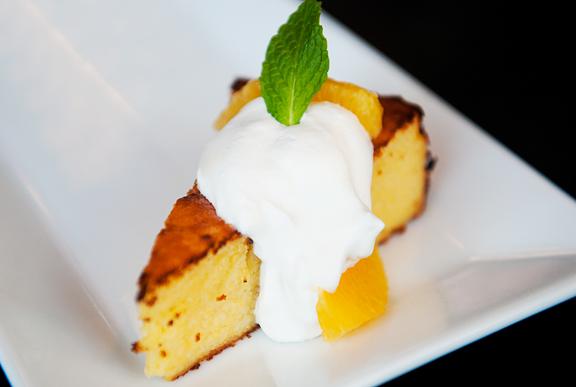 chocolate budino tart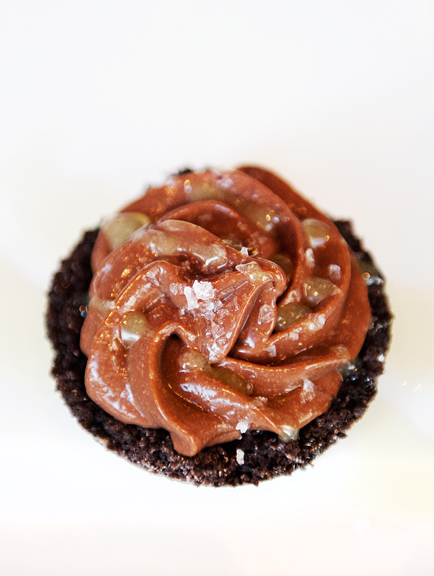 I think Bacchanale is fast becoming one of our favorite restaurants in Crested Butte. Oh, there are plenty of great eats all over town, but Bacchanale combines quality fresh food that is simply and elegantly prepared with great service and satisfying portions to make it one of the best values around. That's hard to find in a resort ski town, but there you have it. Definitely worth a stop if you come to this beautiful slice of paradise called Crested Butte.
Bacchanale
209 Elk Ave.
Crested Butte, CO 81224
Ph: (970) 349 5257
Call for hours.
Facebook: Bacchanale Facebook Page
Full Disclosure: No comps. All opinions are mine.