Recipe: asian chicken salad with ginger dressing
It's springtime in the Rockies and it also happens to be spring break for a lot of schools. We're in Crested Butte to enjoy what remains of both the mountain and nordic ski seasons. The high, strong sun has been delivering a pounding to the snow – visibly shrinking it by inches each day. The birds are back feeding off the patches of bare ground and filling the air with the sweet chorus of bird songs. The Slate River flows faster and fuller. If we're lucky, we'll squeeze out a few spring storms to keep the backcountry fresh a little longer. Either way, we're enjoying it.

bison outside of buena vista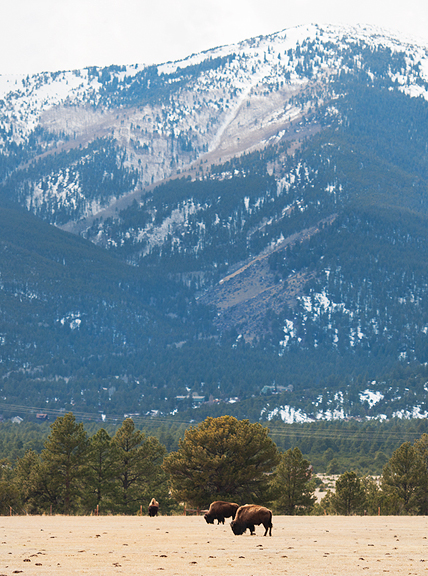 the collegiates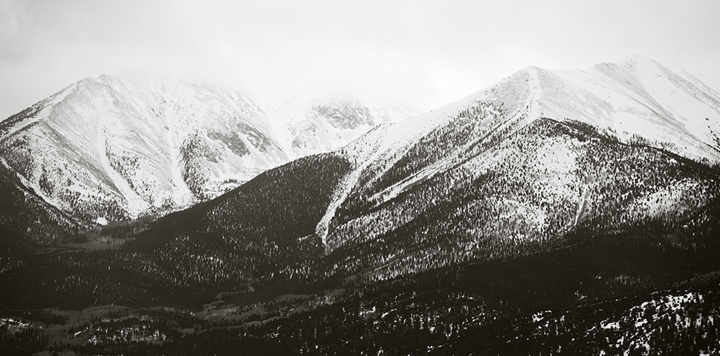 sunset over the town of crested butte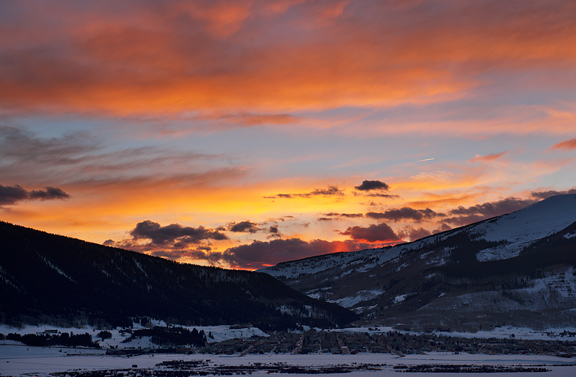 cotton candy over whetstone mountain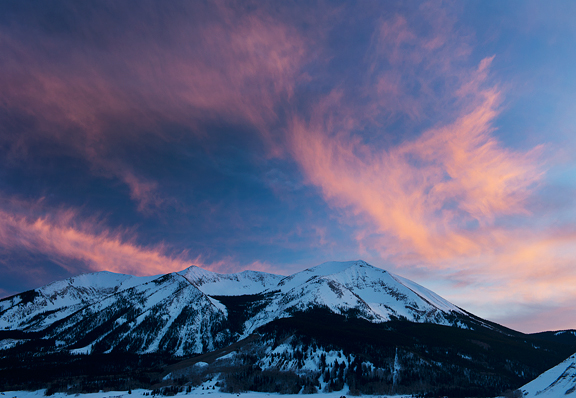 skate skiing before it disappears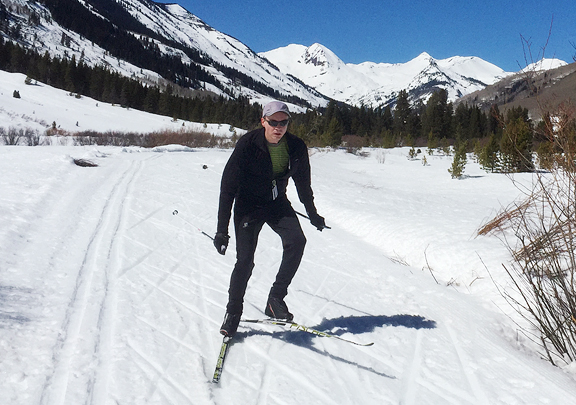 making a snowball in spring, because rocky mountain powder is too fluffy in winter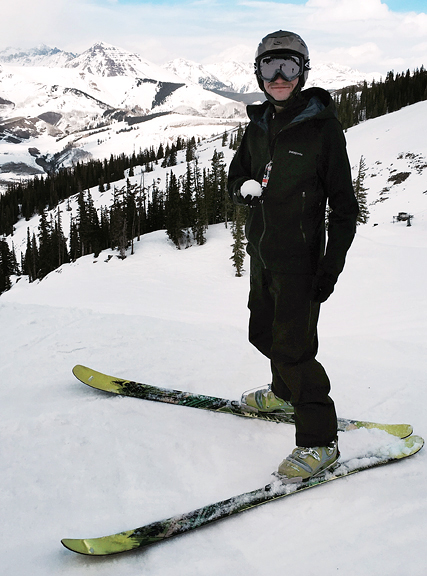 I've kept our menu simple since the kitchen in Crested Butte is serviceable, but not tricked out like my kitchen back home. Besides, I don't come here to cook. Obviously. And with the warmer weather, I'm migrating towards salads and sandwiches. So, a couple of weeks ago, we drove into Denver to shop around for a new washing machine. We didn't find a washing machine that we liked, but we did find 2 cases of wine – go figure! I swear this is related. On our way home, we popped by Souplantation (aka Sweet Tomatoes) to grab a late lunch. One of Jeremy's favorite salads is their wonton chicken salad. Surely I could make an even better version at home, right?
There are three components to the salad: the chicken, the ginger dressing, and the salad (vegetables and such). I guess it's four components if you count the wonton strips, but those are optional. The chicken is simple – marinate for 30 minutes then bake for 20 minutes. You might be tempted to boil the chicken and shred it, which is perfectly acceptable, but you'd be missing out. The extra flavor from the marinade is worth the itsy bitsy amount of effort.

the chicken: chicken breasts, soy sauce, sesame oil, white pepper
place it all in a bag
marinate for 30 minutes
place in a baking dish to bake
While the chicken marinates and bakes, you can prepare the dressing. Juice a lime, grate the ginger, and then mix everything together in a jar. I whisked mine together for the photograph, but placing it all in a jar and shaking it up is the easiest way to do it. You can make the dressing ahead of time and keep it in the refrigerator for several days. Because of the lime juice and ginger, I don't recommend mixing it with the salad until you are are ready to eat it. That is, don't toss the salad and eat it several hours later because the dressing tenderizes the chicken into mush. Blegh. But otherwise, it's a GREAT dressing.
sesame oil, soy sauce, canola oil, rice vinegar, dijon mustard, honey, ginger, lime
prepped and measured out
combine all of the dressing ingredients in a vessel
mix together
Because it's just the two of us and because I like to make big batches of food that are quick to prepare as leftovers, I make a double batch of this salad. It keeps for up to 3 days – longer if you refresh the edamame (they get slimy after a couple of days) – as long as you keep certain components separate. The chicken, edamame, wonton strips, almonds, and dressing should be separate until you are ready to serve the salad. I keep the actual "salad" part mixed together in the refrigerator: the lettuce, napa cabbage, red cabbage, carrots, and green onions.
wonton strips, edamame, carrot, green onions, red cabbage, napa cabbage, romaine lettuce, sliced almonds
shred the napa cabbage
slice the chicken
everything prepped
I think you can purchase wonton strips, I just don't know where. I happened to have some extra wonton skins on hand, so I sliced them into ribbons, then fried them in hot oil until crisp and golden. Alternatively, you could use the chow mein noodles (fried) they sell in grocery stores, but I really dislike those. And honestly, you should know by now that recipes for salads are extremely lenient. Don't like edamame? Omit it! Don't eat chicken? Use tofu! Can't find carrots? Who cares! It's what you want it to be. That said, if you go substituting nasty things for ingredients and then complain to me that the recipe doesn't taste good, Ima gonna smack you.
place all but the wontons and dressing in a large bowl
pour some of the dressing on (add more to taste as needed)
toss together
top with wonton strips
Oh man, homemade is WAY better than Souplantation's version of this salad. I like that my dressing isn't loaded with thickeners and that I can up the amount of cabbage or reduce the sweetener in the dressing to my preference. That's what's so lovely about making your own food. And if you plan to serve this for a party, you can prep everything a day or two before. Just remember to mix it all together right before serving and you're good to go. I am definitely ready for salad season.
bright, fresh flavors
Asian Chicken Salad with Ginger Dressing
[print recipe]
a mashup of recipes from Damn Delicious and Average Betty
chicken
2 chicken breasts
2 tbsps soy sauce
1 tsp sesame oil
1/4 tsp white pepper
ginger dressing
2 tbsps fresh ginger, grated
3 tbsps sesame oil
3 tbsps canola oil
3 tbsps honey
1 tbsp fresh lime juice
1/4 cup rice vinegar
1/4 cup soy sauce
1/2 tbsp dijon mustard
salad
6 cups romaine lettuce, torn or cut into bite-size pieces
1 1/2 cups red cabbage, shredded
1 1/2 cups napa cabbage, shredded
1 cup carrots, shredded
1 cup edamame, shelled
3-4 stalks green onions, sliced thin
1/2 cup sliced almonds
1 cup wonton strips
Prepare the chicken: Place the chicken breasts, soy sauce, sesame oil, and white pepper together in a ziploc bag or bowl and marinate at room temperature for 30 minutes. Preheat oven to 400°F. Place the chicken breasts and the marinade in a small baking dish and bake for 20 minutes until the juices run clear. Remove from oven and let cool. Slice into strips.
Make the dressing: Combine the grated ginger, sesame oil, canola oil, honey, lime juice, rice vinegar, soy sauce, and dijon mustard in a jar. Seal the jar and shake vigorously until blended. You can keep the dressing in the refrigerator for up to a week. Don't add to the salad until you are ready to serve or else the dressing will turn the chicken to mush over time.
Assemble the salad: Put the chicken, lettuce, both napa and red cabbages, carrots, edamame, green onions, and almonds in a large bowl. Pour some of the dressing over the salad and toss to coat. Add more as needed. Sprinkle with wonton strips just before serving. Serves 6.
more goodness from the use real butter archives