Recipe: fried polenta and porcini on roasted carrot purée
We had a busier than usual schedule last week because Jeremy was hosting his astrophysics retreat. This was his third one, but it seemed more harried than usual because of the additional puppy-wrangling. Without going into too much detail, the retreat is an "unconference" that eschews the traditional scientific conference format. It is a small gathering of select (young) experts in astrophysics who come together for 4 days of intense, high-powered brainstorming for the love of science. Running any sort of workshop or conference is exhausting, but for someone like Jeremy – my dearest introvert – it is doubly so. Once he had caught up on sleep and other work, I suggested we spend a relaxing evening under the stars together… with Neva… in a tent.

neva tries out the sleeping bags as the sun goes down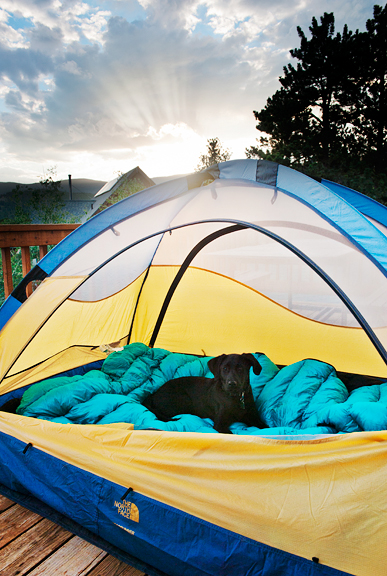 Actually, this was just a continuation of puppy training. The plan is to go backpacking this fall with the pup, but first we need her to get used to being in a tent. When our neighbor's kids were little, they used to camp in a tent on their deck because the youngest would always get scared before 9 pm and run back into the house. I thought this could work for Neva, too. We could camp on the deck and if she got unruly or upset, we would bail and go inside. But there was no need to abandon ship because she was very sweet and cuddly throughout the night. She probably slept better than either of the humans. I think this backpacking thing just might work.
it's a loungy puppy life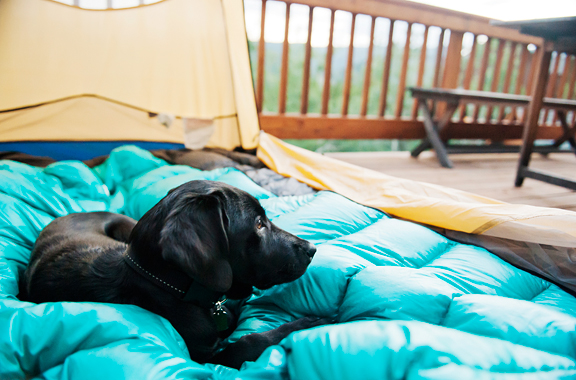 if we're going to camp out, we may as well eat outside, too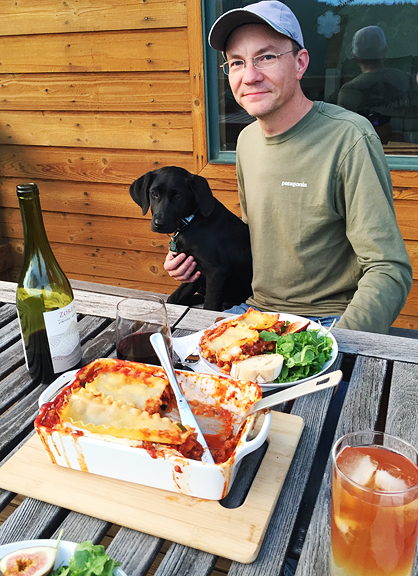 blue moon rising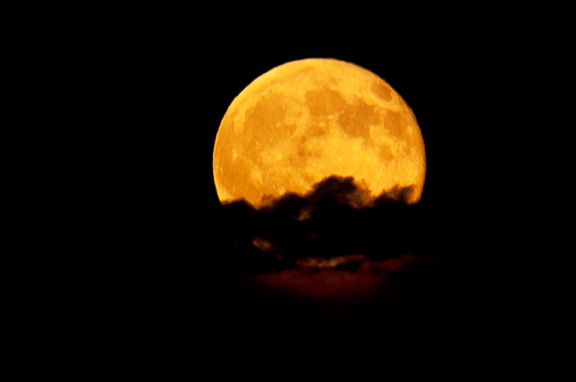 ready for zip up and lights out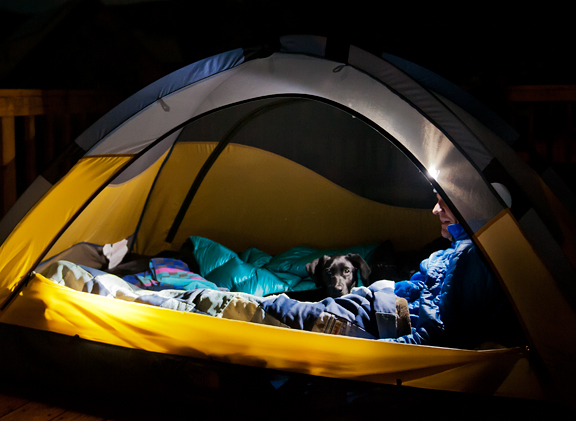 Jeremy's astrophysics retreat takes place in Boulder with the exception of one day held at our house in the mountains. My minor contribution is to help host the participants which includes a sit down dinner. Living outside of Boulder, we are accustomed to accommodating the restricted diets of our friends, but I got a stumper in this group: gluten-free vegetarian. In my opinion, gluten-free is pretty easy and vegetarian isn't terrible, but the combination really whittled down my options. There were two ideals I had to balance: 1) that not serving meat to your guests is rude (per Chinese tradition) and 2) it is unacceptable to serve sub-par food to vegetarians. But I was up for the challenge, particularly because the one guest who was gluten-free vegetarian happens to be a genuinely nice and good person. Luckily, porcini are in season NOW.
here's a pretty specimen (plus one in the background)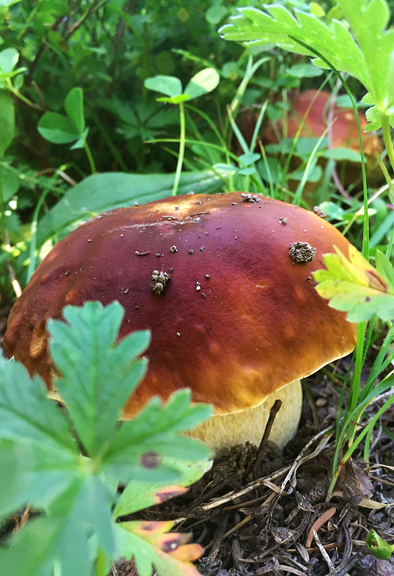 two buddies chilling out off trail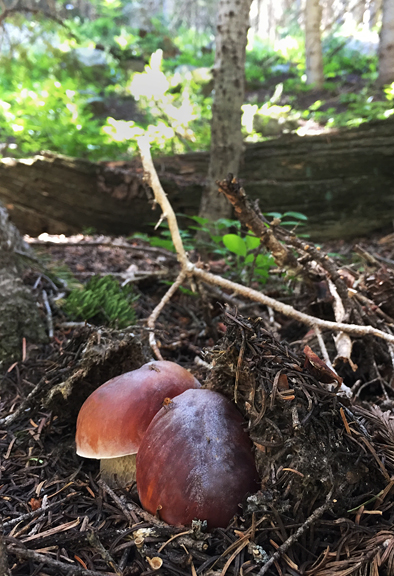 The idea was to serve something that everyone could enjoy and then the omnivores could have some kind of animal added to their dish. I decided to go with fried polenta cakes and pan-seared porcini. It was easy enough to hike up into the mountains to nab some choice mushrooms only because I knew they were flushing and I knew exactly where to look. For some extra color, I thought a nice roasted carrot purée would brighten the plate and lend some sweetness to the dish.
white wine, olive oil, vegetable oil, carrots, polenta, butter, thyme, salt, porcini
I started the day before, as I didn't want to heat up the house cooking all day before dinner. I made the polenta and then pressed it into a baking dish to cool and solidify. A loaf pan works too if you want to slice your polenta that way. Once the polenta had set (about an hour or so), I popped it into the refrigerator to chill.
stir the polenta into the boiling water
when the polenta is done, stir in a pat of butter
pressed into a baking dish to cool
While the polenta was cooling, I got started on the carrot purée which is another part that can be prepared ahead of time. I roasted the carrots for 45 minutes until they were fork-tender and then blitzed them in my Vitamix with water and olive oil. You can do this in a food processor, but I'm not sure how fine a purée you can achieve compared to a heavy-duty blender. The end result was a super creamy, smooth, and silky purée. I put that in the refrigerator and warmed it in a saucepan the following day.
toss the carrots with thyme and vegetable oil
place in a baking dish to roast
place the roasted carrots with water and olive oil in a blender
purée until smooth
You can either fry the polenta ahead of time and warm them in a low oven before serving, or you can fry them right before serving. Turn the polenta out carefully onto a cutting surface and slice the block into the size and shapes you want. Heat some vegetable oil in a frying pan and fry the polenta cakes so they are golden on both sides. I did try frying in butter, olive oil, and vegetable oil (I do this for you, you know), and found that vegetable oil seemed to give the best fry of the three, but you should use what suits your tastes.
slicing into triangles
frying the polenta cakes in batches
The only part of the dish that I prepared right before serving was the mushrooms. I like to dry-fry the mushrooms in a hot pan to reduce some of the moisture, and then add the butter and pan-sear the slices. When the mushrooms are done, I melt a pat of butter and add white wine to deglaze the pan. A little sauce adds a lot of great flavor.
slice the mushrooms
adding butter after dry-frying the slices
browned
add some butter to the fond (the lovely brown bits in the pan)
pour in the wine
reduce to a rich brown sauce
I plated the dish by setting the polenta cakes on the purée, then topping the cakes with mushrooms and some sauce. For the vegetarian version, I popped a few slices of nice brie between the polenta cakes, which became melty from the heat. For the omnivores, I pan-seared scallops which were added on top of the mushrooms (because we had a lot of flexitarians and a sometimes-pescatarian). The final plate had some additional goodies like caramelized onions, sautéed local corn, sautéed zucchini buttons, cherry tomatoes, and flake sea salt. All of the plates came back clean, so I think it was a successful combination!
vegetarian plate
all of that vegetable-y goodness
and the version with scallops
Fried Polenta and Porcini on Roasted Carrot Purée
[print recipe]
polenta cakes
3 cups water
1/2 tsp salt
1 cup coarse polenta
1 tbsp butter, unsalted
2 tbsps vegetable oil
salt for seasoning
roasted carrot purée
based on a recipe from Food and Wine
1 lb. carrots, peeled and cut into 1/2-inch dice
1 tbsp vegetable oil
pinch of dried thyme (1/2 tsp fresh thyme, chopped)
1/3 cup water
1/2 cup extra virgin olive oil
salt to taste
seared porcini with reduction sauce
2 cups fresh mushrooms, sliced 1/4-inch thick (I used 2 palm-sized fresh porcini)
2 tbsps butter, unsalted
salt to taste
1/2 cup dry white wine (I used chardonnay)
Make the polenta cakes: Bring 3 cups of water and the 1/2 teaspoon of salt to a boil in a medium saucepan. Reduce the heat to a simmer and stir in the polenta. Stir the polenta at a simmer for 20-30 minutes until the polenta is tender, reducing heat as necessary. It may bubble and splatter. Stir continuously to prevent scorching. When the polenta is ready, pour it into a 9×9-inch baking pan. Smooth the surface by placing a sheet of plastic wrap on top and pressing it down until the top is more or less even. Let the polenta cool (about an hour or can be refrigerated until ready to use).
When the polenta has cooled completely, turn it out onto a cutting surface and slice the polenta into squares or triangles (I do 16 triangles). Heat the vegetable oil in a frying pan over medium-high heat and place the polenta cakes in the oil (leave enough space so you can get in there with a spatula to flip them). You may need to fry in 2 batches like I did. Fry until the bottoms are just golden and carefully flip them over. Sprinkle with a little salt to taste. Remove to a serving plate when the other side has turned golden. These can be refrigerated for up to 3 days and reheated in a 250°F oven, covered in foil, for 10-15 minutes.
Make the roasted carrot purée: Preheat oven to 375°F. In a medium bowl, toss the diced carrots, vegetable oil, and thyme together. Pour the carrots onto a baking sheet or into a baking dish so that the cubes are in a single layer. Roast for 45 minutes until the carrots are fork tender. Remove from oven. Place the carrots in a food processor or high-powered blender. Add the water and olive oil and blitz until the purée is smooth. Season with salt to taste. This will keep in the refrigerator for up to 3 days (or longer). Reheat the purée in a saucepan over low heat.
Sauté the mushrooms and make the reduction sauce: Dry fry the mushrooms in a sauté pan over medium-high heat for a few minutes per side. This helps to get rid of some excess moisture in the mushrooms. Add 1 tablespoon of butter to the hot pan and swirl it around as it melts (add more if needed). Let the mushroom slices brown on the bottoms (a couple of minutes), then flip them over with tongs and sprinkle a little salt over the mushrooms. Cook for another 2 minutes or until the bottoms have browned. Remove the mushrooms from the pan.
Add the remaining tablespoon of butter to the pan and use a spatula to scrape at the browned bits of fond. When the butter has melted and begins sizzling, pour the wine into the pan all at once. Stir the liquid and scrape up the fond until it dissolves into the wine. Let the wine boil down until you have a brown sauce (like 3 tablespoons). Remove from heat.
Assembly: Spoon the carrot purée onto a plate or into a bowl, then set 3-4 polenta cakes on top of the purée. Top the polenta with mushroom slices and then drizzle a little reduction sauce on top. Sprinkle with flake sea salt and serve. Serves 4.
more goodness from the use real butter archives