Recipe: chanterelle bacon corn chowder
I want to thank all of the folks who shared advice on puppy pukiness on car rides. We gave Neva a ginger chew 30 minutes before driving to Crested Butte last weekend and she puked about 20 minutes into the drive. I've become an expert at catching her puke in a plastic grocery bag, but sometimes she pulls away at the last minute and so I've also developed expertise at cleaning up puppy vomit. Our next step is to try dramamine per our vet's instructions. On the drive back home, Neva kept it together until we neared Cottonwood Pass (the dirt road up is curvy and bumpy), but that time I caught it all in a bag! Once at the pass, we decided to take her out for a little hike, which made her VERY happy.

life with puppy is not all rainbows, but in crested butte it kinda *is* all rainbows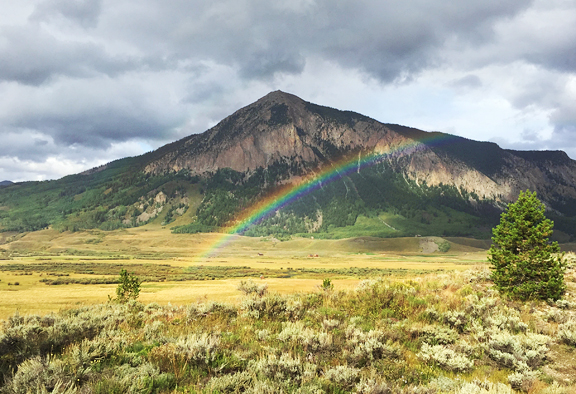 looking back at the collegiate peaks from cottonwood pass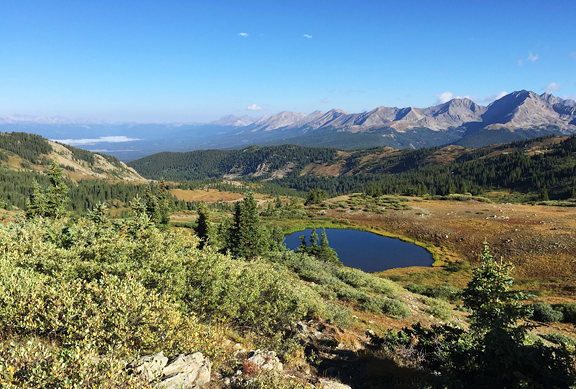 fuzzy seeds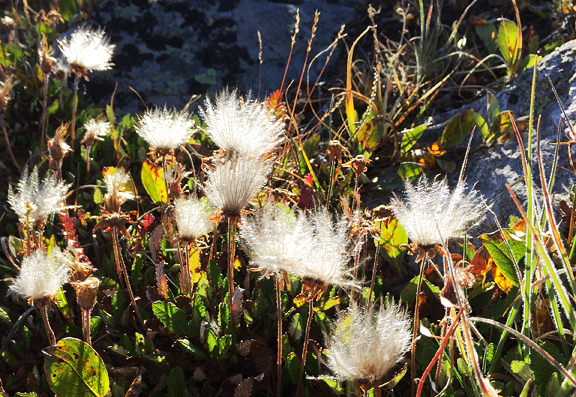 jeremy walks neva to the view east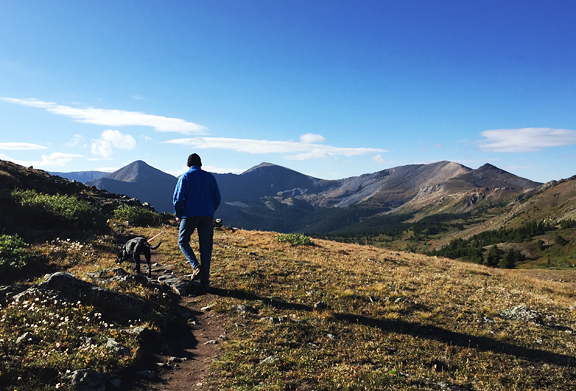 Neva is about five and a half months old now and we suspect she's entering that adolescent stage. She walks nicely on the leash when she feels like it, but when she wants to run around with Snickers (a little chihuahua-doberman mix) or anything else, she pulls like a maniac. So I got out Kaweah's old Halti collar, also known as the gentle leader. It's supposed to reduce pulling and render your dog obedient without hurting them, but most dogs I know really dislike it until they get used to the collar. Kaweah would melt when we put it on her. My in-laws' dog merely sees the Halti in the room and he settles down. Kaweah's Halti was big on Neva, so she was able to wriggle out of it a few times (Jeremy bought a smaller size after work today). We used to think Neva would surpass Kaweah's weight and size, but now it's looking that she will be the same size or smaller than Kaweah. Eventually, it appeared to work and we were able to walk peacefully, until Snickers came by…
at first she struggled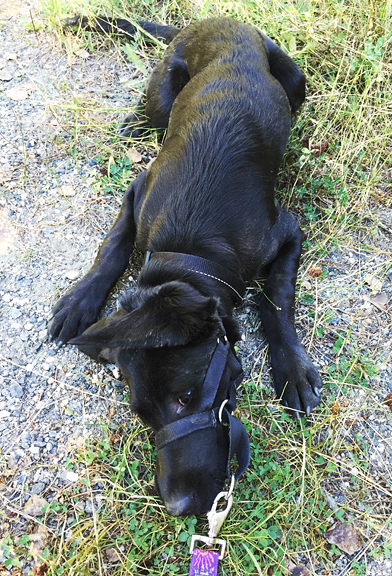 then there was demoralized acceptance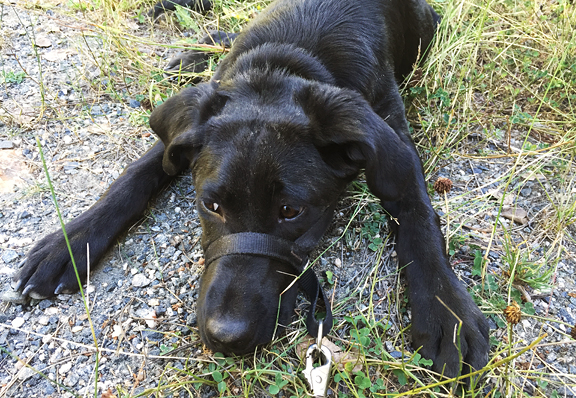 after much pawing and squirming, she managed this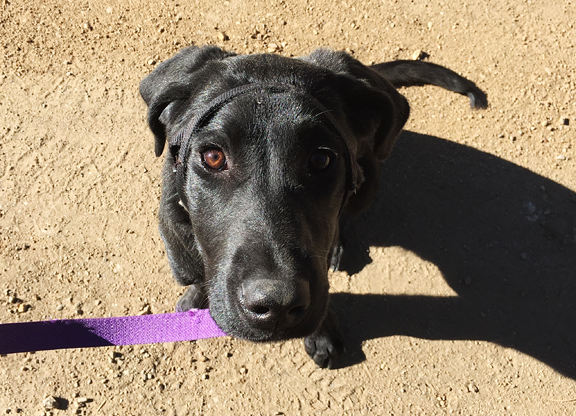 This week marks the end of foraging for me. I'm done with the chanterelles and the huckleberries – or rather, they're done. It feels good to be able to hike normally again without constantly scanning the ground and stumbling forward tripping over rocks and tree roots. My favorite part is the hunt. I love finding mushrooms and hucks. My next favorite part is the photography. I like shooting the pretty specimens I encounter. Then there is the actual collection which can be backbreaking and/or dirty work. My least favorite part of the whole process is cleaning the mushrooms (sorting hucks can be a lot of work, too). So when the season ends, I'm sad but I'm also glad.
more pretties off the trail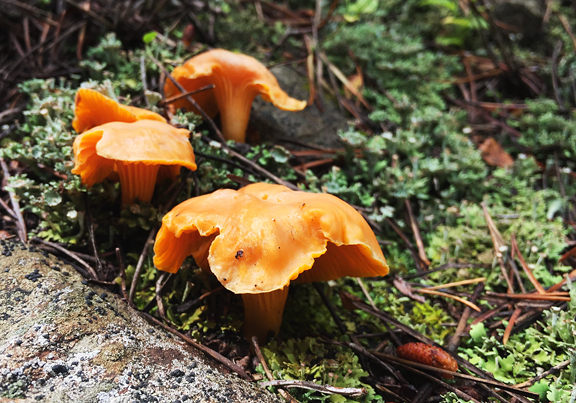 When September rolls around I find myself in the mood for some kind of corn chowder before the wonderfully sweet local corn is done for the year. Seeing as I had some chanterelles, it made sense to have the two ingredients share the stage. And then there's bacon…
bacon, onion, garlic, chanterelles, chicken stock, pepper, wine, cream, potatoes, lemon, celery, corn, salt, thyme, dill
coarse chop the mushrooms
mise en place
The original recipe calls for fennel. I tried, I really tried to get fennel up here in Nederland, but it was not meant to be. Instead, I subbed in some celery which has a stronger flavor, but works well in a pinch. And as always, you don't have to use chanterelles if you can't get your hands on any. Use a mushroom you like in its place.
add the celery, garlic, and onion to the browned bacon
add the mushrooms and thyme
deglaze the pan with wine
After all of the ingredients have been chopped and measured, the cooking time winds up being just over 30 minutes. It's a quick soup to whip up and the result is a heady, delectable pot of yum. I posted a photo on instagram and someone asked if I had taken leftover
bacon corn hash
and made a soup with it. Not a bad idea!
add chicken broth and potatoes
when potatoes are soft, add corn and cream
lastly, season with dill, salt, pepper, and lemon juice
I made this soup a couple of times because it was so good that I had to share it with my parents and my neighbors. It tastes of summer with hints of autumn. I'd gladly eat this soup any time of year, but it is truly at its best right now. And if you, like me, squirrel away summer's bounty in your chest freezer, then this might very well grace your table in the depths of winter. And you'll be happy for it.
garnish with bacon, herbs, and sautéed mushrooms
all the good things of summer's last hurrah
yum
Chanterelle Bacon Corn Chowder
[print recipe]
from Not Without Salt
4 strips bacon, cut into 1/4-inch pieces
1 medium onion, diced
1/2 bulb fennel, diced (I didn't have fennel, so I used 2 stalks of celery)
3 garlic cloves, minced
1 1/2 tsps fresh thyme
6 oz. chanterelle mushrooms (or any mushroom), roughly chopped
1/2 cup white wine
2 1/2 cups chicken broth
1 1/2 cups potatoes, cubed
1 cup corn kernels
3/4 cup cream
2 tbsps fresh dill, chopped
salt
freshly ground pepper
1 tbsp fresh lemon juice
Brown the bacon in a stock pot over medium heat until browned and crisp. Add the onion, fennel (celery is what I used), and garlic to the pan. Sauté until the onions are translucent, about 5 minutes. Turn the heat up to medium-high and add the thyme and mushrooms, sautéing until the mushrooms are cooked. Pour the wine into the pot and deglaze the bottom, scraping up the browned bits (those are full of flavor!). Add the chicken broth and potatoes and simmer until the potatoes are tender (about 20 minutes). Add the corn and cream and bring the soup to a simmer for 2 minutes. Turn off the heat and season with the dill, salt, and pepper to taste. Stir in the lemon juice. Serves 4.
more goodness from the use real butter archives