Recipe: cream of chanterelle soup
I suppose I have to just will my way into autumn if the weather won't cooperate. While it's no longer scorching hot, the weather is still what one would classify as Indian Summer. Sunny and comfortably warm. I no longer have to worry about Neva roasting her brains out on the deck, so she's been enjoying the coolish mornings while the sun makes its way up into the sky. It's also nice that she has stopped barking and whining at every single creature that moves in front of our deck – like neighbors, random dogs, bunnies, birds (so many birds…), foxes, deer, etc. Although I did see her lunging after a fly as it unknowingly entered Neva's air space.

she loves it when i put her bed in the sunny corner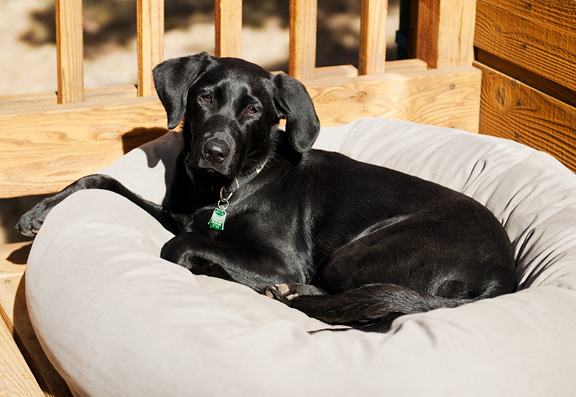 Jeremy and I took Neva up to Blue Lake over the weekend since the road leading into the Brainard Lake Recreation Area closed on Sunday for the season. I'm happy to report that despite the 32°F temperature at the trailhead, I felt downright warm. My internal winter thermostat is on track, at least. As it was the weekend, Neva got to meet lots of other dogs – some friendly, some not interested, some just plain crazy. She had a blast.
mitchell lake was as smooth as glass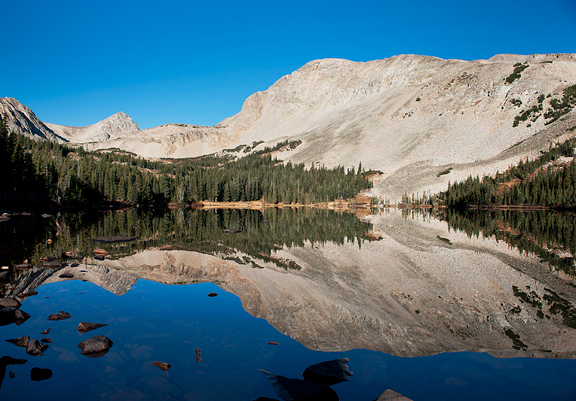 autumn hiking is the best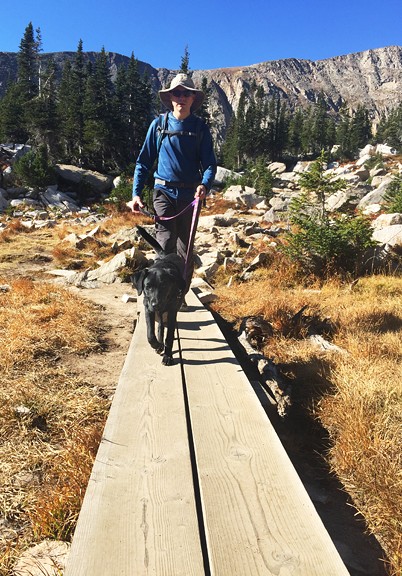 neva even swam several laps at blue lake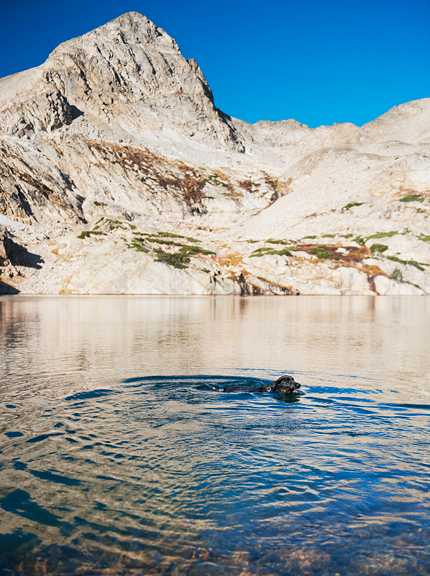 That was all well and good, but every "landmark" we encountered elicited remarks from me or Jeremy regarding that section of trail in winter and spring – when snow transforms the landscape. Hiking is hiking, but on skis you think about gradients both up and down. My hope is that Neva will transition easily to ski tours into the backcountry and love the snow as much as Kaweah did. I'd love to start her training except WE HAVE NO SNOW. So I'm posting a soup recipe in the hopes that it will jumpstart some form of frozen precipitation around here. Next, I'm going to wash my car… I think the weather is supposed to turn overcast, rainy, and cooler this week. Fingers crossed.
I made this cream of chanterelle soup back in the summer when I found and foraged my very first batch of chanterelles. It was amazing back in August, so I'm confident that it will be even better now as we zip toward Halloween. Chanterelles are in the grocery stores – I've seen them at Whole Foods for an arm and a leg as well as at Costco. Those store chanterelles aren't going to compare with the ones you forage yourself, but they'll work.

chanterelles, chicken broth, shallots, eggs, butter, cream, brandy, salt, saffron, flour, more butter (yay!)
chop the mushrooms into a small dice
ingredients prepped for the soup base
Researching different cream of chanterelle soup recipes, I immediately honed in on
Hank
's version. Despite the fact that it required more work (well, more dirty dishes…), it just looked sublime. So I bit. The recipe starts with a velouté – a velvety marriage of a blond roux with chicken stock.
whisk flour into melted butter
whisk until smooth (don't let it brown)
temper with heated chicken stock
While the velouté simmers down, you can begin the mushroom base by sweating the mushrooms and shallots together with a little salt. After the chanterelles have given up some liquid and begun to wilt, add a pat of butter and sauté until the shallots are translucent. Sprinkle your saffron threads over the brandy and add that to the mushrooms, stirring until the liquid has cooked off. Purée the mushroom sauté in a blender or anything that will give you a good smooth purée. I feel that my food processor sucks at this sort of task, so I employ my Vitamix to achieve that silky texture.
sweat the mushrooms and shallots
add a pat of butter
crumble the saffron into the brandy
add the brandy to the mushrooms
stir until the liquid has cooked off
purée the mushroom sauté
Stir the mushroom purée into the velouté and let it simmer (barely) for ten minutes while you prepare the liaison. The liaison is a way to thicken your soup using egg yolks and cream – kinda like a custard. Just like a custard, it is important that you don't increase the temperature of the egg mixture too quickly or you will cook (scramble, curdle) the eggs. Whisk a little of the hot soup into the egg mixture to raise the temperature incrementally. After whisking a couple of cups of soup into the eggs, return it to the main soup. Keep the soup simmering on low heat and never let it boil or the soup will break (separate) and you will be a very sad panda.
whisk egg yolks and cream together
temper with hot soup
stir in a final pat of butter
In the end, you will have created a most amazing silky smooth mushroom love. The flavors are delicate, but heady, elegant, earthy. Jeremy and I each enjoyed a bowl and then I gave my parents the rest (along with other food I had made that week). A few days later I received a text from my dad reporting that they were having the soup for lunch. "Sooooo good," he wrote. Then he called me a dodo (family term of endearment). That made me smile. My family isn't big on praise – in fact, my family is usually brutally honest. The way I see it, it either builds character or crushes your soul. But this soup will make you feel great about the world no matter how you feel about yourself.
feeling great!
garnish with pan-seared mushrooms, flake sea salt, and herbs
Cream of Chanterelle Soup
[print recipe]
from Hunter, Angler, Gardener, Cook
velouté
6 cups chicken stock
2 tbsps unsalted butter
2 tbsps all-purpose flour
soup
1 lb. fresh chanterelle mushrooms, minced (small dice)
2 shallots, minced
salt to taste
4 tbsps unsalted butter
3 egg yolks
1/2 cup heavy cream
1 oz. brandy
1/4 tsp saffron
Make the velouté: Heat the chicken stock in a medium saucepan until it is barely simmering. Hold the stock at that temperature. In another medium saucepan, heat 2 tablespoons of butter until it foams. Stir the flour in and let the mixture cook over medium heat, continuing to stir. You don't want the mixture to brown, but let it cook for a few minutes. Whisk the stock into the roux and let the whole thing simmer for about 20 minutes. Stir often until it reduces by about a quarter of its volume. Hank says it should look silky when it is ready.
Make the soup: Sweat the chanterelles and shallots in a large sauté pan with a pinch of salt. When the chanterelles are wilted, add 2 tablespoons of butter, stirring often until the shallots are translucent. Crumble the saffron threads into the brandy and add that to the mushrooms. Increase the heat to high, tossing everything to combine and cooking until the brandy is practically gone. Purée the mushroom mixture in a food processor or a blender.
When the velouté is ready, stir in the mushroom purée and cook at barely a simmer for 10 minutes. In a medium bowl, whisk the yolks and cream together until blended. Temper the mixture by whisking in a small amount (about a quarter to half cup) of the mushroom base until completely blended. Continue to add a little of the hot soup at a time to the cream mixture until you have added about 2 cups of soup. Stir the cream mixture back into the soup, letting the soup simmer on low. It's important that you DO NOT LET THE SOUP BOIL or else the soup will break. Stir in the last 2 tablespoons of butter and season with salt to taste. Serve immediately. Serves 4-6.
more goodness from the use real butter archives