Recipe: fried mochi rice (nuo mi fan)
I walked to the back of the store where just a week prior, the aisles had been loaded with bags upon bags of Halloween candy. Nerds. Snickers. Twix. Life Savers. But instead of witches and skeletons, white Christmas trees strewn in sparkly silver tinsel and metallic red and green baubles now loomed high overhead as I approached. There was a sad, lone island of discounted Halloween candy for sale – a paltry remnant of the once Super Sugar Coma Mega Center. I grabbed a couple of bags and continued on my way, careful not to linger long under the impending holidays.
I am a terrible holiday person. Holidays = Thanksgiving and Christmas. I wasn't always this way, but over the years I have scrutinized the holidays (and most other things in my life) through the lenses of practicality and sanity. The holidays are neither practical nor sane. Jeremy and I have determined that our favorite way to pass the holidays is to be outside on the snow – preferably with a dog.

and now we have the snow and the dog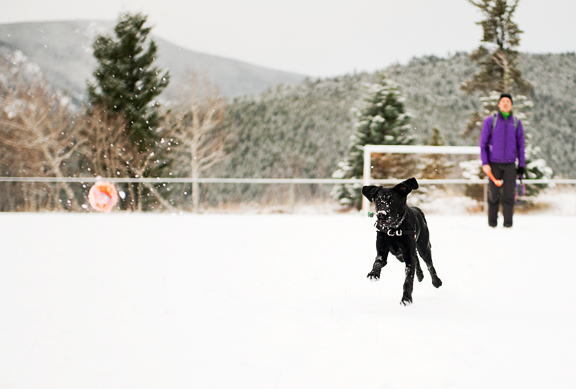 she has no idea how cold it is going to get in crested butte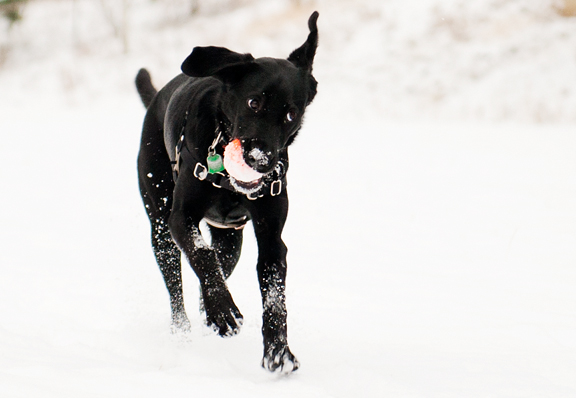 The one person I did travel for over the holidays was my Grandma when she was alive. As she got older, it became more burdensome for her to fly to visit her daughters, who are scattered across the country (also, the airlines suck). If she was going to be alone in California over Thanksgiving or Christmas, I'd book a flight to see her and Jeremy would occasionally join me. I'd do what I always do – take her out to run errands, try different restaurants, and just spend time listening to her, holding her hand, and being with her. I loved that woman so much. So so much.
One year, Jeremy and I accompanied Grandma to my second cousin's gigantic annual Christmas party where tray after tray of delectable Chinese food was lined up on buffet tables as the festivities got under way (my second cousin is head of catering at a restaurant). There was a rice dish I sampled and really liked, but never got around to asking what it was called because my brain was busy switching back and forth between Chinese and English while conversing with the elders as well as the kids. These things can and do slip from your mind. It was a few more years before I was reminded of that lovely rice – because my pal, Lisa, posted a recipe for it for her 2009 Thanksgiving. But my memory was fuzzy and I wasn't sure if that was the dish I had eaten at the party. Was it a stuffing? Was it just a rice dish? And then something clicked in my brain last month. I finally did some research and got around to making it myself!
Of course, the first thing my mom said when I told her I made it was that I used the wrong ingredients and then she said I cooked it wrong (mom stir-fries and then steams). [EDIT: I have since tried making this dish Mom's way and I like that BETTER. Instructions on this method are added to the recipe below.] Turns out, as with most things, there are different ways to make nuo mi fan or lo mi fan or fried mochi rice or fried sticky rice. Apparently there are just as many names as recipes. The key is the sticky rice, which is also called sweet rice or glutinous rice. Gluten-free folks should not shy away from glutinous rice as it has no gluten, it's just called that because it's so damn sticky. That said, if you are gluten-free, you should be aware of things like soy sauce and the char siu pork which may or may not contain gluten.
This recipe will require a trip to an Asian grocery store unless you have a crazy awesome well-stocked ethnic aisle in your typical supermarket. Chinese sausage (lap cheong) can be found in the refrigerated section at your Asian grocer. At least, that's where I found mine after scouring the aisles ten times over. These sweet and savory sausages will need to be steamed before chopping them up for the rice. The glutinous rice will most likely be called sweet rice. The grains resemble little oblong pearls and the brand I like most is Koda Farms. As for the scallops, the only place I ever see them is at the Chinese medicine counter. You might be able to find them packaged with all of the other dried sea creatures in a dedicated aisle, but do look for a separate counter with large glass jars filled with dried scallops (refer to the photos in the xo sauce post). For this recipe, you can get away with broken pieces which are more affordable than whole dried scallops.

lap cheong
sweet rice
dried scallops
You can purchase
char siu pork
(barbecue Chinese pork) or
make it yourself
. In the interest of time and sanity, I bought some fresh from the counter at the Asian grocer where roasted duck, sausages (they sometimes have fresh lap cheong), and char siu pork hang. For the sake of being able to cook and photograph a manageable quantity, I photographed making half of the recipe. The recipe listed below is the full recipe.
sweet rice, soy sauce, sesame oil, vegetable oil, cilantro, green onions, dried chinese mushrooms, water, salt, white pepper, dried scallops, char siu pork, lap cheong
rinse the rice until the rinse water runs clear
steam the sausage and rehydrate the mushrooms and scallops
If you cook the sweet rice using a traditional steamer, the rice will need to soak in water for several hours and then you have to pour boiling water over the rice before steaming it. It sounds like a pain in the ass, and I suspect it probably is. Thankfully, my rice cooker (a Zojirushi) has a sweet rice setting. The instructions for cooking sweet rice according to Zojirushi are to let the rice sit in a colander for 30 minutes after rinsing, and then cook like you would regular rice (except on the sweet rice setting). So much easier and a pretty consistent result. When I later made the full recipe, I had to cook my rice in two batches. The recipe I followed called for water to be added to the "sauce". Mom told me that the soaking water for the dried scallops is much like the soaking water for dried porcini – it's liquid gold packed full of umami goodness. Rather than tossing it out, I strained it and used it in place of the water for the sauce. If there is any fine sediment left in your soaking liquid, just be sure to leave it behind in the vessel rather than in your sauce. If you come up short of the required amount, just top it off with water.
cook the rice
dice the sausage
shred the scallops by hand (this takes patience)
The prep is the most time consuming part of the recipe. Once you have all of the ingredients diced, chopped, steamed, shredded, it cooks in mere minutes. The rice is sticky (hence the name), so be sure to break up the clumps and get an even distribution of the sauce on everything. I don't recommend using a non-stick pan for the stir-frying, because the crunchy stuck bits are the best part. I used a stainless steel stock pot and had some of the rice stick (browned, but not burnt) to the bottom. After everything was cooked, I scraped up the bottom layer with a stainless steel spatula and mixed it into the rice. That stuff is awesome and the clean up was easier than I expected!
ready to make nuo mi fan
mix the soy sauce, white pepper, sesame oil, and scallop liquid
sauté the sausage and the barbecue pork
add the rice and break up any clumps
stir in the scallop, mushrooms, and sauce
finish with salt, green onions, and cilantro
Nuo mi fan has a lot going on – the texture is chewy and satisfying, yet delicate. The flavors are a combination of earthy, umami, savory, and sweet, with a little funky heat coming from the white pepper (I didn't think I'd like it, but i love it). It's best served warm or hot because the rice gets hard and pasty when cold. This can be eaten as a main or a side and I've recently seen it served as a sort of stuffing with roasted Chinese-style chicken (on Instagram, because I don't get out much otherwise). Mom informs me that she'll show me the "right" way to make it when I see her next. I'll happily watch her make her recipe, but this one tastes like a winner to me. It is perfect snowy weather food.
serve hot
a half recipe can feed 4-6 people
studded with all of the goodies
Fried Mochi Rice (Nuo Mi Fan)
[print recipe]
from Rasa Malaysia
32 oz. (~4 cups) sweet rice
4 links lap cheong (Chinese sausages), cooked (steamed) and diced
1 cup char siu pork (Chinese barbecue pork), diced
1 oz. dried scallops, soaked in hot water for an hour, shredded (reserve the liquid)
8 dried shitake mushrooms, soaked in hot water for an hour, squeezed and diced
3/4 cup soy sauce*
3/4 cup reserved scallop soaking liquid (strained), if you don't have enough add water to make 3/4 cup
2 tsps sesame oil
1/2 tsp ground white pepper
2 tbsps vegetable oil
1/2 tsp salt or mushroom seasoning (I used salt)
1/2 cup green onions, chopped
1/2 cup fresh cilantro, chopped
* For METHOD 2, only use 1/2 cup soy sauce and add 1/4 cup Shaoxing wine and 1 tablespoon oyster sauce.
METHOD 1: Steam the rice, then fry the rice.
Cook the sweet rice: Wash and drain the rice under cold water several times until the water runs clear (about four rinses).
If using a traditional steamer: place the rice in a bowl and cover the rice with water. Let the rice soak 3-4 hours or overnight. Fill the steamer with 1-2 inches of water and bring it to a boil. Line the steam basket with damp cheesecloth. Bring 4 cups of water to a boil in a kettle or pan. Drain the rice in a colander and pour boiling water over the rice evenly. Spread the rice over the cheesecloth in an even layer, cover, and steam for 20 minutes. Remove the rice from the steamer and cover with a kitchen towel to keep it moist. You will likely have to steam the rice in batches.
If using a rice cooker: Let the rice sit for 30 minutes in a strainer or colander. Steam the rice according to your rice cooker's instructions.
Prepare the sausages, mushrooms, and scallops: Steam the lap cheong according to the package instructions (I steamed mine for 15 minutes). Dice the sausages. Place the dried mushrooms in a small bowl and pour boiling water over the mushrooms until they are covered (they will float to the top). Cover with a small plate. When the mushrooms are rehydrated (soft all the way through), rinse them in cold water and squeeze as much of the water out as possible. Trim the stems and dice the mushrooms. Place the dried scallops in a small bowl and pour a cup of boiling water over the pieces. Cover with a small plate. The scallops are ready when they are softened and come apart in strands easily. Strain the liquid through a sieve and reserve 3/4 cup (if you somehow don't have enough, add water to the liquid until you get 3/4 cup). Shred the scallop by pulling the shreds apart with your fingers (this is tedious work, but worth it).
Make the fried rice: Combine the soy sauce, scallop water, sesame oil, and white pepper in a bowl. Set aside. Heat 2 tablespoons of vegetable oil in a large wok or deep sauté pan over medium high heat. Stir-fry the Chinese sausage and char siu pork until heated through. Add the rice and fry for 2-3 minutes (it will take some work to manipulate all of the rice). Break up any clumps of rice with your spatula. Add the scallops and mushrooms to the rice. Pour the sauce over the rice and mix well until the rice is evenly coated. Season with salt and keep stir-frying the rice, taking care to scrape the bottom so the rice doesn't burn. Scrape up any bits that get stuck on the bottom, because that's the best part! Remove from heat. Stir in green onions and cilantro. Serves 8-10.
METHOD 2: Fry the rice, then steam the rice in a rice cooker. This is my preferred method.
All ingredients are the same as METHOD 1 except you will only need 1/2 cup of soy sauce and you will add 1/4 cup Shaoxing wine, and 1 tablespoon of oyster sauce. NOTE: I'm assuming you'll cook the rice in the rice cooker because I haven't tested how to make it without one.
Wash and drain the rice under cold water several times until the water runs clear (about four rinses). Let the rice drain and sit for 30 minutes in a strainer or colander.
Prepare the sausages, mushrooms, and scallops the same as in METHOD 1.
Combine the soy sauce, scallop water, Shaoxing wine, oyster sauce, sesame oil, and white pepper in a bowl. Set aside.
Fry the rice: Heat 2 tablespoons of vegetable oil in a large wok or deep sauté pan over medium high heat. Stir-fry the Chinese sausage and char siu pork until heated through. Add the scallops, mushrooms, and rice and stir together. Pour the sauce over the rice and mix well until the rice is evenly coated. Let simmer for 2 minutes. Season with salt and remove from heat. Put half of the rice mixture into your rice cooker and pour enough water in to just cover the surface of the rice. Use the sweet rice setting on your rice cooker or if your rice cooker doesn't have one, put it on the usual setting for white rice and when it is done, allow the rice to sit (closed) for another 15 minutes either on the "keep warm" setting or in the residual heat (the rice cooker should no longer be actively cooking). If the rice isn't done, close the lid and give it more time. Cook the remaining half of the rice the same way.
Serve hot with green onions and cilantro. Serves 8-10.
more goodness from the use real butter archives