Recipe: butternut squash lasagne
When my neighbor asked if I could take care of their dog, Dioji (dee-OH-gee), for a couple of days, I hesitated. My desire is to always say yes to everything. But as I've gotten older, I've learned to temper that gut reaction with pragmatic considerations and to think things through before answering yes, before committing to what I promise to do. Dioji is an easy girl – a giant fur ball, half Bernese Mountain dog, half Great Pyrenees, and one hundred percent lover. Neva is very fond of Dioji and I have to say, of all the dogs that have to put up with Neva's ridiculous puppy antics, Dioji is the sweetest and most tolerant one. Of course, walking the two of them was quite the adventure because Neva is constantly pulling ahead and Dioji is always stopping abruptly to sniff the latest headlines.

sitting nicely for a treat, but neva thinks dioji might have gotten hers already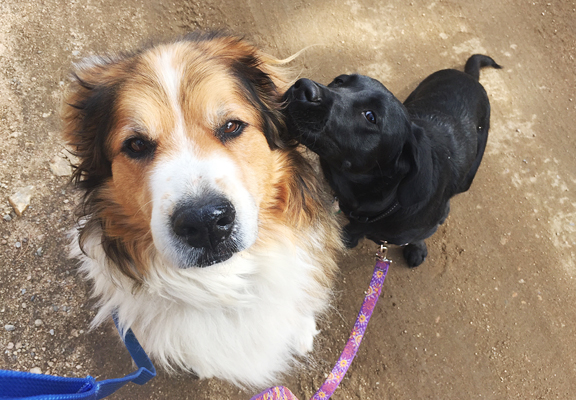 As much as I adore Dioji, I think I like having one dog. I hear from plenty of folks that two dogs are great because they keep one another company, but one is just right for me and Jeremy. Neva improves each day in subtle increments rather than the "one step forward, two steps back" of puppyhood. We still witness bouts of puppiness in Neva, and with the colder weather she is becoming more snuggly. Every morning Neva hops up onto the bed and cuddles between us for an hour or so until she feels it is time for what Jeremy calls her "two outputs and one input" – potty time and dinner (breakfast) – at which point she scoots closer to Jeremy and puts both front paws on his face. After she's done eating, one or both of us will take her out for some exercise – a hike, fetch, or ski. We recently got more snow and a chaser of winds gusting up to 60 mph, but we still went out because Neva needs to learn what winter is like around here. Thankfully, ground blizzards don't seem to bother her too much when there is a ball to be chased.
i wish all dogs could be this happy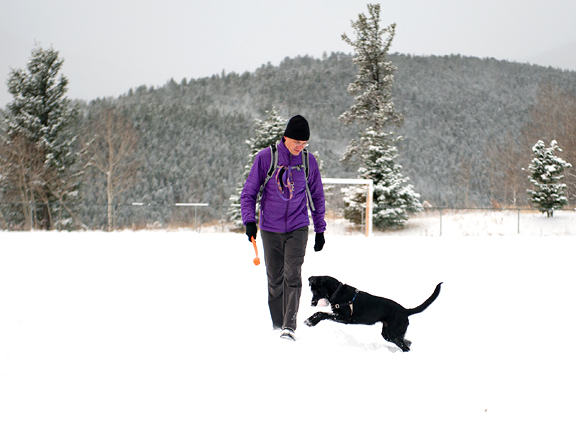 neva in flight!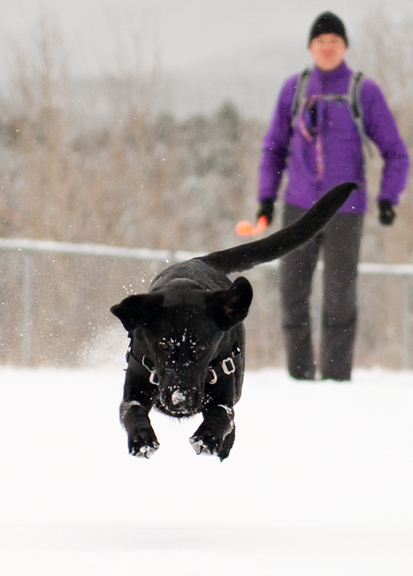 her coordination is improving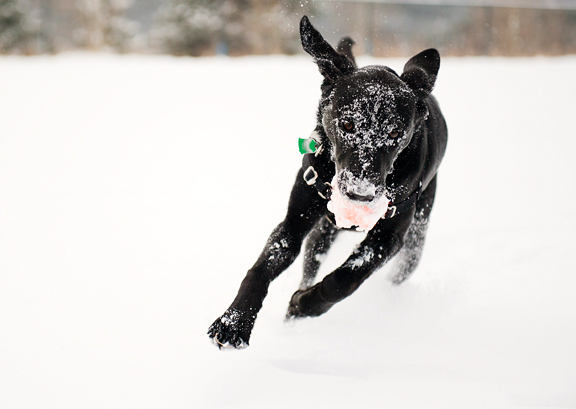 walking home after lots of good playtime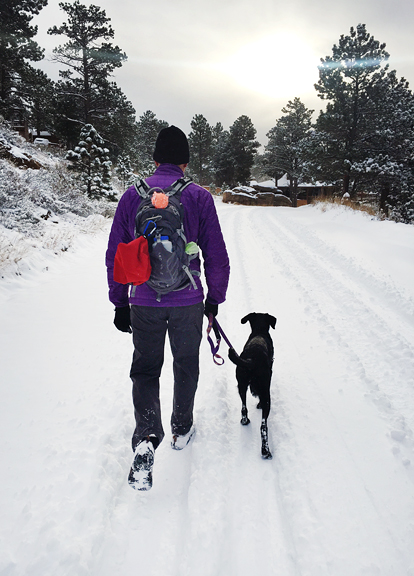 While I pride myself in enduring gale force winds to get my ski on (because it makes the calm days all the more delicious), there are times when the winds and the snow conditions combine to create so much suckage that I will resort to indoor rowing or riding. Those are also good days to tackle something like this butternut squash lasagne with its multiple components. Running the oven keeps the house warm and toasty while the big bad wolf rages outside.
onions, butter, olive oil, milk, goat cheese, flour, salt, thyme, sage, panko crumbs, butternut squash, black pepper, pecorino-romano cheese, no boil lasagne, nutmeg, garlic
start caramelizing the onions
deep brown and sweet
I started caramelizing my onions first because at my elevation, they take about 90 minutes to caramelize as opposed to the nominal 40 minutes at sea-level. But if you are below 5000 feet, you can start your onions after the butternut squash goes into the oven for roasting. The
original recipe
doesn't call for caramelized onions and only uses two cloves of garlic. After perusing the reviews, I opted for more flavor with two caramelized onions and a whole head of garlic, because butternut squash doesn't have to be bland.
place garlic, thyme, salt, pepper, and olive oil in each squash cavity
roast for an hour and let cool
peel the garlic cloves
mash the butternut squash, garlic, and half of the caramelized onions together
The onions and squash can be cooked ahead of time and refrigerated for a few days before making the lasagne if you don't want to spend a lot of consecutive hours in the kitchen. Next, start the bechamel sauce by infusing the butter with fresh sage. You can discard the sage, but I suggest saving it for a garnish, because butter-fried sage is kinda heavenly. I mean, butter-fried anything is guaranteed to be damn good. Whisk in the flour to make a roux and then whisk the milk in a little at a time. Cook and whisk for 15 minutes until the sauce thickens, then add the goat cheese, the rest of the onions, half the Pecorino-Romano cheese, salt, pepper, and nutmeg.
fry the sage in the butter
whisk the flour into the butter and make a roux
gradually incorporate the milk
add the spices, onions, and cheeses to the sauce
When the bechamel sauce is ready, save one and a half cups out and mix the remainder with the butternut squash mash. Then prepare the herby bread crumbs. For more crunch, use panko crumbs, but any dried coarse breadcrumb will add a nice crunchy texture to the topping of the lasagne. If using no boil lasagne noodles (they're thinner than the regular kind), then you're ready to assemble. If using fresh or dried lasagne noodles, boil them accordingly.
stir the rest of the bechamel sauce into the butternut squash mash
mix the panko crumbs, chopped herbs, and seasonings together
pour melted butter over the breadcrumbs and toss to coat
ready to assemble: no-boil lasagne noodles, butternut squash sauce, seasoned breadcrumbs, bechamel sauce, pecorino-romano cheese
To make the lasagne, a 9×13-inch baking dish is ideal, but you can play with the geometry of rectangular quadrilaterals. A half cup of the bechamel goes on the bottom of the pan, followed by a layer of lasagne noodles. Then you alternate butternut squash filling with lasagne noodles until you end on lasagne noodles. I wound up with five layers of butternut squash filling and six layers of lasagne, which meant I needed two packages of my no-boil lasagne noodles. So just be aware if you make or purchase your noodles, that you may want to have extra on hand if you prefer more layers in your lasagne. Then the rest of the bechamel is spread over the top, followed by the panko crumbs and the Pecorino-Romano cheese. Cover the lasagne with foil and bake, removing the foil for the last twenty minutes so the top can get all golden, crunchy, and bubbly.
layering noodles over the bechamel base
spread butternut squash filling
top with the rest of the bechamel
sprinkle the seasoned panko crumbs
cover with foil
baked
The lasagne came out beautifully, although I think in the future I would like to try incorporating homemade lasagne noodles. The no-boil noodles wound up absorbing some of the moisture from the sauce, which is fine because I dislike soggy lasagne (it shears laterally and can't hold a shape), but it did leave the filling ever so slightly drier than I would like. I think my instincts were correct in adding caramelized onions and upping the garlic to a whole head. Be sure to season your sauces (taste them as you cook) because the biggest enemy of this recipe is being too bland. This makes a great vegetarian main, especially with holiday gatherings looming large on the horizon, and the leftovers heat up for a tasty lunch or dinner the day after!
that reserved butter-fried sage comes in handy
multiple layers of butternut squash and pasta
Butternut Squash Lasagne
[print recipe]
modified slightly from Fine Cooking
roasted butternut squash and garlic
1 large (3 lbs.) butternut squash, halved lengthwise and seeded
1 head garlic, unpeeled
2 sprigs fresh thyme
2 tsps olive oil
1/2 tsp kosher salt
ground black pepper
caramelized onions
2 tbsps olive oil
2 tbsps unsalted butter
pinch kosher salt
2 onions, peeled and cut into 1/2-inch slices
goat cheese bechamel sauce
4 tbsps unsalted butter
2 sprigs fresh sage
1/4 cup all-purpose flour
3 cups whole milk
4 oz. herbed goat cheese
1/2 cup grated Pecorino-Romano cheese
1/4 tsp freshly grated nutmeg
1 tsp kosher salt
1 tsp ground black pepper
bread crumb topping
1/4 cup panko crumbs (or coarse dry breadcrumbs)
2 tsps fresh thyme leaves, chopped
1 tsp fresh sage leaves, chopped
1/2 tsp kosher salt
1/2 tsp freshly ground black pepper
1 tbsp butter, melted
1 to 1 1/2 lbs. of lasagne pasta (either no boil, boiled, or fresh)
1/2 cup grated Pecorino-Romano cheese
Caramelize the onions: Heat the olive oil and butter in a large skillet or sauté pan over medium high heat. Add the onions and sauté until translucent. Reduce the heat to medium and stir every few minutes until the onions begin to brown (but not burn). When the onions begin to burn a little, reduce the heat again and stir occasionally to prevent burning. Keep doing this until the onions are a deep rich brown color (about 40 minutes, but at my elevation it takes 90 minutes). If the onions are getting too dried out and the heat is already quite low, you can add a little water to prevent burning (it cooks off, but helps the onions caramelize without scorching on the pan). Remove from pan and let cool.
Roast the butternut squash and garlic: Preheat oven to 425°F. Place the squash halves, cut-side up on a foil-lined heavy rimmed baking sheet. Break the head of garlic in half (or just divvy the cloves in half) while keeping the skins on the cloves. Place half of the cloves and a sprig of fresh thyme in each butternut squash cavity. Drizzle each cavity with 1 teaspoon olive oil, 1/4 tsp salt, and a grind of black pepper. Roast for 45 minutes to an hour. Remove from oven and let cool. Discard the thyme. Peel the garlic cloves and peel the skin away from the butternut squash. Mash the garlic cloves, butternut squash, and half of the caramelized onions (about 1/4 cup) together.
Make the bechamel sauce: Melt 4 tablespoons of butter in a medium sauce pan over medium heat. Drop the sage sprigs into the butter and cook until fragrant (about 2-3 minutes). Remove the sage from the butter (reserve them – they make great garnishes for the lasagne). Whisk the flour into the butter until the mixture becomes smooth and golden in color (about 2 minutes). Gradually pour the milk into the roux while whisking to incorporate. If you add the milk all at once, the roux clumps up and is much harder to mix. Cook the sauce for about 15 minutes, whisking occasionally until it has thickened. Stir in the goat cheese, Pecorino-Romano, nutmeg, salt, and black pepper. Add the rest of the caramelized onions (about 1/4 cup) to the sauce. Adjust seasoning to taste. Reserve 1 1/2 cups of the bechamel sauce and stir the rest into the mashed butternut squash.
Prepare the buttery herbed bread crumbs: Mix the panko or breadcrumbs, chopped thyme, chopped sage, salt and pepper in a small bowl. Pour the melted butter over the bread crumb mixture and toss to coat.
Assemble and bake the lasagne: Preheat the oven to 350°F. Spread 1/2 cup of the bechamel sauce into a 9×13-inch baking dish. Arrange slightly overlapping noodles over the sauce. Spread a quarter or a fifth (depending on how many layers of noodles you want) of the butternut squash mixture over the noodles. Layer more lasagne noodles over the butternut squash. Repeat until you have 5 or 6 layers of lasagne noodles, ending with a noodle layer. Spread the remaining 1 cup of bechamel sauce over the noodles. Sprinkle the herbed bread crumbs over the sauce, then sprinkle the cheese over the whole ensemble. Cover the dish with foil and bake for 40 minutes. Remove the foil and bake another 15-20 minutes until the top is browned and bubbly. Let cool for 10 minutes before serving. Serves 6-8.


more goodness from the use real butter archives