Recipe: massaman beef curry
December already. Neva is now just over eight months old and we are falling into a nice routine. Nice enough that I could get out today for my first skate ski of the season at the nordic center. Keeping active in winter is essential for me, but keeping active outside is the icing on the cake. Winter in the mountains can be long (the longer the better!!!), so the strategy of holing up inside and biding my time until summer is a cop out. It's probably my dad's fault because he has always been the type who could never be inside for more than 24 hours before growing aggitated and insisting that we go sailing or fishing or camping or anything OUTSIDE. I do find that getting out into "green spaces" or "open spaces" does both me and Jeremy a world of good when it comes to our mental outlooks.

skate ski day #1, ski day #10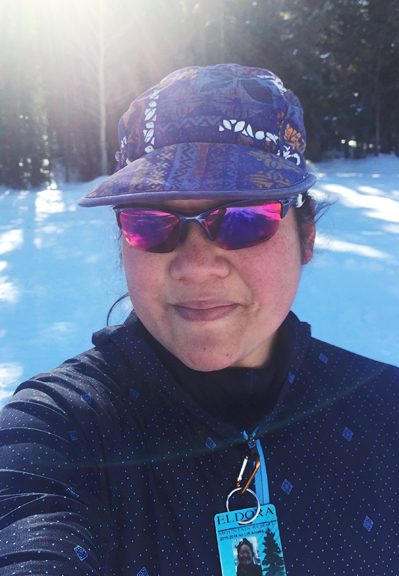 The other night I told Jeremy I am so happy that we don't live down in Boulder or anywhere on the flats. In the mountains, we spend our time working and playing. When I lived in Southern California, it was far too easy to feel bored and go spend money to unbore yourself – to buy things you didn't really want and certainly didn't need only to clutter up your house, your life, and fall into the trap of needing a bigger place and more shit. That's stressful living. I'm sure plenty of people find the mountains come with their own stressors, but it's a simpler way of life. And I'm a huge fan of making life simpler if possible.
One thing that has greatly simplified my life is my pressure cooker. I try to incorporate it into recipes whenever possible because it reduces energy consumption, shortens cooking time, and achieves pressures that can't be reached with conventional cooking methods at our high altitude. A few months ago, a high school pal sent me a note that he had made a few of my recipes on the blog and that they were a hit with the family, but that he wanted to attempt massaman beef because it is his favorite Thai curry. Well, it's my favorite Thai curry, too! For nearly two decades, I have casually played around with massaman beef to moderate results (still better than any of the Thai restaurants around here), but my friend's message prompted me to take another shot at it – with my pressure cooker. Don't worry if you don't have a pressure cooker, you can still do this with a Dutch oven. So Kevin, this one is for you!

potatoes, massaman curry paste, salt, brown sugar, roasted peanuts, onions, chicken stock, beef chuck, vegetable oil, fish sauce, soy sauce, tamarind concentrate, coconut milk
Most of the ingredients are easy to find in western grocery stores except possibly the tamarind paste and the curry paste. You could make the curry paste from scratch, but I have had good results with Maesri brand curry pastes (based on a tip from a fellow grad student who happened to be Thai). I have also heard good things about Mae Ploy brand curry pastes.
[Edit:
I've had a couple of folks ask if they can substitute red curry paste for massaman curry paste. The answer is flat out no – unless you WANT to make red curry with beef. I'm not being one of those asshole purists – it's just that massaman curry paste is an essential ingredient for making massaman curry. This is like asking if you can substitute white chocolate for dark chocolate in a dark chocolate soufflé recipe and still get dark chocolate soufflé.
]
For tamarind, I have tamarind concentrate in my refrigerator, but you can also make tamarind paste from blocks of dried tamarind (
Saveur has a nice tutorial
). Select smallish potatoes. While most recipes recommend using waxy potatoes, I couldn't help but use yukon golds, because they have the best flavor. The texture worked out just fine, too.
slice the onions
lightly char or brown the onions
scrub the potatoes clean
cube the beef
toss with salt
However you are cooking the curry – in a pressure cooker or a Dutch oven – cook everything in that pot. After browning the onions, remove them to a bowl and fry the curry paste and coconut milk cream together in that same pot. You don't want to throw away all of the flavor the onions left on the pot, do you? The answer is no, you don't. To get the coconut milk cream, be sure not to shake your coconut milk can before opening it. That cap of nearly solid cream is what you want to fry with the curry paste, so don't be buying that low-fat coconut milk.
scoop the solid coconut milk cream out
fry the coconut cream and curry paste together
after five minutes
stir the beef in until the meat is evenly coated
Next, everything but the peanuts go into the pot. Save the potatoes for last as they will be floated on the curry, but the cooked onions, the rest of the coconut milk, the sugar, salt, tamarind paste, soy sauce, fish sauce, and chicken stock go into the pot of beef and curry paste. If you happen to be cooking the Dutch oven method, then bump the chicken stock from one cup to two cups.
pour in the remainder of the coconut milk
add the tamarind paste
pouring fish sauce
float the taters on top
At this stage, lock your pressure cooker and set it to high. When you reach pressure, cook for twelve minutes, then shut off the heat and allow the cooker to decompress naturally (i.e. leave it alone). Or if using the Dutch oven, preheat your oven to 325°F and bring the curry to a boil over high heat on the stove. Once it boils, cover it tightly with the lid of the Dutch oven and pop it into the oven for 3 hours. That's it!
Okay, that's not quite it. When the curry is done, remove the potatoes and slice them into halves or quarters (like a two-bite size) and stir them back into the curry. Taste the curry. If it needs a little more soy sauce, fish sauce, tamarind, or sugar, then adjust it to your liking.

cooked
slicing the potatoes
stirring the potatoes back into the curry
Well, this recipe nailed it. My reference is my taste memory of massaman curry from my Southern California days. The beef comes out tender and flavorful, the potatoes are firm, but creamy. Massaman is a mild, smooth curry chock full of earthy ingredients that warm your insides and keep a grumbling tummy at bay. This bowl of comfort can fly solo or goes well with steamed jasmine rice. Don't forget to sprinkle crushed dry roasted peanuts on top. So happy to finally have a massaman beef curry worthy of sharing!
serve with jasmine rice
it tastes even better the next day
Massaman Beef Curry
[print recipe]
from Dad Cooks Dinner
1 tbsp vegetable oil
2-3 medium yellow onions, peeled and cut into 1/2-inch wedges
13.5 oz. can of coconut milk (not lowfat), not shaken
4 oz. can of massaman curry paste
3 lbs. beef chuck, cut into 1-inch cubes
1 tsp kosher salt
1 cup chicken stock or water (2 cups if cooking in a Dutch oven)
1 tbsp fish sauce
1 tbsp soy sauce
1 tbsp tamarind paste
1 tbsp brown sugar
1 1/2 lbs. small potatoes, scrubbed clean
1/2 cup dry roasted peanuts, crushed
*If using a pressure cooker, use that pot for all of the recipe steps. If cooking with conventional method, use a heavy-bottomed Dutch oven.
For both methods: Heat the vegetable oil over medium high heat in your pressure cooker or Dutch oven. Sear the onion wedges for about 4 minutes without disturbing them until they brown on the edges. Remove the onions from the pot to a plate and set aside. In the same pot over medium high heat, cook the curry paste with the thick layer of coconut cream at the top of the coconut milk until the mixture begins to fry (about 8 minutes). Season the beef cubes with the salt in a large bowl. Add the beef to the curry paste and stir until the beef is evenly coated with the paste. Stir in the rest of the coconut milk, the onions, chicken stock or water (make sure to increase to 2 cups if you are using a Dutch oven), fish sauce, soy sauce, tamarind paste, and brown sugar. Pop the potatoes on top of the curry.
If using pressure cooker: Secure the lid on the pressure cooker and lock. Cook on high setting for 12 minutes, then allow the pressure cooker to release naturally (decompress on its own).
If using Dutch oven: Preheat the oven to 350°F. Bring the curry to a boil then cover the Dutch oven with its lid. Move the pot to the oven and cook for 3 hours until the beef is tender. Remove the pot from the oven.
For both methods: Remove the potatoes to a cutting board. Cut the potatoes into halves or quarters. Return the potatoes to the massaman and season the curry with more fish sauce, soy sauce, and tamarind to taste. Serve with roasted peanuts sprinkled on top. Serves 6-8.
more goodness from the use real butter archives