Recipe: no-cook pizza sauce
Are you done with turkey yet? Everywhere I looked on my various feeds, I saw turkeys, turkeys, and more turkeys until I shut my laptop and walked outside when I couldn't handle anymore virtual turkey. I used to feel a teeny tiny nagging guilt in the back of my mind over Thanksgiving because Jeremy and I are so irreverent when it comes to these cold weather holidays. It is a particularly good weekend to go backpacking with Jeremy or night-fishing with Dad. But this year, I was reminded of why I skip the bird… because my parents never really cared for turkey either. I mean, Dad banned turkey on Thanksgiving after the last kid (me) left for college. This year, my folks spent the entire holiday traveling home from Australia. I think if Kris were alive, they would have made the holiday a big deal just for her and her family. She was the only one who truly loved the whole Thanksgiving spread. The rest of us preferred Virginia ham, crab legs, Chinese-style fish, or Dad's bouillabaisse. My immigrant parents used to set a rather impressive feast year after year so that my sister would never have to feel the burning embarassment of being the only kid in her kindergarten who had Peking duck for Thanksgiving instead of turkey.

we grilled steaks for thanksgiving, of which neva was accutely aware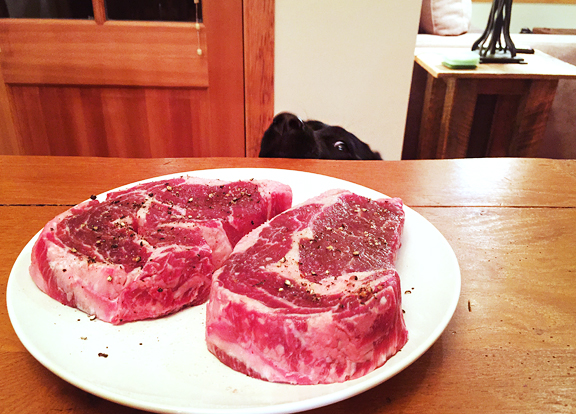 Jeremy and I kept the holiday low-key as we both needed a little decompression time after several hectic weeks of work. Our five hour drive home from Crested Butte was much mellower than the drive out because we had Neva on some new meds for her car sickness. Part of the problem was that she would psyche herself out the moment she saw the car and begin drooling uncontrollably. I think the stress added to the pukiness she was already feeling from the car ride. We asked Doc Newton to prescribe an antiemetic that also made her drowsy – just for the long car rides. She didn't drool much and slept most of the way, but was happy to hop out for a walk and potty at the three hour mark. I sat in the back with her to rub her ears (it comforts her) and to catch any puke-isodes, but there weren't any (yay!). Once home, we resumed her regularly scheduled exercise and ski training. We quite like living in two snowy places.
jeremy skins up with a very excited neva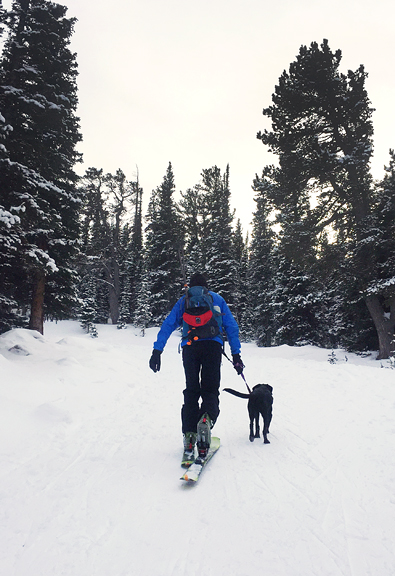 she even developed a cute little snowbeard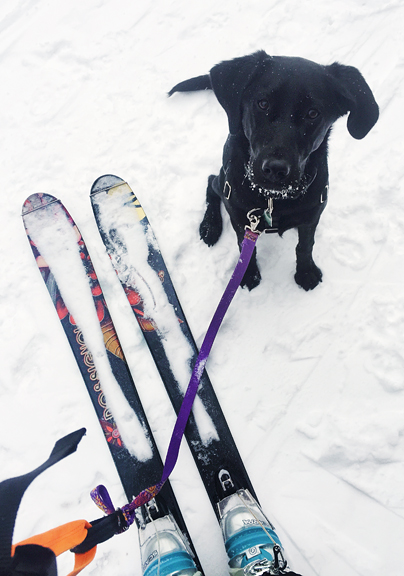 Now that December is at our doorstep, I will be baking a lot of sweets for the next few weeks to distribute to those good people who provide important services like delivering our mail, taking care of our pup, helping us do our jobs, monitoring my health, and being great neighbors. During the holiday bake-a-thon, I develop a strong aversion to sweets – especially the ones I'm making. I just want to eat savory, simple, and delicious fare. Lately, the pizzas at
Crosscut Pizzeria and Taphouse
have inspired me to find a fresh tomato-y pizza sauce for the pizzas we make at home.
diced canned tomatoes, garlic, balsamic vinegar, salt, pepper, olive oil
You could use fresh tomatoes, but they will carry a lot more liquid into the sauce – even if you strain them – which means a potentially soggy pizza. Diced or whole canned tomatoes work well for this, especially the paste tomatoes (Roma, San Marzano), which are meatier, less seedy, and have less liquid. If you canned your own local, organic, late summer San Marzano tomatoes like I did – good on ya. You don't have to strain the canned tomatoes, but I choose to since the pizzas we toss at home are thin crust (I froze the strained juice for soups, stews, sauces, or bloody marys). Our pizzas tend to have blow outs if the sauce is too wet, burning juices onto the pizza stone and blackening the bottom of the crust.
strain the tomatoes for a thicker sauce
smash the garlic
Place all six of the ingredients in the bowl of a food processor, blender, or a vessel if you plan to use an immersion blender. Personally, I am a fan of the immersion blender because it is the easiest to clean up. Why make your life harder than it needs to be, right? Blitz the sauce to your desired consistency. That is, if you like chunks of tomato in your sauce (like I do!) then don't purée the sauce completely. If you prefer a silky smooth sauce, go for it. Don't forget to taste it and adjust the seasonings accordingly.
add the balsamic vinegar
season with salt, pepper, and a drizzle of the olive oil
immersion blendering
smooth with some chunks
What you wind up with is a fresh and tasty sauce that you didn't have to cook! That took all of five minutes including the straining time and it is ready to use on your pizza. Not ready to make pizza? Don't worry! You can store it covered in the refrigerator for a week or freeze it for up to 3 months. That's nice. But how does it taste? Fresh. Crazy summery tomato fresh. This is why canned tomatoes are awesome. This is why your next pizza will be awesome. We are hooked and I've saved myself a bazillion dollars in spendy fancy pizza sauce that isn't even as good as this no-cook sauce!
one batch makes 1.5 cups
don't go overboard, you don't need much to make a great tasting pizza
classic margherita
no-cook tomato sauce, mozzarella, and basil
No-Cook Pizza Sauce
[print recipe]
from The Kitchn
16 oz. canned whole or diced tomatoes, drained for thicker sauce
3-4 cloves garlic, peeled and smashed
1 tsp balsamic vinegar (more to taste)
1/2 tsp salt
1/2 tsp freshly ground black pepper
1 tbsp olive oil
Combine all ingredients in a food processor and purée to desired consistency. I like mine a little chunky. Season to taste with more vinegar, salt, pepper, and olive oil. Use immediately or refrigerate for up to a week or freeze for up to 3 months. Makes 1 1/2 cups.
more goodness from the use real butter archives