Recipe: pralines
We're doing the happy dance over here because we finished our taxes this weekend! It's not as bad as all that, but it isn't a good time or something anyone chooses to do voluntarily – except for tax professionals. I will admit that taxes have gotten easier for me because I've learned to document and track my finances throughout the year such that it's now a matter of tabulating the totals and entering the numbers. I like doing the incremental work so that we don't have to spend more than a few hours getting it all together come tax time. Thanks, Past Self!
It means that we can spend our spare time skiing and doing other things – but mostly skiing! While Neva was at doggy daycare, we skied a "no dogs allowed" trail since we can't ski it when we want to take Neva out in the snow. I had forgotten how nice it is to be able to climb hard and not have to stop for or worry about doggy issues. Don't get me wrong, I LOVE my pup, but I don't have to do everything with her. She had fun, we had fun, and we were all happy to see one another again at the end of the day.

slapping skins on for the climb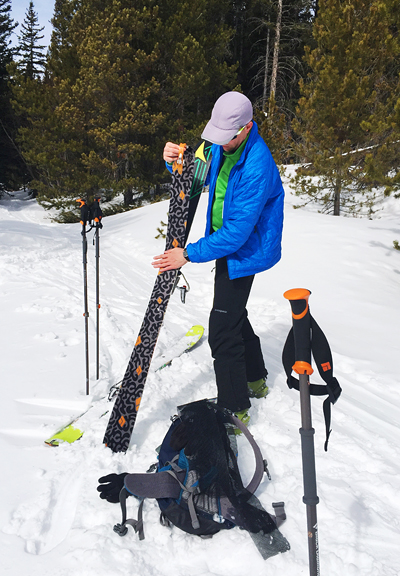 soft snow in the trees (kinda crappy out of the trees)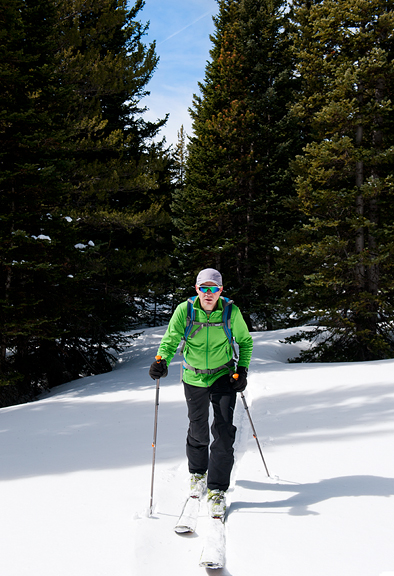 my reward was (half of) this amazing bacon cheeseburger at oak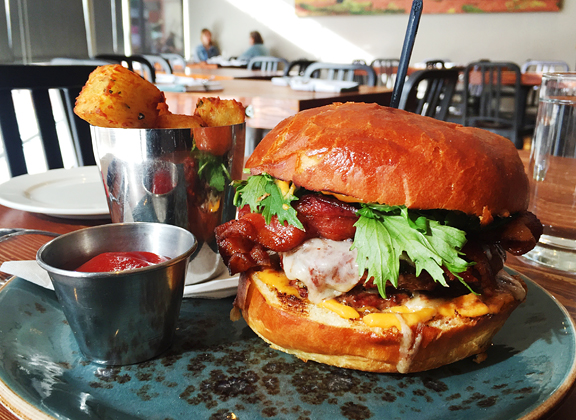 And it's not like Neva didn't get to go play in the backcountry, because the very next day Erin and Banjo joined all of us on a ski tour! Neva is getting better about minding Jeremy and keeping clear of his skis (and those sharp metal edges). She's actually best about avoiding them when they are moving. When we all stop to rip skins or shed layers, she starts hopping around and between the skis which is when she's most likely to cut a paw. To help her obedience when we're on skis, we alternate days working with her while we hike. It's all about fun for Neva, but for us, it's all about training her so she can be safe AND have fun for many years to come.
erin and banjo on the way up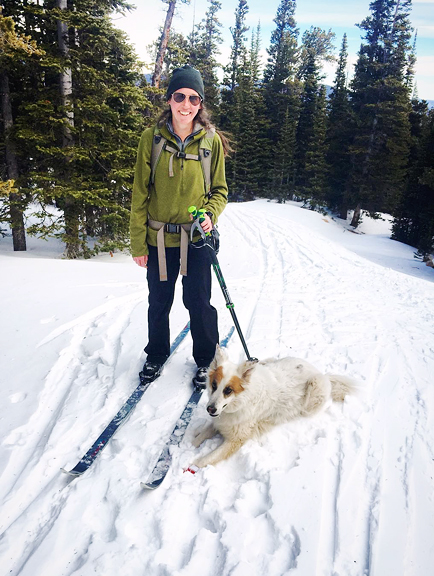 getting neva ready for trail running season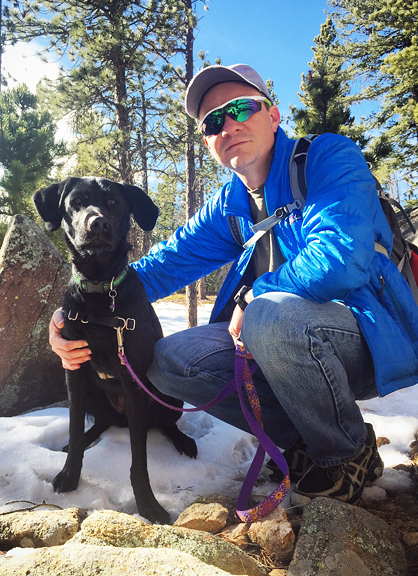 I just booked travel to see my parents in Virginia this spring. Spring is a fine time to visit my home state because Williamsburg is thick with green leaves, flowering dogwoods, azaleas, and a host of beautiful birds. Any later than mid spring and I just can't handle the heat and humidity. There are some staples that I always bring back to Colorado with me – like Virginia country ham, Virginia peanuts, and praline pecans. I never ate a praline on its own until a few years ago, but that doesn't mean I never ate one. I consumed more than the legal limit when I was kid – all of it in the form of ice cream because pralines and cream ice cream was a favorite in our house and my parents used to own an ice cream store. Fast forward almost 40 years and I'm thinking "how hard can it be to make your own pralines?"
sugar, light brown sugar, salt, vanilla, pecans, cream, butter
Yup, that's all there is to it. Basically you're cooking pecans in caramel on the stove and agitating the caramel until it turns grainy. At that point, start dropping the pralines to form the beloved candy of the South. DO get all of your equipment ready ahead of time, as caramel waits for no one when it's time to start dropping pralines. DO use a saucepan no smaller than 4-quart capacity because this stuff wants to, and will, bubble up during cooking. DO use a candy thermometer so you can track the temperature of your caramel.
toast the pecans
place all of the ingredients in a medium saucepan
Typically, you don't want to disturb the sugar when you make caramel because it causes crystallization and sometimes (most of the time) winds up turning into a brick of hot hard sugar. In this case, you do want to encourage crystals to form to achieve that softer, creamier texture that resides somewhere between fudge and caramel.
stir until it boils
keep stirring until it reaches target temperature
remove from heat and continue to stir until grainy
As soon as the texture goes from smooth to grainy, immediately begin dropping spoonfuls of the praline mixture onto your prepared surface. Use parchment or silpat, but keep in mind that this caramelized sugar is hot. So don't be sticking your finger in it or accidentally dribbling it on anyone you love. Don't worry about the shape, you don't have much time before the entire batch cools and solidifies in the saucepan, so work quickly.
let them cool for 10 minutes
they are especially good still warm
When you bite into a freshly-made warm praline, you will experience heaven melting on your tongue. These candies are simple to make as long as you follow the rules (just keep stirring). The total time from start to finish is about 15 minutes tops, which can be a good thing or a dangerous thing.
buttery sugary bliss
Pralines
[print recipe]
from The Kitchn
1 1/2 cups (12 oz.) granulated sugar
3/4 cup (6 oz.) light brown sugar
1/2 cup heavy cream
6 tbsps unsalted butter
pinch salt
1 tsp vanilla extract
1 1/2 cups pecans, toasted
Line baking sheets or your work surface with parchment paper or silpat – enough area to drop all of your pralines. Have an extra spoon available in case you need to scrape the pralines off your main spoon. Use a 4-quart saucepan for this recipe to avoid having the caramel boil over during the cooking process.
Place all of the ingredients in a medium to large saucepan set over high heat. The saucepan should be fitted with a candy thermometer. Stir to combine the ingredients and continue to stir occasionally. Bring the contents to a boil. At this point, start to stir constantly. Let the caramel boil for 3 minutes until it reaches a temperature of 238°-240°F. [At my altitude, the target temperature is 221°-223°F. The general formula is to reduce the target temperature by 1°F for every 500 feet above sea level.] Remove the pan from the heat and continue to stir vigorously. The caramel will transform from translucent to cloudy and will thicken. When the liquid becomes grainy in texture, it is time to start dropping pralines. Working quickly (you don't want it to solidify before you're done dropping pralines), drop by the spoonful onto the parchment or silpat about an inch apart. Let the pralines cool for 10 minutes. Makes about 5 cups. Keep in an air-tight container for several days.
more goodness from the use real butter archives