Recipe: veg head sandwich
We waited out the Cold Springs Fire in Crested Butte as federal, state, and local wildland fire response teams accomplished the superhuman feat of keeping the fire in check during terrible conditions – high and erratic winds, dry air, hot temperatures – and put everything they had into it. After the worst of the weather had passed, these amazing crews were able to get the fire contained and put out within a week of it starting. That right there is beyond impressive considering how bad past wildfires have gotten.
Jeremy and I were glued to Twitter and other information sources for a day, but had to pull ourselves away as we realized how exhausting and futile that activity was. Our neighborhood remained out of harm's way, but was still disturbingly close to it. We kept tabs on developments, but for the most part we resumed our work schedules and managed to get some fresh air. It comes up time and again, but you learn an awful lot about a person in times of crisis. Some people are helpful, others are useless, still others are worse than useless – they are drama queens (or kings). Thankfully the majority of our neighbors are great, keeping level heads and having plans of action. Those are the folks you want on your team during the zombie apocalypse. That one neighbor who is always drunk, stoned, or both? He's a red shirt.

neva enjoys a nice cool stream crossing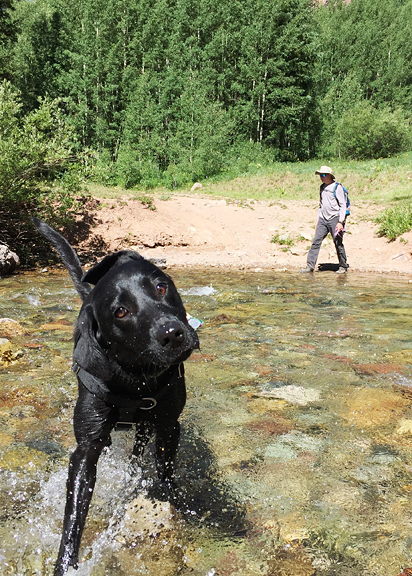 hiking above copper lake (on the return, neva swam her brains out in the lake)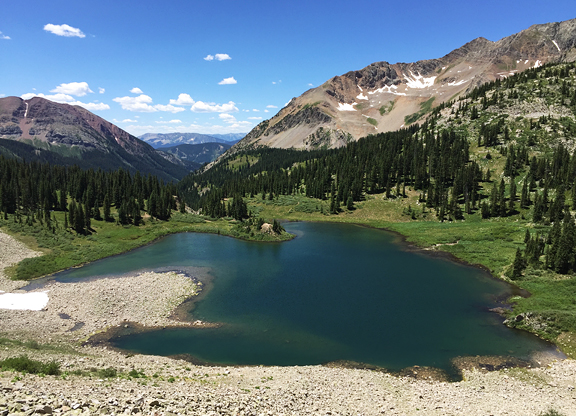 wildflowers showing off their stuff in the high country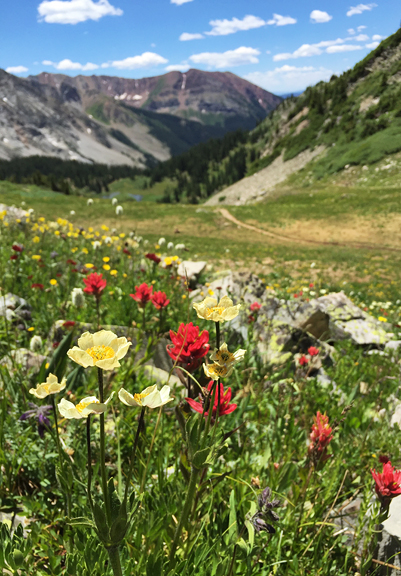 jeremy and neva at east maroon pass with aspen in the background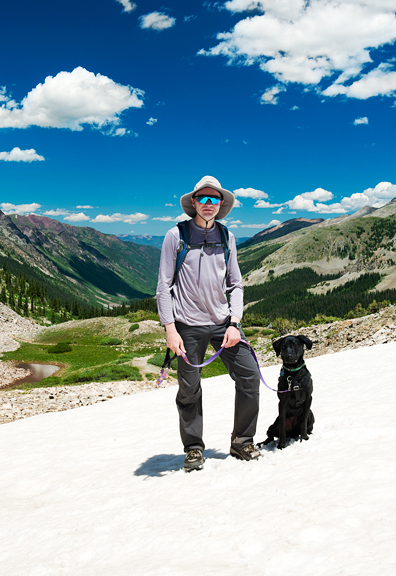 cutthroat trout coming to check me out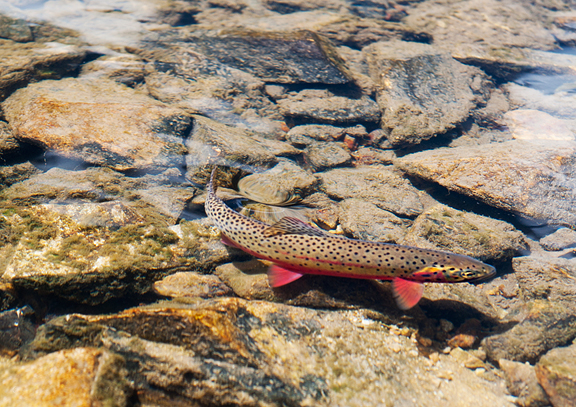 jeremy paddles at lake irwin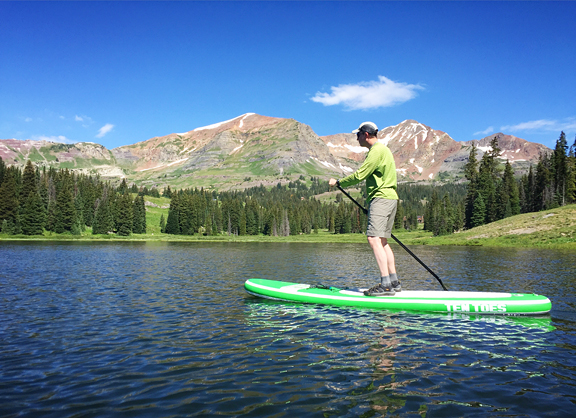 rafting together to enjoy a cool breeze and a lovely view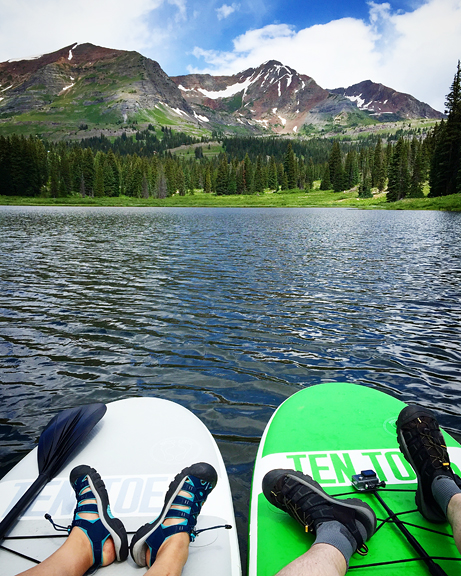 Crested Butte's wildflower season gets going in late June and runs through August and even into September if the rains deliver on their promise to the land. I know when the wildflowers are going strong without having to look because my allergies kick into overdrive. My nose starts running as soon as I start running. My eyes itch the minute I set foot on the trail. But it's worth it. I just wish it would rain, because the animals need their berries, the mushrooms have yet to really flush, and wildfire season is just getting started.
We came home to Nederland a few days ago. Everything seems to be that crunchy kind of dry underfoot right now, but there is rain in the forecast that would be most welcome here. Oh, angelitacarmelita asked for a picture of the oyster mushrooms we found in Crested Butte a couple of weeks ago. These aren't the best oysters I've found, but the ones we ate were certainly delicious. These aspen oyster mushrooms grow on – you guessed it – aspens (and sometimes other trees)! We found both sets at the base of dead aspens.

a single (with a really tiny mini version growing behind it which i left in place)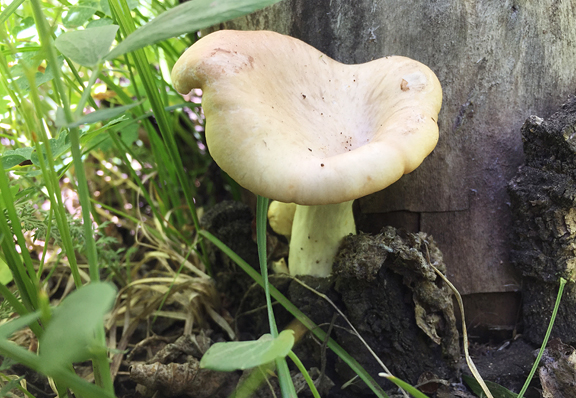 the older ones were more tan and dried out and ruffled (and wormed out)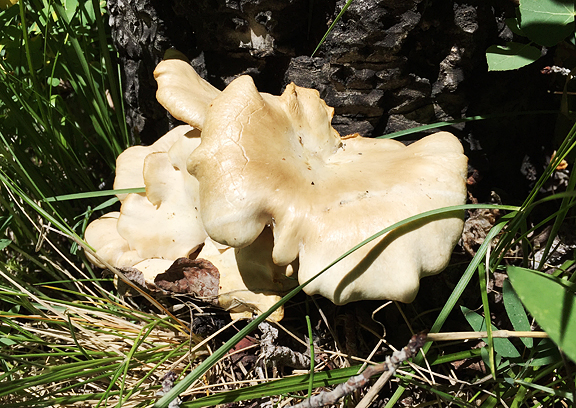 Porcini (king bolete) or Kings are supposed to be making an appearance any day now. Actually, some already have, but they are being extra shy without the rain to coax them up. It's easy to become obsessed with mushrooms, until you realize that they can dominate your entire summer. I like finding mushrooms and I have a pretty good eye for them, but for Jeremy's and my own sanity, I try not to let mushrooms derail plans for long hikes, trail runs, or backpacks. In any case, when they do flush, I will have to revisit this sandwich which was so wonderfully packed with vegetables. I call it the veg head and you can make it with any kind of favorite mushroom.
arugula, mozzarella, olive oil, balsamic vinegar, pepper, eggplant, zucchini, salt, maple syrup, butter, dijon mustard, ciabatta roll, and porcini
slice the vegetables
It's a simple concept: pan-seared vegetables, melted cheese, a bed of greens, and some balsamic dressing all on a nice chewy roll. Make your own balsamic vinaigrette or purchase some from the store – but homemade is a lot easier than you might think and so much tastier!
stir the balsamic vinegar into the maple syrup, salt, pepper, and mustard
whisk in the olive oil
For the frying, I found it helped to speed things along by using two frying pans. I dry fried the eggplant slices before adding oil. It's a technique my mom taught me when making
Chinese yu shian eggplant
. By heating and "wilting" the eggplant first, they soak up less oil when you add it at the end to help brown the slices. While the eggplant was dry frying, I got the other pan ready for the porcini slices. You can dry fry porcini as well, but in this case I just heated some butter in the pan and fried them with a little salt. When the eggplant was done, I added a little more oil and fried the zucchini slices.
dry frying the eggplant
melting butter in the other frying pan
add oil and salt to the wilted eggplant and brown the slices
pan-searing porcini slices in butter
fried zucchini slices
Once the dressing and vegetables are ready, it's time to make the sandwich! You can leave the cheese cold if that is your preference, but I tend to like melted cheese better than unmelted cheese in most instances. That's just me. I'm not a proper cheese person, you know. If you do want melted cheese, just slap a layer onto half of the roll and bake until bubbly or melty. Then layer the goods onto your sandwich.
let's make a sandwich!
a few minutes in the oven
some eggplant
and zucchini and porcini
arugula and balsamic dressing
a little messy, a lotta yummy
The beauty of the sandwich is that you can add or remove whatever you want and make it your own – like Legos. This one in particular was packed with a veggie umami punch from the porcini and eggplant. The contribution of sweet and tangy comes from the balsamic vinaigrette which goes nicely with the spice and herbal nature of the arugula. Ultimately? It's a great sandwich that works for Meatless Mondays or any day.
layers of flavors
for all you veg heads and non veg heads alike
Veg Head Sandwich
[print recipe]
1 medium eggplant, cut into 1/2-inch disks
2 tbsps olive oil
salt
1-2 medium fresh porcini mushrooms or other mushroom, cut into 1/4-inch slices
1 tbsp unsalted butter
1 medium zucchini, cut into 1/4-inch long slices
2 ciabatta rolls or other bread
2-3 oz. mozzarella cheese, sliced
2 cups fresh arugula
1/4 cup balsamic vinaigrette (see recipe below)
balsamic vinaigrette
2 tbsps balsamic vinegar
1 tsp maple syrup
1/2 tsp Dijon mustard
1/4 tsp salt
1/4 tsp freshly ground black pepper
6 tbsps olive oil
Make the balsamic vinaigrette: Stir the balsamic vinegar, maple syrup, mustard, salt, and black pepper together. Whisk the olive oil into the mixture while pouring the oil in a slow steady stream. It should emulsify. Set aside. Makes about 1/4 cup.
Prepare the sandwich: Heat a sauté pan or skillet over medium high heat. Arrange the eggplant slices on the pan and dry fry until the eggplant slices begin to wilt. Turn the slices over and continue to cook until the slices are mostly wilted. Drizzle a tablespoon of olive oil over the slices and onto the pan. Sprinkle some salt over the slices. Flip the slices and cook until golden, then flip again and cook until the bottoms are golden. Remove the eggplant to a plate. Dry fry the mushroom slices in the same way as the eggplant, but this time add a pat of butter to the hot pan when the mushrooms have been wilted on both sides. Sprinkle salt over the mushrooms and fry both sides until golden. Remove the mushrooms to a plate. Drizzle the remaining tablespoon of olive oil onto the pan and fry the zucchini slices on both sides until done and just browning. Sprinkle a little salt over the slices during frying. Remove the zucchini to a plate.
Slice the rolls in half. Place a layer of mozzarella on one half of each roll and bake in a 350°F oven until the cheese melts. Remove from oven. Layer eggplant, mushroom, and zucchini over the mozzarella. Pile on a handful of arugula and drizzle the balsamic vinaigrette over the greens. Top the sandwich with the other half of bread and serve. Makes 2 sandwiches.
more goodness from the use real butter archives