Recipe: hamachi yellowtail crudo
We've lived in the mountains of Colorado for eleven years now. When we first arrived, a week of truly hot weather was about all one could expect of the summer months. Over the years, those temperatures are trending hotter and sticking around longer in summer. I should note that we are particularly observant of hot weather because WE HATE IT. So it was with great joy that we welcomed the return of the monsoon last week. That stupid high pressure cell that was sitting on top of us (and fanning the flames of that wildfire) shifted east so that moisture from the Gulf of Mexico (south of us) could deliver the goods in the form of rain and thunderstorms.

composite lightning strikes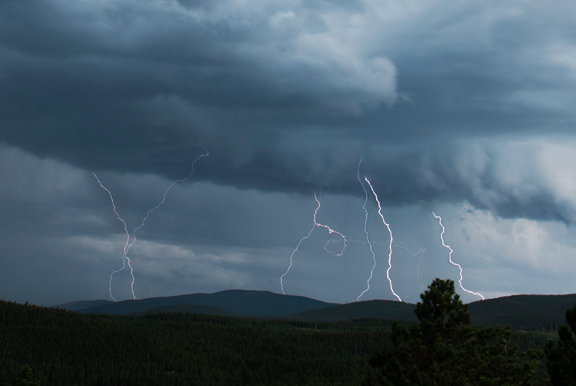 lightning at sunset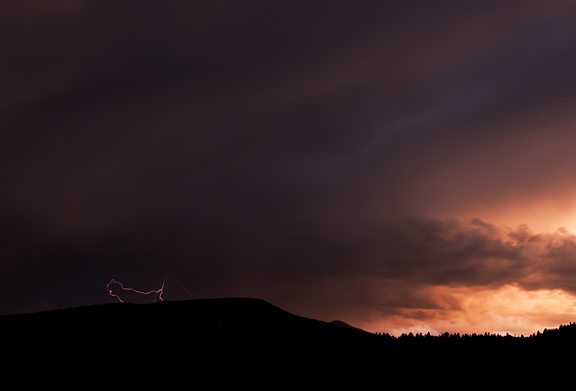 rainbows, the marriage of sun and rain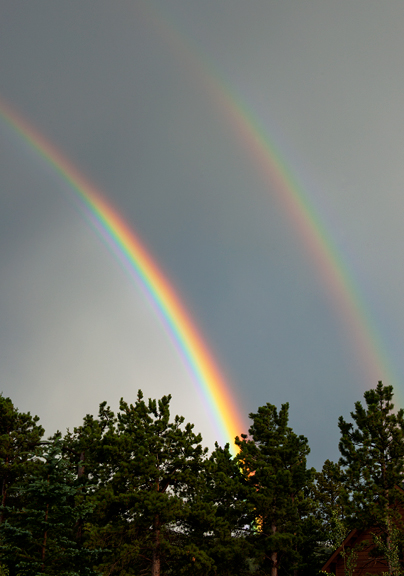 Oddly, after a few good soaking rains, the clouds have been building up and then fizzling out. We can see rain over neighboring canyons and ridges, but there seems to be a giant sucker hole (blue hole in a sky of clouds) over our neighborhood at any given time. We don't have air conditioning at our house, so we work hard to cool it at night and keep it as cool as possible during the sun's march across the sky. Just today, Jeremy and I discussed the logistics of getting an evaporative cooler installed before next summer. It is most efficient in arid climates and it's much cheaper to run than air conditioning.
For now, we are sucking it up and continuing with our summer schedule of trail runs, hikes, and paddles. The higher you climb, the cooler it is – at least if the atmosphere is adiabatic, which it kind of is (Jeremy says to disregard water vapor). The high country is beautiful right now. Lush, green carpets splattered with colorful wildflowers and lingering snowfields paint these rocky mountains above the dark mantles of conifer forests. We are running farther and climbing higher, racing against the season and racing ourselves. Actually, that's only half true. Jeremy is racing against himself. I'm not racing anyone. I'm noodling along and stopping to look for mushrooms or checking on the progress of the huckleberries, snapping selfies and photos along the way, shouting hello to Mr. Rabbit so I don't go startling Ms. Moose. This is why we run separately. But it's nice when our two routes overlap and we can say hi.

after a steep climb, i wait for jeremy to arrive from the other side of the ridge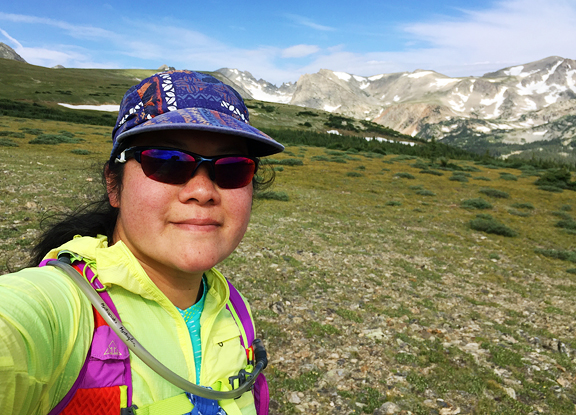 off days are meant for hikes with neva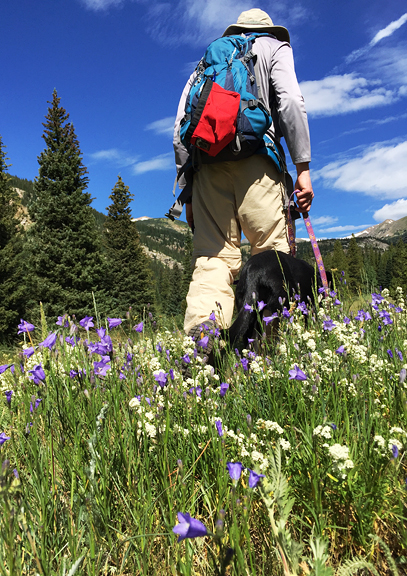 jeremy refuels on the trail during his 17-miler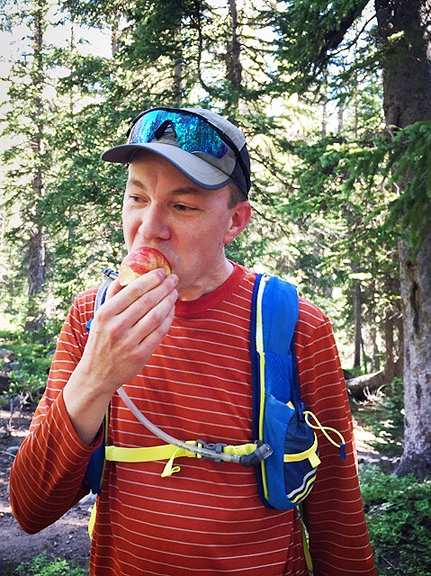 hiking with erin and banjo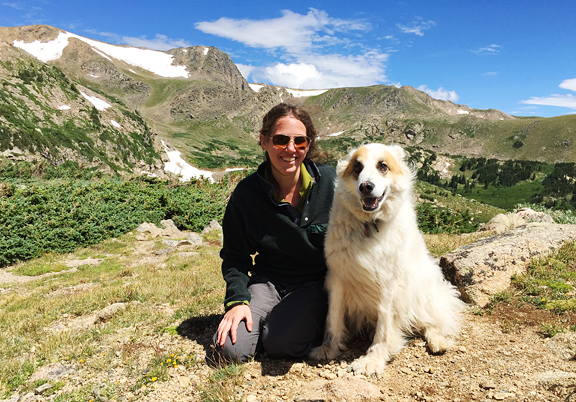 paintbrush come in so many beautiful colors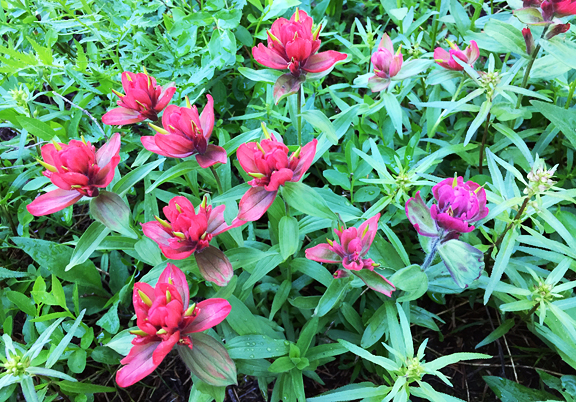 lunch with a view at king lake

We still have two months of summer remaining, and yet it's already impossible to do all the things we had hoped to accomplish before the next season moves in. I suppose you could say that just leaves more for next summer. Something I did manage to check off my list was making hamachi (yellowtail) crudo with finger lime pearls. I've been waiting until I could order some from
Shanley Farms
when the season started at the end of June and I finally got some!
radishes, orange oil, togarashi, vegetable oil, orange, flake sea salt, finger limes, hamachi (not pictured: ponzu sauce)
I first heard of finger limes when a friend in Australia asked if I had seen them here in the States. I hadn't. These were originally discovered growing wild in Australia and have since slowly made their way to the U.S. To open the finger lime, I scored the rind around the middle and broke it open. Rolling the end of one half between my finger tips, the little pearls tumble out of their tight-packed quarters. It's incredible, really. Each little pearl bursts with the tart juice of a lime when bitten. I figured these would be great with hamachi crudo because I wanted the acidity of the lime without the raw fish cooking on contact as it would with lime juice. Obviously, finger limes aren't everywhere available (yet), so if you don't have any, then just use a regular squeeze of lime juice just before serving.
score the rind around the middle and break the finger lime open
roll one end between your fingertips and watch the caviar fall out
completely empty!
pink pearls (sometimes they are other colors like green or yellow)
Hamachi crudo can be as simple as laying out a few slices of fish and drizzling some ponzu and oil on top. Hamachi or yellowtail is my favorite fish to eat as sashimi. Well, that and fatty tuna – but I can't afford to eat fatty tuna all the time. I feel the flavor of hamachi is quite delicate compared to tuna (maguro) or salmon (sake). So pairing the raw fish with sweet orange segments, crisp and spicy radish slices, and the finger limes sounded good to me. I also drizzled a little orange oil mixed with a flavorless vegetable oil (to dilute the rather potent orange oil) on top because the presence of oil makes for a smoother texture in your mouth.
to supreme an orange: cut away the rind and any pith
slice out the segments between the membranes
thinly sliced radishes
measuring out orange oil
mixing it with vegetable oil
slice the hamachi just before assembly
While ponzu sauce isn't shown in the photos, I've added it to the recipe below because I decided the dish could use that umami boost. Get all of the ingredients prepped so when you slice the fish, you're ready to assemble and serve. I was a little generous with the finger lime pearls and I think it would be okay to cut back depending on the strength of your citrus. Mine were quite tart. Beautiful, but tart. How you arrange your pieces is up to you. I had a lot of fun putting this one together. Togarashi is a Japanese red chili pepper seasoning blend that contains seaweed, sesame seeds, orange peel, and other goodies (it's gluten-free). You can find it in most Asian grocery stores.
i added some pea shoots for garnish
spooning the orange oil over the hamachi, orange, and radish slices
sprinkling togarashi
a little finger lime caviar
I finished the final plate with some flake sea salt, pea shoots, and edible flowers (fireweed). After we both tasted the dish, we agreed that a little ponzu sauce and half as much finger lime pearls would make it perfect. That said, it was very near perfect. The hamachi melted on our tongues (make sure it is sushi-grade) and the rest of the party on the plate elevated the fish to bright, tangy, spicy, fresh new levels. For anyone with a hamachi obsession, this recipe isn't going to help with that.
as flavorful as it is colorful
how happy is that?
very happy
Hamachi Crudo
[print recipe]
3 oz. sushi-grade hamachi (yellowtail), sliced 1/4-inch thick
1 medium orange, supremed
1 or 2 radishes, sliced thin
1/4 tsp Boyajian pure orange oil
1 tsp flavorless vegetable oil
1 tsp ponzu sauce
togarashi
1 tbsp finger lime pearls (or a squeeze of fresh lime juice)
flake sea salt
Arrange the hamachi slices and orange segments on a plate. Tuck the radish slices among the hamachi and orange pieces. Mix the orange oil and vegetable oil together. Drizzle lightly over the hamachi and orange segments, then drizzle the ponzu over them. Sprinkle togarashi over the plate. Distribute the finger lime pearls over the fish. Season with flake sea salt. Serves 1-2.
more goodness from the use real butter archives