Recipe: this battle station is fully operational (coffee whiskey amaro cocktail)
Memorial Day weekend is here and that means the whole country is kicking off official SUMMER. Even though I am already starting to miss those powder days of winter, I've come to the realization that I don't actually dislike summer at all. I just can't stand summer in places where it's hot and humid… but mostly hot. Mountain summers are magical and we're starting to see it slowly unfold about now.

neva gets lots of walks to wear down her nails (and work on leash training)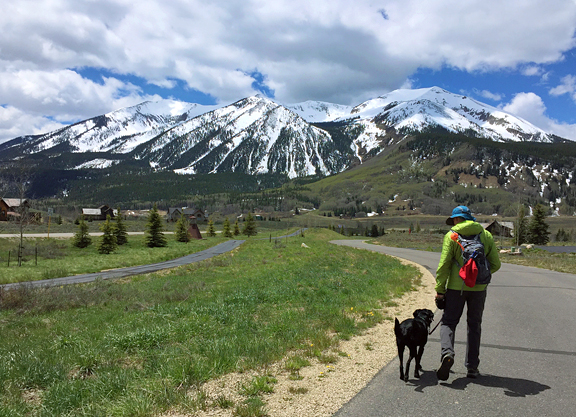 i met an 8-week old golden retriever puppy on my trail run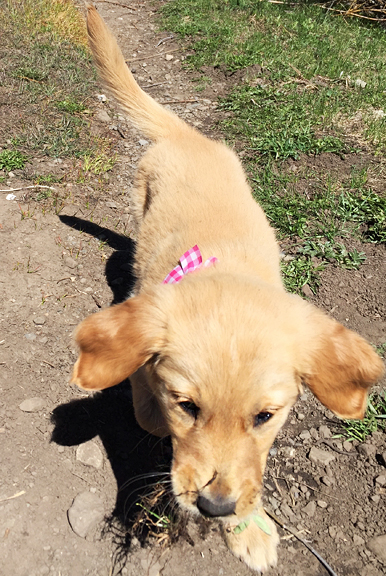 colorful sunsets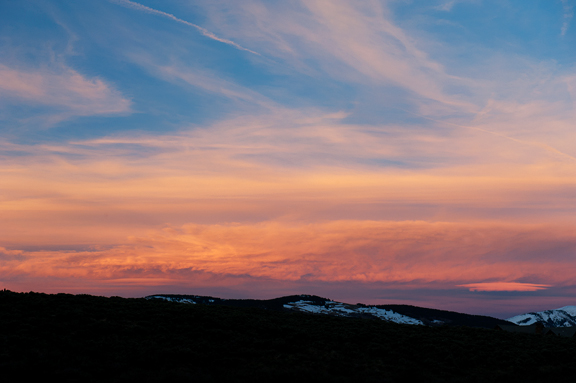 Before I sign off for the weekend, I wanted to share a cocktail for which Jeremy recently fell head over heels. It all started when I was at Costco last year and spied a special on a six-pack of cold brew coffee. Jeremy never drinks ice coffee – he likes his coffee hot. Now, despite not drinking coffee at all, I've learned quite a bit about it because Jeremy and some of my friends are total coffee snobs. I'd heard about cold brew coffee and thought I'd get some for Jeremy. Why buy one to try when you can buy six to potentially hate? Oh Costco…
Turned out, Jeremy loved the cold brew coffee despite his misgivings. I started to see articles that served it in sparkling beverages, so we mixed a couple. Jeremy determined that was a waste of good cold brew. But then he began playing around with cocktails. The first one was awful, but the second was quite good.

rye whiskey, amaro, cold brew coffee, bitters, simple syrup, lemon
The Lucky Jack cold brew coffee has instructions on the bottle to pour hard. What the heck does "pour hard" mean? Apparently, it means to invert the bottle completely and let gravity and air displacement work to agitate the coffee and form a nice crema on top. It also makes the cold brew ever so slightly effervescent.
pour hard to activate bubbles
inverting the contents into a measuring cup
crema
In a separate vessel, start mixing your cocktail. Pour in the whiskey, amaro, cold brew coffee, simple syrup, and bitters. One thing to note is if you are using a cold brew coffee concentrate, you should dilute it to taste before measuring it out and adding it to the cocktail. As for bitters, when
Andrew
loaned me his sous vide at the end of last year, he also gave me a bottle of bitters made by his friends at
Dram Apothecary
, a Colorado business that forages ingredients in the surrounding mountains. Jeremy loves the stuff (this one is called Hair of the Dog), but you can also use Angostura Bitters in its place.
adding amaro
simple syrup and cold brew coffee
a dash of bitters
This isn't a sweet cocktail. It has a touch of sweetness, but it's mostly shades of bitter with a belly of smooth and balanced fire that all work very nicely together. How long you stir it with ice will determine how dilute you make it. Fifteen seconds seems to do the trick for Jeremy. Now in order for the cocktail to be called This Battle Station is Fully Operational, it needs to be served on the rocks – specifically, a
Death Star ice sphere
. It's a total gimmick, but it is the best gimmick EVER if you are a nerd (we are nerds). Once the Death Star is immersed in the cocktail, the distinguishing markings melt away and you are left sipping around a plain ice sphere with a small dent in place of the Super Laser Cannon Well. But it's still worth doing!
a slice of lemon zest
stir some ice in the cocktail
get your death star ice sphere at the ready
pour over the ice sphere
twist the lemon peel and drop it into the cocktail
I'm all about the Death Star ice sphere. Once the cocktail is poured, I lose interest. But then Jeremy gets to sit back and enjoy a lovely cocktail full of his favorite things. Bottoms up, friends! Cheers to the start of summer.
a cocktail with some buzz
and a death star
This Battle Station is Fully Operational (a.k.a. Coffee Whiskey Amaro Cocktail)
[print recipe]
slightly modified from Round Trip Ticket to the Moon
2 oz. Bulleit rye whiskey
3/4 oz. Amaro Montenegro
1 1/2 oz. cold brew coffee (not concentrate), we used Lucky Jack Nitro Cold Brew
2 dashes Dram's Hair of the Dog bitters (you can use Angostura bitters)
1 tbsp simple syrup*
ice sphere for serving (use a Death Star ice sphere mold for complete awesomeness)
ice
lemon twist
*To make simple syrup, place 1 cup water and 1 cup granulated sugar in a small saucepan and stir over high heat until the sugar is dissolved. Bring to a boil for 1 minute. Turn off the heat and let the syrup cool.
Combine whiskey, amaro, cold brew coffee, bitters, and simple syrup in a glass. Place ice sphere in a lowball glass. Stir a few cubes of ice into the cocktail for 15 seconds. Strain cocktail into lowball over ice sphere. Express the lemon peel over the cocktail and garnish. Serves 1.
more goodness from the use real butter archives