Recipe: apple huckleberry pie
**First, I would like to thank every person who bid on anything during the RezDawg Rescue Spring Silent Auction. All three of my donated photographic prints sold and RezDawg Rescue was able to meet and exceed their fundraising goal! This means more kittens and puppies rescued this spring as well as continued funding for RezDawg Rescue's education and spay/neuter campaigns in the Four Corners region to help reduce the stray population. Thank you.**
I have one foot in a ski boot and one foot in a trail runner. Spring storms are hanging around Colorado the way you keep returning to the refrigerator to sneak a bite of leftover dessert. They deliver a foot of snow, then wander off as green spring tries to take hold. And just as you get used to not wearing a jacket, the white stuff returns. This is nothing new for us. After 14 years we have learned to go with the flow – or rather the whiplash of lurching forward and backward – of spring in the mountains.

uphill skiing in rocky mountain national park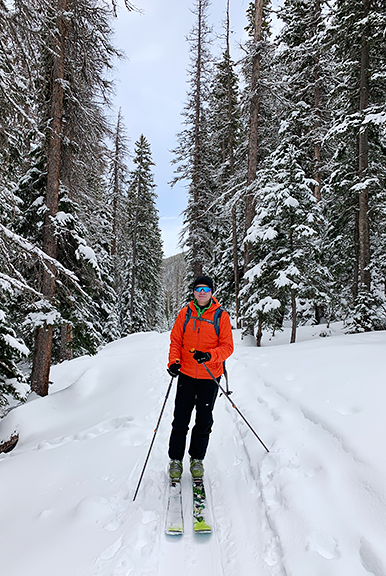 yuki and neva patiently waiting to ski out (in our national forest)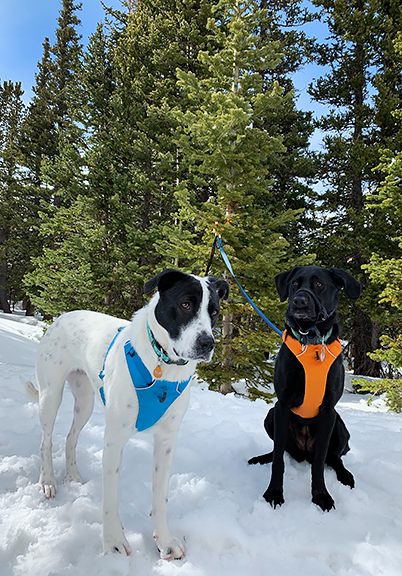 the pups are anxious to run around in another new foot of snow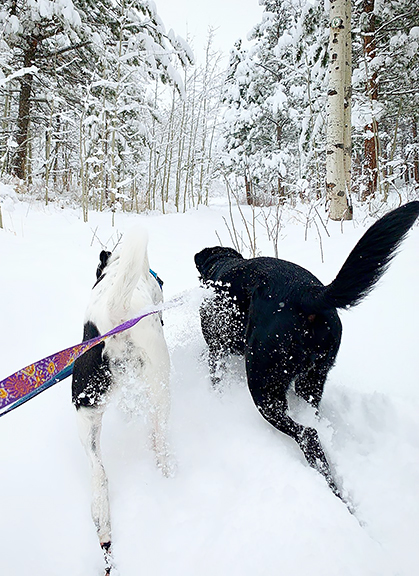 jeremy enjoying his earned backcountry turns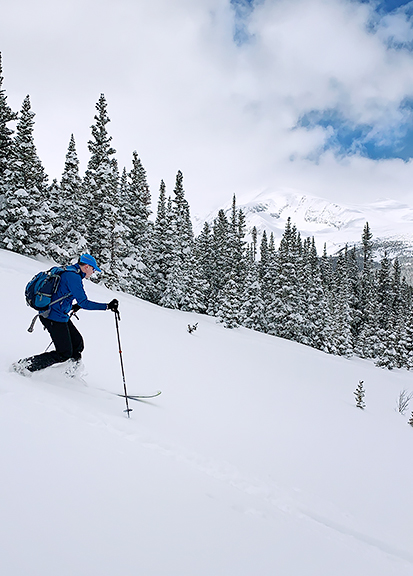 A couple of months ago, I posted a photo of a local mama moose and her yearling. About two weeks later we saw the yearling in our yard, but solo. His mother had run him off so she could focus her energies and attention on her new baby. Make that babies, because last week she brought two beautiful, fuzzy calves by our house to feed. One stuck close to mama, but the other really enjoyed chowing down on our wild currant bushes and was willing to let its family wander pretty far before leaving the snack station. I love that spring is full of new things.
new baby in the neighborhood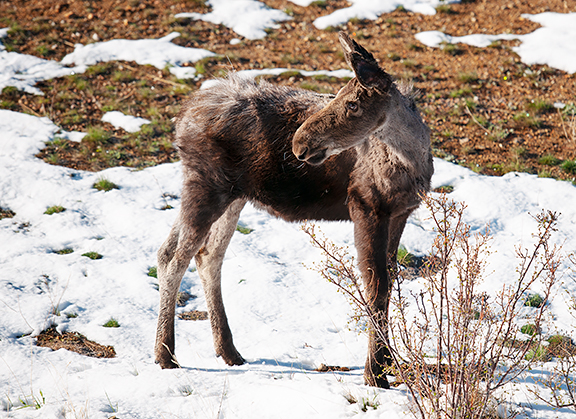 Speaking of new things, Erin and I were wandering about on the plains looking for one thing when we found a different thing – wild asparagus! Actually, it's feral asparagus because it is the same species as the one you buy from markets and stores, but it got loose long ago and has been growing on its own. I found the first stalk by pure accident, and then the two of us quickly consolidated our knowledge from asparagus gardening (Erin), reading (both of us), and growing asparagus fern houseplants (me) to identify many other patches. So exciting! We came away with some nice hauls of super sweet asparagus stalks.
hello beautiful, i am in love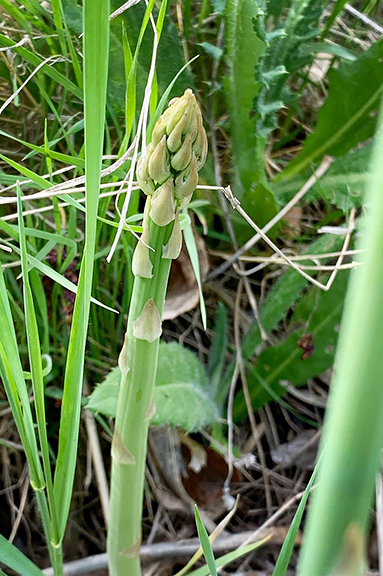 spring bounty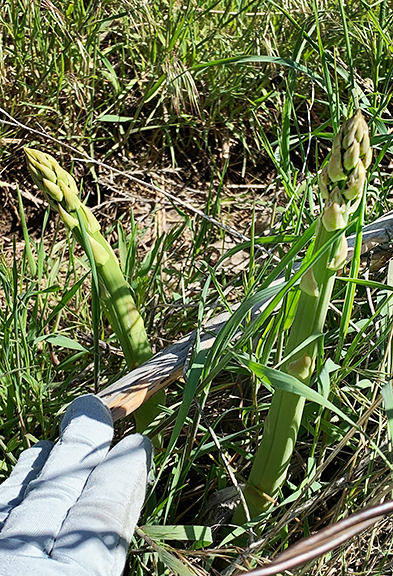 Since it feels as if we are bouncing between seasons here, I thought I'd share a pie that also encompasses more than one season. Even though apples are available year-round at the grocery store, they tend to peak in fall and winter. As for mountain huckleberries (my very favorite absolute best most delicious berry), they are a late summer treat that I can only get by hiking into my local mountains and spending hours picking them by hand. Luckily, they freeze well so that I can access them all year from my freezer. People can substitute its suitable cousin, the blueberry, which is in season now through the end of summer. The whole reason I make this pie is because a pure huckleberry pie represents 12 hours of non-stop berry picking (it's backbreaking work here because our huck plants and berries are small). They are simply too precious for me to throw all of them into one pie. Apples make up the bulk of the filling while happily absorbing the flavor and color of the huckleberries.
huckleberries, apples, cornstarch, sugar, more sugar, cinnamon, salt, lemon
peel, core, and dice the apples
for the apples: diced apples, sugar, pinch of salt, cinnamon
combine in a medium saucepan
cook until soft and the liquid turns into a thick syrup
Because I used a deep dish 9-inch pie plate, I was going to come up short on the filling, so I added two more apples than the four shown in the photo. The recipe accounts for this. If you have extra filling, it's great on oatmeal or plain yogurt, made into handpies with any extra pie crust dough, stuffed into a doughnut, served with french toast, waffles, or pancakes… you get the idea. Let the apples cool while you prepare the berries.
mix the sugar, cornstarch, salt, and lemon zest together
toss with the huckleberries
stir in the lemon juice
mix with the apples
I didn't bother with photographing the pie dough assembly because I've done it before in a couple of posts and because you may have your own favorite double pie crust recipe. If you want to see how I make Kenji's idiot proof awesome easy pie crust recipe, it's
here
. Or you can use your own. Just be sure that the dough is thoroughly chilled before you begin to construct your pie.
filling, pie dough, cream, egg, and finishing sugar (turbinado here)
roll out the dough
line the pie plate and fill with fruit
cover and seal the edges, making vent holes in the top crust
No one could call me an expert pie maker, but my strength is in screwing things up and trying to fix the screw ups. I would watch my pie crusts brown beautifully and then the edges would burn even beyond my preferred "deep brown" bake. Tenting with foil didn't work because the center remained woefully underbaked. I tried lining the edges with a strip of foil, but managed to crush the delicate pastry while attempting to keep the foil in place and burned my fingers at the same time. You could buy a pie shield, but what if you make different sized pies (4-inch pies are a favorite in my kitchen)? The "duh, why didn't I think of that sooner?" solution was to use a sheet of foil slightly larger than the pie, and cut a hole out of it that is slightly smaller than the pie – essentially an annulus. I measure this after the pie has chilled, but before I have egg washed the dough. It goes on right before the pie is baked and I remove it 20 minutes later for a 4-inch pie and 30 minutes later for a 9-inch pie.
making the foil annulus to protect the edge of the pie crust
brush the pie with egg wash
finish with coarse sugar
fit the ring loosely over the pie
bake until golden
I could have done with a little more filling in my final pie. Fruit pies should be bursting with fruit and showing off those baked-in stains of overflowing juices. Next time I might increase the filling by 25%. Despite my inclination to dig into a hot or at least warm pie, I resisted the urge and let it cool completely before cutting a slice. Cooled pies are better for presentation, but warm pies are best for consumption. The pie marries the sweet and tart qualities of both apples and huckleberries, wrapping the brilliantly-colored filling in a buttery flaky pastry. You could call it a pie for all seasons, but the best season to eat it is the season you're in right now.
cooled
a scoop of ice cream would be perfect
here's your slice of apple huckleberry pie
Apple Huckleberry Pie
[print recipe]
double crust pie dough
from Serious Eats
2 1/2 cups all-purpose flour
2 tbsps granulated sugar
1 tsp kosher salt
2 1/2 sticks (10 oz.) unsalted butter, chilled and cut into 1/2-inch pieces
6 tbsps cold water
apple huckleberry filling
6 Granny Smith apples, peeled, cored, and cut into 1/2-inch dice
1/2 cup granulated sugar
1/2 tsp cinnamon
pinch of salt
1/4 cup granulated sugar
1 1/2 tbsps cornstarch
1/2 tbsp lemon zest
3 cups huckleberries or blueberries, fresh or frozen
1/2 tbsp lemon juice
pinch of salt
egg wash
1 egg yolk
1 large egg
1 tbsp cream
pinch of salt
turbinado sugar for garnish (optional)
Make the pie dough: Combine 1 1/2 cups of flour with the sugar and salt in the bowl of a food processor. Pulse to combine. Scatter the butter over the flour mixture. Pulse about 25 times or until the dough clumps together. Sprinkle the rest of the flour (1 cup) over the dough and pulse until the flour is just cut into the dough (about 5-10 pulses). Pour the dough into a large bowl and sprinkle the water over it. Using a spatula or spoon, fold the water into the dough until it begins to form a shaggy ball. Cut the dough in half and shape each half into a disk about 4 inches in diameter. Wrap in plastic and refrigerate for at least 2 hours before rolling. Roll each disk of dough out to 1/8-inch thickness. I roll my pie dough out between two sheets of plastic wrap. Line your 9-inch pie dish with one of the pie dough sheets, gently pressing the dough into the form of the dish.
Prepare the filling: Combine the apples, 1/2 cup sugar, cinnamon, and a pinch of salt in a medium saucepan. Stir over medium-low heat until the apples soften. Increase the heat to medium and continue to stir until the liquid has reduced to a thick syrup (about 20 minutes total time). Remove from heat and let cool. In a small bowl, mix 1/4 cup sugar, the cornstarch, pinch of salt, and the lemon zest together. In a medium bowl, toss the berries with the cornstarch mixture, then mix in the lemon juice. Stir the berries into the apples.
Assemble and bake the pie: Pour the filling into the prepared pie crust. Top the filling with the other pie dough sheet and seal or crimp the edges. Cut vent holes into the pie crust. Refrigerate the pie for 30 minutes. Adjust your oven rack to the lower middle of the oven and preheat to 400°F. Whisk all of the egg wash ingredients together in a small bowl. [If you have trouble with your pie crust edges burning before the center is done, you can center a piece of foil that is a few inches larger than the pie over the chilled pie, mark the foil an inch inside of the pie crust edge, and cut a hole that is 1-inch smaller than the pie. Use that foil ring to shield the crust edge (after brushing the egg wash and sprinkling sugar) during baking and remove it after 30 minutes of baking.] Set the pie on a rimmed baking sheet and brush the top of the pie dough with egg wash. Sprinkle with turbinado sugar if using. Bake for 1 hour. Reduce the oven temperature to 350°F and continue baking until the crust is browned and the center fruit is bubbling. Remove from oven and let cool to room temperature before serving. Makes 1 9-inch pie.
more goodness from the use real butter archives