Recipe: sourdough pita bread
It's already February and I can't help but feel a slight panic that winter is nearly over. Technically we're only halfway through it, and snow season for us can last into June or July if we're lucky. This season Jeremy and I made a pact that we would stop being powder jerks and make a point to regularly ski groomers, uphill, Nordic, backcountry – anything active with more focus on cardio. It's been great, and when we hit those high pressure systems that leave us with more ice than snow, we grab some miles on the treadmill or indoor bike trainer.

when there isn't snow, these two happily fetch/chase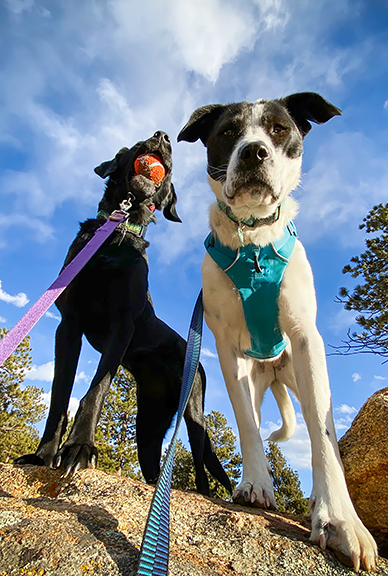 We celebrated Chinese New Year quietly at home with traditional dishes. I kept it simple and allowed myself a few shortcuts (frozen dumplings and bao) for sanity's sake as we were packing up to head to Crested Butte.
symbolic foods for good luck, fortune, health, and happiness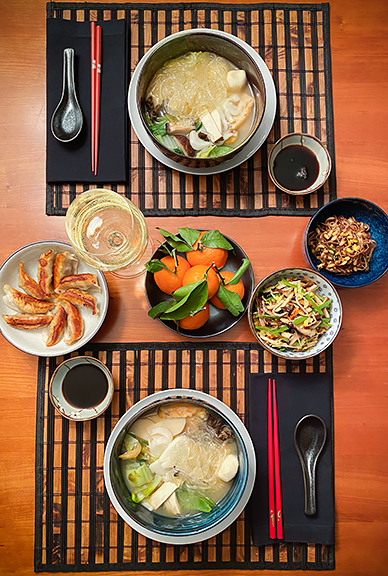 sweet red bean bao in the morning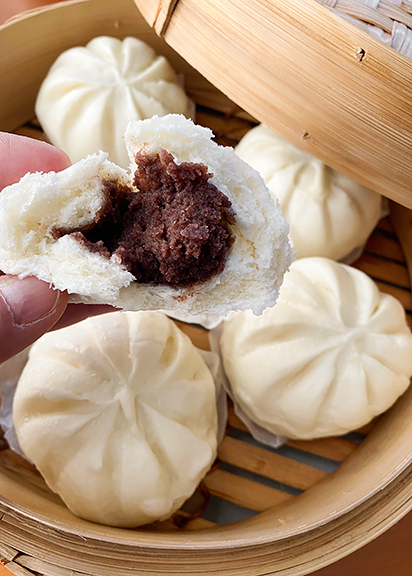 a nice view of mount crested butte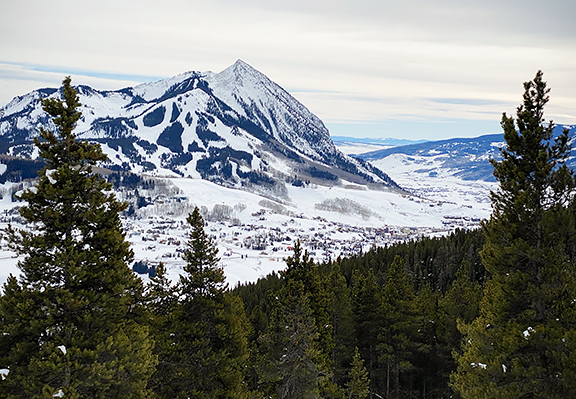 week old powder holds up nicely around here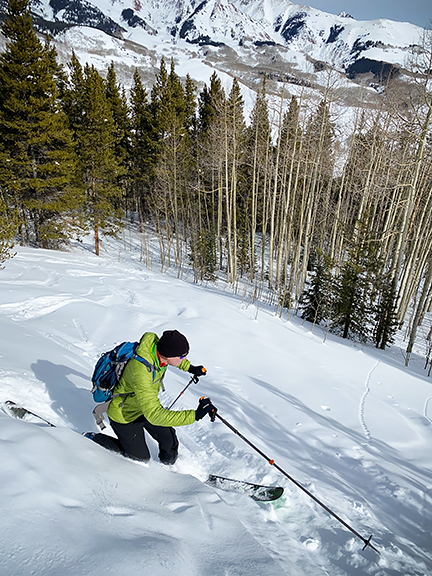 diffuse light and long shadows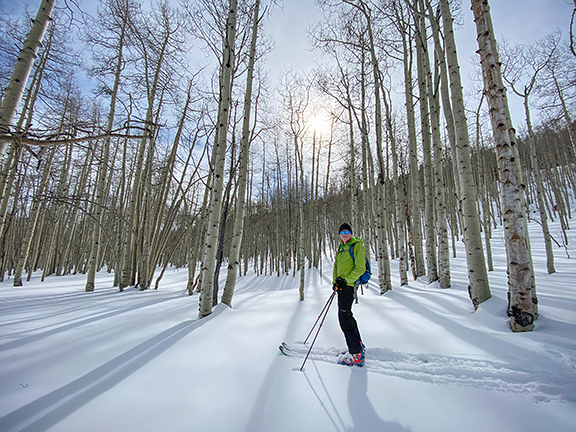 This past Saturday, Yuki turned two years old. It's hard for me to think of her as anything other than a puppy because she is such a baby. We celebrated with goodie plates: raw beef, beef meatballs, bacon, Parmesan crisp, unsweetened whipped cream, and their usual homemade dog treats decorated with sugar icing and naturally colored sprinkles. It's been such a joy to watch Yuki learn, grow, and become more confident while maintaining her playful, silly personality. We love her so very much.
our birthday girl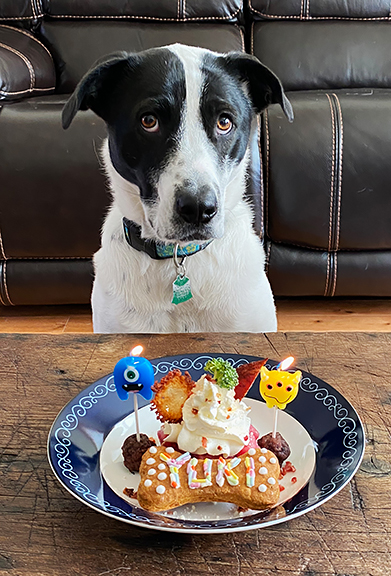 monster candles seemed appropriate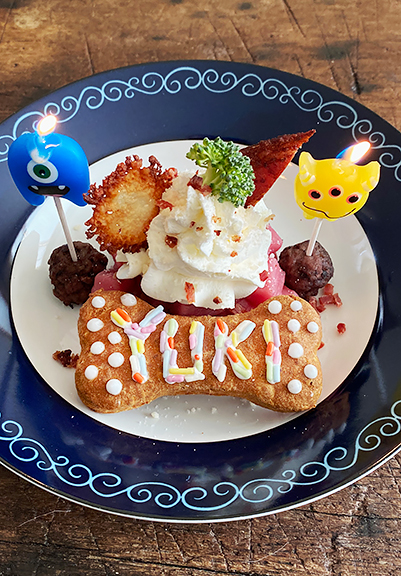 pawty time!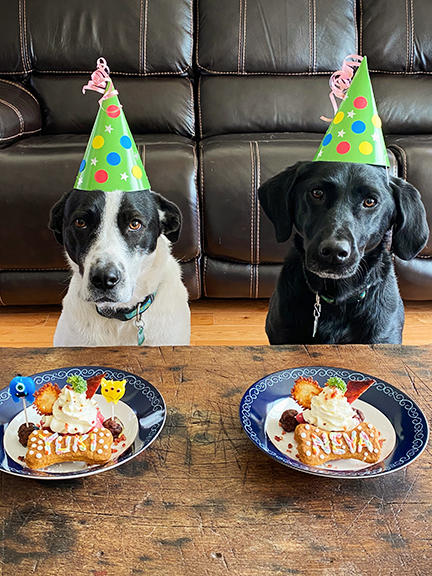 the pups burn those calories and then some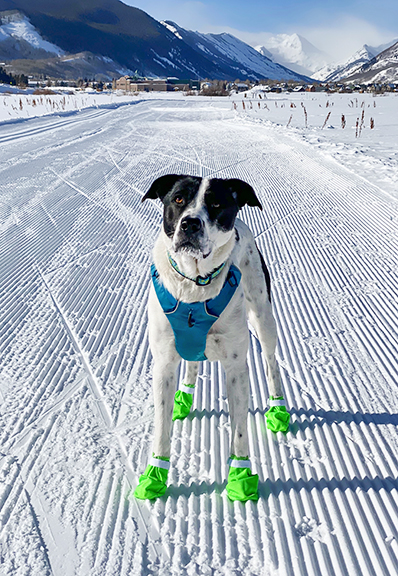 skate ski in 3°f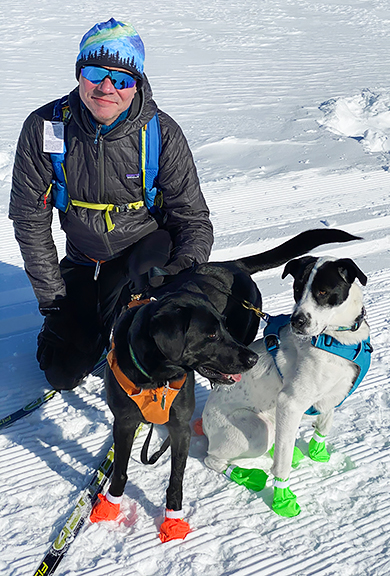 The night before, our low temperature dropped to -27.3°F and the high for the day never cleared 4°F. I don't know about you, but that kind of cold is a great excuse to bake and run a hot oven. A couple of years ago, shortly after I had received my sourdough starter, I split some off to give to my friend, Amanda. We were both new to the sourdough game and stood around discussing different foods you could make with sourdough starter. She mentioned homemade pita bread and told me there is no going back once you've eaten fresh baked pita. Amanda assured me it was easy to make, so I figured there must be a sourdough version.
sourdough levain, bread flour, whole wheat flour, sea salt, water, olive oil
The sourdough levain should be fed at 100% hydration. If you're new to sourdough, the 100% hydration means the starter was fed with equal WEIGHT (not volume) water and flour. The wild yeast in the starter needs to have enough time (usually 8-12 hours at room temperature) to digest the new food and produce carbon dioxide bubbles. When the levain is ready, all of the ingredients get mixed together. You can knead the dough by hand or with the dough hook of a stand mixer.
the bubbles indicate the levain is ready
combine the ingredients in a mixing bowl
i used a dough hook to knead the dough
The dough will feel smooth and elastic after 4-5 minutes in the stand mixer or 8-10 minutes of kneading by hand. Place it in a lightly greased bowl and cover with plastic wrap. Allow the dough to rest until doubled in size. This can be anywhere from 2 hours in a very warm room to 24 hours in a very cool room (64-68°F). I let mine go for 24 hours because our house is always cold in non-summer months.
let the dough rest in a covered greased bowl
doubled in size
When the dough has doubled in size, turn it out onto a lightly floured work surface. Cut the dough into eighths with a knife or a pastry cutter, then shape each piece into a smooth ball. I do this by pulling all of the corners down to meet at the bottom, then I stroke the dough ball from the center top, down the side, and around to the center of the bottom, gently pulling the dough smooth. I repeat this around the circumference of the dough ball until it is smooth and spherical.
cut the dough into eighths
pull the corners of each piece down to the center of the bottom
shape each piece into a smooth ball of dough
cover and let rest for 10 minutes
After resting the dough balls, flatten each one and roll it out to a disc that is 1/4-inch thick. Let the discs rest a few minutes before rolling them (from the center to the edges) into thin, 7-inch diameter circles. At this point, the dough circles are ready for the hot oven. I like using my baking stone for pita because I have a fear of chucking the dough onto the oven rack incorrectly and having it fall through the grate and sticking to the oven floor (I have done EXACTLY this when trying to grill pizza). But I have seen folks bake pita successfully directly on their oven rack, so do what works for you. The pita should puff up and bake in 3-4 minutes.
pat the dough balls down
roll them from the center out
set the dough on a baking stone or the oven rack
watch them rise and bake
freshly baked pita
the airy pocket
Considering the total hands-on time with the pita bread, this isn't a terribly demanding recipe. I mean, I love my sourdough bread, but it can be a pain in the ass (PITA) whereas making pita isn't! These are best fresh from the oven, but hold up just fine stored in an airtight container and warmed in the oven. You can freeze them, too, although I haven't tried it myself.
a basket of puffy pita
stuffed with hummus, cucumber, roasted eggplant, and roasted red peppers
Sourdough Pita Bread
[print recipe]
based on recipes from Weekend Bakery and Wild Yeast
255g (1 cup) sourdough levain*, 100% hydration
225g bread flour
25g whole wheat flour
115g water, room temperature
7.5g sea salt
14g olive oil
*I make the levain the night before (or 8-12 hours before) by mixing 35g of sourdough starter with 125g of room temperature purified water and 125g bread flour together in a clean jar until there are no dry pockets of flour left. Cover the container and let sit at room temperature until the levain is filled with bubbles. This should give you 255g of levain and 30g of remaining starter to feed for later uses.
Place all of the ingredients in the bowl of a stand mixer. Mix with a dough hook on low speed until it comes together in a shaggy dough. Continue to knead with the dough hook for 4-5 minutes on medium-low speed until the dough is smooth and tacky OR turn the shaggy dough out onto a lightly floured surface and knead by hand for 8-10 minutes until smooth and tacky. Place the dough in a lightly greased bowl and cover with plastic wrap or a lid and allow to rest for 2 hours at room temperature or up to 24 hours at a cool temperature (about 64-68°F), until the dough has doubled in size.
Place a baking stone on the center rack of your oven (if you don't have a stone, you can bake your pita on the rack itself, but I haven't tried it). Preheat oven to 550°F. Turn the dough out onto a lightly floured work surface and cut into eight relatively equal pieces. Shape each piece into a ball by tucking the edges down and toward the center of the base, continuing to stroke the edges down and to the center of the base around the entire ball until it is smooth and symmetrical. Cover the dough balls and allow to rest for 10 minutes.
Pat each ball of dough into a flattened disc. Use a rolling pin to roll the disc into a 1/4-inch thick circle, rolling from the middle to the edges. Rest the dough for a few minutes. Roll the dough out again, this time rolling it thin to about a 7-inch diameter. I like to bake the first pita solo in case I mess something up. Toss the dough onto the baking stone and shut the oven door to avoid heat loss. Bake for 3-4 minutes, the pita should puff up during this time. Remove from oven. Bake the remaining dough – in batches if you prefer. Makes 8 pita.
more goodness from the use real butter archives