Recipe: mushroom carnitas with magical green sauce
We're getting that spring swing already – days of sunshine and warmth interspersed with frigid cold. I have found the best method for enjoying the weather is to roll with it. By now our bodies have grown accustomed to winter conditions such that warm days feel like a beach vacation without the sand getting into your personal spaces. I'm kidding, it's nothing like the beach! And that's great because I'm not a huge fan of tropical climates and their sandy associations.

sun and snow is so colorado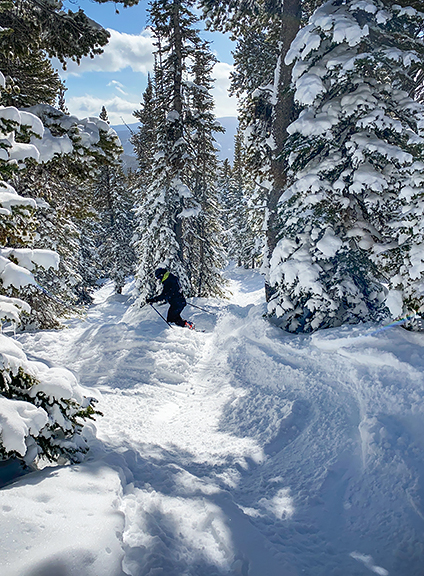 pups' day off means jeremy gets to play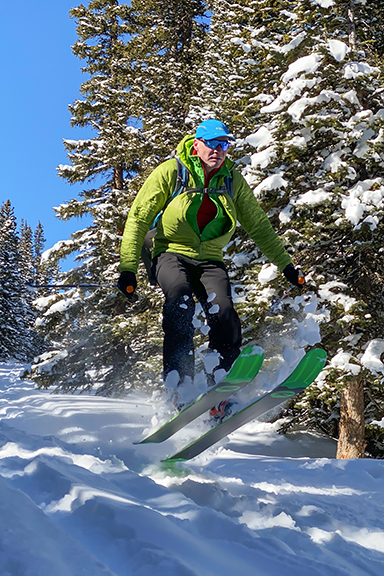 playing in the yard after a storm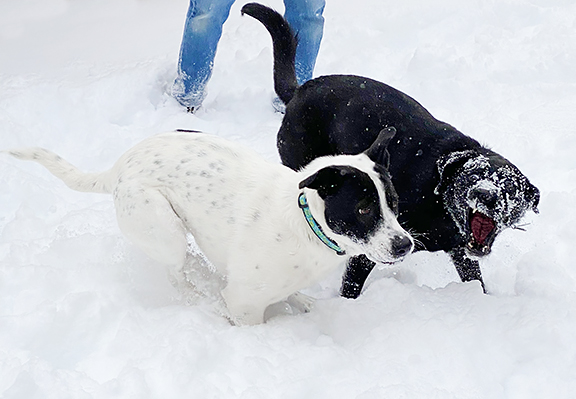 getting ready at the trailhead – i feel the same as yuki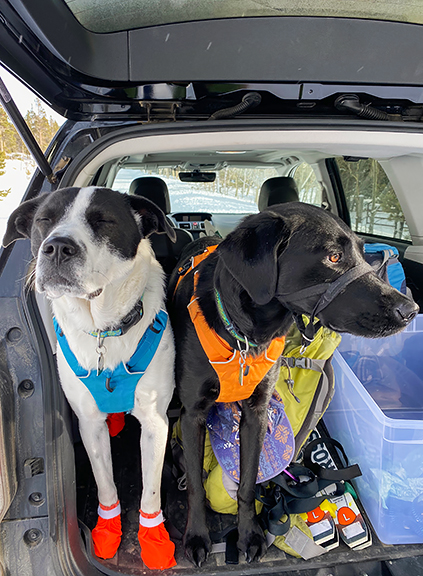 the pups love their cold day ski tours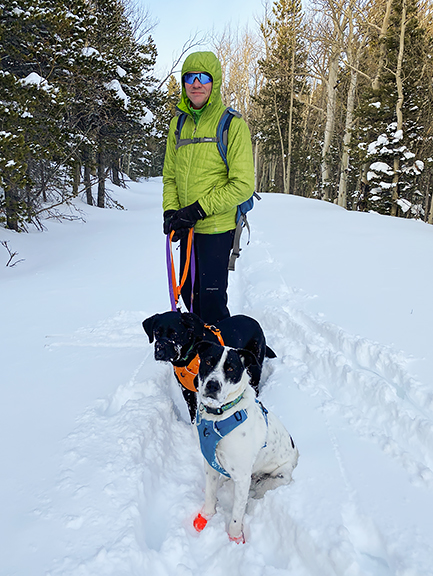 and they really love the sunny day ski tours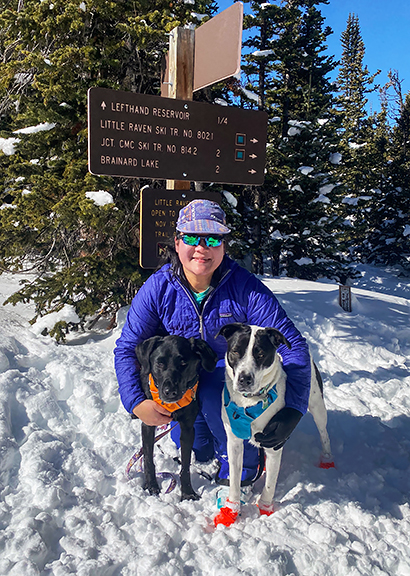 I'm getting into the groove of the longer days. Extended hours of winter darkness don't get me down the way they do other folks (including Jeremy), but I do find my self-motivation increasing with more daylight. I spent much of the long holiday weekend cooking and baking old favorites as well as a few new recipes.
his (chocolate espresso raspberry) and hers (lemon huckleberry) small cheesecakes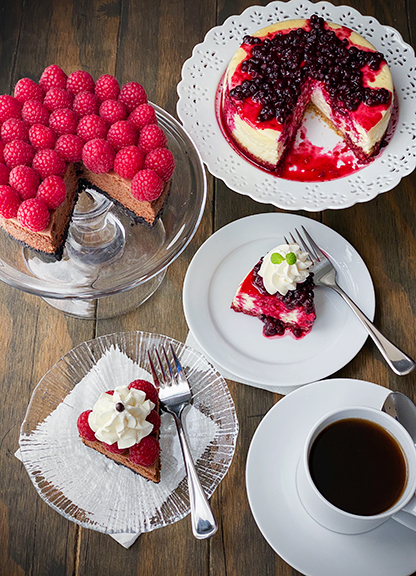 One of the new recipes had caught my eye on Instagram the week prior: mushroom carnitas. This stirred triple excitement in me because 1) I was already obsessing about our spring mushroom foraging season, which includes oyster mushrooms that are used in the recipe 2) I love carnitas and 3) I'm always looking for tasty ways to reduce our meat consumption.
a lovely cluster of oysters that erin had found a couple of seasons ago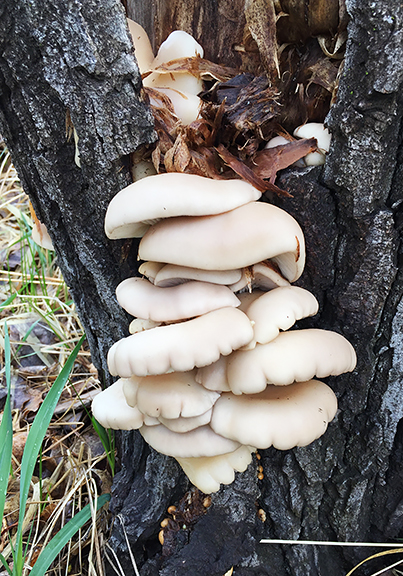 a haul of spring oyster mushrooms from another season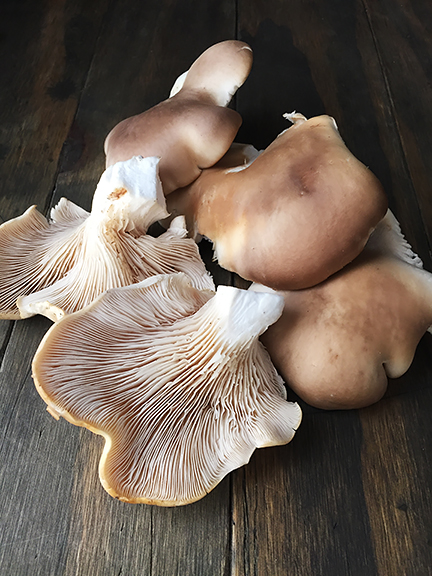 I could have waited for oyster season to start before testing the recipe, but fresh oyster mushrooms are usually available year round at my local Whole Foods or the bigger Asian markets. I made a half recipe and only grabbed a pound of oysters. Now do you have to use oyster mushrooms? No, you don't. But I wouldn't use regular mushrooms because the texture of oysters tends to be stringier which lends well to the mushroom carnitas. Based on my limited knowledge of mushrooms, I'd suggest beech or king trumpets (aka king oysters) for substitutes as they offer a similar texture/structure.
onion, lime, orange, oyster mushrooms, black pepper, cumin, coriander, oregano, garlic powder, salt, worcestershire sauce, olive oil
lime juice, orange juice, sliced onions
shred the mushrooms by pulling them into strips
if the caps are too firm to shred, you can slice them with a knife
So Gaby said this was a vegetarian recipe, and it is if you use a Worcestershire sauce that is vegetarian/vegan. Most Worcestershire sauces contain anchovies or some fish extract for flavoring, so if you are serving this to strict vegans or vegetarians, you can
make your own vegan Worcestershire sauce
. I haven't tried that recipe, but a quick perusal looks legit to me. By the way, Lea & Perrins Worcestershire sauce (the brand I happen to use – this isn't an advertisement) is gluten-free if that is a concern, but it isn't vegan.
mix the spices, orange juice, worcestershire sauce, and olive oil together
add the onions and mushrooms
toss to coat and marinate for 20 minutes
spread on a lightly greased baking sheet
roast
My onions didn't roast to brown oblivion like Gaby's did, so I might try slicing them thinner next time, but they were still delicious to eat. At this point, you could serve the mushroom carnitas however you fancy and be done. However, Gaby included a Magical Green Sauce recipe that she urged anyone and everyone to make. Could it be as good as Denver Erin's
guasacaca
? I had to find out. While the mushrooms marinated and roasted, I set to work on the Magical Green Sauce.
vegetable oil, onion, salt, garlic, jalapeños, red wine vinegar
You might be thinking that this bundle of ingredients probably amounts to a less than compelling condiment, but you'd be mistaken. I opted to remove the seeds to reduce the heat of the sauce for Jeremy's sake, but I think my preference would be to leave the seeds for more kick. Still, it's fantastic and takes about 30 minutes total to make. It's the kind of sauce you can drizzle on many foods. I also tried a version where I chucked a ripe avocado into the blender with the sauce and got a mousse-like guacamole concoction that was great for dipping tortilla chips or eating with nachos.
cover the peppers, onions, and garlic with just enough water and simmer til tender
strain and place the solids into a blender with the salt and vinegar
blitz until smooth (add a little of the simmer water if necessary, but i didn't need it)
drizzle the oil in a steady stream while running on low until creamy
This recipe is a total winner. And really – it's TWO gold medal recipes in my book. The mushroom carnitas are satisfyingly crisp, chewy, and flavorful without the tremendous amount of time and work that goes into making pork carnitas. The Magical Green Sauce has truly magical properties including making you want to spoon it directly into your mouth. Together, they are an unbeatable duo.
mushroom carnitas on warm corn tortillas with more sauce on the side
i can't wait to make this with foraged oyster mushrooms
Mushroom Carnitas with Magical Green Sauce
[print recipe]
from What's Gaby Cooking
mushroom carnitas
2 lbs. oyster mushrooms, wiped clean and roughly shredded*
2 1/2 tsps ground coriander
2 tsps garlic powder
1 1/2 tsps dried oregano
1 1/2 tsps ground cumin
1 1/2 tsps kosher salt
1 tsp fresh ground black pepper
2 tsps Worcestershire sauce**
1 medium orange, juiced
1/4 cup olive oil
2 cups yellow onion, sliced into 1/4-inch strips
1 lime, juiced (about 1 oz.)
corn or flour tortillas
toppings of your choice
*Substitutions: You can use beech or king trumpet mushrooms as a substitute with similar textural results.
**Vegetarian/Vegan: Make a vegan version for vegetarian or vegan carnitas as most Worcestershire sauces contain fish/anchovies.
Lightly grease or spray a baking sheet with vegetable oil. Using your fingers, pull the mushrooms (stems and all) apart into strips of varying thickness. If the caps won't pull apart easily, you can slice them with a knife. Combine the ground coriander, garlic powder, dried oregano, ground cumin, salt, black pepper, Worcestershire sauce, orange juice, and olive oil in a large bowl. Add the mushrooms and onions to the marinade and toss to coat. Let the mushrooms marinate for 20-25 minutes.
Preheat oven to 400°F. Spread the mushrooms, onions, and any extra liquid evenly over the prepared baking sheet. Roast the mushrooms for 40-45 minutes, stirring them around every 10 minutes until they turn crisp and golden. When done, remove the mushrooms from the oven and toss with the lime juice. Season with salt and pepper to taste. Makes 4 cups. Serve on warmed tortillas (flour or corn) with your choice of toppings and the magical green sauce (recipe below).
magical green sauce
1/2 lb. fresh jalapeño peppers, stemmed (remove seeds for less heat)
1/2 medium yellow onion, cut into quarters
4 cloves garlic, peeled
1/2 tsp kosher salt
1-2 tsps red wine vinegar
1/2 cup canola or grapeseed oil
Place the jalapeños, onion, and garlic in a medium saucepan with just enough cold water to cover everything. Bring the water to a boil over medium heat and reduce the heat to a simmer. Simmer for 15 minutes or until the peppers are easily pierced with a knife, but not mushy. Reserve a half cup of the simmering liquid and strain out the rest. Place the solids in a blender with the salt and vinegar. Blitz the contents until smooth, adding simmering liquid as needed (I didn't need any in my Vitamix). Slowly drizzle the oil into the blender while running on medium low speed until the sauce becomes light and creamy. [I had trouble with splattering coming through the hole of the blender lid when pouring the oil, so I set a funnel in the hole and that prevented most of the splatter while allowing the oil to pour.] Makes 2 cups. Store in airtight container in the refrigerator for up to 2 weeks.
more goodness from the use real butter archives