Wednesday, June 20th, 2007
Mr. Jeremy just finished system administration on my computer. I now have a terabyte of disk space! Well, it's actually half a terabyte since I have a mirror for redundancy, but when that gets crowded it will be time for an external RAID or some such lovely. Big thanks to Jeremy – a man of many hidden talents. Such a gem, he is.
I stopped by the Cake Lady (her unofficial name). It's this tiny run down looking shop in a very depressed strip mall. The store is crammed to the hilt full of cake and candy-making supplies. It smells like 1974. The owner is pushy and since customers usually come in one at a time, she hovers and won't stop talking to let you think for a second. You can't even browse without her demanding what you are looking for. On top of that, she told me that CSR doesn't do chocolate molding right, that she never has to scrape the chocolate over her molds. Well – she also makes maybe a dozen or so at a time? CSR is teaching their students to make chocolates in production-mode… meaning hundreds at a time. I really want to support her business, but she makes me batty and also doesn't have much in the way of pastry supplies. I did purchase some luster dust… beautiful raspberry and midnight blue colors. I wonder who would want to sample some pretty truffles?
I have two projects for this weekend: a chocolate 6-inch cake for Grandma Darling, and a lemon 9-inch for my aunt, Elena, and her family. It gets a little tricky because of transportation issues and the fact that New Mexico is hotter than hell right now. The chocolate cake will be chocolate chiffon cake layers with Grand Marnier soaking syrup and chocolate buttercream. The lemon cake will be vanilla chiffon layers with lemon soaking syrup, lemon curd, and lemon buttercream. I will also experiment with a new mold I bought. Let's hope it doesn't tank. I'm a slut for lemony anything. Nice excuse to get this:

limoncello: i buy more booze for pastries and cooking than anything else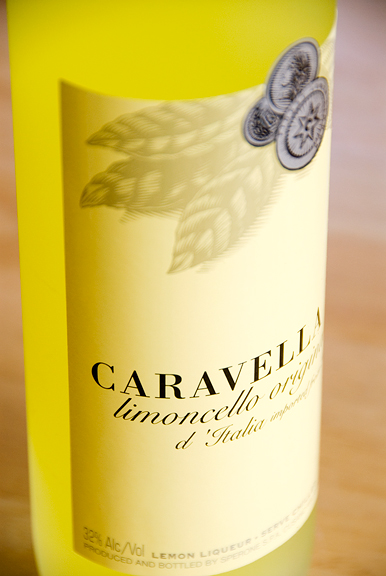 A beef brisket is in the slow cooker now. Hoping it will be melt-in-your-mouth tender by morning. It smells pretty good right now!