Sunday, October 22nd, 2017

Recipe: barbecue rib baked beans
October has been a weird month, mostly because I've been playing catch up on all of those neglected items on the to do list that keep getting carried over from week to week, month to month. Do any of you do that? I cross off the tasks that were completed and everything that wasn't completed shows up on the following (longer) list. I am also catching up on things that weren't on my to do list, but certainly weren't getting done. Mid-autumn is when I try to return to being a normal person.

a red aspen leaf and delicate ice on a trail run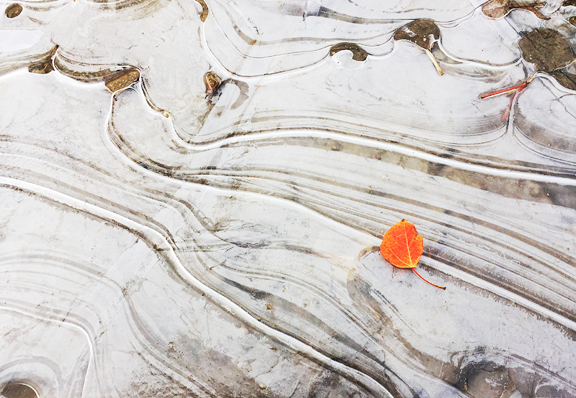 catching up with friends at lunch in boulder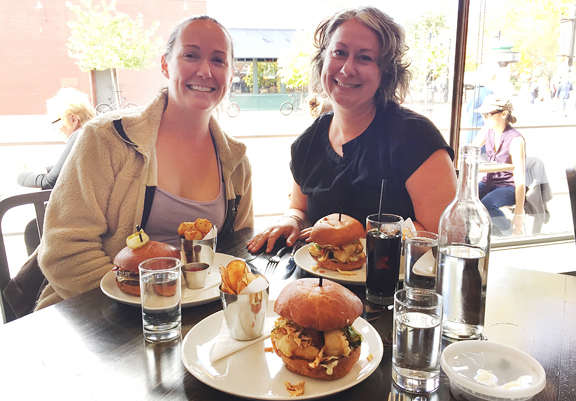 Mid-autumn is also our last chance to address things like sealing the driveway, sweeping out the garages (they accumulate mud all winter and summer), spreading the compost to make room in the compost bin for a winter's worth of additions, putting away summer furniture, etc. But then Jeremy noticed that our first floor heating in Crested Butte wasn't able to maintain the set temperature, so we drove out for less than 24 hours this weekend to troubleshoot the problem and find a workaround until the new part could be installed.
jeremy seals the driveway as neva looks on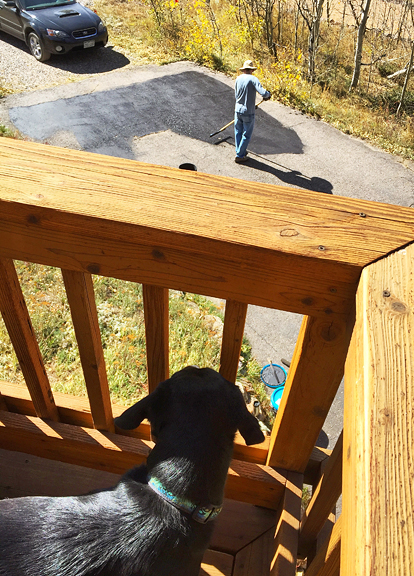 a nice hot bowl of pork belly ramen after figuring out what was wrong with the heating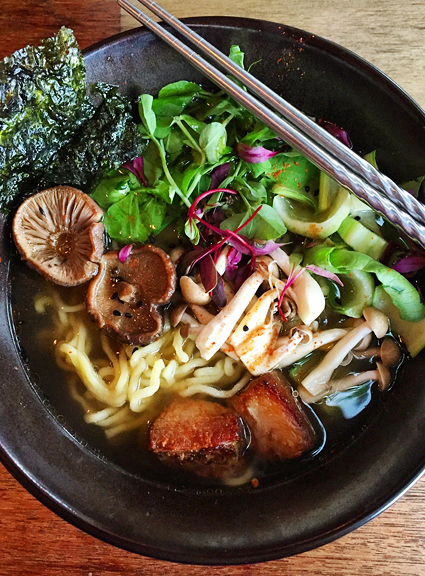 fresh snow in crested butte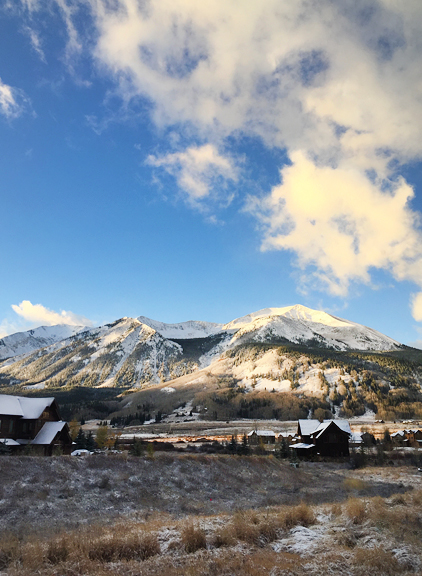 That last minute drive to Crested Butte meant cancelling a grouse hunt with Erin and Jay. But we were able to return home in time for me to join Erin Sunday morning. The winds were pretty bad at home which meant they would be terrible up high closer to the Continental Divide. They were in fact, horrible, with 60 mph gusts shoving us this way and that. But we plodded ahead through the dark, in howling winds and cold, and wound our way through willows and aspens and conifers. Fresh snow didn't seem to give up any signs of grouse, and we figured they thought the same thing we were thinking about the winds.
Those fucking winds.
It's the one thing I would change about life on the Front Range. But what doesn't kill you makes you stronger. Erin and I chuckled as we hiked out under the morning sun – shouting over the roaring and crashing of gusts to hear one another, "THIS IS WHY WE CAN'T HAVE NICE THINGS!"
well, we certainly have nice sunrises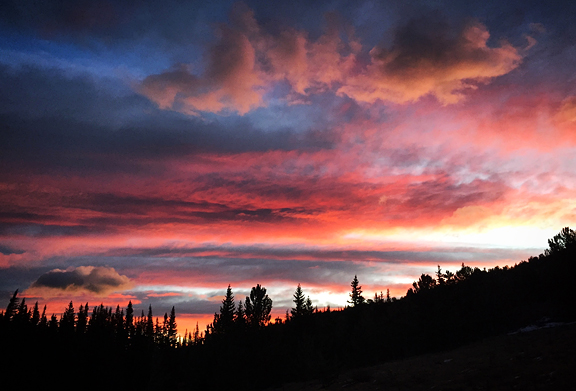 erin scanning the next meadow for the elusive dusky grouse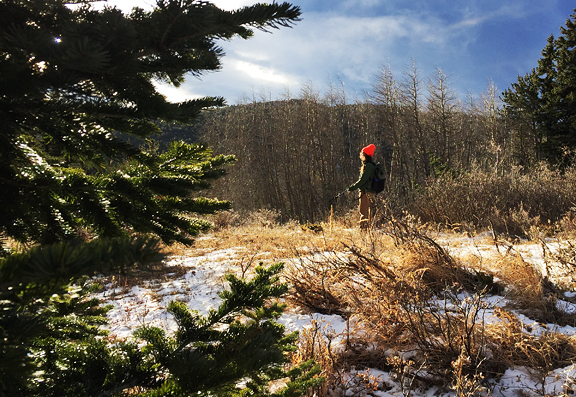 The winds are still raging against the house, but they are supposed to ease up a bit this week. The back and forth of sunny and warm with snowy and cold days is signature autumn around the mountains here. And while I loathe the windstorms, I like having four distinct seasons. Having lived in Southern California for ten years, I don't miss what I call "hot" and "hotter". Don't get me wrong, there were many things I loved about So Cal like the beans at Dr. Hogly Wogly's Tyler Texas BBQ in Van Nuys. My friend, Melinda, dubbed Hogly Wogly's "a shrine to the slaughterhouse" and whenever we went we would order "beans and beans" for our two side dishes (two orders of baked beans). Since we moved to Colorado, I've made half hearted attempts at recreating the beans, which were mostly met with disappointment. But a couple of weeks ago, I think I got a step closer to those Hogly Wogly beans I love so much.
mustard (not dijon as pictured, you want spicy brown), ketchup, worcestershire sauce, barbecue sauce, apple cider vinegar, baked beans, tamari (or soy sauce), a half rack of barbecue pork ribs, onion, bell pepper, brown sugar, bacon
You can make your own ribs or purchase barbecue ribs for this recipe. I found a half rack of St. Louis cut pork ribs will yield about a half pound of rib meat. I made my own ribs using the
sous vide method
and finished the racks on the grill. Choose a barbecue sauce you love – something sweet, spicy, and tangy for me. Here, I've used a jar of Banjo BBQ sauce that my friend, Jay, makes. To get started on the beans, fry the bacon until soft. Don't fry them until crispy or else they will burn when you bake the beans. Chop the bacon and save a few tablespoons of the bacon grease.
fry the bacon until soft, not crispy
**Jump for more butter**