Sunday, April 7th, 2019

Recipe: sweet and sour beef short ribs
A solitary patch of snow remains in our south-facing yard, determined to hold on for as long as it can. I've had to change to shorts in the afternoons when working inside the house thanks to the sunlight that floods our picture windows. And today, we swapped out a winter's worth of air for fresh spring breezes that flowed mild and pleasant through open windows. Still, other parts of town and sections of nearby trails remain under thick layers of snows that have thawed, refrozen, and compacted into slick, hard, uneven surfaces. It's not quite trail running season and it's not the end of ski season by a long shot.

yuki and neva sit atop a good foot or two of snow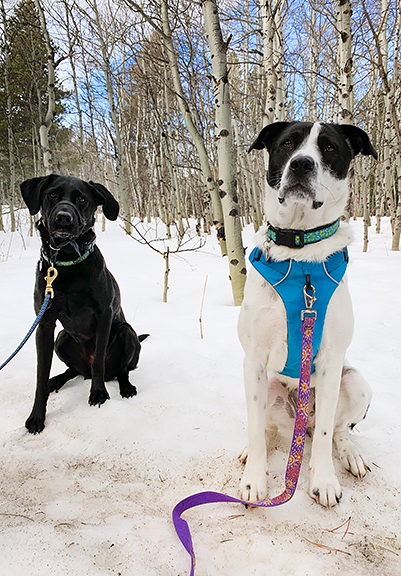 I spent a few hours last week sorting through fabrics and yarns, collecting materials for donation and realistically streamlining those items I plan to use for projects or gifts in the near future. I am okay with walking away from knitting since I don't use any of what I knit (allergic to wool and do better with clothes that are not fragile), it's slow, and I get repetitive motion injuries when I do knit. Lately, I've been reacquainting myself with the sewing machine and acquiring other skills.
tea towels are always handy in our house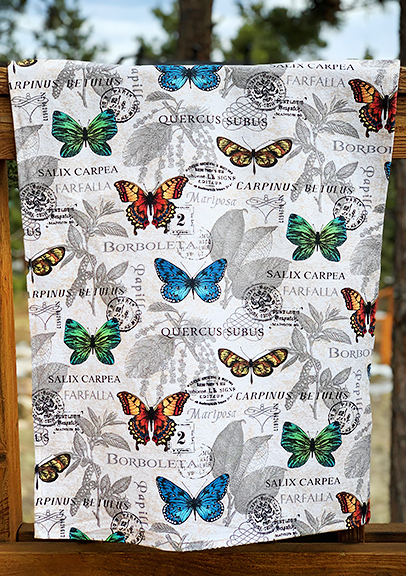 from my book binding class this weekend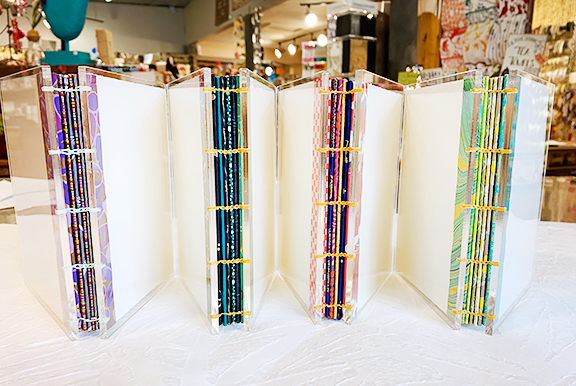 Strawberries are showing up again, and I don't mean strawberries from the other hemisphere. As I passed a stack of fresh strawberries on display in the store, the image jogged my memory of making and canning jam. It's almost that time of year. Ten years ago I didn't know the first thing about canning and now I have to prioritize what I want to preserve in jars because there isn't enough time in my summers to tackle all of the jams, pickles, syrups, tomatoes, salsas, and fruit butters. I have several excellent resources to thank for bringing canning in to my life, but Marisa of
Food in Jars
has certainly been my greatest guide through her blog, her cookbooks, and her friendship. Which is why I was delighted to receive a review copy of Marisa's latest book,
The Food in Jars Kitchen: 140 Ways to Cook, Bake, Plate, and Share Your Homemade Pantry
.
recipes that use food in jars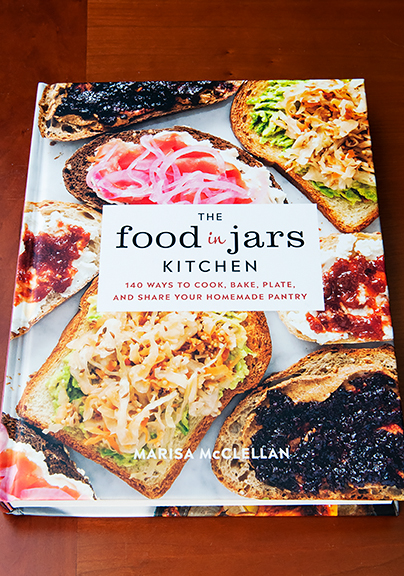 The recipes range from savory dips to sweet bakes to beverages to main dishes. Seeing as another snow storm is en route to Colorado, I opted for a decadent beef short rib braise. It's so simple to make and the oven does most of the work. What makes it a Food in Jars recipe is that it calls for 2 cups of jam – preferably of the drupe variety like cherry, plum, or nectarine. And don't worry if you don't have 2 cups of homemade jam in your cupboard, because I didn't. I bought a jar from the store. Marisa also lists pomegranate vinegar in the ingredients, but if you can't find that you can just as easily substitute red wine vinegar. Pomegranate vinegar is on the spendy side around here, although it does lend hints of sweet and fruit to the vinegar.
olive oil, leeks, carrots, cherry jam, pomegranate vinegar, garlic, onion, short ribs, thyme, salt, black pepper, water
chopped, sliced, minced
**Jump for more butter**