Recipe: sweet and sour beef short ribs
A solitary patch of snow remains in our south-facing yard, determined to hold on for as long as it can. I've had to change to shorts in the afternoons when working inside the house thanks to the sunlight that floods our picture windows. And today, we swapped out a winter's worth of air for fresh spring breezes that flowed mild and pleasant through open windows. Still, other parts of town and sections of nearby trails remain under thick layers of snows that have thawed, refrozen, and compacted into slick, hard, uneven surfaces. It's not quite trail running season and it's not the end of ski season by a long shot.

yuki and neva sit atop a good foot or two of snow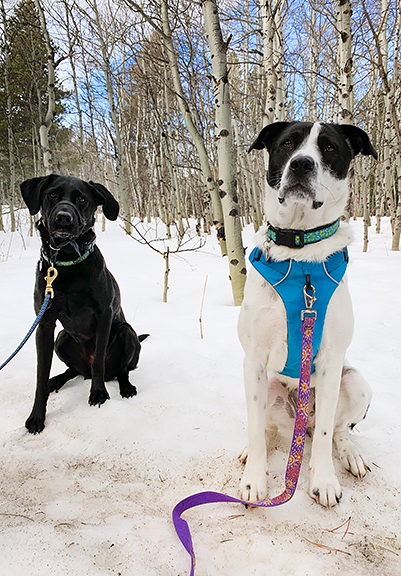 I spent a few hours last week sorting through fabrics and yarns, collecting materials for donation and realistically streamlining those items I plan to use for projects or gifts in the near future. I am okay with walking away from knitting since I don't use any of what I knit (allergic to wool and do better with clothes that are not fragile), it's slow, and I get repetitive motion injuries when I do knit. Lately, I've been reacquainting myself with the sewing machine and acquiring other skills.
tea towels are always handy in our house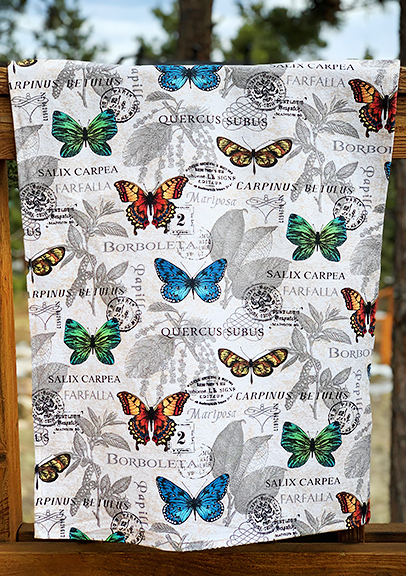 from my book binding class this weekend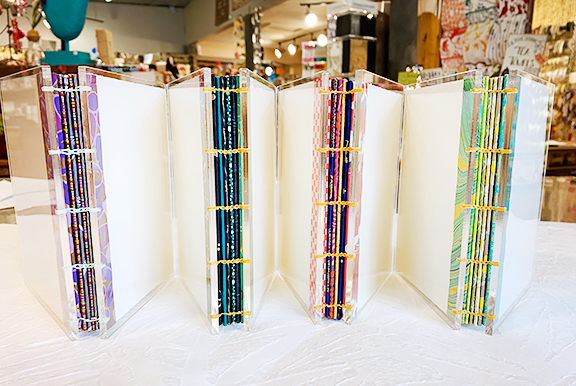 Strawberries are showing up again, and I don't mean strawberries from the other hemisphere. As I passed a stack of fresh strawberries on display in the store, the image jogged my memory of making and canning jam. It's almost that time of year. Ten years ago I didn't know the first thing about canning and now I have to prioritize what I want to preserve in jars because there isn't enough time in my summers to tackle all of the jams, pickles, syrups, tomatoes, salsas, and fruit butters. I have several excellent resources to thank for bringing canning in to my life, but Marisa of
Food in Jars
has certainly been my greatest guide through her blog, her cookbooks, and her friendship. Which is why I was delighted to receive a review copy of Marisa's latest book,
The Food in Jars Kitchen: 140 Ways to Cook, Bake, Plate, and Share Your Homemade Pantry
.
recipes that use food in jars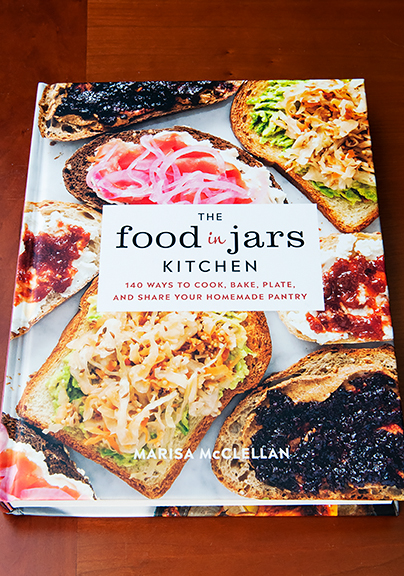 The recipes range from savory dips to sweet bakes to beverages to main dishes. Seeing as another snow storm is en route to Colorado, I opted for a decadent beef short rib braise. It's so simple to make and the oven does most of the work. What makes it a Food in Jars recipe is that it calls for 2 cups of jam – preferably of the drupe variety like cherry, plum, or nectarine. And don't worry if you don't have 2 cups of homemade jam in your cupboard, because I didn't. I bought a jar from the store. Marisa also lists pomegranate vinegar in the ingredients, but if you can't find that you can just as easily substitute red wine vinegar. Pomegranate vinegar is on the spendy side around here, although it does lend hints of sweet and fruit to the vinegar.
olive oil, leeks, carrots, cherry jam, pomegranate vinegar, garlic, onion, short ribs, thyme, salt, black pepper, water
chopped, sliced, minced
The short ribs I purchased were the bone-in variety, because that's what was available. Even though the recipe specifies boneless short ribs, I think I prefer bone-in because of the added flavor the bones lend to the sauce. Season the short ribs with plenty of salt and sear them in your Dutch oven or whatever oven-safe pot you are using to cook your dish.
season with salt
sear on all sides in a single layer
remove from pan and set aside
Next, sauté the vegetables and add the remaining ingredients. It's so simple to put together, you could make it a weeknight meal if you can start early enough – or split it into two evenings by prepping everything for the Dutch oven the first night and then popping it into the oven the next evening. I'm sure you could Instant Pot this, I just can't say definitively as I don't own one.
sauté the leeks and onions until translucent
add the carrots, garlic, and thyme
stir in the vinegar, jam, water, and black pepper
My Dutch oven has a 6.75-quart capacity and is fairly wide, so the liquid didn't quite cover the meat completely. I was tempted to add liquid in the form of red wine (Jeremy was looking over my shoulder and encouraging me to add some wine), but didn't want to change the flavors of the recipe. I figured I could flip the ribs halfway through, which I forgot to do, and everything was fine anyway.
nestle the ribs into the pot
cover the pot and braise for about 3 hours
ta da!
What comes out of the oven is a rich, indulgent stew loaded with vegetables that have transformed into a sweet and tangy mélange, and falling-off-the-bone tender short ribs. My only issue was how fatty the dish is because short ribs are… fatty. While everything was still hot, I strained the liquid of all solids and separated the fat from the juices. I discarded the fat and poured the heady juices back over the braised meat and vegetables. The braised short ribs make a crowd-pleasing meal that demands sidekicks like starches and other vegetables to keep you from going blind when you eat it. A little goes a long way and it is certainly worthy of making for dinner guests. Marisa notes the dish benefits from an overnight before serving to further infuse the flavors, which is perfect for entertaining as a do-ahead recipe. High return for moderate effort and now I can't wait to work through the rest of Marisa's book.
the braised vegetables are as amazing as the short ribs
served atop a bed of mashed potatoes and snap peas
file this under: delicious
Full disclosure: I received a free review copy of The Food in Jars Kitchen cookbook from the publisher with no obligation on my part. All opinions are my own.
Sweet-and-Sour Beef Short Ribs
[print recipe]
from The Food in Jars Kitchen
2 tbsps neutral oil
3 1/2 – 4 lbs. boneless beef short ribs (I used bone-in)
salt
2 leeks, trimmed, halved, chopped, washed
1 large yellow onion, sliced into thin half moons
3/4 cup water, divided and more as needed
2 medium carrots, grated
3 cloves garlic, minced
1 tsp fresh thyme, minced
2 cups jam (recommended cherry, plum, or nectarine)
1 cup pomegranate vinegar (or red wine vinegar)
freshly ground black pepper
Preheat oven to 325°F. Pat the short ribs dry and season liberally with salt. Heat the oil in a Dutch oven or oven-safe braising pan over medium-high heat. When the oil is hot, brown the short ribs on all sides, working in batches if necessary to cook the ribs in a single layer. Remove the ribs to a plate and set aside. Add the leeks and onion to the pan and stir to cook. If they start to burn, add about 1/4 cup of water or more (I didn't need to do this). When the leeks and onions are translucent, stir in the carrots, garlic, and thyme and let cook for a few minutes. Mix the jam and vinegar into the pot and season with black pepper. Stir the remaining 1/2 cup of water in until everything is well-mixed. Remove from heat. Set the ribs in the pan, adding any juices from the plate to the pan. Make sure the ribs are covered with liquid (if you come up short, stir in more water or maybe add red wine). Cover with the lid and place in oven. Braise for 2 1/2 to 3 hours. Marisa says this dish benefits from chilling overnight to allow the flavors to blend and warming it before serving. Serves 4-6.
Jen's note: I typically like to strain all of the liquid while it is still hot and either de-fat the liquid using the ziploc bag method (pour the liquid into a ziploc, seal the bag, hold it over a clean vessel, slit the bottom corner with a knife, drain liquid into the vessel, pinch the outlet closed before the fat layer drains, discard the fat) or chill the liquid and solids separately so I can remove the solid layer of fat from the liquid when cold. Then I reunite the liquid and solids and serve hot.
more goodness from the use real butter archives