I can't tell you how many times I have walked past Montanya Distillers Tasting Room on Elk Avenue and dismissed eating there because I thought all they had was rum. It's true that they have rum, really good rum and lots of it! But they also serve great food, the kind of bites you crave a few days later after a hike, bike, or ski. We went in for the first time last summer and keep returning for the noshes as much as the sips.

in the heart of downtown crested butte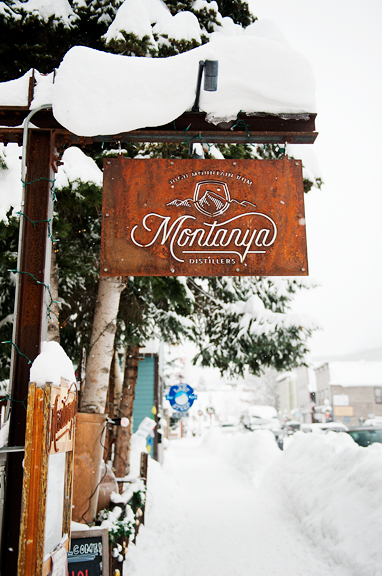 Inside there are several tables, booths, and a bar on the first floor. Upstairs you will find some tables, a cubby hole play area, and the distillery, where you can request a tour. During summer months, Montanya expands to two dog-friendly outdoor patios. Open daily, the tasting room offers free tastings of their three craft distilled rums: Montanya Platino, Montanya Oro, and Montanya Exclusiva. There is also the extensive cocktail menu which you shouldn't and probably can't pass up. This is coming from me, someone who prefers to eat rather than drink her calories.
the distillery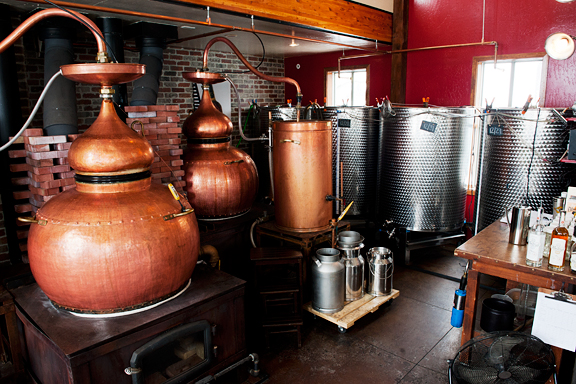 The cocktails come in all manner of creative flavors and combinations that incorporate Montanya's rums (obviously) and rum infusions like Thai spices, cucumber, vanilla, or jalapeño. Their martinis include the likes of White Room (Montanya Oro Rum, vanilla infused Montanya Platino Rum, orgeat, fresh cream, and crushed almond) and Smoke Show (Montanya Oro Rum, cold brew coffee, chai spices, smoked clove, cardamom). Maybe you want a cocktail on the rocks? Try Fiery Passion (habanero and pineapple infused Montanya Platino Rum, passionfruit, fresh lime, mint, agave, seltzer) or Strawberry Jive (Montanya Platino Rum, fresh strawberry, agave, fresh orange and lemon, local basil, mint). But it's not all fancy, fruity, totally awesome concoctions – they've got you covered with the classic Old Fashioned, Manhattan, Daiquiri, and Mojito to name a few. On those especially snowy après ski days, consider warming up with hot cocktails such as Hottanya (Montanya Oro Rum, local Third Bowl ice cream, butter, brown sugar, confectioner's sugar, whipped cream) or Wassail (Montanya Oro Rum, mulled cider, cranberry, spices, citrus bitters, orange twist).
And don't fret if you're a teetotaler! You will not be relegated to water or iced tea. Montanya's mocktails are every bit as enticing and delicious as their cocktails… without the booze, of course. The Green Hornet combines fresh lime, cilantro, jalapeño, agave, and seltzer. I recently ordered the Bluebird – a delightfully refreshing combination of fresh blueberries, ginger, honey, lemon, and seltzer. Montanya's drinks are all so fun and exciting, and there is something for everyone.

left: dark and snowy (montanya oro rum, fresh lime, housemade ginger beer, fresh mint, seltzer) and right: beach bum mocktail (pineapple, cream of coconut, orange, pomegranate)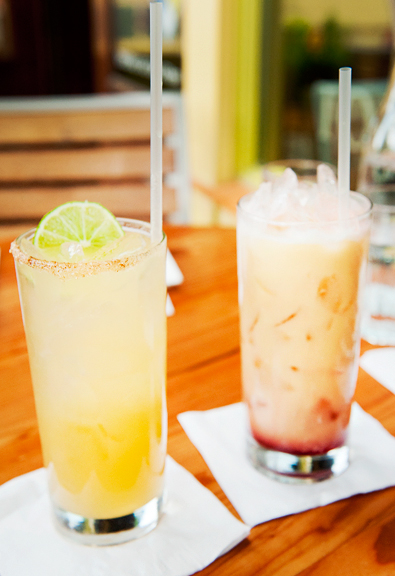 maharaja (montanya oro rum, north indian spices, fresh pressed ginger, fresh lime, cardamom)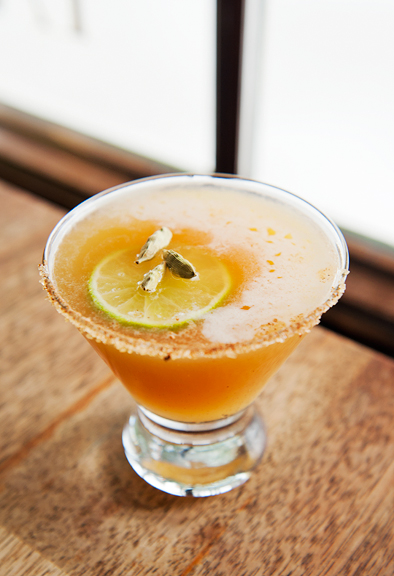 boat shoes (cinnamon infused montanya oro rum, agave, passionfruit, pineapple, mint, coconut, cardamom)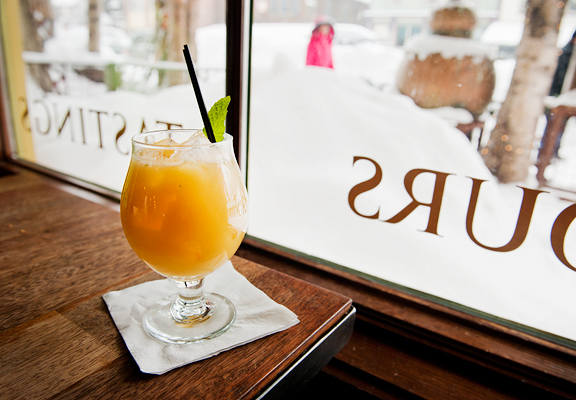 left: creamsicle mocktail (orange juice, sweetened cream, whipped cream) and right: kokomo (montanya platino rum, fresh lemon, fresh lime, cream of coconut, housemade ginger beer, fresh mint)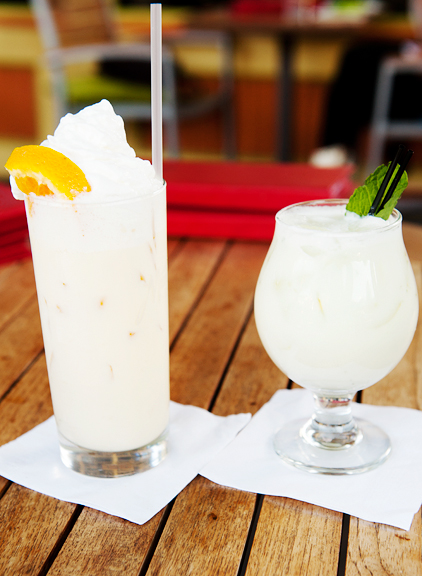 hanoi sunrise mocktail (blood orange, fresh lime, simple syrup, thai bitters, seltzer)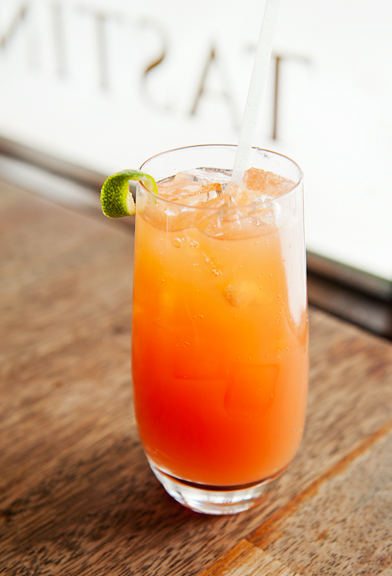 Plenty of groups stop in at Montanya's for drinks without ever ordering something to nibble on. But that's a travesty, because the food served here is as good as, or better than, the amazing array of drinks from the bar. We had a nice chat with Chef Rose Reyes on our fourth visit. The menu of small plates (street food, appetizers, and desserts) changes with the seasons, carrying over the most popular items throughout the year. There isn't a single dish we've ordered (and we've sampled A LOT of them) that we didn't like, and there are some we couldn't shut up about – like the seared scallops or the street tacos. And let's not forget the jibaritos… talk about the most perfectly cooked carnitas with lots of crispy bits! Maybe it's the Asian and Latin fusion, or the abundance of fresh and flavorful ingredients that makes the food so enjoyable. Whatever magic Rose is putting into her menu, the plates bring smiles to faces and happiness to tummies. I highly recommend going with a group of friends so you can order more of the menu, because you will want to.
seared scallops (kaffir lime coconut, fried carrot, spicy peanut dust, housemade chili oil)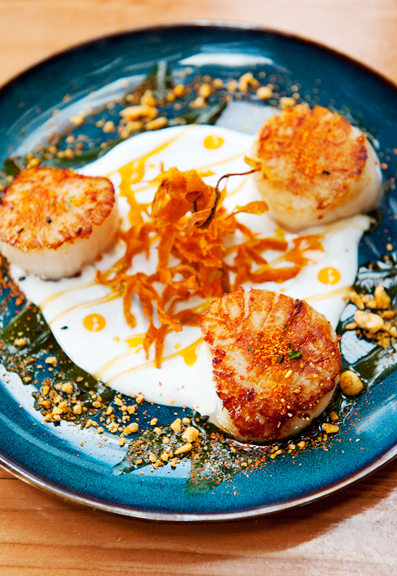 three cheese ravioli stackers (parmesan and asiago ravioli, fried and stacked with fresh mozzarella, tomato, and basil, drizzled with balsamic reduction)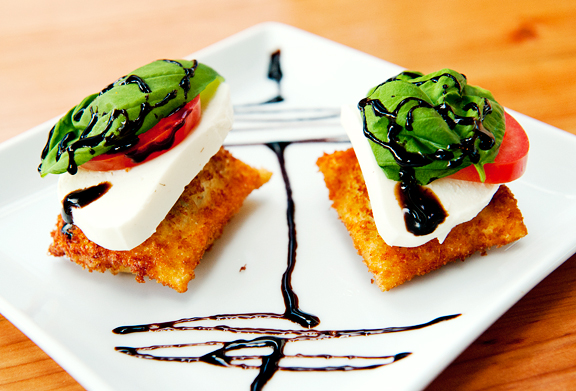 warm handcut chips, made fresh and served with ketchup and coriander mint cream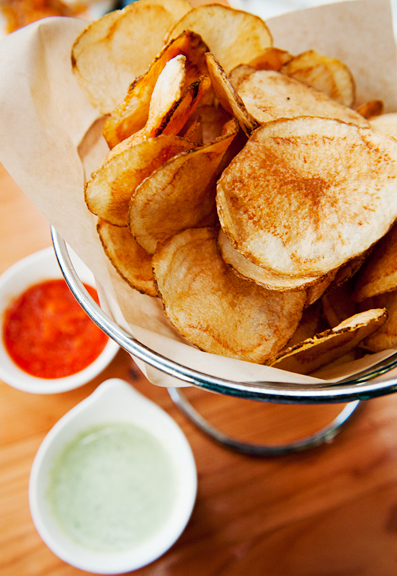 crab tostada (wild caught lump crab, yuzu slaw, pickled onion, avocado, crunchy corn tortilla)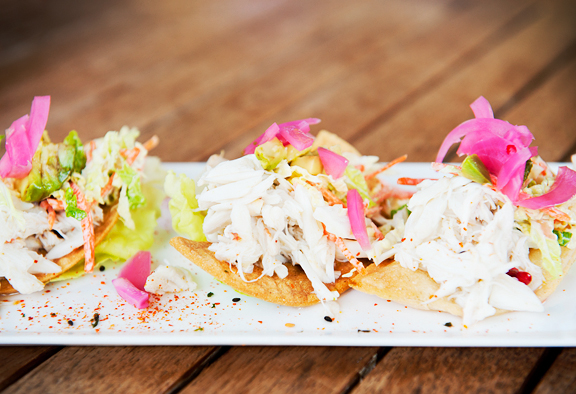 What I love about coming to Montanya's to eat is how reading the menu alone makes your mouth water. Then the food arrives and it looks ten times more enticing than what your brain had imagined from the description. The kicker is when you take a bite and realize that much more is going on here than your eyes let on. The artful dance of sweet, spicy, tangy, creamy, salty, and earthy comes alive amid the pleasing combination of textures and temperatures. It all works perfectly and tastes amazing.
M.O.A.S. (beef espetada, pork tocino, chicken stay on a stick – cucumber, naan, tzatziki, and chimichurri)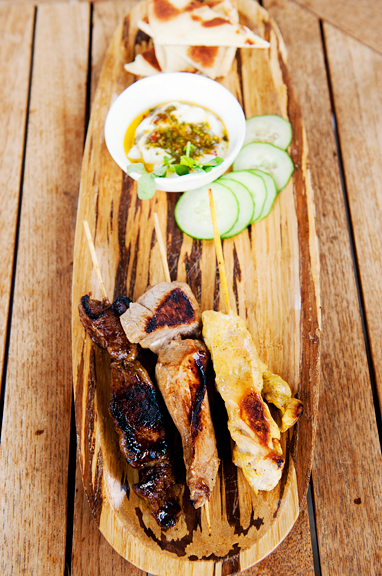 animal fries (sweet potato fries topped with bulgogi beef, banh mi sauce, grated parmesan, green onions)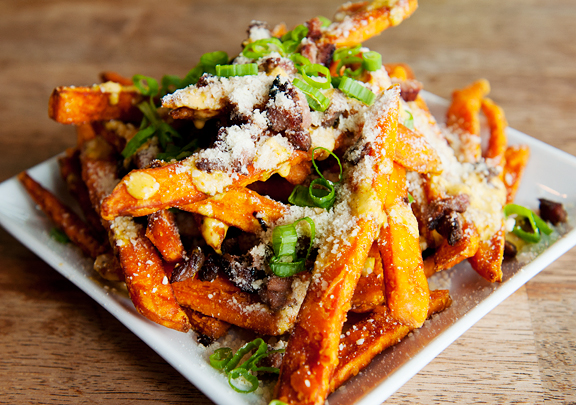 three little pigs (street tacos three ways: lola's adobo – shiso leaf, pickled onion, apple gastrique; pork belly – pickled vegetables, cilantro, peanut, banh mi sauce; smoked pulled pork – asian slaw, hoisin bbq)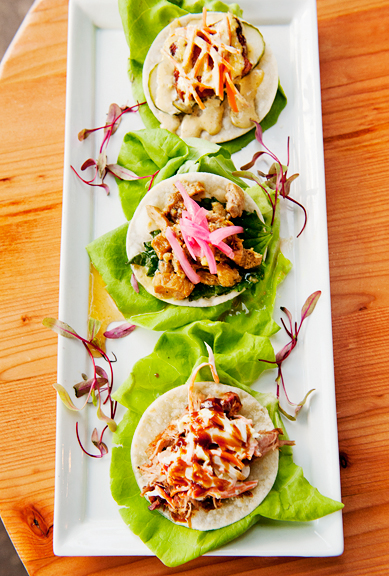 jibaritos (fried plantain cakes, pork carnitas, roasted tomatillo guacamole, pickled jalapeño and cranberry)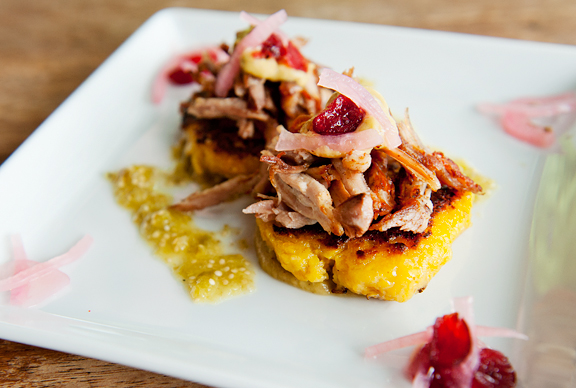 Now maybe, just maybe, you'll have room for dessert. There are usually three to four sweet options at the end of the menu including the Rum Cream à la Mode (Jamaican-style rum cream, local Third Bowl vanilla ice cream) and Housemade Rum Truffles (dark chocolate ganache with Montanya Oro Rum). We've ordered the Kaffir Custard and Fried Banana (Kaffir lime-infused custard, fried wrapped banana) and the Apple Pocket Pie à la Mode (hot fried apple hand pie with Third Bowl vanilla ice cream). Both were delicious and satisfying, but that hot apple pie is not to be missed – flaky fried outer crust and warm spiced apple filling all drizzled with caramel sauce, served with a scoop of small batch vanilla ice cream. The only thing missing was a blanket for what was sure to be the happiest nap in the world.
kaffir custard and fried banana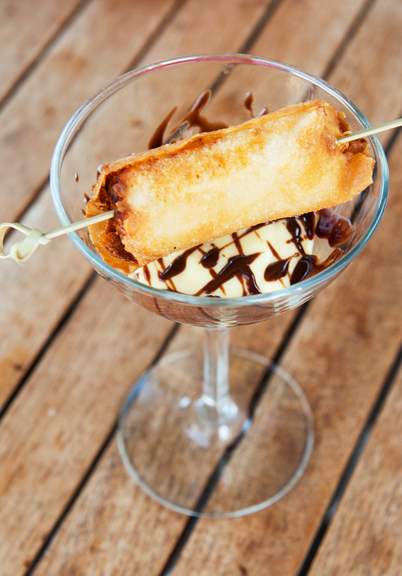 apple pocket pie à la mode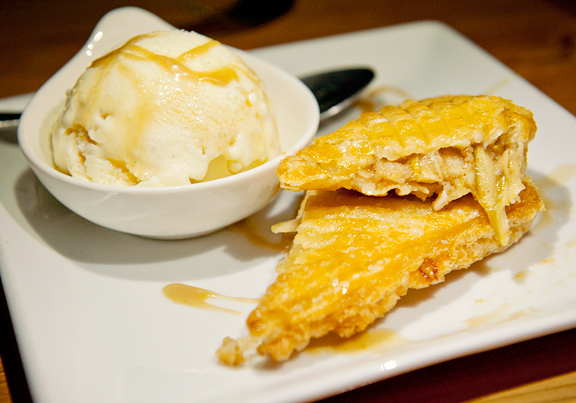 As if the drinks, mocktails, appetizers, and desserts weren't enough to entice you to get in here, Montanya is now serving lunchtime pho this winter (and possibly longer) from noon to 3 pm daily. The base broth is vegetarian, but then you can choose to add beef, pork, chicken, tofu, and/or lump blue crab. Every bowl comes with rice noodles, green onions, sprouts, and local greens. Served on the side is a plate loaded with fresh mung bean sprouts, enoki mushrooms, Thai basil, lime wedges, Fresno pepper slices, and cilantro for you to add to your bowl. And finally, the tray of condiments: sriracha, sambal oelek, white pepper, and hoisin. Dress the pho how you like it and you have yourself one damn fine bowl of awesome.
we both ordered the pho with beef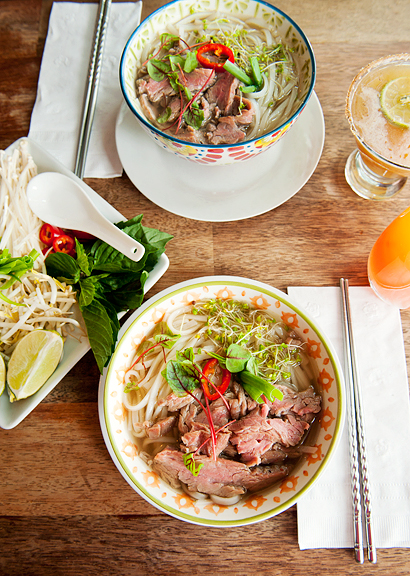 hot and fresh bowl of pho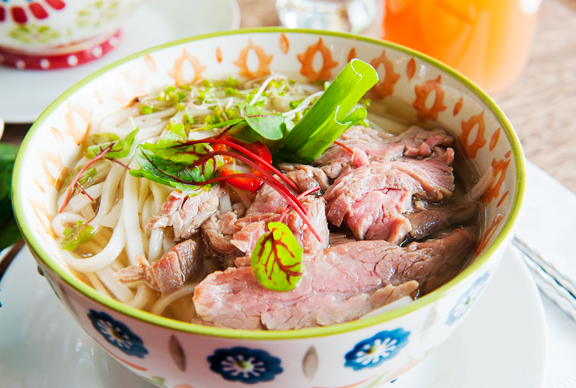 It's incredible how the tiny mountain hamlet of Crested Butte can have so many excellent restaurants from which to choose. Good folks like those who own and operate Montanya make that possible. Fun cocktails, great food, friendly and knowledgeable service, and a festive, yet cozy atmosphere make for a fine destination to quench your thirst and fuel up for your next adventure. If you can't bear to leave Montanya behind, then peruse their gift shop near the entrance or check out their
online shop
. Montanya's tasting room also hosts live music on weekend evenings, so check their
music calendar
for upcoming events.
Montanya Distillers Tasting Room
212 Elk Ave.
Crested Butte, CO 81224
Phone: (970) 799-3206, text pho to-go orders (970) 275-0376
Email: info@montanyadistillers.com
Daily 11 am – last call 9 pm
Serving pho daily noon to 3 pm
Facebook: Montanya Distillers Facebook Page
Instagram: @montanyarum
Full Disclosure: No comps. All opinions are mine.
***Read about more of my favorite eats in Crested Butte.