Wednesday, August 5th, 2015

Recipe: fried polenta and porcini on roasted carrot purée
We had a busier than usual schedule last week because Jeremy was hosting his astrophysics retreat. This was his third one, but it seemed more harried than usual because of the additional puppy-wrangling. Without going into too much detail, the retreat is an "unconference" that eschews the traditional scientific conference format. It is a small gathering of select (young) experts in astrophysics who come together for 4 days of intense, high-powered brainstorming for the love of science. Running any sort of workshop or conference is exhausting, but for someone like Jeremy – my dearest introvert – it is doubly so. Once he had caught up on sleep and other work, I suggested we spend a relaxing evening under the stars together… with Neva… in a tent.

neva tries out the sleeping bags as the sun goes down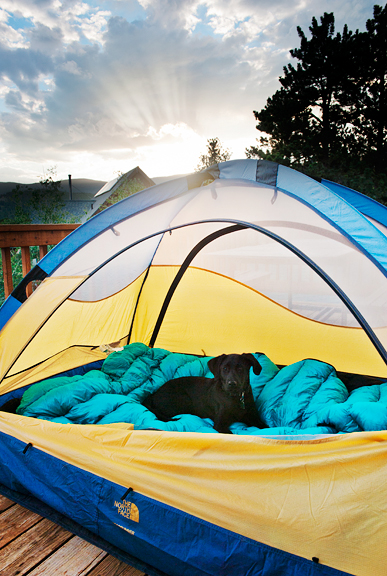 Actually, this was just a continuation of puppy training. The plan is to go backpacking this fall with the pup, but first we need her to get used to being in a tent. When our neighbor's kids were little, they used to camp in a tent on their deck because the youngest would always get scared before 9 pm and run back into the house. I thought this could work for Neva, too. We could camp on the deck and if she got unruly or upset, we would bail and go inside. But there was no need to abandon ship because she was very sweet and cuddly throughout the night. She probably slept better than either of the humans. I think this backpacking thing just might work.
it's a loungy puppy life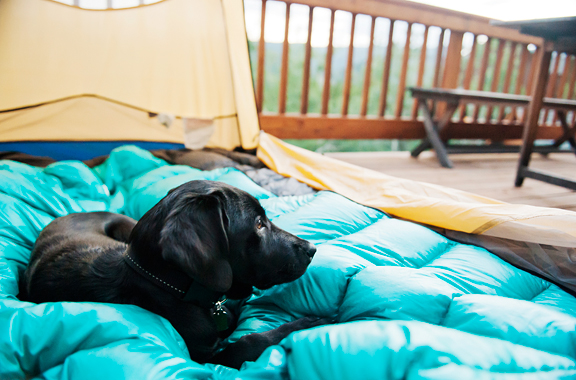 if we're going to camp out, we may as well eat outside, too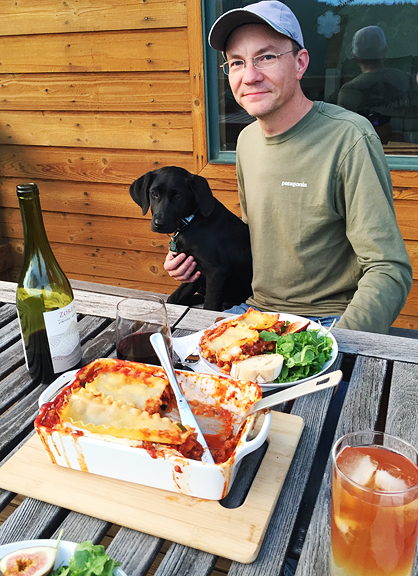 blue moon rising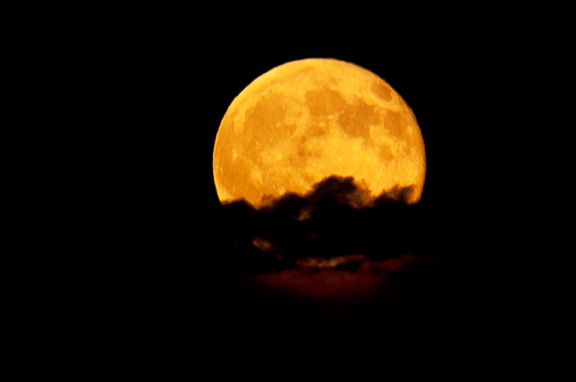 ready for zip up and lights out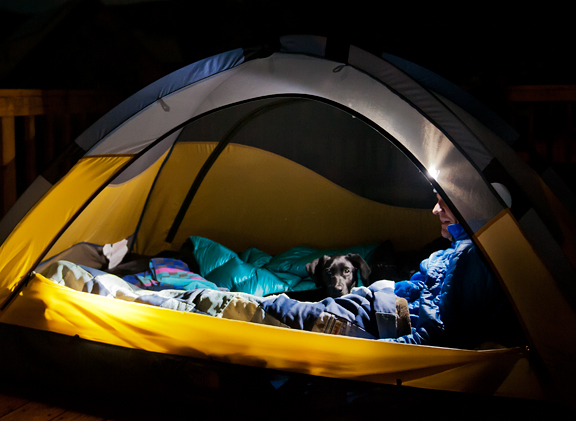 Jeremy's astrophysics retreat takes place in Boulder with the exception of one day held at our house in the mountains. My minor contribution is to help host the participants which includes a sit down dinner. Living outside of Boulder, we are accustomed to accommodating the restricted diets of our friends, but I got a stumper in this group: gluten-free vegetarian. In my opinion, gluten-free is pretty easy and vegetarian isn't terrible, but the combination really whittled down my options. There were two ideals I had to balance: 1) that not serving meat to your guests is rude (per Chinese tradition) and 2) it is unacceptable to serve sub-par food to vegetarians. But I was up for the challenge, particularly because the one guest who was gluten-free vegetarian happens to be a genuinely nice and good person. Luckily, porcini are in season NOW.
here's a pretty specimen (plus one in the background)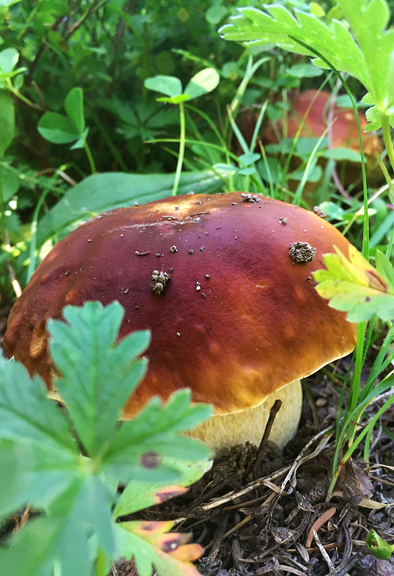 two buddies chilling out off trail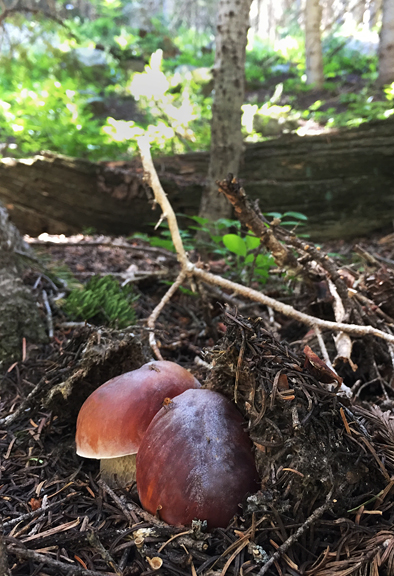 The idea was to serve something that everyone could enjoy and then the omnivores could have some kind of animal added to their dish. I decided to go with fried polenta cakes and pan-seared porcini. It was easy enough to hike up into the mountains to nab some choice mushrooms only because I knew they were flushing and I knew exactly where to look. For some extra color, I thought a nice roasted carrot purée would brighten the plate and lend some sweetness to the dish.
white wine, olive oil, vegetable oil, carrots, polenta, butter, thyme, salt, porcini
I started the day before, as I didn't want to heat up the house cooking all day before dinner. I made the polenta and then pressed it into a baking dish to cool and solidify. A loaf pan works too if you want to slice your polenta that way. Once the polenta had set (about an hour or so), I popped it into the refrigerator to chill.
stir the polenta into the boiling water
when the polenta is done, stir in a pat of butter
pressed into a baking dish to cool
**Jump for more butter**