Recipe: pan-seared pork chops
Colorado rarely makes the news when it snows in the mountains, but an inch of snow fall in D.C. and NPR can't shut up about it. I think the only reason we got any coverage of this most recent storm is because it affected the flats, including the airport in Denver. Jeremy was notified on Friday that his Sunday morning flight to the East Coast was cancelled. The week leading up to the storm had everyone shouting "spring!" including myself. I managed to squeeze a couple of trail runs in before the weather turned cold and frozen. There is that period between bare ground and a mega snow dump when it's just wet and boring outside. That was the perfect time to finish sewing eight baby quilts (flannel rag quilts).

dusted off my hokas for the return to trail running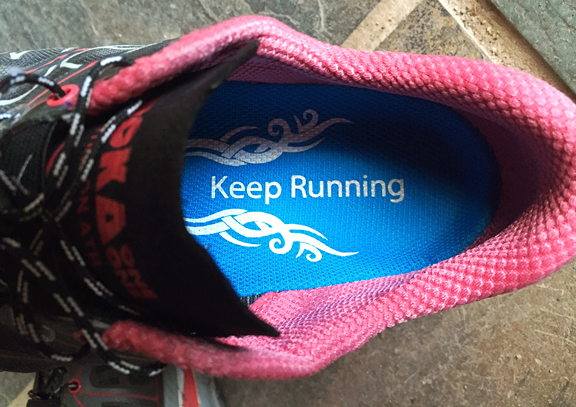 waiting for a trip to a laundromat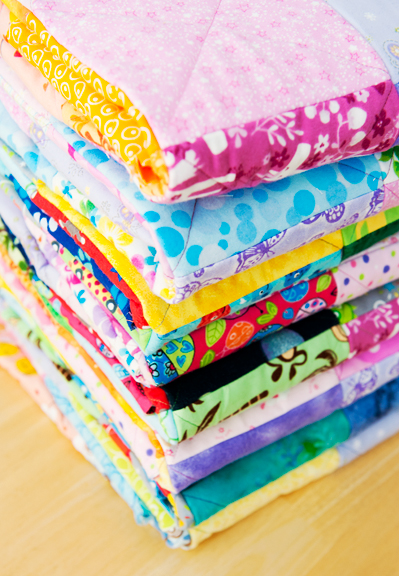 Storms can be both exciting and nerve-wracking. Obviously, the exciting aspect for us is skiing. The nerve-wracking part is when you have to travel on slick roads with crappy drivers. Sometimes forecasts for big snow totals will fizzle leaving me to cry softly into my skis (just kidding – I only did that once…), but we cashed in on this storm. Mountain friends scattered around the Front Range posted their obligatory deck-full-of-snow photos and measured snowfalls. I kinda love that about the mountain communities. But the comments were full of condolences from people who live near sea-level and don't get the gist of the mountain bubble. Please, people. Spring snowstorms are not unusual here, and without them, we'd be facing the threat of summer wildfires in our beautiful mountains. Plus? WE LOVE SNOW! Obviously. Neva had never experienced such deep snow before. She thought it was the best thing ever. I posted some videos of Neva being a goofball in the snow on
my instagram
.
fetching her tennis ball on the deck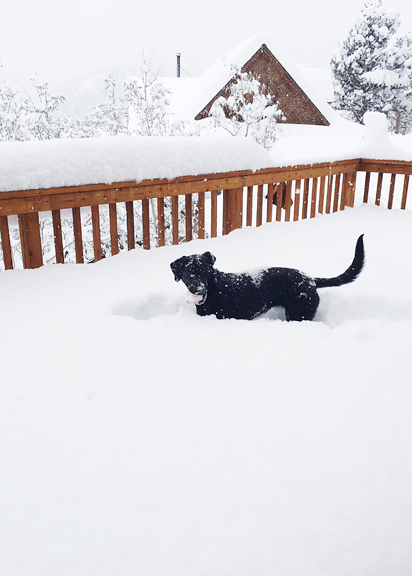 a quick ski tour in our neighborhood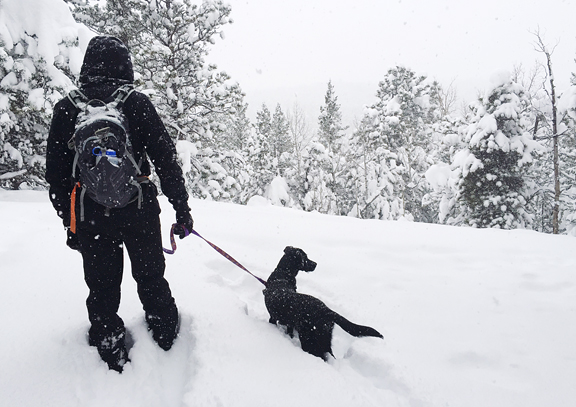 by sunday morning, the snow was taller than neva in places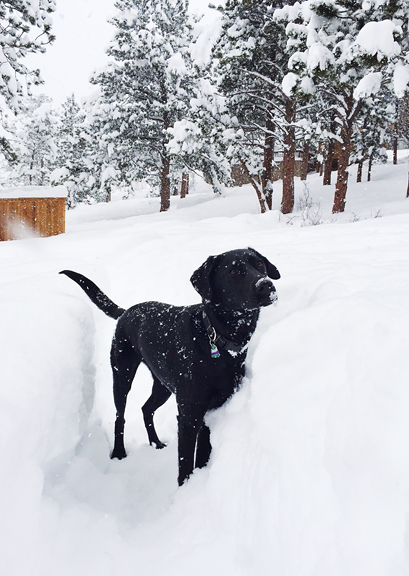 jeremy breaks trail in four fresh feet of snow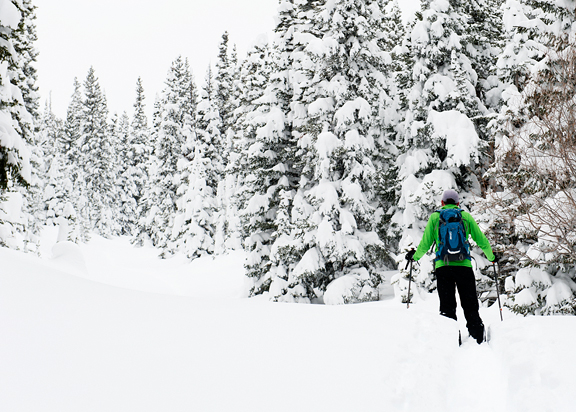 This teeter-totter weather means we went from sushi and salads to ramen and chili in the blink of an eye. And I hear we'll be swapping sunshine for snow and then back to snow through early May. So while we may be dabbling in warming foods and the rest of the country is thinking of picnics and deck parties, there is a nice compromise worth your attention. Pork chops.
pork chops, salt, pepper, vegetable oil, butter
A few years ago, we went to dinner with my parents at
The Kitchen
in Boulder. If you've never had the pleasure of dining there, they serve simple food prepared exceptionally well. My mom ordered the pork chop, something I rarely consider ordering for myself because it sounds so dull and usually is. Since we were sharing bites of our dinners with one another, I politely took a bite of the pork chop. Oh man. That was the best pork chop I had ever had. Juicy, tender, full of umami goodness. I experimented half-heartedly trying to achieve this level of amazingness with mixed results. In the last few months, I've renewed my quest. I interrogated restaurant chefs, butchers, random people – all giving me different tips. Bone-in. Boneless. Wet brine. Dry brine. Pan sear. Roast. Grill.
season with salt
set on a rack to chill 45 minutes to 3 days
The Food Lab
cookbook (by J. Kenji López-Alt) eventually led me to a winner – bone-in, dry brine, pan sear. It's about as simple as it gets and I'm not sure it can taste any better than this. Bone-in is the way to go for a juicier chop as it helps to keep the meat from drying out during cooking. When I asked the Whole Foods butcher to cut the chops all pretty for me, he asked if I wanted my pork chops frenched. Sure, I said. I don't think I'll do that again. I rather like the meaty nub over the bare bone. Kenji recommends giving the pork chops a few well-placed cuts along the fatty side to prevent curling while they cook. Two or three cuts an inch apart, across the fat layer down to the meat should do it and your chop will remain flat in the pan.
slice the fatty side
season with pepper
next stop, the frying pan
A splatter screen will serve you well here. Once the fats are nice and hot in your wide sauté pan, frying pan, or skillet, place the pork chops in the pan and let them sear. Don't mess with them until the bottoms have browned and the chops release from the pan easily. If you try to lift one up and it sticks to the pan, it isn't ready and you need to leave it be. When the bottoms have seared nicely, flip them over and sear until your chops reach the desired internal temperature. This means you will need a meat thermometer. Take measurements in the thickest part of the chop that isn't near the bone. 145°F is the target for medium rare and 160°F is the target for medium. Well-done pork chops are about as unforgivable as well-done steaks.
heat the butter and the oil
set the pork chops onto the hot pan
seared
rest the chops for a few minutes
I'm happy to report that these pork chops were insanely good – as good as the one I tasted at The Kitchen! Each succulent bite melted in my mouth. I felt a little sad as I nibbled on the bone because the experience of eating that pork chop was transcendent. The good news is that this is a very easy dish to prepare. It works for weeknight meals as well as dinner parties and it's great any time of year.
quick, easy, delicious
the pork chop pairs with all manner of sides
tender and juicy perfection
Pan-Seared Pork Chops
[print recipe]
from The Food Lab by J. Kenji López-Alt
4 bone-in pork chops, about 1 inch thick
salt
pepper
1 tbsp vegetable oil
1 tbsp unsalted butter
Season both sides of each pork chop with salt. Set the chops on a rack over a dish (something to catch any drips) and refrigerate uncovered for 45 minutes or up to 3 days. Pat the pork chops dry and make two to three scores, about 1 inch apart, across the fatty outer edge of each pork chop. Cut through the fat and membrane to the meat – this helps to prevent buckling during cooking. Season the pork chops with pepper. Heat the vegetable oil and butter in a sauté pan over high heat. When the pan is hot, place your pork chops in a single layer and sear for 3 minutes until browned. Flip the chops over and continue to sear until the internal temperature reads 145°F for medium rare or 160°F for medium. Remove the pork chops from the pan and allow them to rest for 3-5 minutes before serving. Serves 4.
more goodness from the use real butter archives