I was wiped out when I got home tonight and a veritable mental and emotional mess.
I didn't feel like cooking and I was craving bad, fried take-out style foods. I flopped around on the floor with Kaweah while Jeremy tried to offer some solutions (places to go pick up some food while I took a nap). But nothing sounded good because my guilt meter was on Hysterical setting. Didn't want to spend money, too tired to cook, and I had to prepare a whole meal to take to our friends' house for dinner tomorrow, whine whine whine.
These situations can go one of two ways and this time I put my mental ass in gear and made Chinese Cold Noodles while Jeremy did dishes.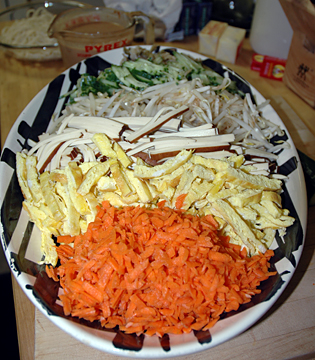 It's a great meal for warm days. Cold boiled noodles topped with raw vegetables, chopped egg, and chopped chicken – except tonight we had chopped savory dried tofu instead of chicken. Best of all is the topping – a peanut sauce flavored with soy sauce, sesame oil, and some vinegar. Plus, we have enough leftovers for lunch tomorrow!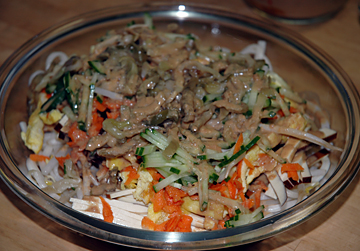 Ro called to discuss Career and Life Decisions, and then I caught my second wind for the evening (or perhaps it was my first wind?). I set to work on the dinner for tomorrow night. Preparing a complete meal ahead of time to take to someone's house to serve is a lot of work. I liken it to catering without the staff or the pay. For dessert, I made a small carrot cake (7-inch) with homemade cream cheese frosting. It's still cooling, so I will assemble it tomorrow. I really dig making small desserts! I also made rich dark chocolate truffles.