I made the crawfish fettucine tonight. Actually, I made a half recipe because the normal recipe serves 15. But I didn't halve the pasta. It still came out rich enough to make me dizzy.

good quality crawdad meat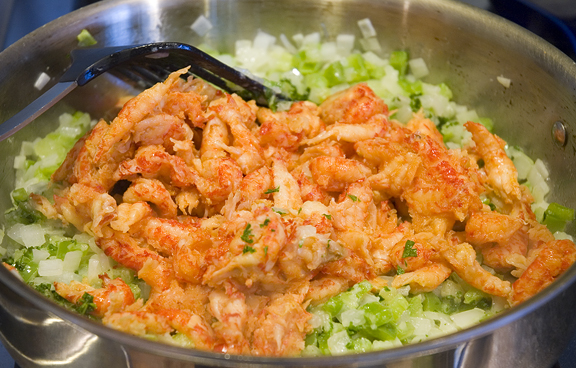 This was the first time I had ever handled Velveeta. It's sticky and has a weird putty-like consistency. The list of ingredients on the box is scary. Tasting it in the dish, I think it's been incorporated into many a casserole at one too many pot lucks… But if you ignore the knowledge of Velveeta in the recipe, it's wonderful.
velveeta in the mix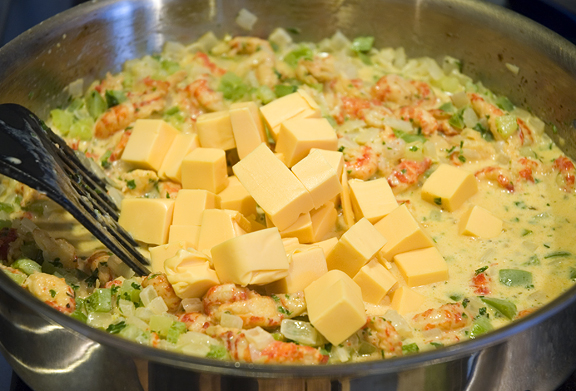 not only velveeta, but a stick of butter, and half and half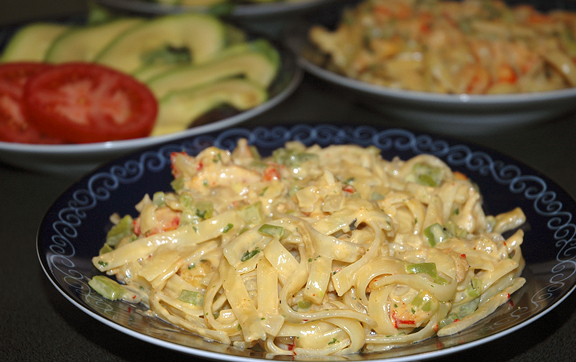 The crawdad meat was pretty fresh, which got us thinking of Emily again. Many years ago we were driving from Ithaca to Virginia to visit my folks. On the way, we dropped by Emily's parents' house in DC (Northern VA). It was the house Emily lived in during her high school years and where we sat on the roof and had geeky-teenager discussions about life while watching her dad (top meteorologist for the US Navy) fiddle with his weather equipment outside. It was during that sophomore year that Emily became one of my best friends. So our visit was about a decade later and Em's parents gave the approval upon meeting Jeremy, who had recently become my husband. Her mom served us some crawfish appetizers – wrapped in phyllo dough. To die for. That is the next recipe to request. Em's dad is a master of conversation and social grace, weaving a discussion incorporating satellite imagery (my research), observatories (Jeremy's research), his involvement with both and wanting to know more about what we were doing. I love her parents, much in the way she loves my parents – happy to be so adored and yet grateful that they aren't ours.
Spring is in the air. I spring cleaned my office today and ordered some furniture. I need to clean my house next. Productivity is on the rise.