We're finally down to one cheesecake in the house! I'm sure Jeremy can make quick work of that tomorrow.

prettied up
Jeremy took the two 6-inch cakes to Marcus tonight while I made dinner. The kids were very excited. Jeremy said Marcus looked pretty happy too. Marcus went backcountry skiing today at Berthoud Pass. He said it began snowing there this afternoon. Our forecast was saying 9-12 inches tonight, then 10-16 inches, and now we're down to 6-10 inches. When we walked the dog this afternoon, it was sunny and warm… I guess it's coming.
My lightsphere II arrived today along with a dog biscuit courtesy of the UPS man. Actually, I should say my lightspheres because I got both models (cloud and photojournalist). I tested one on Jeremy before he delivered two more of the 4.5 inch cakes.

my handsome, brilliant man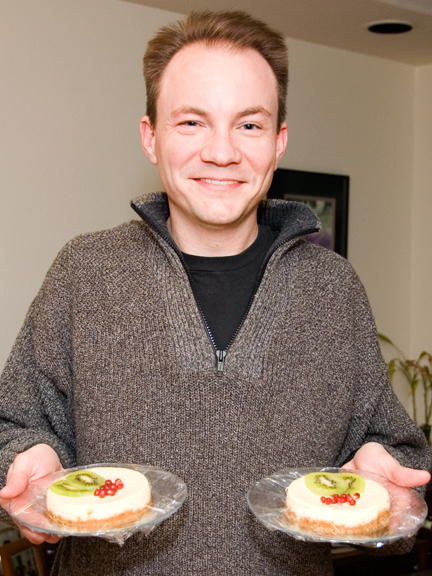 I like the way it works! Unfortunately, the restaurant has a grey ceiling and two mirrored walls. Sigh, the decor of Chinese restaurants will forever be my bane. I'll make due with what I've got. Now to go test how it does with food photography (because that's just as important as the people photography!). Thanks for the tip, KJ!