Most of the desserts I like to make involve eggs. Well, they either involve whole eggs or egg yolks. Like soufflé uses yolks and whites separately, as does key lime pie, chocolate mousse, and chocolate cream cake. Then there are those that are heavy on yolks like crème brûlée, tiramisu, flan, cheesecake, and pastry cream. I hate to throw out good egg whites, but the only desserts I know of that use egg whites exclusively are meringues, angel food cake, and macaroons.
The tiramisu I made earlier this week required 8 egg yolks, which left me with 8 egg whites. I've been plagued with the fear of attempting meringues at elevation because I still don't know what flops and what doesn't compared to sea level. However, consultation with Donna Hay's pavlova recipe and comparison to a high altitude cookbook recipe for meringues lead me to a successful experiment today. I opted for individual pavlovas because they take less time to cook and because I had no idea how many I'd produce (8 egg whites produce an assload of mini pavlovas).

piped meringue – not so aesthetically pleasing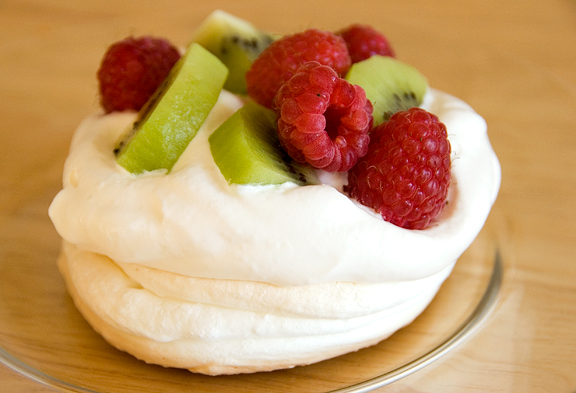 i prefer the spooned meringue's free form look
Although I noticed that my meringue is a slightly beige color and the whipped cream is white, whereas Donna's meringue is bright white and the whipped cream a slight beige color. I probably needed to lower the temp and let them cook for longer, but what the hell… Hats off to Oz, this is the unofficial national dessert for Australia. Had I passion fruit, I would have used that too, Kell.
Snow is in the forecast and temps are dropping, thank goodness. It's been unseasonably warm and sunny. However, my composting is looking more like compost and less like fuzzy mold – hurray!
Kaweah is having puppy dreams.