Some backtracking required here. I never got around to the last day I spent in Sydney with Kell, Jerad, and eventually, Mr. Jeremy.
Jerad and Kell's weekly routine includes a trip to Paddy's Market for incredible fresh produce. It's like the Pasadena Farmer's Market on steroids and indoors. I literally could have sat down and cried in the middle of all those beautiful fruits, vegetables, and herbs. While they shopped about for the best prices, someone like me would have paid double the asking price for food I cannot even get my hands on in Colorado.

i'll buy all of these mangoes please, and two of the plums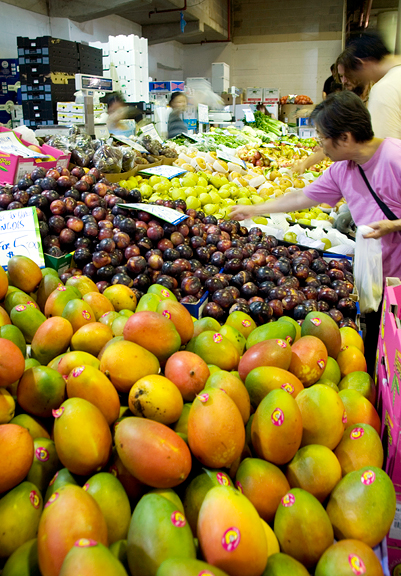 We paused at Oporto's for a quick lunch and my first introduction to Sydney's best fast food joint. Surprisingly, Jeremy had raved about this place after his last visit to Sydney. It's all very good, but the spicy sauce makes the whole thing. The sauce – the sauce!
i could have reconstructed kell's dental structure had she not polished off the rest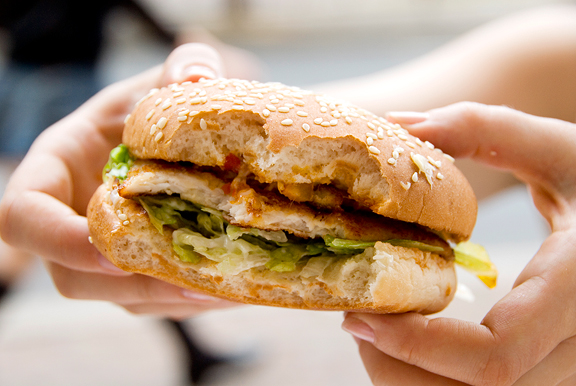 this special sauce kicks a big mac squarely in the balls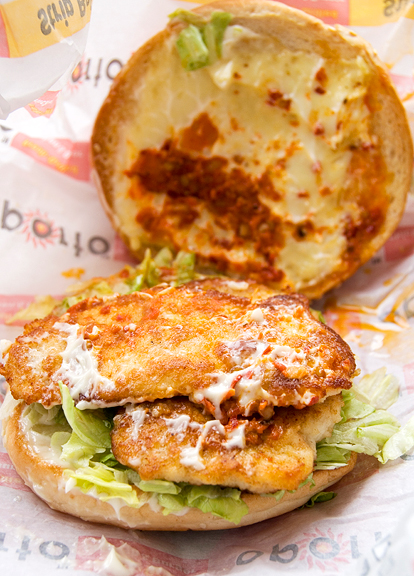 The next big treat was the fish market where the use of the terms shock and awe really does apply. Again, several vendors displaying all manner of fishes, shellfish, crustaceans, cephalopods… whole, cut, on ice, live, in tanks, sashimi'd, cooked, with side of tartare. Jerad and Kell picked up some shrimp and balmain bugs for a pre-dinner snack. They did this
just
so Jeremy could try a bug!
hello lovelies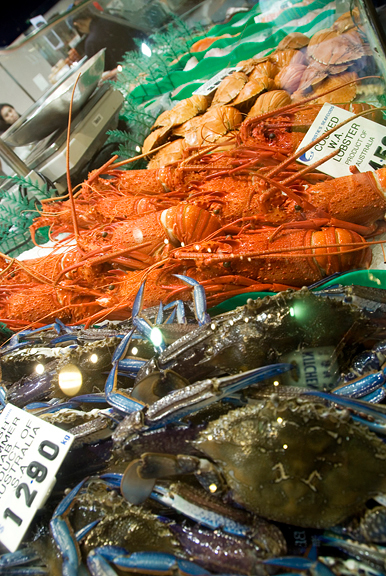 After some downtime back at Chalmers St. during a much-needed rainstorm, we went to pluck Jeremy from the airport curb and return to the flat for a treat and chat. Kell set out a fabulous spread of cold seafood, cornichons and pearl onions, cocktail sauce, and her homemade lemon cordial with soda water.
kell = maestra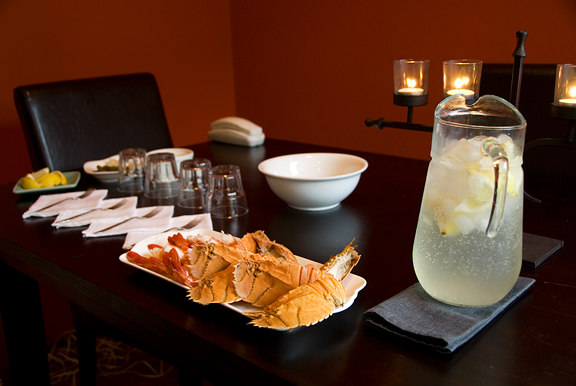 poly is such a lover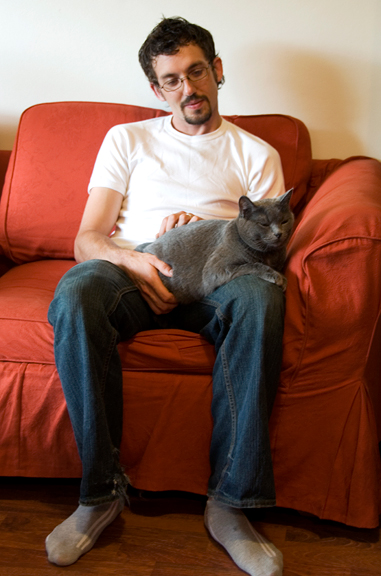 Dinner that night was at Restaurant Balzac (named for the writer) where Jerad worked before his current stint at Manta. I'm sure my dining tour of Sydney has been totally skewed by the fact that I was in the company of a chef who knows just about every other chef in town. The four of us opted for degustation (chef's tasting menu) and one member of each pair ordered the wine pairings. Service was impeccable and the food was sheer indulgence. The lighting was dark and I didn't want to use flash, so the images were blurry because a woman on the verge of food coma cannot be expected to hold a camera steady for a nearly 1 second exposure. My memory is shaky too, so Kell – please correct or add info that I may have left off.
fennel volute and seared scallop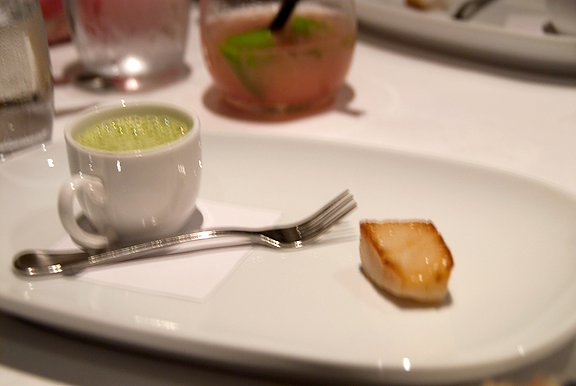 crawfish and pressed chicken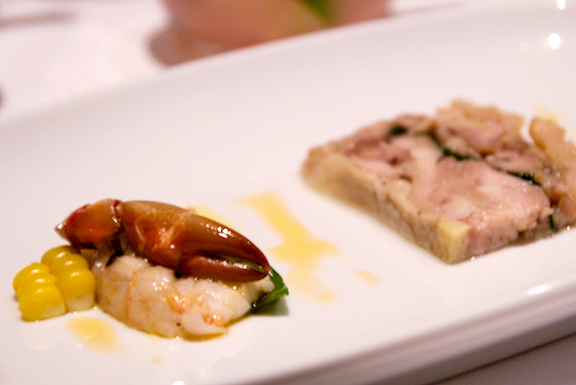 lobster ravioli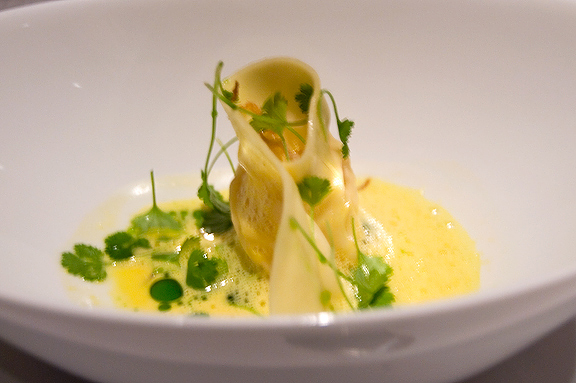 ocean trout, calamari, and vegetables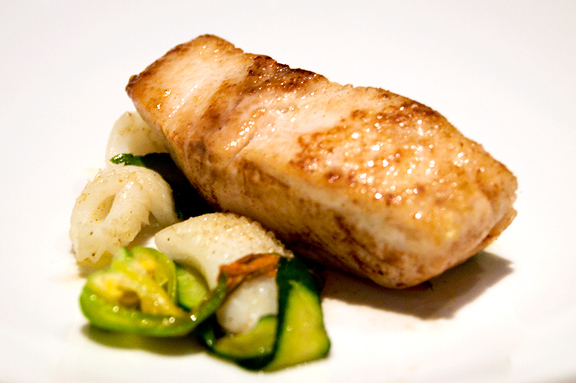 rabbit lasagne with rabbit tenderloin and offal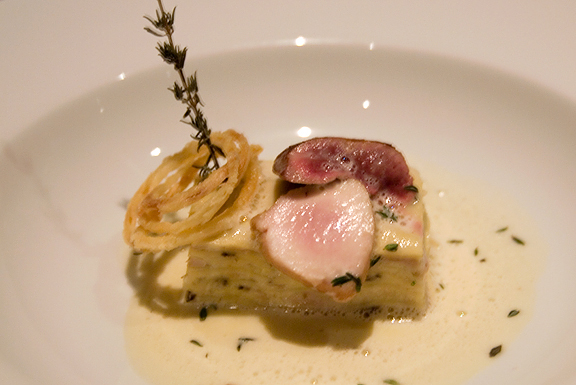 beef (tenderloin? ribeye?) on spinach with marrow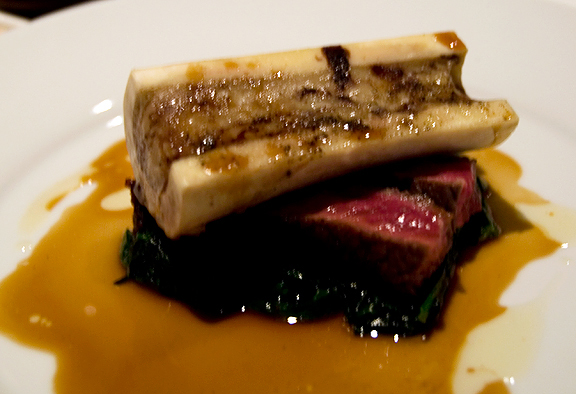 the ultra special complimentary cheese plate that jerad almost died trying to finish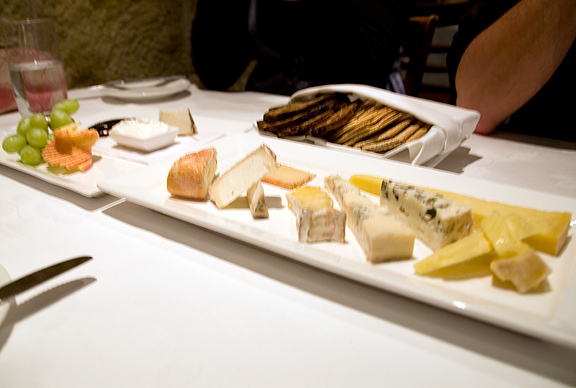 strawberry mess (meringue, whipped cream, macerated strawberries)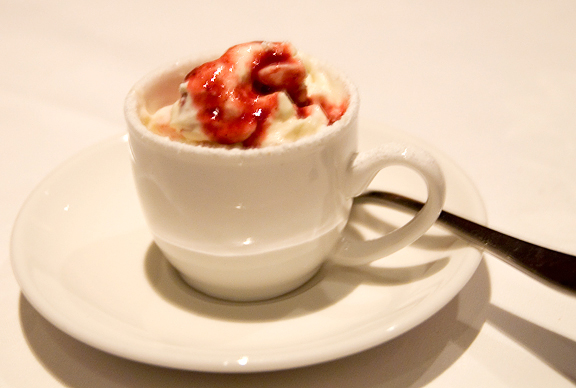 chocolate volcano with guinness ice cream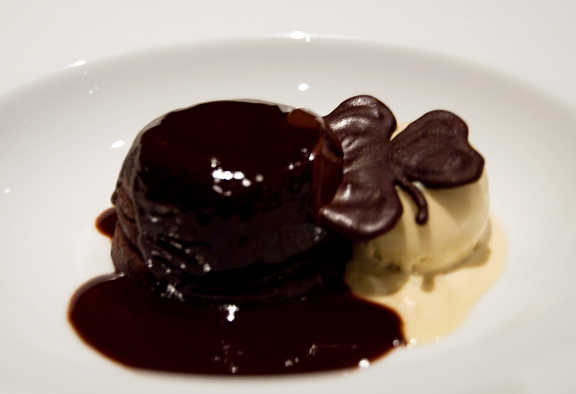 The missing plate in the above images is the venison tenderloin (the option to the beef, but they split it between each pair) and yes, that was awesome too. I don't need to emphasize how incredible the entire experience was – all four hours of it! I find it curious that I had never tried (was willing to pay for) degustation in my life until the first of the month for our ten year anniversary at the Flagstaff House. Then I suddenly had two more within the same month! Yes, I do count Jerad's treat at Manta as degustation because 1) it was delicious 2) it was the chef's tasting menu and 3) I felt like I was going to die by the 5th plate. The dinner at Balzac was extra special though, because it was with our friends who actually love and appreciate food more than we do! This was our treat for them (but also such a treat for ourselves). Honestly, we could not thank Kell and Jerad enough for their hospitality and kindness.
Needless to say, our dining experiences in New Zealand fell far short of anything Sydney had to offer.
Trip theme: Delicious Australia, Beautiful New Zealand.