We're going with a short post tonight. This is the first weekend we've been home in a while and there were house things to take care of. It all started innocently enough this morning when I turned to Jeremy and said, "I'd like to take 20 minutes and sort the clothes in the closet so we can cull out any things to donate." Four hours later the closets were completely reorganized, culled, cleaned. We rearranged the furniture in the office and I converted the perch to my sewing and knitting space (for the winter, at least). I went through the bathroom and boxed all of my cancer treatment meds, got rid of expired meds, organized the drawers and cabinets… And I packed our ski bin. This despite the 68°F weather outside. Jeremy resealed the driveway in the afternoon while I filed away important documents in between letting Kaweah back in and back out onto the deck.
Listening to NPR as I rushed about the house putting things away, I heard mention of Senator Ted Stevens' trial and that wrap-around deck. When I let Kaweah out to potty, I looked about the side of the house and thought, "yeah, I'd like a wrap-around deck."
I didn't plan our menu this week with respect to the weather. I normally do, but didn't have the time. So on a rather warm day, we ate Chinese hot pot for dinner this evening.

bowl of goodies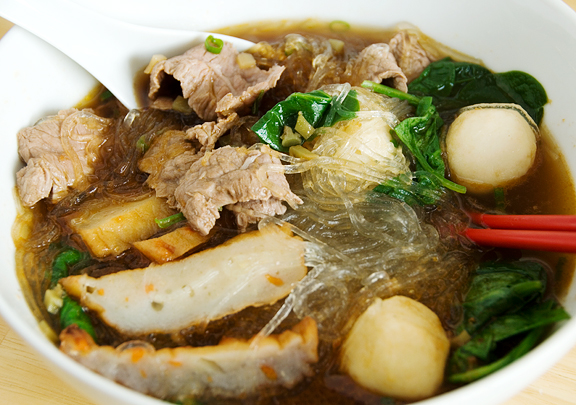 I'm trying to clear out the freezer, see. I like to stock up for the winter, but last winter I got waylaid by my diagnosis and things have been languishing and I haven't been good about sorting through it all. I found half a flank steak the other day and thought hot pot would be a good way to use it up. I also found a ham bone and a frozen fish head. This is actually the second or third time my parents have left a fish head in my freezer since I have left home. It means they love me. Mmm, I'll have to blog my dad's bouillabaisse recipe this winter – and it starts with a fish head. It is amazing.
Okay kids, that's it. I've neglected too many things (like emailing my buds) because of NaBloWriMo, so tonight I'm cutting it short. I'll answer comments soon.