Recipe: goat cheese croquettes
[We've got puppies, ski porn, movies, and food today. Does it get better than this?]
Do you ever find that time does strange things when you are really busy? I do. I like to pack things into each day and when I have several days or weeks like that lined up, time seems to slow down. Sort of the opposite of Einstein's theory of Special Relativity. We left this past Thursday morning for Winter Park/Mary Jane and it feels like it was over a week ago. The whole region got a good bit of snow – something we desperately need for the health of our forests, wildlife, and our water supply. It doesn't hurt the skiing either.
Jeremy and I spent all of our time in the glades (super soft powder), on the bumps, and in the bowls. Amazing. We usually head home after a day of tele, but this time we spent the evening with my friend who lives near Winter Park. He drives dog sleds. Actually, he doesn't just drive dog sleds, he runs the business. We got to meet his sweet and beautiful wife, baby girl, and their 80+ gorgeous Huskies. I spent a little time with the sled pups in the morning before we hit the slopes on Friday.

mesmerizing eyes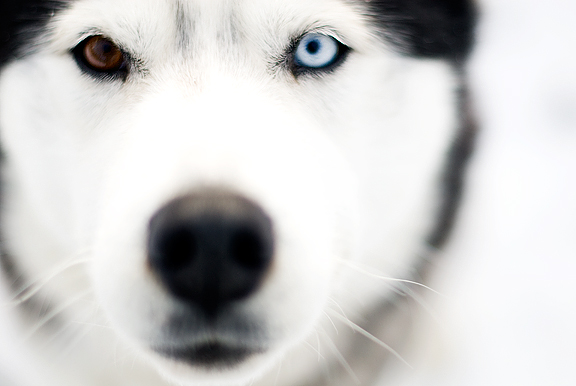 majestic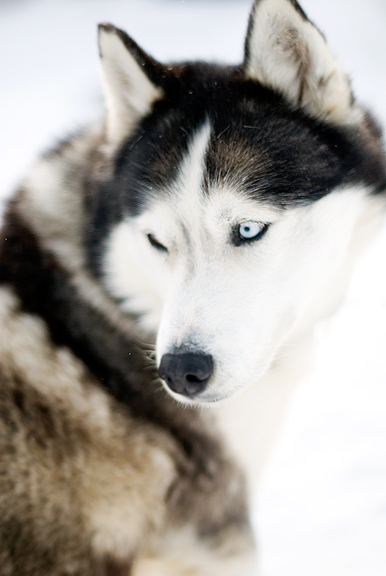 Contrary to what you might think from the
photos
, as soon as I knelt down to take a picture, I was jumped on, pawed, licked, gently nipped, and enthusiastically sniffed all over by three or four! It was quite the challenge to capture these dogs because they are constantly in motion – ten times more energy than K-girl.
waiting for brekkie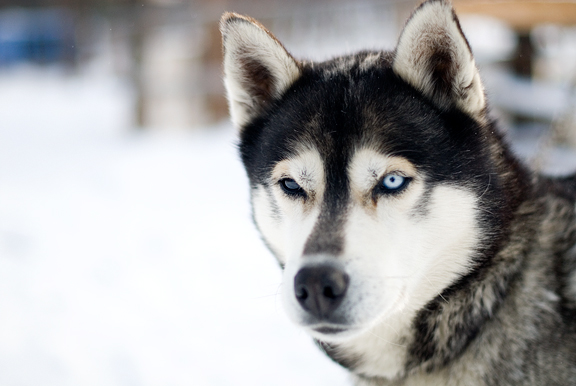 patient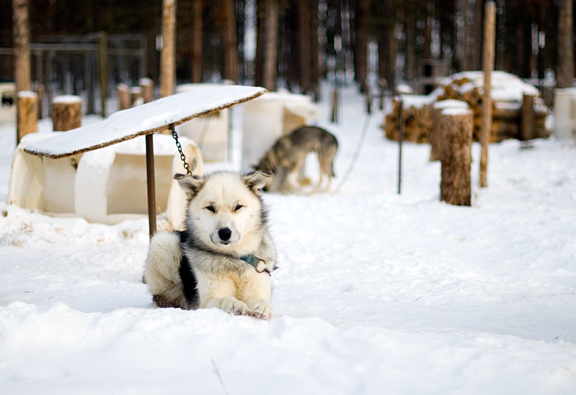 Friday was a fabulous bluebird day. We enjoyed the 20 minute drive to the base of Mary Jane instead of the hour and a half it takes from our house. Not as much powder as was predicted, but after such a dry year, we were happy with the 5 inches of freshies.
jeremy checks on me in the chute where i biffed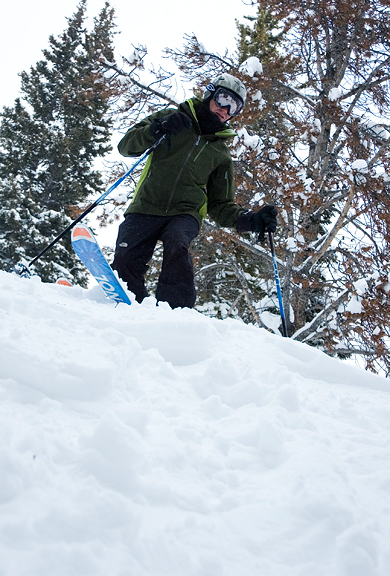 jeremy follows me down the bowl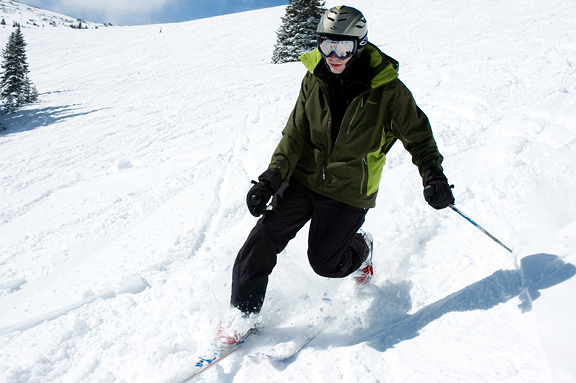 Now on to the food. This is the second recipe from that
amazing dinner
that B made for us a few weeks ago. I'm not a huge fan of deep frying and so when I do, I try to make several "frying" recipes over the course of a few days because I just hate the amount of oil it uses and wastes. The good news is that I have found a recycling center in Boulder that accepts used cooking oil. Sweet!
goat cheese, green chiles, and some cheddar
The original recipe is for cornmeal-crusted goat cheese. I keep calling them croquettes and since I added cheddar to the mix, I'm renaming them as croquettes. I quite like goat cheese, but both Jeremy and I thought these could use a little more tang. I considered roasting garlic and mixing that in, but we had some cheddar cheese to use up – and who doesn't love (more) fried cheese?
rolled into balls
flour for dredging, egg-milk for dipping, cornmeal and pepper for coating
It's a simple recipe to throw together. You definitely want to make sure you have enough for the coatings because a breach in the shell results in a disemboweled croquette during the frying. Very sad.
flour-coated and ready for dipping
cornmeal crust
I suppose I am an amateur when it comes to deep-frying, because a third of my croquettes did just what I warned about – disemboweled. There was so much bubbling in the pot that I didn't realize what had happened until I fished out the empty shells. Of course, because it's almost all cheese, that just bubbled off into non-existence. I was pretty careful about coating them, so I guess the heat or violently bubbling oil might have broken a few open? For the ones that survived, they were terrific! Crunchy and slightly spicy outside with a creamy, hot, smooth inside. I'm tempted to add roasted garlic next time – if I can ever overcome my fear of frying.
makes a great appetizer served hot
Goat Cheese Croquettes
[print recipe]
slightly modified from Cornmeal-Crusted Goat Cheese by Southwest Flavors: Santa Fe School of Cooking
2 eggs
1 cup milk
2 cups cornmeal, coarse
1 tbsp black peppercorns, cracked
1 cup flour
9 oz. goat cheese, soft
1/2 cup cheddar cheese, finely shredded
1 tbsp green chiles or chipotles, roasted, peeled and chopped
2 cups vegetable oil
Whip eggs and milk together. Mix cornmeal and peppercorns together. Place flour on wax paper. [Jen's note: I put the flour in a bowl.] Combine goat cheese, cheddar, and chile; then divide the mixture into six equal parts. Roll into balls, and flatten at opposite ends for stability. [Jen's note: I kept them round as I like unstable food.] Dredge the goat cheese mixture in flour, followed by the egg wash and ending with the cornmeal mixture, being careful to coat the cheese completely. Heat oil in a skillet over medium-high heat to 375°F and fry the cheese until golden brown (or before the bloody things disembowel in the oil). Remove the cheese with a slotted spoon and place on paper towels. Serve with Mango-Chipotle Salsa (I didn't have any on hand). Serves 6.