Sunday, June 14th, 2009

Recipe: chive dumplings

daring cooks – you got the onions chinese chives?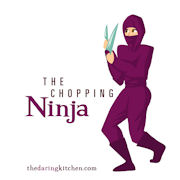 This month I'm not just a Daring Cook, but I'm the host of the Daring Cooks June challenge! First, let me pay homage to our most revered founders: Lis of
La Mia Cucina
and Ivonne of
Cream Puffs in Venice
, because we love them and they make the world a better place. I chose a recipe that was versatile enough for all manner of Daring Cooks: Chinese dumplings and potstickers. The recipe I gave for the challenge is
a family recipe
that I've blogged before. However, I wanted to push myself beyond the familiar and attempt a gluten-free version.
[EDIT] So there have been a few folks making noise about wheat starch and how it is not gluten free. Sources give conflicting conclusions on whether or not wheat starch is safe for consumption if you are celiac. So let's be clear here – you need to make your own decision and you need to be responsible for that decision. If you think there is ANY risk, then you probably shouldn't use it unless you enjoy playing with fire. If you aren't affected by gluten, then you can probably safely consume wheat starch. This is a traditional recipe, it was not developed as a gluten free version – it is a type of dumpling that people make in Chinese cuisine. [END EDIT]

use wheat starch (not wheat flour!)
chinese chives (garlic chives)
If you've ever had dim sum, you have probably feasted upon many different kinds of dumplings. My favorite to order when I'm in a good dim sum joint is the chive dumpling. While I was looking up a gluten-free version of the Chinese potsticker for our alternative Daring Cooks, I ran across several recipes for chive dumplings and knew I had to try these at home.
chop the chives
sauté
**Jump for more butter**