Recipe: apple tarte tatin
I really meant to check in over the weekend and slap a quick post up, but it was a matter of priorities. Sleep won. You'd think if the leaves weren't stellar that the shooting schedule would ease up some. It did a little bit, but Colorado is a big state. We covered a lot of ground. We saw baby raccoons scrambling, birds of prey hunting, fake deer, real deer, real elk, happy hunting dogs wagging their tails, and angry tree squirrels.

i spent my weekend here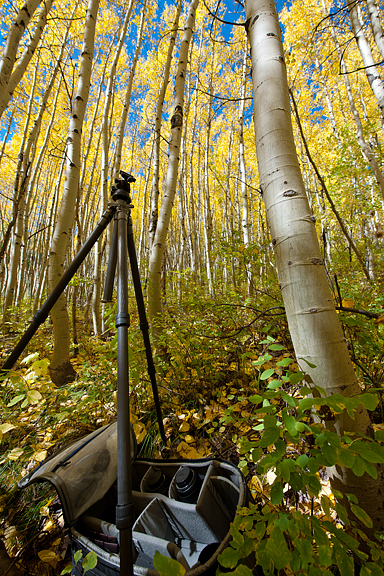 This trip turned out to be more recon than shooting, but I'll share some photos later this week. For now, I've got a few trip shots (for fun) of food, my shooting pal Jason, and my friend Josh, who wanted to know what our shoots are like.
the smart phone as appendage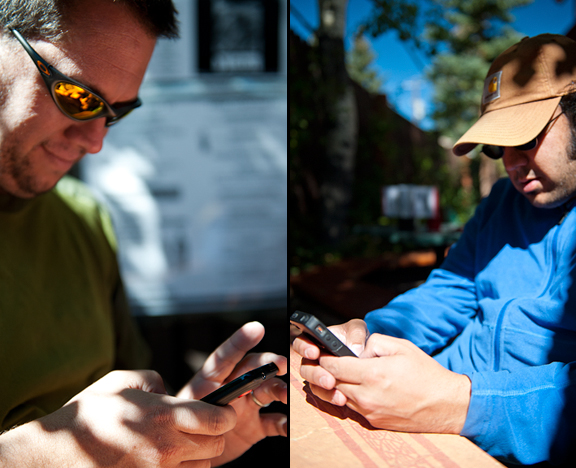 jason and i split a greek salad at secret stash in crested butte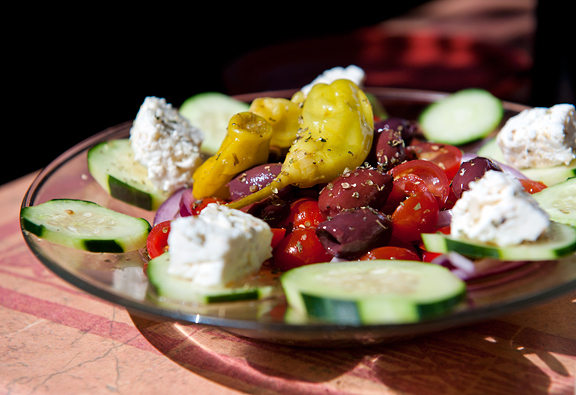 and then we split this lovely beast (the woodward)
chicken dinner at slogar (crested butte)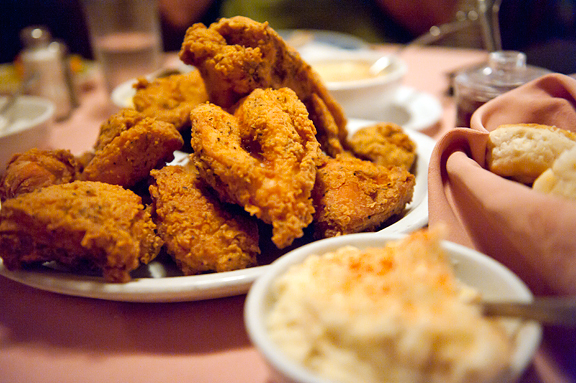 woody's rollin smoke bar-b-que and cookshack in marble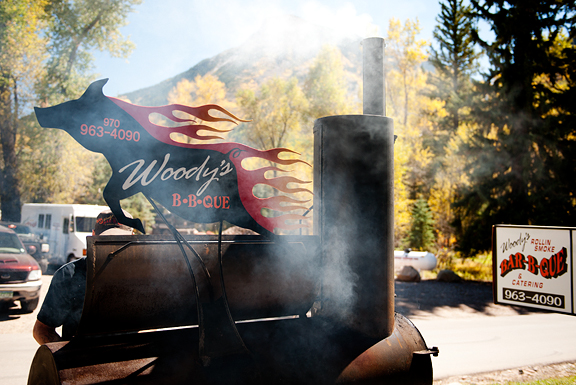 patio dining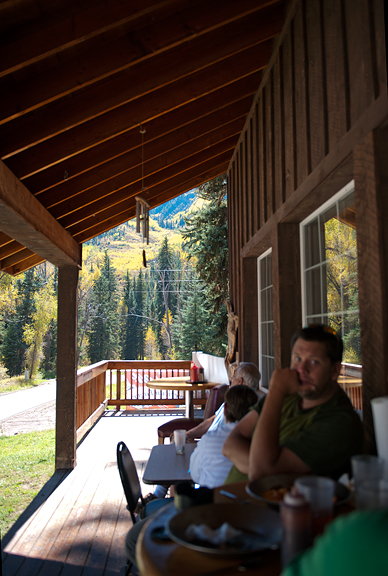 pulled pork and beef brisket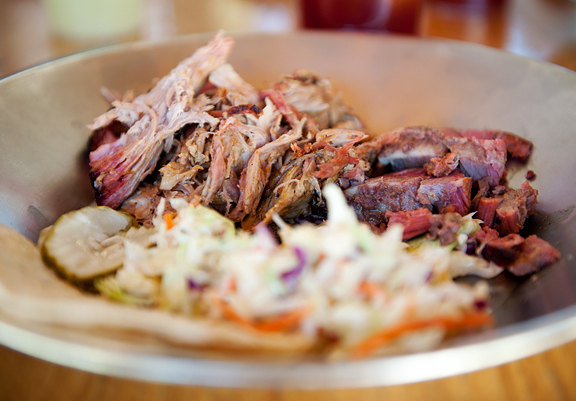 It was a good trip despite the state of the colors/leaves. I think any time you avoid injury (okay, I did smash my face with Jason's car door… ow!) or death, accidents, major arguments, food poisoning, and loss of or damage to equipment, it's a good trip. Because really, it's about what you make more than what you find. As Jason's daughter's favorite saying goes:
You get what you get and you don't throw a fit.
Jason and I recited that ad nauseam (to one another) – partly as commentary on the conditions and partly to just annoy the hell out of each other. We do that. It's fun. We probably drove poor Josh insane.
jason shortly before flipping me the bird – good times!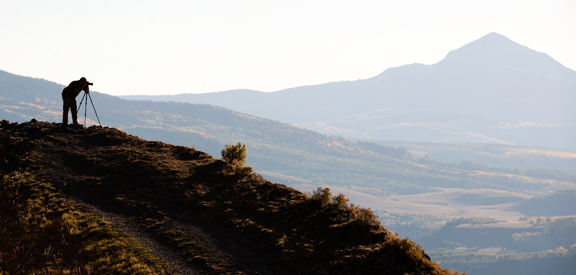 The lure of autumn is big for me. Not only am I keenly tuned in to the fall colors around Colorado, but I live for that cold snap when the chill in the early morning lingers long into the day. It happens when I no longer run for cover from the sun's burning rays, but turn a smile into it. I smell the faint hint of smoke on the air from people lighting their fireplaces. In those spare moments when my mind jumps from one task to another, thoughts of fall fruits get squeezed into the gaps.
i like them apples
Back when it was summer, I got an issue of
Fine Cooking
in the mail and tucked it into my bag. It would make for great reading on my flight to Seattle. It did make me somewhat nervous though. I mean, on the cover were the words "The Cook's Guide to Thanksgiving" which instills just a little bit of panic because Thanksgiving is the end of November and wasn't it just March the other day?
butter makes great pastry
pulsing in the egg and water
I see glorious food porn all the time. It's part of what I do. I've gotten to the point where it generally doesn't phase me, but the recipe for Tarte Tatin in the Fine Cooking issue hijacked my brain for a good many days. I already had several recipes shot and lined up to share over the course of the next two months because my schedule is fraught with travel and commitments, and yet I
had
to make this last week before my road trip.
the dough is ready if it holds when pinched
roll the dough out after chilling
We don't have air-conditioning (we live in the mountains, we don't need it) and we take several simple measures to keep the house cool in summer. One of those measures is to avoid baking. Come fall, the oven does triple duty: baking or roasting, warming the house, and filling the house with mouth-watering aromas. After a summer off, I am more than ready to bake and what better way to welcome fall than with apples as they come into season?
peeling granny smiths
cored and quartered
And caramel. I'm a total sucker for caramel. I love fruit desserts, but caramel seals the deal. This is one of those classics that has been on my list forever. When I finally made it, I decided to go for a small version (like half the size) because I don't own a 10-inch skillet. As Jeremy finished off the last piece of apple tarte tatin, I kinda wished I owned a 20-inch skillet, know what I mean?
sprinkling sugar over melted butter
arrange the apples in the pan
I always expected this to be a complicated recipe, but once I sat down and read it through (yes, always read the recipe through at least once before embarking) I found it was quite straightforward and not especially fussy. That's a major SCORE! in my book. Make dough, slice apples, simmer butter and sugar, cook apples, cover with dough, bake. And because it's "rustic" it means I can really screw things up and it will still look fine.
after the apples have simmered in the caramel
tucking the dough down into the pan around the apples
Just do yourself a big favor and please put the pan on a foil-lined rimmed baking sheet before you bake it. It just makes cleaning up the burnt drippings so much easier. I guess that's the price of loving caramel. Totally worth it.
when baked and slightly cooled, cover with a large plate and invert
after reconstruction
If your tarte tatin doesn't invert perfectly, never fear. Mine didn't either. Half of the apples stuck to the pan, but I coaxed them out gently and set them back on the tart. It's like a little puzzle. A gooey, sticky, sweet puzzle. Take care not to burn yourself on the caramel while it is hot (heat retention of caramel is notoriously high). Serve when the tart is warm. I didn't have crème fraîche on hand as the recipe recommended, so I served it with whipped cream.
Chocolate Boy
Jeremy ranked this in his top 5 desserts which is quite surprising because there IS NO CHOCOLATE. I have to say the concentrated flavor of the Granny Smith apples was unexpected, but delightfully so. A lovely way to end a meal.
the right way to enjoy autumn
Apple Tarte Tatin
[print recipe]
Fine Cooking Issue #107
dough
5 5/8 oz. (or 1 1/4 cups) flour
1 tsp sugar
3/4 tsp fine sea salt
3 oz. (6 tbsps) cold unsalted butter, cut into 1/2-inch pieces
1 large egg
1 tbsp cold water
tart
5 to 7 Granny Smith apples, firm (reduce to 4 apples if making 7-inch)
4 oz. (1/2 cup) unsalted butter (reduce to 2 oz. if making 7-inch)
3/4 cup granulated sugar (reduce to 3/8 cup if making 7-inch)
Make the dough: Pulse flour, sugar, salt together in food processor until mixed. Add butter and pulse until coarse crumbs. Beat the egg and water together and add mixture in thirds to the dough, pulsing just enough so when you pinch the dough, it holds together. Turn out the dough and gather into a ball. Wrap it in plastic and put in the refrigerator for at least an hour. Roll the dough out between two sheets of wax paper or parchment to 1/8-inch thickness. It helps if it's circular… It should be about 11-inches wide if you are making the standard 10-inch recipe. If you are making a 7-inch tart, then roll out to 8-inches in diameter and save the rest of the dough in the freezer for something else. Prick the dough all over with a fork (this, I failed to do), then cover and refrigerate until ten minutes before ready to use. You can store the dough in the refrigerator overnight or in the freezer for up to 2 months).
Make the tart: Peel, core, and quarter four of the apples (if you're making the small 7-inch, 4 is all you need). Melt the butter in a heavy-duty oven-proof skillet over medium heat. Coat the sides of the pan with the melted butter using a pastry brush and sprinkle the sugar over the butter. Continue to cook until the sugar is completely moistened (doesn't take long) and remove from heat. Arrange the apples, rounded-side down in the pan. It helps to make it a nice and neat pattern (like concentric circles) trying to maximize the apple surface area to the pan. Don't worry about the gaps. Peel and core more apples as needed to fill those gaps. Feel free to cut smaller pieces to fit in between larger pieces. The apples will shrink as they cook, so you can press them in better later. Place the pan over medium-high heat. The liquid will begin to bubble – that's cool. When the apples shrink, push the gap-filling layer down. Eventually after 15-20 minutes (20 for me) the juice from the apples will reduce and the caramel will become a deep golden color – they're ready.
Place a rack in the center of the oven and heat to 375°F. Line a rimmed baking sheet with foil. When the apples are done cooking, put the skillet on the baking sheet and let it rest for a few minutes. The dough should be somewhat pliable by now (remember, you were supposed to take it out of the refrigerator ten minutes ago). Place it on top of the fruit and tuck the edges into the pan with a spatula or dull knife. Bake 25 to 30 minutes until the pastry is a golden color. Let the tart rest for 5 minutes and then loosen the edges with a dull knife. Cover the pan with a rimmed plate (a large one – you know, bigger than the pan!) and with mitts on, carefully invert the pan and plate. If any apples stick to the pan like mine did, it's easy enough to coax them off and place them onto the tart. No one will be the wiser. Let the tart cool for 15 minutes before serving.