Recipe: sichuan tofu celery salad
Oh my word, it's nearly December. By the time most of you read this it will *be* December. I was telling Erin the other day that when I was a little kid a year felt like an eternity. And now… now the days and weeks and months and years are gone before you know it. She said that was a sign of well-lived life. I think it's the sign of me not being able to keep track of everything I need to get done, but Erin is always kind about giving me the benefit of the doubt. So it reminded me that sometimes we need to stop and walk through those familiar places, to appreciate how they change with the seasons and how we too have changed.

once green, upright, and riddled with blackbirds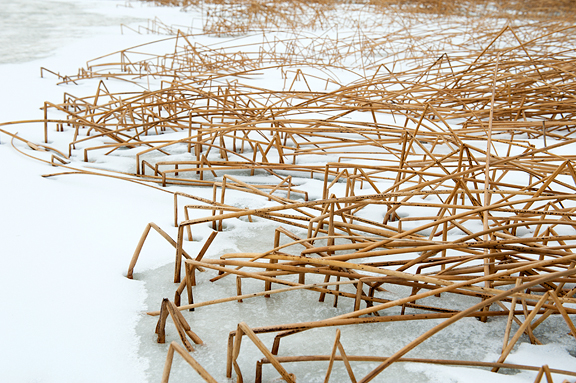 now frozen in place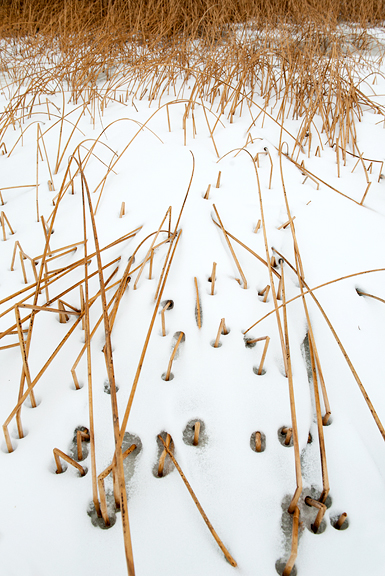 Kaweah is going to turn twelve this month. She looks great for her age, but she's physically unable to clamber up rocks, leap from tall buildings, and go tear-assing around in the snow anymore. For all intents and purposes, she has entered her golden years. Not long ago she'd bolt across the frozen lake, wipe out while doing the Scooby Doo running-in-place routine, and then butt-scoot all the way back. In her tiny brain, she wants to come with us on hikes and skis – she is all enthusiasm. But it took a lot of coaxing to get her onto the ice the other day. She stood with her paws firmly planted in the dirt, head tilted to the side and down. When we finally got her out there, she was cautious – nothing like the crazy pup we've known for over a decade. But she was a good sport and once off the ice, she was happy to finish out her walkie.
a little nervous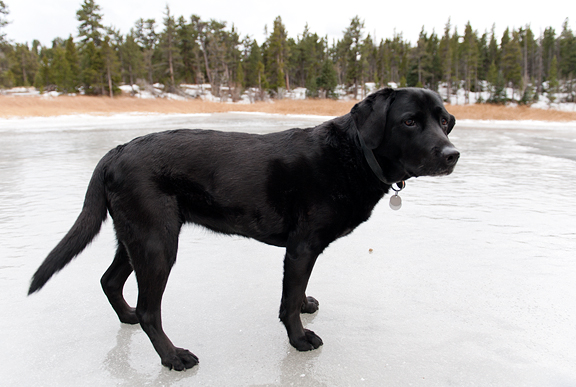 maybe this guy has a treat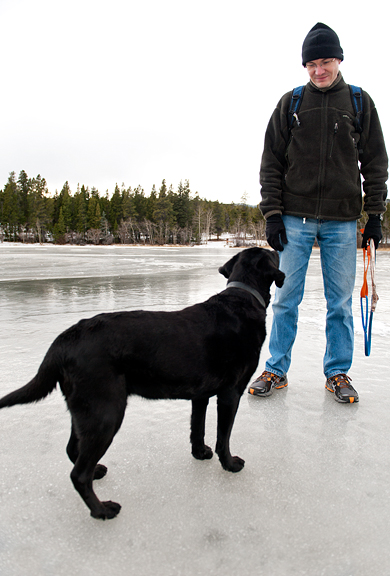 Winter is my season of reflection more than any other. I think intently about my life, the people in it, decisions, actions, goals, happiness. Perhaps I'm just too distracted by wildflowers, wildlife, waterfalls, autumn colors, or the sprouting of baby green leaves in the other seasons? Winter around here is sublime when the winds aren't howling. Walking or gliding through a world of cold, silent white has a way of focusing your mind on the important things. While December can be a time of maximum insanity for some, it's the time of maximum simplicity for me – at least that is what I try to achieve. Lately, I've been enjoying this salad recipe that
Kitt
pointed me to several months ago. It's mostly tofu and celery.
and all of these flavors
infused in some oil
The recipe comes from Mark Bittman and it was in video form. I rarely have the patience to watch through videos, but Kitt said it looked really good. So I watched. It really did look good. My mouth was watering by the end of the short clip. I had no excuse not to try it because I had all of the ingredients.
sichuan peppercorns
everything into the peanut oil
Okay, I didn't have ALL of the ingredients. I had celery, but not Chinese celery. There is a difference in the flavor, but celery is an acceptable substitute and I wasn't about to drive over an hour to Denver to hunt down one ingredient. That's not how I roll. Anyway, the part I was most excited about was the oil because that's the component that brings everything together. It starts out as regular old peanut oil and it winds up a brilliant orange color from the pepper flakes with lots of zingy spice from the Sichuan peppercorns. [
EDIT:
Yes, you really need to use Sichuan peppercorns rather than any old regular peppercorn because the Sichuan peppercorns have a distinct flavor and "numbing" quality to them. You can probably find them in an Asian grocery store (get them when you get the Chinese celery and the pressed tofu).]
heat the oil until it is sizzling
strain everything out
The two main ingredients in the salad are pressed tofu and Chinese celery. I love pressed tofu. It has a firm, chewy texture and the kind I buy is seasoned just a tad (probably with soy sauce). You can find it in most Asian grocery stores, just don't substitute the regular tofu for it because that would be weird and not especially appealing. The Chinese celery is another matter. We don't have it in my local Boulder Asian market and I don't recall seeing it in the big Asian market in Denver (although I must admit I've never looked for it before). I used regular celery.
slicing the tofu (pardon the henna tattoo)
toss the celery and tofu together
I've never had a dish like this before, although last October I ate an extraordinary amount of Sichuan Chinese food in the bay area when visiting with family. I have to say it had the requisite bright orange color of any Sichuan dish worth its spice! It's light and refreshing on the tongue in contrast to the warm, numbing spiciness of the oil. You don't need a lot of oil, but I certainly like it spicier than not. It's simple and satisfying, especially if you want a change from heavy holiday fare.
a little oil and you're good to go
Sichuan Tofu Celery Salad
[print recipe]
from Mark Bittman at The New York Times
1 stick cinnamon
1 tsp coriander seeds
1 tbsp Sichuan peppercorns
4 whole star anise
2 whole cloves
1 tsp ground cumin
1/4 cup red chili flakes
3 large slices ginger
2 green onions, cut into 2-inch pieces
1 tsp salt
2 cups peanut oil
2-3 stalks celery (preferably Chinese celery, blanched – but regular celery is okay)
4 blocks pressed tofu (about 8 oz.)
Place the cinnamon, coriander, Sichuan peppercorns, star anise, cloves, cumin, chili flakes, ginger, green onions, salt, and peanut oil in a medium saucepan. Heat on high until the oil begins to sizzle. Turn the heat off and let the oil cool. Strain the oil. You can store the oil in the refrigerator. Slice the celery into 3-inch strips. Cut the pressed tofu into thin slices. Combine the celery and tofu in a bowl. Toss with oil. (Note: You're going to have a lot of extra oil… I used about 1/4 cup on the salad.)