Recipe: chinese pork belly zong zi
I'm looking forward to going home. There are few if any trips that I've taken where I felt that I wasn't ready to go home to be with my guy and my pup, in my familiar surrounds, getting back to my routine. A creature of habit. That's me. When I booked my travel I was asked to identify this as business, personal, or both. I checked both. The primary reason was to shoot.

me and my gazillion new friends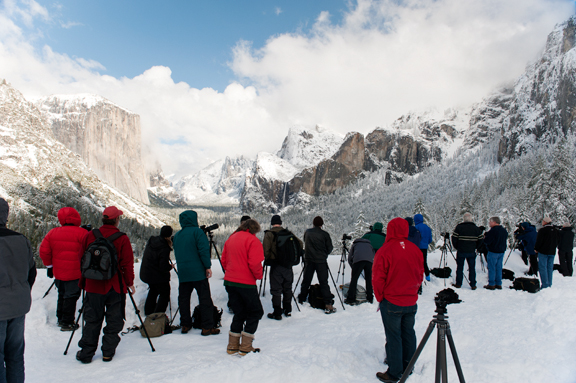 With the forecast calling for snow (and lots of it), we packed our skis because there's a ski resort in Yosemite. Little did we know that unlike ANY OTHER SKI RESORT IN THE WORLD, Badger Pass CLOSES when it gets snow. It has to do with plowing the roads and such, but I was simultaneously dismayed and astounded and then dismayed some more. The storms cleared just in time for us to drive back to the coast so Jeremy could catch a flight home while I spent an extra couple of days visiting with my grandma.
mandatory activity: the eating of the chinese food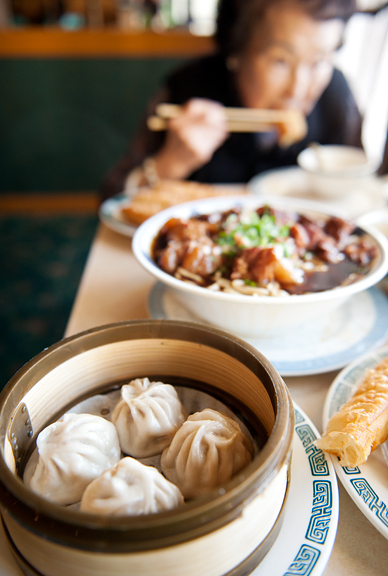 Even though I used to live in Southern California, it still blows my mind that flowering trees are starting to bloom here in the San Francisco bay area… in February.
February.
I suppose that is why Grandma likes it here so much. That and all of the awesome Chinese food.
plum blossoms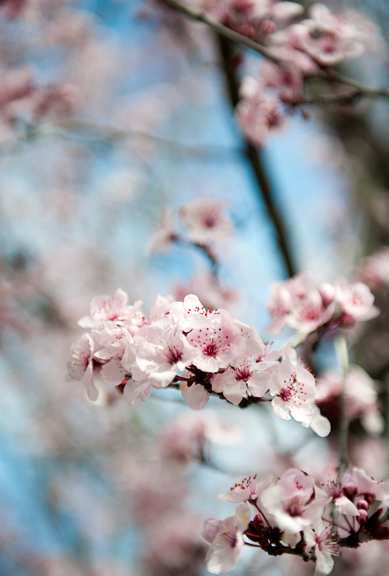 Whenever I visit, I always drive Grandma to whatever stores she needs to go to. We get her (my) sewing machine in for maintenance, go to the fabric store so she can pick up materials for some projects, go to the Asian markets for groceries… Years ago, I purchased a package of bamboo leaves while visiting Grandma and flew home with them. They sat in my pantry for about three or four years. These are an essential component for making
zong zi
– Chinese rice dumplings (more like Chinese rice tamales). I *finally* got around to making these a few weeks ago and now that I know how to make them… I need more bamboo leaves – to make more! I have two bags of them packed in my luggage as I type.
fried shallots, dried shrimp, bamboo leaves, pearl rice (sticky rice)
bamboo leaves, rice, pork belly, mushrooms, fried shallots, dried shrimp
My grandma used to make
zong zi
from scratch when I was a little kid. Back in the day, these sorts of Chinese treats were hard to come by in southern Virginia, but if you had a Chinese grandma in your house, you were in luck! I have strong visual memories of the foods my grandmother made for us when I was growing up. It's the only reason I knew which rice to buy (fortunately for me, their label hasn't changed in over 30 years!). I have seen some recipes use other kinds of rice (long grain, short grain), but I like the texture of the pearl or sweet rice, as it is sometimes called.
slicing up the pork belly
soaking the rice
boiling the bamboo leaves
I checked my local Asian grocery store for bamboo leaves to give to a friend (who also wanted to make
zong zi
), but they only had frozen banana leaves. I'm glad I didn't substitute because after cooking with the bamboo leaves, I think they are essential to the
zong zi
. The leaves impart a mellow tea flavor to the rice.
marinate the pork belly with soy sauce, shallots, cooking wine, sugar, and pepper
mix the shrimp and rice together
simmer the pork and mushrooms
Grandma made two kinds of
zong zi
: savory (pork filling) and sweet (sweet red bean or azuki filling). I used to sit on the kitchen counter and help her keep track of the two types of string she used to tie the little bundles – white for savory and red for sweet. Of course, what I didn't appreciate back then was how adept Grandma was at wrapping the
zong zi
in the bamboo leaves. Now, I do.
stack two bamboo leaves, head to tail and offset
curl the bottom tip up and back to form a cup (and grandma says to snip the pointy end off)
I wasn't sure if I needed two bamboo leaves or just one to fold each
zong zi
, so I called Grandma to ask her. Her exact words (in Chinese) were, "You can use two leaves. If you're good and know what you're doing you can use one leaf… You should use two leaves." Well, I did use two leaves at the start, but then I got nervous about running out of bamboo leaves so I switched to using one leaf. It's because I get into this habit of hoarding. I hoard bamboo leaves, salsa, dried azuki beans, blanched almonds. You just never know when you will really need these items.
stuff some rice in the bottom
add some goodies like pork belly and mushrooms
top with more rice
After wrapping several dozens of
zong zi
I can offer a few pointers. The first being that you should make sure you don't have a hole at the bottom of the cone when you start. Merely adjust the leaves until the end of the cone is sealed. Don't overfill the cone with filling either or it will just spill out onto your work area while you wrangle the bamboo leaves around. Erring on the side of more string rather than less string is GOOD.
now pinch in the edges of the "cup" then fold the top of the leaf down
fold the top flap over and around
secure with string
While I love pork belly, I think my next incarnation of
zong zi
will involve a less fatty cut of pork. And there will certainly be a next time since I scored more bamboo leaves on this trip (I never said my trips were not in some part motivated by food, right?). [
Note:
I discussed using a less fatty cut of pork with Grandma this morning and she said this rice doesn't taste good unless you use something with a little fat – so there you have it from Grandma herself.] Rather than boil my
zong zi
, I used my beloved pressure cooker to steam them and it worked beautifully. Like tamales, you don't just make two or three at a time – this is a production. Once the
zong zi
are cooked, let them cool. I toss mine into large ziploc bags and freeze them or keep them in the refrigerator. To reheat, I defrost them and then set them in a steamer basket for a few minutes until ready to serve. Take care when you unwrap them as they are usually quite hot and steamy.
steam or boil
i love unwrapping a zong zi
Chinese Pork Belly Zong Zi
[print recipe]
adapted from Chinese Snacks by Huang Su-Huei
3 cups sticky rice (also called glutinous, sweet, or pearl rice)
20+ bamboo leaves (they will be larger if you use 2 leaves, smaller if using 1 leaf per zong zi)
butcher's string (10-20 long pieces about 2 feet or longer)
1 lb. pork belly
3 tbsps soy sauce
2 tbsps sliced, fried shallots
1/2 tbsp cooking wine
1 tsp sugar
1/4 tsp ground pepper
12 Chinese black mushrooms, rehydrated, stemmed, and sliced in half or quarters
4 tbsps vegetable oil, something flavorless – not olive or sesame
1/4 cup dried shrimp, chopped
1 1/2 tbsps soy sauce
1/2 tsp salt
1/4 tsp ground pepper
6-10 salty egg yolks, cut in half (optional)
Rinse the rice until the water runs clear and soak it overnight. Drain the rice . Rinse the bamboo leaves and string then boil them in a large pot for 5 minutes. Remove and drain. Slice the pork belly into 1-inch thick pieces. Marinate the pork for 30 minutes in 3 tablespoons of soy sauce, 2 tablespoons of fried shallots (you can get those in an Asian grocery store), 1/2 tablespoon cooking wine (I use Shoaxing cooking wine), 1 teaspoon of sugar, and 1/4 teaspoon ground black pepper. Place the pork, marinade, and the mushrooms in a medium saucepan and simmer covered for 30 minutes. Heat four tablespoons of vegetable oil in a large pan over high heat. Stir fry the dried shrimp until fragrant. Add the rice, 1 1/2 tablespoons soy sauce, 1/2 teaspoon salt, and 1/4 teaspoon pepper to the shrimp and stir until well-mixed (this step, I accidentally overlooked – but it still tasted great).
Overlap two bamboo leaves lengthwise, head to tail (or just use one leaf). Curl the base in toward itself to create a cone at the bottom of the leaf (see photos if you don't get what I'm talking about). Make sure the base of the cone is closed and won't leak rice out. Put a few large spoonfuls of the rice mixture into the cone to fill halfway. Add a piece of pork and mushroom and (if using) egg yolk. Top with another spoonful or two of rice mixture until almost full. Gently pinch the sides of the cone rim in and fold the top of the bamboo leaf over and wrap around (how you do this is up to you, but I'm pretty sure I didn't wrap mine properly). Tie the zong zi shut with the string. Place the zong zi in a large pot and cover with water. Bring water to a boil and the reduce to low and cook covered for an hour. I chose to steam mine in a pressure cooker with steam basket (30 minutes on high pressure, natural depressurization). Serve hot.