Recipe: watermelon frozen yogurt
Note on the raffle: I'm extending the deadline for entering the raffle for a fine art print to midnight MDT, Monday, August 29, 2011.
Jeremy and I generally avoid going to town (Boulder) on weekends because we like our mountain solitude and because we're in Boulder during the week for work as it is. But my parents made last minute changes to their Yellowstone vacation due to Hurricane Irene and decided to head home to Virginia to check on their home rather than continue on to Portland. This put them in Boulder for the night at their condo. We decided to drive down to meet them for dinner at The Kitchen so they wouldn't have to worry about cooking and cleaning up before having to leave for the airport in the morning.

first course: roast beef with heirlooms, rabbit sausage and cabbage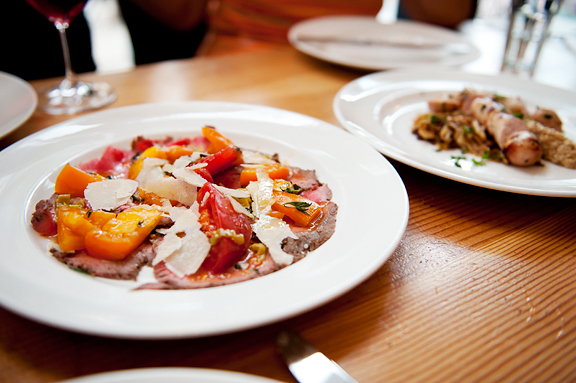 second course: local melons drizzled with oil, basil, hawai'ian volcanic black sea salt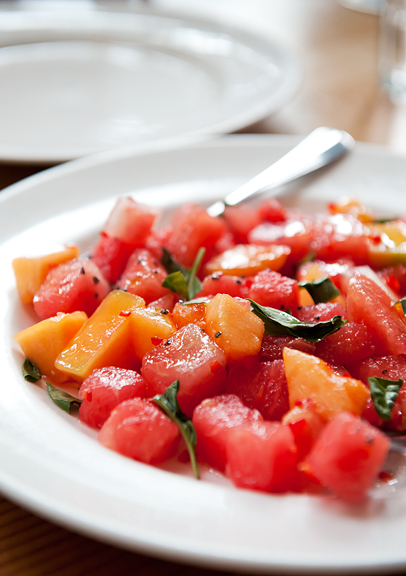 second course: gnocchi, pesto, and local tomatoes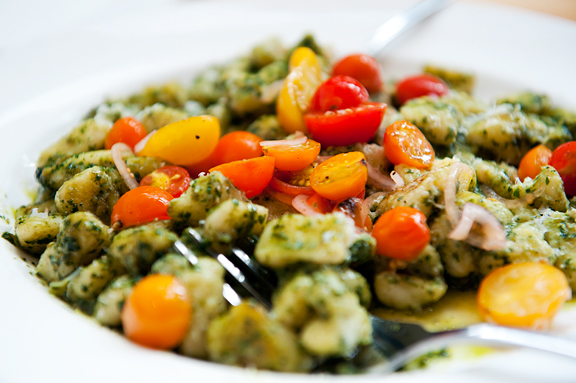 veal chops on mashed purple potatoes with sweet peppers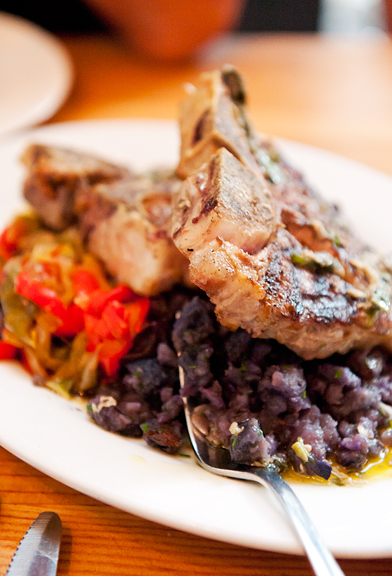 wild salmon on succotash with basil and fresh tomato purée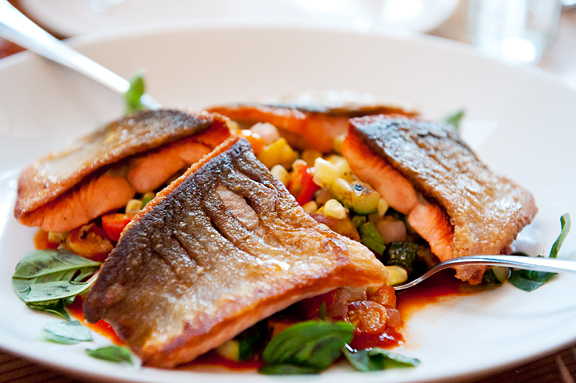 There was dessert too (Eaton mess and chocolate nemesis cake), but I was in too much of a food coma to grab a pic. That and they turn the lights waaaay down at sunset for some reason. On the drive home, I told Jeremy how delighted I was with the meal. And that got me thinking… There are some fantastic dining deals to be had in Boulder whether you're a local or just visiting. Here are my favorites:
1) Community Night at The Kitchen: $35 per person (does not include beverages, tax, or tip) for dinner at a table of ~20. Maximum party size is 6 so you can get to know your community. Set menu (decided by the chef that day). Several courses, usually anywhere from 9-13 different plates served family style, locally sourced as much as possible, fresh, simply and perfectly prepared. Excellent staff. Great wines and cocktails. Monday nights. Call at least a few weeks ahead for reservations. AMAZING.

at the community night table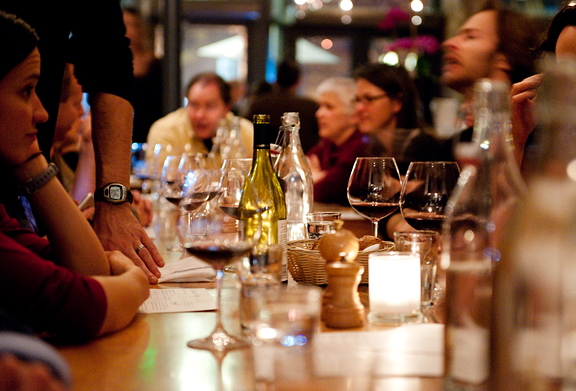 2)
Wine Dinners at Frasca:
$50 per person (does not include beverages, tax, or tip). Cuisine inspired by Friuli, Italy and impeccably executed. Set menu for four courses: antipasto, primo, secondo, and dolce, individually plated. You don't come here to consume food, you come here to savor it. Modest servings are paced throughout the evening. Terrific wines. Flawless service. If you're lucky, charming owner and master sommelier, Bobby Stuckey, will come by and say hello. Monday nights. Reservations recommended.
team food and light at frasca's wine dinner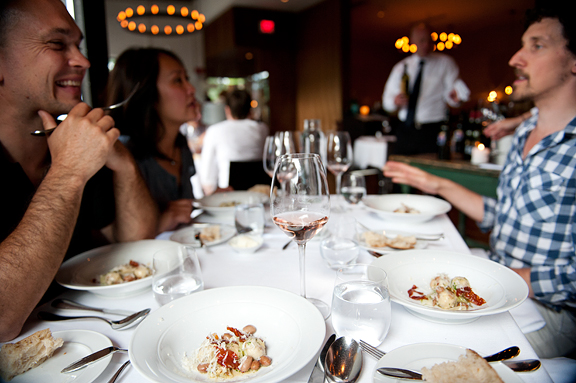 3)
Family Dinner at The Kitchen:
$47 per person (does not include beverages, tax, or tip). The set menu is decided by the chef that day and served family style for the entire party. Four courses consisting of two plates for each course: appetizers, salad and/or pasta, mains, and dessert. The same superb fare and service you come to expect from The Kitchen time and time again. Served any night. (They don't take reservations for parties under 5).
4) Happy Hours around town are something else in Boulder. There are a lot of them and they not only serve discounted drinks, but truly delightful food. Some of my favorite happy hours include: Bacaro, Brasserie 1010, The Med, The Kitchen Upstairs, Jax Fish House and many many others.

diane loves happy hour oysters at brasserie 1010
If you're a local, I'd love to hear about your favorite deals on other great eats!
Now here I have a summery recipe for you, to be sure. I walked into a relatively new frozen yogurt joint in Boulder one very very hot day this summer. Spooners lets you sample the dozen flavors they have on tap. I went around tasting the fruity flavors, because I'm all about fruity. But their watermelon fro yo stopped me in my tracks. It was real watermelon, not the fake Jolly Ranchers watermelon flavor. I was obsessed with it. This was a bad thing. Every time I drove down to Boulder I began to crave that yogurt. And then when I finally allowed myself to return a few weeks ago, I discovered that watermelon had rotated out. Dang! So I did what any self respecting food blogger would do…

organic, seeded, and oh so sweet watermelon
dice up two cups' worth
I found a recipe on
foodgawker
and finally made the time this weekend to try it out. It is dangerously straightforward to make. It would probably be even easier had I puréed the watermelon in a blender and strained it like the recipe suggested, but I went for the food mill because I kinda like the graininess of the fruit. It yielded about one and one quarter cup of juice.
crank it through the food mill
watermelon juice, greek yogurt, lime, sugar, vodka
Then you just stir it all together until smooth. A whisk helps to break up the yogurt clumps. I recommend stirring the liquids into the yogurt rather than the yogurt into the liquids. You'll see what I mean when you mix them up. Then churn it in your ice cream machine.
stir together
squeeze lime juice into the mix
pour into ice cream machine
I think the ratio of juice to yogurt is fairly high in this recipe which results in a clumpy slush rather than a smooth texture like ice cream. Bumping up the amount of yogurt will probably make it smoother. Also, using nonfat Greek yogurt gives that slightly chalky texture. I'm willing to bet if you used a full fat Greek yogurt it would have a creamier texture. I rather like the level of watermelon flavor in this recipe. I like fruity. Any more yogurt would be too yogurty for me. If you want a scoopable fro yo, then let it thaw for a few minutes after taking it out of the freezer before serving.
summer in a scoop (or two)
Watermelon Frozen Yogurt
[print recipe]
from Menu For Love
2 cups watermelon
1 cup greek yogurt (full fat for smoother texture)
1/3 cup sugar or honey
1/2 lime, juice of
1 tbsp vodka
The original recipe says to remove any seeds and purée the watermelon in a blender, then strain to remove the pulp. Instead, I removed the seeds (I prefer seeded watermelon – they're generally sweeter in my opinion) and rammed them through my food mill. That way I still get a little bit of the fiber from the fruit. It's good for you. For me, this resulted in just over a cup of watermelon juice (about 1 1/4 cups). Mix this in a large bowl with the yogurt, sugar (or honey), lime juice, and vodka (vodka to keep it from freezing into a solid mess). Churn in your ice cream machine for about 30 minutes then freeze. It will be grainy rather than smooth. If you want a smoother frozen yogurt, add more yogurt (but I prefer the fruitier flavor of this frozen yogurt). Makes a pint.