Recipe: tequila-lime halibut tacos
Afternoon thunderstorm cycles, the buzz of hummingbirds zooming through the neighborhood, and near-record heat for this time of year… You'd think it was summer. Wasn't I just griping about spring? I think all of the seasons are over-achievers. At this rate, I'll be skiing again by next week (which would be absolutely fine by me). It is what it is.

okay, tulips are spring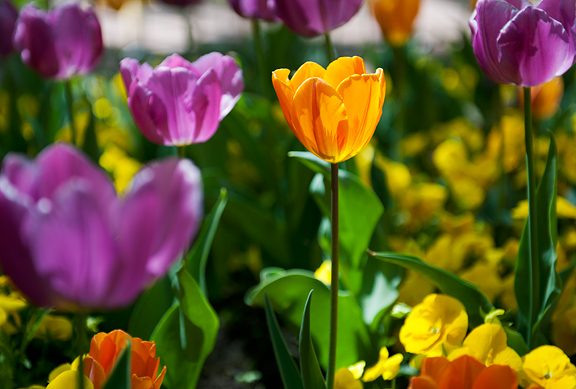 we've traded skiing for mountain biking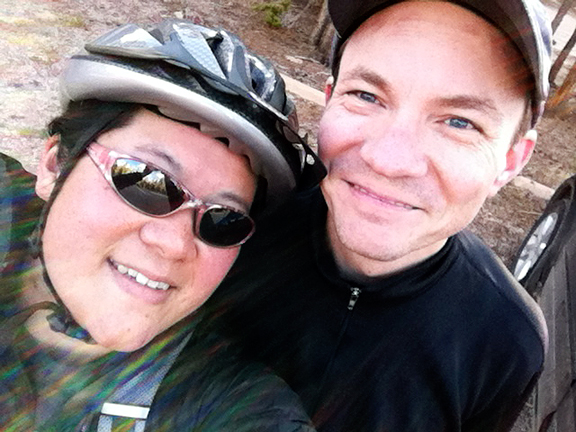 cooling off with thai iced tea and taro boba tea slush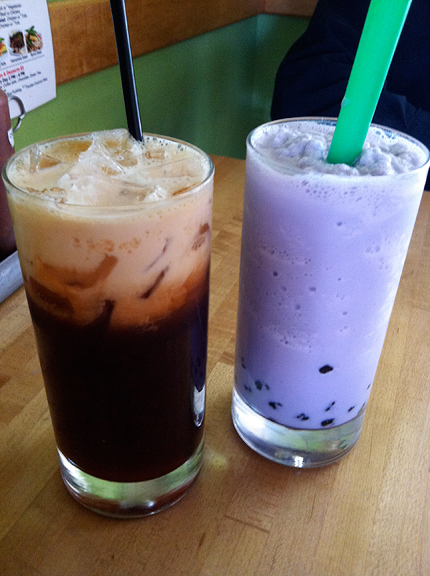 kaweah walks in the morning or the evening to avoid the heat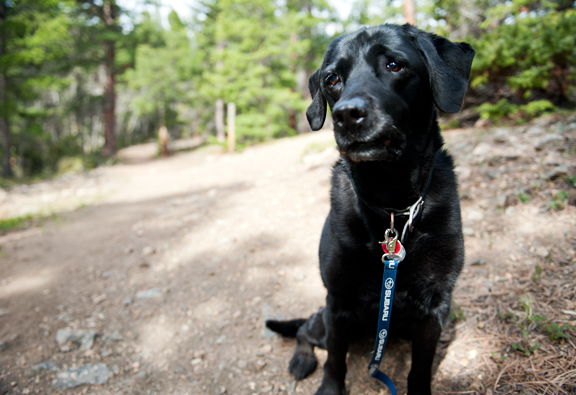 either way, there is always plenty of sniffing (i.e. reading pee-mail)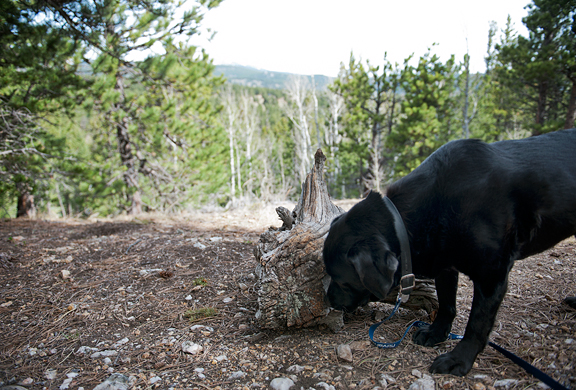 Good things are coming into the markets now: asparagus, strawberries, English peas, ramps, fiddleheads, and halibut (to name a few). [Hey FTC disclosure:] I received a comped shipment of frozen wild Alaskan sockeye salmon, wild Alaskan halibut, and wild Alaskan cod fillets from
Alaska Seafood Marketing Institute (ASMI)
a few weeks ago. They describe the fish as wild, natural, and completely sustainable. My preparation of fish relies heavily upon my experiences with various types of fish. It's based on if I have had it prepared a certain way in a restaurant, saw a recipe for a specific type of fish, or grew up eating that species of fish. I puzzled over how to prepare the halibut when I recalled a book I had purchased last year that would surely give me guidance.
good fish (it sure is)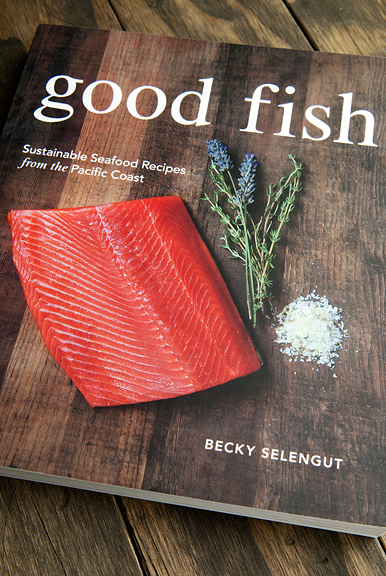 I bought a copy of this book for myself because I was sending one as a gift to my friends in Seattle (
Becky Selengut
, the author, is also based in Seattle). It's just so easy to change that 1 to a 2 under the quantity field. I like fish and seafood very much, but my knowledge of how to prepare it
well
is just enough to be dangerous and not enough to be confident. I know people go through life all the time like that in far more important arenas, but it makes me uncomfortable. So
Good Fish
was going to fix that. Lo and behold, there was a recipe for tequila-lime halibut tacos with red cabbage slaw. Get out! It sounded dreamy.
first the slaw: red cabbage, cilantro, apple cider vinegar, olive oil, apple, mustard seeds, salt
shred the cabbage
toss the cabbage with kosher salt
Make the red cabbage slaw first, because that is the step that takes the most time. It's all easy and straightforward, but squeezing the liquid out of cabbage is the rate-limiting step. At least it is for me. Becky explains that minimizing the liquid content of the cabbage concentrates the flavor. She sprinkles great tips and tidbits of information throughout this educational and highly entertaining book. The rest of the slaw is easy peasy. Put all of the ingredients in a bowl and toss together.
squeezing the liquid out
pour in the olive oil
add the cabbage
season to taste
Now that the slaw is done, set it aside. You can make it ahead if you like, but the apples turn a deep pink color after several hours. It tastes the same though. So if you're concerned with the aesthetics, make it fresh. If not – do what you gotta do. Next up is the marinade.
red onion, jalapeños, lime, salt, tequila, olive oil, and the halibut
prepped: onions, jalapeños, lime zest, lime juice, olive oil, tequila, salt
i put it all in a ziploc
Once the ingredients are prepped, it's as easy as throwing everything into a ziploc bag. Well, I place all of the marinade ingredients in the bag first and then smoosh it around with my hands to mix it. Then I carefully add the fish to it. Let that sit for 20 minutes. I should note that I've done this twice now with Alaskan halibut from my local Whole Foods in Boulder and with the halibut from ASMI. I prefer to thaw my frozen seafood for 24 hours in the refrigerator and the result was beautiful pieces of fish when it was time to cook.
we grilled our fish
cook the marinade down
You can pan-sear or grill the halibut. We opted for the grill. Becky has a very nice tutorial on how to judge when fish is "just flaking". That part is worth the price of the book alone (at least it was for me). You want to cook your fish until it is just flaking, and that will depend on the thickness of your fish and the heat output of your range or grill. Remove it from the heat at that point because it will continue to cook as it rests. And hopefully you have your eye on the marinade as it cooks down in a pan. Don't even think of skipping that step because I like that finished marinade topping almost as much as I like the fish.
tortillas, marinade, slaw, guacamole, and the fish (small mishap with one piece)
I've always been partial to batter-fried fish tacos (beer batter is particularly awesome) over grilled fish tacos, but I think these have changed my mind. This is juicy halibut nestled in a tortilla (corn – I cannae resist the corn-lime-avocado combo) under a pile of tangy, bright, spicy, crunchy, herby, creamy toppings. It's worthy of dinner guests, but only the ones you really like.
loaded with awesome
Tequila-Lime Halibut Tacos with Red Cabbage Slaw
[print recipe]
from Good Fish by Becky Selengut
red cabbage slaw (see below)
tequila-lime marinade (see below)
1 lb. halibut fillet, skinned
1 tbsp high-heat vegetable oil (if pan-searing, omit oil if grilling)
corn or flour tortillas, warmed
guacamole (I used my recipe)
extra limes for squeezing
red cabbage slaw
3/4 lb. red cabbage, shredded (~ 4 cups)
1 tbsp kosher salt
1 Granny Smith apple, cored and grated
1/2 tsp mustard seeds
3/4 cup cilantro, roughly chopped
2 tbsps apple cider vinegar
2 tbsps extra-virgin olive oil
salt to taste
Make the slaw: Toss the red cabbage with the salt and place in a colander. Find a nesting bowl to fit in the colander, fill the bowl with water, and set it on the cabbage to help press water out. While that is sorting itself out, mix the grated apple, mustard seeds, cilantro, apple cider vinegar, and olive oil together in a large bowl. Return to the cabbage and squeeze as much liquid out of the cabbage as you can. Give the squozen cabbage a rinse in water and squeeze the liquid out. Mix the cabbage with the rest of the slaw and season to taste with salt.
tequila-lime marinade
1 lime, zest and juice of (~ 1 tsp zest and 2 tbsps juice)
2 tbsps tequila (you know what to do with the rest)
1/2 tsp salt
2 small jalapeños, halved, seeded, cored, sliced into half rings
1 small red onion, cut into thin half moons (~ 2/3 cup)
2 tbsps extra-virgin olive oil
Make the marinade: Combine everything in a bowl or (my preference) a gallon ziploc bag and moosh it around.
Get your fish on: Place the fish in the ziploc bag (if using) and seal. If not using a ziploc, place the fish in a large pan and pour the marinade over it. Regardless of method, let it sit for 20 minutes. Remove the fish from the marinade. Cook it up one of two ways: in a sauté pan (or grill pan) or on the grill. Pan: Set the pan over high heat and add the oil. Place the halibut in the pan and cook until browned on the bottom, about 3-4 minutes. Flip the fish and cook another 4 minutes or until the fish starts to look like it is flaking (but isn't quite). Becky suggests 8 minutes per inch of fish at its thickest point. Grill: Oil the grate and set the heat on high. When the grill is ready, place the fish on the grill or use a fish basket and cook for 3-4 minutes. Flip the fish (I used a thin metal spatula to coax it from the grates) and cook for another 2-3 minutes or until just flaking (it really depends on the heat of your grill and thickness of the fish). Both methods: Remove the fish to a plate. Add the marinade to the pan (get a pan out if you grilled) and cook over high heat for 5-7 minutes. The liquid will bubble off and the onions and peppers will eventually char. When ready, place on top of the fish or on the side. Serve the fish with warmed tortillas (I prefer corn), guacamole, and don't forget the red cabbage slaw you just made. Garnish with lime wedges. Serves 4.