Recipe: almond jello dessert
There is snow out there. Oh yes, there is. I can find snow any time of year if I'm willing to climb high enough to get to it. Right now, you don't have to go very far, but it helps to hop on a bike as some (not all) of the roads leading to the backcountry are clear (but not open to cars yet or ever). It's the season for the bike-ski or bike-hike or bike-bike and I'm getting better at not crashing into things which is always a desirable skill.

lock (the bikes) and go (hiking)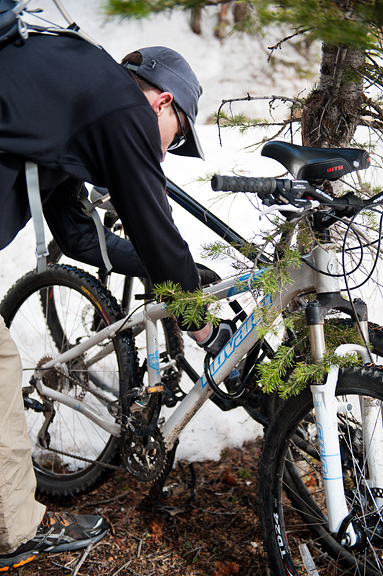 marsh marigolds coming up streamside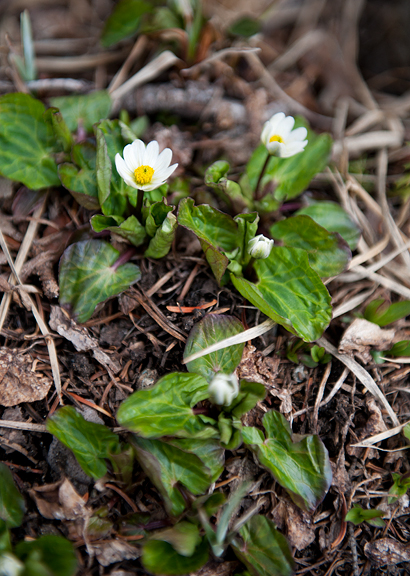 plenty of snow and lots of windfall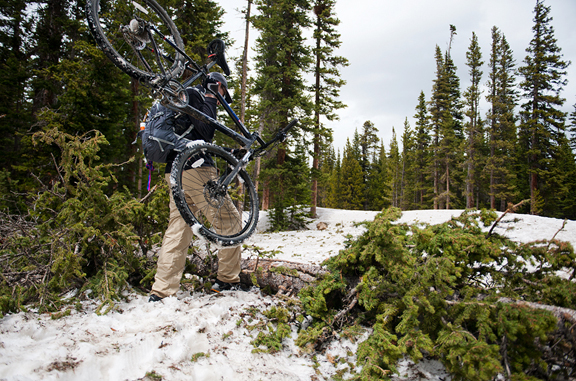 I'm spending considerably more time on my bikes of late – both my mountain bike and my indoor trainer (also mountain bike – my
engagement
mountain bike). With local trails clearing up, we're trail running in the mornings or evenings when it is a comfortable 45°F. It's a matter of weeks before the high country trails clear out for hiking and backpacking. It must be spring! Of course it is. The Ass Reduction Plan (ARP) is in full speed. That's one of the reasons we've been consuming fruit like nobody's business. Well, that and the fact that I just got a Vitamix blender a few weeks ago. While I love my daily smoothie (strawberries, mango, orange, apple, blueberries, grapes, kale, and a little Good Belly and almond milk) I still thoroughly enjoy chewing actual fruit.
lychees, raspberries, oranges, kiwis, pears, grapes
When I was a kid, my dad would make the occasional Chinese dessert. I think my favorite was almond jello, which everyone served cubed with canned fruit cocktail and canned mandarin oranges. I've made almond jello from the packets you can purchase at Asian grocery stores, but like almost everything else you can buy in a convenient package, it's pretty straightforward to make your own from scratch.
almond extract, sugar, agar agar, almond milk
stir agar agar into boiling water until dissolved
stir in sugar until dissolved
You can make almond jello with gelatin or
agar agar
(particularly if you are vegan). Gelatin gives an elastic result – like the jello with which most people are familiar. I found powdered agar agar at my local Whole Foods in the bulk section and the resulting jello was more brittle in that it yields more easily to the teeth and breaks apart with less effort. Agar agar is derived from red algae and commonly used in Asian desserts. My first introduction to it was a refreshing lemony version chilled on ice that my aunt served to me on a sweltering summer day in Pennsylvania.
add almond milk or regular milk
pour in the almond extract
I made two versions of this almond jello. The first time around, I used almond milk because dairy can play havoc on my digestion. I found the texture of the jello to be a touch grainy when made with almond milk. It seemed slightly less cohesive when I unmolded the jello or handled it.
i had a lovely copper mold and a standard baking pan ready
ladling the mixture into the mold
Agar agar seems to set a lot faster than gelatin. Mine were ready in half the time I would have expected them to set if I had used gelatin. While the jello is chilling, you can prepare the fruit. If you're happy using fruit cocktail or other canned fruits, that's fine. I rather like the idea of cutting up my own version of a fresh fruit cocktail, with the notable exception of the lychees. It's hard for me to procure fresh lychees around here as it is, and I think the floral notes from the fruit are a perfect partner to almond jello.
chopped into bite-size pieces
tossed together
add the lychee syrup
When it was time to unmold the almond jello, I only ran into a few glitches with the copper mold. I think it had more to do with the almond milk than the mold though. Once it's out on your serving vessel, you can garnish it with fruit (i.e. cover up any mishaps) and spoon some of the lychee syrup over it. If you didn't use canned fruit of any kind, you can easily mix up your own sugar syrup or use fruit juice to pour over the almond jello.
served whole
Alternatively, you could make the almond jello with regular milk (as opposed to almond milk). I think in the future, this will be my choice because the result is a firmer, more cohesive jello that is also easier to handle. The flavor is also closer to what I grew up eating (probably because it was dairy-based). I poured half of the batch into a baking pan and the other half into little silicone ice cube trays.
cutting traditional squares from the baking pan jello
pouring lychee syrup
individual bowl of almond jello and fruit
The silicone ice cube trays worked beautifully and most of the jellos popped right out without any problems. A few went flying across the room and one or two were crushed when I tried to push them out. Still, the happy shapes would be particularly fun for parties, to serve to kids, or to serve to adults who dig on this sort of thing (me). It adds a nice element of fun to cooling off as the days heat up.
flower-shaped almond jello bites
here's a bowl of fun for you
Almond Jello
[print recipe]
from Chef Chu's Distinctive Cuisine of China by Lawrence C. C. Chu
2 quarts water
1 oz agar-agar (I measured this to just shy of 1/4 cup)
1/2 cup sugar
1 1/2 cups milk (you can use almond milk, but I found it to have an inferior texture)
1 oz (2 tbsps) almond extract
fruit of your choice, peeled and/or diced
light syrup (either homemade simple syrup or light syrup from canned fruit)
In a large saucepan, bring the water to a boil and stir in the agar-agar until it has completely dissolved. Add sugar and stir until dissolved. Remove the pan from heat and pour in the milk and the almond extract. Pour the almond jello liquid into a shallow pan, mold, or glasses. Refrigerate until they are firm. To serve, cut the jello into cubes or unmold from molds. Place jello in a dish and top with your choice of fruit and some light sugar syrup. I like an assortment of fresh fruits if possible (in this recipe I used raspberries, kiwi, grapes, pears, oranges), but like to add canned lychees and spoon the lychee light syrup from the can over each bowl. I have traditionally seen almond jello served with fruit cocktail. Serves 8-10.
more goodness from the use real butter archives