Sunday, February 17th, 2013

Recipe: italian-style beef and porcini stew
We check the weather forecasts and the weather outside of our windows all the time. Is it snowing? Is it going to snow? How much? Will it be warm and then cold? What direction is the wind coming from? What are the road conditions? We have to pay attention to these things, not just for our own recreational purposes, but because travel in Boulder Canyon can get downright dangerous when it snows heavily (this can happen during upslope events when the wind blows up the mountains from the flats) or when the snow hits a warm ground and then the temperature drops resulting in powdery snow on top of a slick of ice. The latter happened on Thursday. It took us 90 minutes instead of the nominal 30 minutes to get to Boulder because there were two accidents in the canyon.

which is why we prefer to stay in the mountains when it snows (iphone)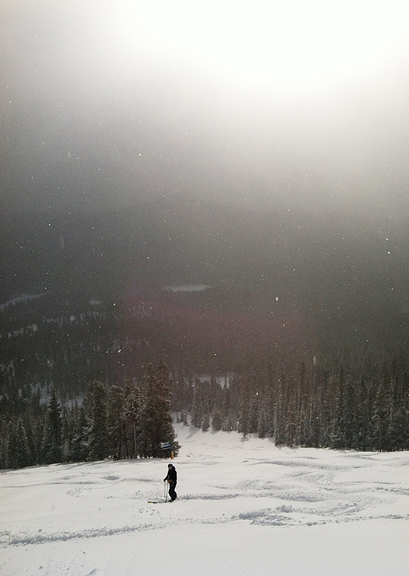 The same weather that can cause so much stress on the road or in town can bring a lot of joy to those of us who love it in the mountains. But it was short-lived as the weekend was warm and windy. They say the snow will be back soon. I hope so. I plan to be ready for it with this heady, hearty stew full of beef, porcini mushrooms, vegetables, herbs, and wine.
basil, tomato paste, pearl onions, bay leaf, rosemary, carrot, celery, garlic, grapeseed oil, red wine, dried porcini mushrooms, salt, pepper, onion, pancetta, beef chuck, diced tomatoes
soak the porcinis in hot water (save the liquid!)
That's a long list of ingredients, but the prep is what takes the most effort. Once the prep is completed, the cooking is pretty straightforward and then the oven time is just you doing other things while the oven does its job. As with most recipes, but especially for the ones with a lot of ingredients, I think
mise en place
is essential for avoiding mistakes and reducing any heavy swearing in the kitchen. When you drain your porcinis, make sure to save the liquid and give it a pass through a fine-meshed sieve to catch any non-mushroom particles. Also, peeling pearl onions is pretty time-consuming. That was the first thing that made me think they weren't worth the trouble.
porcini liquid, cubed beef, porcini mushrooms, onion, garlic, celery, pancetta, carrot, pearl onions
fry the pancetta
season the beef with salt and pepper
sear the beef on all sides
**Jump for more butter**