Recipe: roasted cherry tomatoes with mint
Okay, April just sort of whizzed past me over here. I feel as if I've been slogging through the month with my head down to meet all manner of deadlines. This weekend was when I could finally (sort of) look up and around and wonder at the month that was. We got outside to enjoy some untracked snow in the backcountry despite the crazy warm temperatures (50°F) and the unrelenting sun. Whew! There is always that one day in spring that takes some getting used to – the transition from winter to summer.

jeremy admires the view of the high peaks in the distance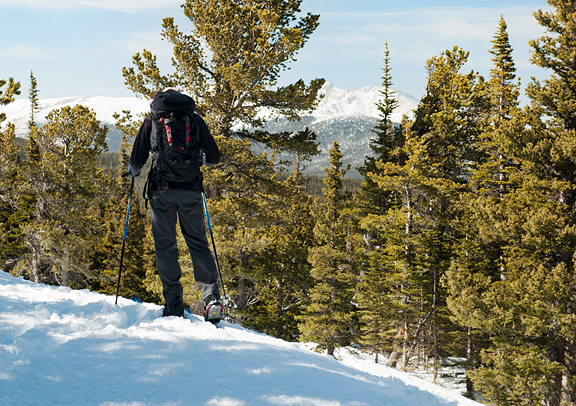 breaking trail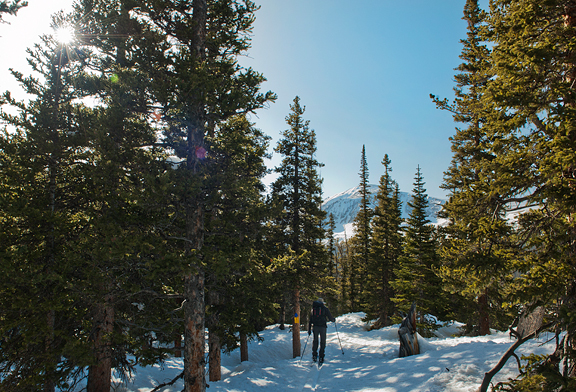 skiing out as the sun begins to set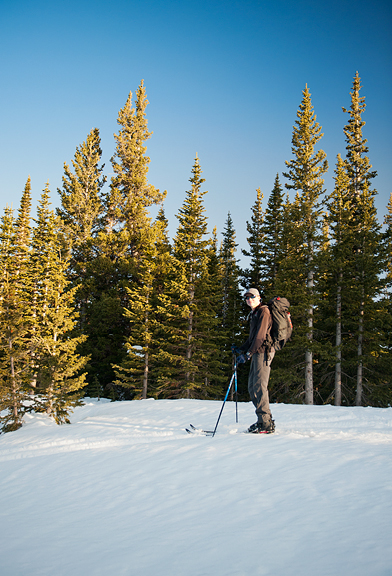 And it looks as if April is not leaving without a fight. There is snow forecasted for the last day of the month. I can't help but worry after the delicate spring blooms and birds that have been trying to make an appearance each week only to get the snowy smackdown from Mother Nature. I imagine anything that has learned to survive in the mountains these many years is half expecting this dance between fire and ice.
our neighborhood fox keeps it on the down low no matter the weather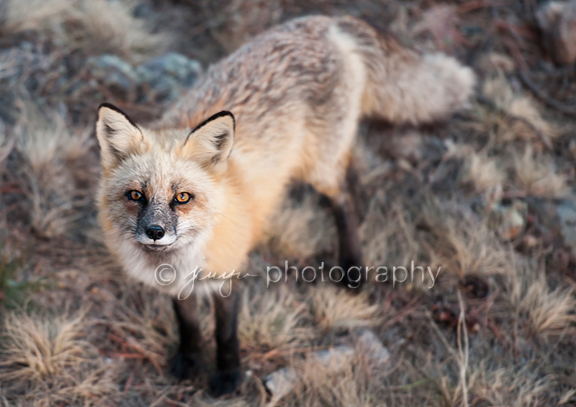 We had a warm weekend, which was perfect for throwing open the windows and the deck door. Kaweah loves when the deck door is open. She stands just inside the door, just outside the door, and then eventually right across the threshold because that is the best thing ever (in her mind). Our neighbors came over for dinner Sunday evening. It turns out that all four of their birthdays are in April, so I made some celebratory cupcakes.
flourless chocolate hazelnut cupcakes with chocolate ganache frosting
little cakes on a little stand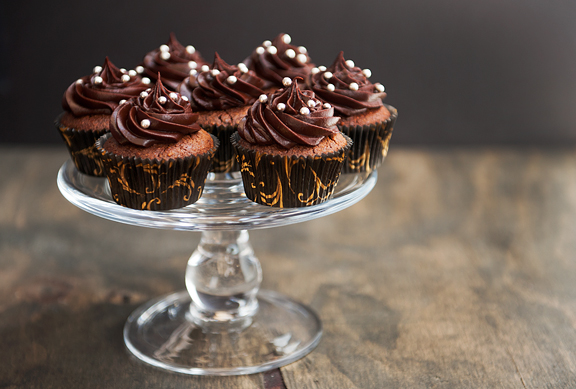 and a plate of coconut macaroons drizzled in dark chocolate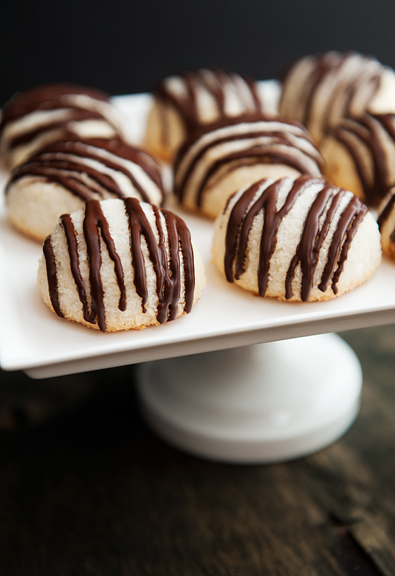 For dinner, something on the grill seemed appropriate. We served
barbecue chicken
and a bunch of vegetable sides. One of those sides involves roasted cherry tomatoes with mint, which I had to make last week for a client shoot with
Modmarket
. Modmarket's fare is fresh, simply prepared, wholesome, and incredibly good – so I enjoy working with them. They had given me a small container of these minted roast tomatoes, but I made more just in case I needed extras.
all you need: cherry tomatoes, salt, mint, olive oil, pepper
rinse and pat dry
It's such a simple and basic preparation: toss with olive oil, season with salt and pepper, roast. I do this with a lot of vegetables, but I had never tried it with cherry tomatoes. Tomato season hasn't arrived here, but we are starting to see decent looking (and more importantly, tasting) tomatoes in our produce sections.
add some olive oil
season and toss
roll them out into a baking pan
Roasting brings out the sweetness and intensifies the flavor of vegetables. For tomatoes, they begin to straddle the line between the plump juiciness of a raw tomato and the richer depth you get from sauces. The texture of the tomato flesh breaks down and yields easily under pressure. It's almost buttery. Buttery candy. Once the tomatoes are out of the oven, shred some fresh mint and toss it with the hot tomatoes.
roasted
shred the mint leaves
sprinkle over the roasted tomatoes
gently toss together
The thought of mint and roasted tomatoes did not pique my interest when it was discussed during the planning meeting, nor did it trigger anything during the photo shoot. However, once the session was done and I popped a roasted tomato into my mouth, I stopped in my tracks and turned around to grab another. The mint takes it in a direction that is orthogonal to what you'd expect and it is fantastic! It's so versatile too. I've since enjoyed these in salads, solo, with other vegetables, over rice, on crostini… I'm sure they'd be amazing on pasta. We served our dinner guests some
roasted asparagus
(without the lemon zest) with the roasted cherry tomatoes and everyone raved about them. Total keeper.
great on its own
plays well with others (like roasted asparagus)
Roasted Cherry Tomatoes with Mint
[print recipe]
1 lb. cherry tomatoes
2 tbsps olive oil
1/2 tsp sea salt
freshly ground black pepper to taste
3 tbsps fresh mint
Preheat oven to 425°F. Rinse the cherry tomatoes and pat dry. Place the tomatoes in a bowl and toss with olive oil to coat. Sprinkle sea salt and black pepper over the tomatoes and toss again. Pour the tomatoes into a baking dish or small roasting pan and arrange in a single layer. Roast the tomatoes for 10 minutes until the skins begin to split. Remove from oven. Chiffonade the mint and sprinkle over the tomatoes, tossing to distribute. Serves 2-4.
more goodness from the use real butter archives