Recipe: miso-roasted cauliflower
Winter storms are marching across (or around) Colorado this week. We had a short 1-day window between storms to zip over to Crested Butte. There's so much powder being dumped that it's enough to make a girl's head spin. So she might be forgiven for suggesting getting a handful of first tracks in the morning before packing everything up to drive 5+ hours. And now we're about to celebrate our first Chinese New Year in the new place! I guess it isn't so new anymore, but it still feels new. The important thing is that we all love it here, including Kaweah. Of course, she sleeps most of the time and it tugs at my heart that she can't enjoy the high country, trails, town, or even the neighborhood with us the way she could just a few years ago.

old pups need lots of naps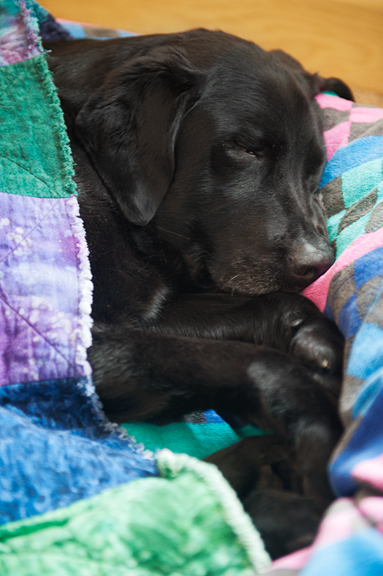 i brought "fu" (luck) to hang upside down on our front door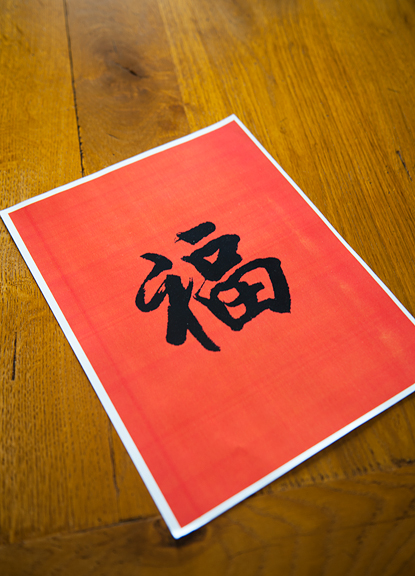 Chinese New Year will be just a tad simpler in Crested Butte than normal, because the kitchen is smaller and the groceries around here aren't so great for traditional Chinese cooking. I prepped several dishes in Nederland and will make the rest here on Thursday (Chinese New Year's Eve) after we ski the powder. Yes, there is powder and a lot of it in the forecast for CB! We took a break from work on Wednesday afternoon to squeeze in a nordic ski and the snow was already falling. Getting outside is the very best medicine for me.
me, my sweetie, and large fluffy flakes!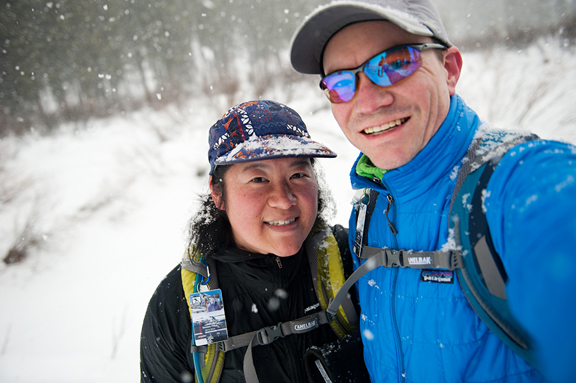 along the slate river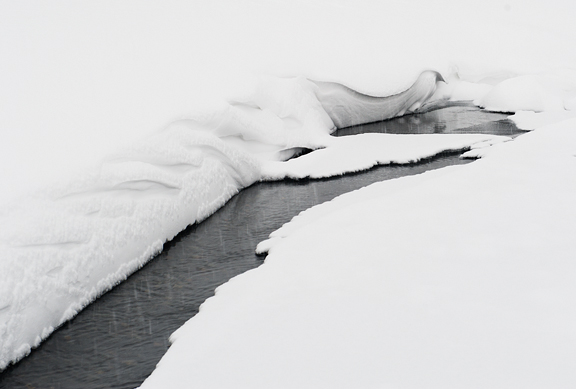 I can tell that the Crested Butte kitchen is slowly coming up to snuff because the types of meals I prepare here are converging with the types of meals I prepare at home. We ate a lot of simple dishes when we first moved in – boiled things, grilled things, roasted things. We still do a lot of roasted vegetables because it's a lovely way to enjoy Brussels sprouts, broccoli, butternut squash, asparagus, carrots, potatoes, tomatoes, and cauliflower. I have always loved cauliflower and all vegetables thanks in no small part to my mom's great cooking. Most of the time she would stir-fry or braise the vegetables, but now I've added roasting to that list of favorite techniques. It concentrates the sweetness and flavor so nicely, and it's pretty easy to do. Roasted cauliflower is a real winner of a dish, but the other day I thought to add miso to the mix… because how could it be bad?!
pretty purple and orange cauliflowers
so pretty
There was a debate in my head between a modified miso glaze that I use to marinate
miso black cod
and
Kathya's
addictive miso butter from her
miso butter roast chicken
. I opted for the miso glaze this time, but the miso butter is certainly on my recipe list for the future.
cut the cauliflower into florets
drizzle with olive oil, toss, and roast
The first step is to roast the cauliflower florets. Even though the miso gets roasted on later, cauliflower takes some time to cook through and we don't want to burn the miso in the process. So roast the cauliflower in a little olive oil first. While that's happening in the oven, mix up the miso glaze.
glaze: white miso, sugar, mirin, sake, sesame oil
whisk the miso into the sake and mirin
add sugar
stir in the sesame oil
I'm a little on the fence about the sesame oil. I think if you like sesame oil, then go for it. If you're neither here nor there on sesame oil, then you might want to omit it. Totally up to you, but I found the sesame oil to be a bit of an attention whore compared to the subtle nutty and earthy undertones of the miso. Once the cauliflower has roasted for 30 minutes, remove it from the oven and toss the florets with the miso glaze. Then pop it back in the oven for 20 minutes.
pour the glaze over the florets
toss to coat
roasted
We love our roasted vegetables, but sometimes you want to change things up and add a little kick. This miso glaze adds a nice dimension to the roasted cauliflower – sweet, umami, nutty. And it's not that much more involved than straight roasting, so this will not suck up countless hours of your time. It's fast, easy, and good for you! Pretty colors are purely optional – it's fantastic with regular white cauliflower too.
serve hot
a colorful addition to any plate
Miso Roasted Cauliflower
[print recipe]
1 head of cauliflower, trimmed and cut into florets
2-3 tbsps olive oil
2 tbsps sake
2 tbsps mirin
1/4 cup miso paste (I used white miso)
2 tbsps sugar
2 tsps sesame oil (optional)
Preheat oven to 425°F. Toss the cauliflower florets with olive oil and spread in a single layer on a rimmed baking sheet or in a baking dish. Roast for 30 minutes. While the cauliflower roasts, combine the sake and mirin in a small saucepan. Set the pan over medium heat. Whisk in the miso paste (be patient, it will eventually blend) and then stir in the sugar until dissolved. Remove from heat and stir in sesame oil if using. When the cauliflower has roasted for 30 minutes, remove it from the oven. Pour the miso glaze over the cauliflower and toss to coat each floret as completely as you can. Return the cauliflower to the oven in the same baking sheet or baking dish and roast for another 20 minutes. Serve hot. Serves 2-4 people.
more goodness from the use real butter archives