Recipe: salmon rillettes
This will have to be relatively quick, because I'm in a lot of pain thanks to that shoulder/neck problem that is aggravated when I am on the computer or doing just about anything. We had a nice little snowstorm early this week, but now it's sunny again – dang it!

taking advantage of the cold to go for a nice trail run in the snow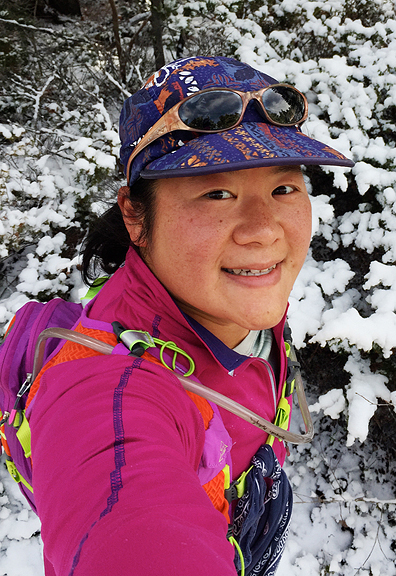 pretty pink sunset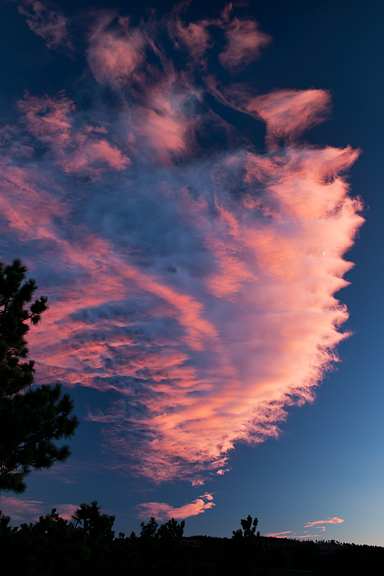 Actually, the sunny weather is good, because my parents are in town and they don't do so well with snow and cold. My parents and I have extremely different interests. They're probably more mainstream because they enjoy things like shopping and television and luxury travel. That's not really me. That's not me at all. It's okay though, I accept the differences and just try to focus on quality time together.
tutorial session for their first iphone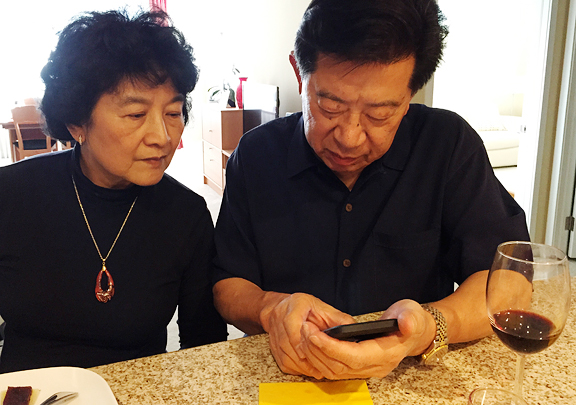 lunch in boulder before an afternoon of shopping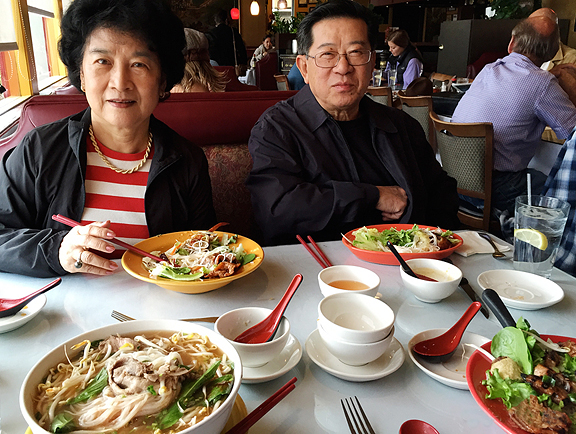 After picking up several nice bottles of wine, Dad wanted to have a little tasting party with appetizers. So he said, "I'm going to serve X, Y, Z wines, and you plan a menu around it." I usually do it the other way – plan the menu and pick the wine – but I could work with it. Dad loves having a plan and he loves it even more when I make the plan and he gives it his executive approval. One of the items I made for the party was salmon rillettes. It's something I've had on my "to make" list for years. Plus, my mom loves salmon and it makes me happy when I can cook something she will enjoy.
white wine, butter, lemon, paprika, olive oil, salt, peppercorns, coho salmon, smoked salmon, bay leaf, shallot, celery, chives, leek
place the celery, leek, peppercorns, bay leaf, wine, and water in a saucepan
salt the salmon
slice the smoked salmon
We are at the tail end of the wild coho salmon season, so I thought I would take advantage of its availability. Wild salmon is recommended, but I imagine you could use farm-raised if you wanted. I prefer wild whenever possible. For the smoked salmon, you can use cold-smoked or hot-smoked salmon. Here, I'm using cold-smoked, but I have a hunch that hot-smoked salmon would be pretty amazing too.
prepped
place the filet in the poaching liquid
remove the filet and chill it
flake the salmon filet
The salmon needs to rest in the salt for 30 minutes and the poaching liquid needs to simmer for 25 minutes – so start those first. When the salmon and liquid are ready, slide the filet into the pan, cover it, and let it sit for 10 minutes with the heat off. After the salmon is done poaching, it should be "just" done. Refrigerate the filet so it can firm up which makes it easier to flake. Discard the poaching liquid. Because the liquid gets discarded, I use a relatively inexpensive dry white wine.
sauté the shallots
done
chopped
For some reason, I had it in my head that the shallots were to be sliced. Only after I sautéed them did I realize that they were to be minced. Easy enough to fix. You don't have to include shallots if you don't want to, but they add a nice flavor to the rillettes. The fat that gets mixed into the salmon rillettes is butter. Start with softened unsalted butter and mash or whisk it until smooth. You want to avoid any lumps because that will ruin the texture. Then mix in the olive oil for a creamy, velvety spread.
add olive oil to the creamed butter
mix until smooth
stir in the lemon juice, paprika, shallots, chives, and smoked salmon
add the poached salmon
fold the salmon in gently
The result is a lovely, buttery, smooth spread dotted with chunks of melt-in-your-mouth salmon. It comes together far easier than I had expected and the salmon rillettes tastes like a million bucks. Spread it on
crostini
or crackers. This will make a terrific appetizer for any party and I cannot wait to serve it to my parents! Make the rillettes up to 3 days ahead and store it in the refrigerator. Serve at room temperature for maximum smoothness. If it's cold, the butter will be hard and it won't spread well.
served with homemade crostini
a perfect bite or two
Salmon Rillettes
[print recipe]
based on recipes from David Lebovitz and Food and Wine
8 oz. salmon filet, preferably wild
salt
1 celery rib, cut into 1-inch pieces
1 leek, halved lengthwise
1 bay leaf
1 tsp whole black peppercorns
1 cup dry white wine
4 cups water
5 tbsps unsalted butter, softened and divided into 1 and 4 tablespoons
1 shallot, minced
1 tbsp olive oil
1 1/2 tbsps fresh lemon juice
2 tbsps fresh chives, chopped
4 oz. cold smoked salmon, cut into 1/4-inch strips (or you can use hot smoked salmon, but don't cut it)
1/4 tsp chili powder, smoked paprika, or freshly ground white pepper
Remove any pin bones from the salmon filet. Salt both sides of the salmon (I used 1/4 teaspoon) and let it sit for 30 minutes. Meanwhile, place the celery, leek, bay leaf, black peppercorns, white wine, and water in a medium saucepan. Bring to a boil then reduce to a simmer. Let simmer for 25 minutes. Place the salmon in the saucepan, cover with a lid, and turn off the heat. Let the salmon stand for 10 minutes. Remove the filet from the liquid (discard liquid and aromatics) and pick off any peppercorns that may have stuck to it. Cover the fish in plastic and refrigerate for 45 minutes. Remove the salmon skin and flake the fish into a bowl.
Heat 1 tablespoon of butter in a small saucepan and sauté the shallots until soft. Let cool. Mash the remaining 4 tablespoons of butter with fork or a whisk until smooth (make sure it is super smooth to avoid chunkage in the rillettes). Mix in the olive oil. Stir in the lemon juice, chives, smoked salmon, and chili powder (or paprika or white pepper). Gently fold in the flaked salmon. Season with salt to taste. Serve with crostini or crackers. Makes 2 cups. Store in refrigerator for up to 3 days.

more goodness from the use real butter archives