Recipe: goat cheese-stuffed mushrooms
This was a good weekend for catching up on work and sleep. I always used to say that I could sleep when I was dead, but it doesn't really work that way. You know, good tidbits you learn in your 30s that you wish you could tell your College Self. Sleep is tremendously helpful for things like functionality, coherence, and that whole not-feeling-like-crap problem. But a favorite pick-me-up is to go ski touring with a dog.

whenever we stop, banjo lies down in the snow and watches for us to get moving again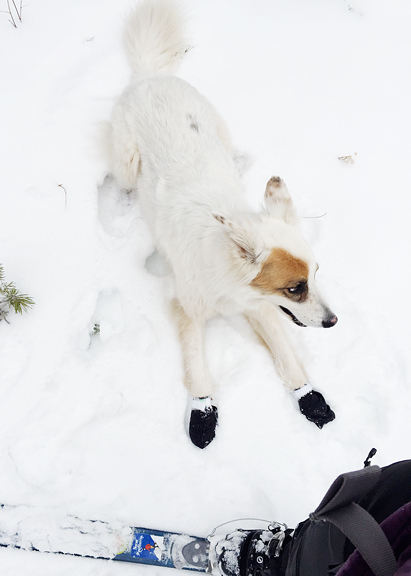 me, banjo, and erin after our ski tour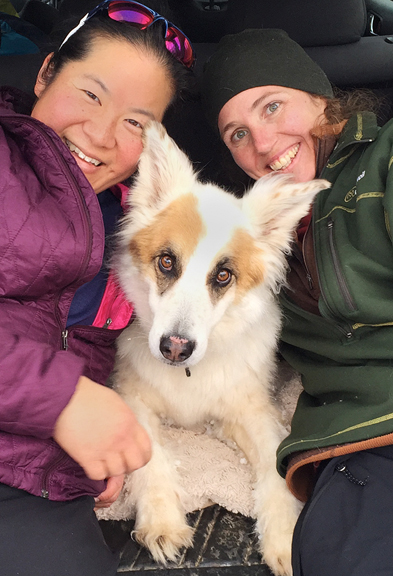 stripes of color at sunset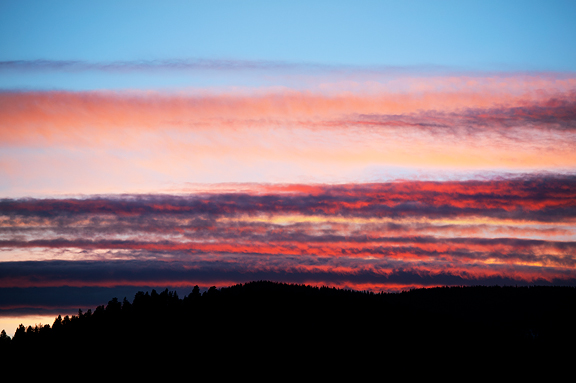 We noticed new signage on our ski tour, something that hadn't been updated in years. Part of the route crosses through the City of Boulder Watershed, so they ask that you stick to the road and not do things like shoot stuff, camp, burn things, and park your darn car. Oh, and…
don't pick mushrooms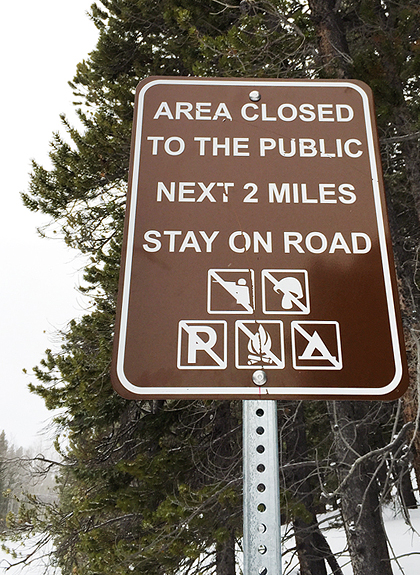 I've never seen a "No Mushrooming" symbol before in these parts. We got a chuckle out of that because the mushroom graphic is super cute. I mean, if you really examine that symbol, it's a bolete. And then for the rest of the trip, I had mushrooms on the brain. The last couple of times we dined at
Secret Stash
in Crested Butte, we ordered the stuffed mushies appetizer which quickly became our favorite. It's hot mushroomy goodness stuffed with creamy goat cheese. Easy enough to replicate at home. So that's what I did.
crimini mushrooms, olive oil, herbed goat cheese, parsley, garlic, pine nuts, roasted red peppers, butter, bread crumbs, flake sea salt
drizzle olive oil on the garlic bulb for roasting
The success of this dish increases tremendously if you use mushrooms with large caps – like 2 inches in diameter. I find the crimini (or baby bella, same thing) mushrooms at Costco are the perfect size and quantity. Any larger and you're getting beyond "bite-size", although it's doable that way if you want to use mature portabello caps. White button mushrooms will also work. We're just looking for caps that can hold yummy stuff.
remove the stems from them mushrooms
caps ready for stuffing
roasted garlic, diced roasted red pepper, chopped parsley
People keep telling me that it's okay to wash mushrooms in water and I keep wiping them clean with a damp paper towel or a mushroom brush. We're pretty conservation-minded when it comes to water. That is probably a result of living in the west for so many years. Do whatever works for you. Set the caps upside-down in a buttered (or olive oiled) baking dish. Unless you are planning to serve individual dishes, a 9×13-inch baking pan should fit all 24 caps. Feel free to squeeze them in, taking care not to break any, because they will shrink during baking.
Fill the caps with your favorite goodies – you don't have to use the ingredients I used. Maybe add chopped sun-dried tomatoes, prosciutto, bacon, pesto. All good. Then top each cap with goat cheese. It can be herbed goat cheese (like I am using here) or plain goat cheese or some other cheese, but goat cheese will remain super creamy rather than melty/greasy. If you want to keep your stuffed mushies gluten-free, then omit the bread crumbs or use gluten-free bread crumbs. I like the extra crunch from the bread crumb topping.

prepped
distribute the goodies among the mushroom caps
top with goat cheese
sprinkle bread crumbs on top
Pop those mushrooms into the oven until the goat cheese begins to turn golden on top. It took me about 35 minutes. Once out of the oven, but while the mushrooms are still hot, drizzle some olive oil over the tops and then sprinkle chopped fresh parsley (flat-leaf is best) and flake sea salt. If you opt not to garnish with flake sea salt, add a pinch of regular salt before baking – either under the goat cheese or on top.
baked
drizzle with olive oil
garnish with chopped parsley
and a little flake sea salt
Jeremy gobbled them down, declaring between each mushroom that he loved the recipe. I think they were even better than what we got at the restaurant because we filled the mushrooms with some of our favorite things. The pine nuts lend a satisfying crunch, but if you aren't able to eat nuts, just omit them or substitute a seed (pumpkin seeds are great). To prepare them up to a day ahead of time, just assemble the mushrooms in a baking dish, cover with plastic wrap or foil, and refrigerate until ready to bake. Absolutely addictive.
you can plate them, too
three happy bites
the cross section is even prettier
Goat Cheese-Stuffed Mushrooms
[print recipe]
inspired by Secret Stash
1 tsp butter (or olive oil) for greasing baking dish
24 large mushrooms with good caps (white button, crimini – aka baby bellas)
1 bulb garlic, roasted and peeled*
1 roasted red pepper, diced
1/4 cup pine nuts, toasted
8 oz. herbed goat cheese
2 tbsps bread crumbs (optional)
olive oil
2 tbsps fresh flat-leaf parsley, chopped
flake sea salt
*To roast the garlic: Cut the very top of the bulb off with a sharp knife. Place the bulb in a small ramekin or foil pouch and drizzle a tablespoon of olive oil over the top. Cover with foil and bake at 400°F for 30 minutes or more until the flesh is soft, golden, and nutty in flavor. Remove the cloves from the skin. Discard the garlic skins.
Preheat oven to 400°F. Grease a 9×13-inch baking dish with butter or olive oil. Clean the mushrooms however you like, but I recommend wiping them clean with a damp paper towel or brushing them clean. Pop the stems off the caps and discard (or compost or use for another recipe). Arrange the mushroom caps in the baking dish, top-side down. Divvy the roasted garlic evenly among the caps (cut larger cloves in half if necessary). Divide the roasted red pepper and pine nuts among the caps. Some caps will be larger than others, so distribute your ingredients accordingly. Spoon 1-2 teaspoons (or more for the really big caps) of herbed goat cheese over each mushroom. Sprinkle bread crumbs on top of all the mushrooms. Bake 35 to 40 minutes until the cheese begins to turn golden on top. Remove the mushrooms from the oven. Before serving, drizzle olive oil over the stuffed mushrooms, garnish with chopped parsley, and sprinkle flake sea salt on top. Makes 24.

more goodness from the use real butter archives