Recipe: baingan bharta (indian mashed eggplant)
Year after year, I look forward to those wonderful events that reliably happen in spring. This wackadoo teeter totter between snow storms and sunny days. The planters full of daffodils and tulips on Pearl Street in Boulder. A chorus of red-winged blackbirds by the lake that fills your ears when you run (or walk) by. Just this morning, we watched a yearling moose (following his mama) pass through the neighborhood, stopping to nibble on the young aspens in our yard.

a double daffodil on the flats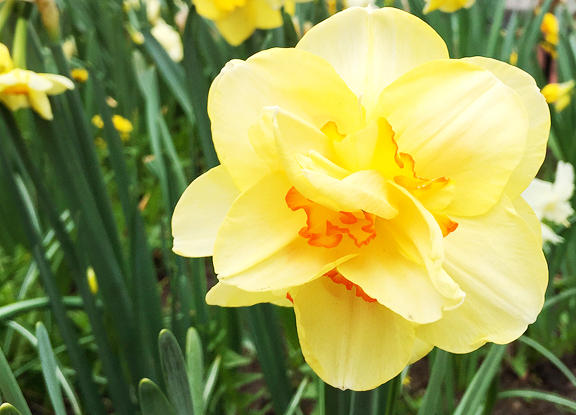 snowing and moosing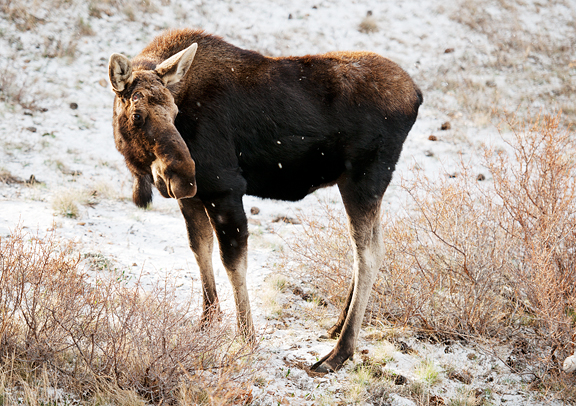 Spring is also when I have various medical appointments. It's been seven and a half years since my breast cancer diagnosis. After all of the surgeries, scans, chemo, radiation, blood draws, ER visits, and more surgeries, the aftermath seemed pretty tame. Managing lingering side effects – some temporary, some permanent – and getting on with my life, I felt that returning to normal was like winning the jackpot. And for the most part, life is normal and good. The further in time I drift from my diagnosis, the less cancer nags at the back of my mind. Dad always touts the power of positive thinking, but truth be told, that constant fear hovering over my shoulder for the first few years after treatment made me feel like I had failed. I couldn't distinguish between my scar tissue and a possible tumor. Was that cough indicative of metastasized cancer? What caused that sharp pain in my side? While the intensity of my worries has faded considerably, it is always there like a low-level noise creeping in the corner of the room, growing louder when the night is still and dark.
the waiting room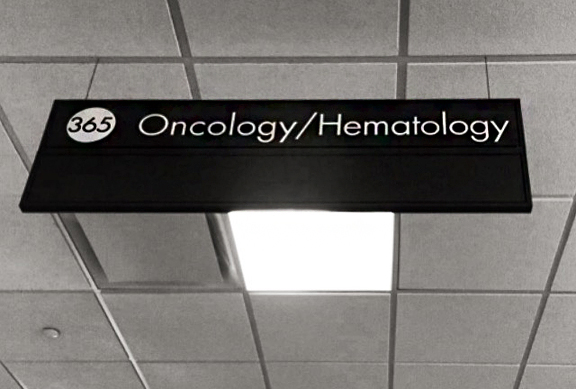 I check in with oncology on a regular basis. It used to be every 6 months and has now transitioned to once a year. It's bittersweet. When I walk in, I'm greeted by familiar smiles – all of the wonderful staff and nurses who cared for me during the infusions, gave me advice over the phone when emergencies arose, and continue to put in orders for my annual mammograms and MRIs. These are some of the nicest people you will ever encounter. This last time – yesterday – I exchanged hugs with each of them. While one asked how long it has been since I finished chemo, another was smiling and touching my ponytail. I typically ask local businesses if things have been busy, because busy is good for business. But it's sad when oncology says they've been busy. They're always busy. Cancer sucks. Eventually my oncologist bustles into the exam room like Santa Claus on Christmas doling out handshakes and hugs. He is the very best. Behind the closed door, Jeremy and I can update him with observations and questions interspersed with genuinely friendly conversation and laughs. He allays most of my concerns and follows up on the rest.
MRI in a week. Let's get an X-ray while you're here for the MRI and do blood labs after you're done here today. How was that colonoscopy?
The colonoscopy was fine because I don't remember any of it. The prep beforehand was unpleasant, but nothing compared to chemo. My instruction sheet said to stop eating all seeds, nuts, whole grains, and beans five days prior to the procedure. I thought that would be easy, but it was harder than I had anticipated. Everything in our kitchen seemed to have nuts, seeds, whole grains, or beans. The bummer was that I had made baingan bharta, a lovely Indian mashed eggplant dish, the day before. I could only stare at the leftovers in the refrigerator since the tomatoes and eggplants had loads of seeds.

onion, tomatoes, jalapeño, eggplant, lime, cilantro, vegetable oil, turmeric, salt, garlic, garam masala
prick the eggplants with a sharp knife
char the eggplants
let cool
I've been looking for more ways to get eggplant in my life. I've always enjoyed it in Chinese form and then branched out to other Southeast Asian styles of preparing it. And then there's baba ganoush which I'm particularly fond of, but Jeremy doesn't seem to dig on it. Baingan bharta is similar to baba ganoush with the charring of the eggplant, but from there it diverges into a dance of vegetables and spices. And you want to get a good char on the eggplant to impart a smokiness to the flesh. I set my eggplants over the grill, but you can just as easily accomplish this in a cast iron skillet in a hot oven. As the skin blackens, turn it occasionally to even the cooking. While you let the eggplant cool, process the rest of the ingredients. For a spicier dish, use a hotter variety of green chili pepper and/or leave the seeds in.
slicing the japaleño
juiced lime
everything prepped
When the eggplant is cool enough to handle, peel the skin and stem away. They should separate easily, revealing an almost velvety flesh. If not, use a spoon to scrape the meat off the skin. You can chop the eggplant up, but mine was soft enough to mash with a fork. Stir the lime juice into the eggplant and set aside while you get the rest of the vegetables cooking.
the skin should peel right off
add lime juice
mash the eggplant
Total cooking time is about 45 minutes including the time to char the eggplant. Nominally, the eggplant should take 20 minutes, but I let mine go for 30 minutes on the grill because it was windy that day. Your stove top time clocks in at less than 25 minutes with minimal babysitting – a lot of sautéing and a little bit of stirring. Every ingredient can be found in a western grocery store. The only one that might possibly give some folks trouble would be garam masala. If that's the case, try a local Indian grocer, a spice shop, or order online – but don't omit it from the dish as it packs a lot of the heady flavors.
adding tomatoes, salt, and turmeric to sautéed onions, garlic, and jalapeño
cook it down until the tomatoes become soft
add the eggplant to the pan
stir in the cilantro and garam masala
The baingan bharta is a tangy, smokey, earthy, and spicy (in the spice sense) take on eggplant. We have enjoyed it over rice and with dal. The dish goes well with Indian flatbreads, too. A hot bowl of it is perfect during the springtime tug-of-war between seasons when the winter side is winning. And it's good for you – chock full of delicious vegetables. More eggplant!
serve hot
great with rice
Baingan Bharta (Indian Mashed Eggplant)
[print recipe]
from The New York Times
2 lbs. whole eggplant
2 tbsps lime juice, fresh
2-3 tbsps vegetable oil
1 medium onion, medium dice
3 cloves garlic, minced
1 green chili pepper (I used jalapeño), thinly sliced (remove seeds for less heat)
1 lb. fresh tomatoes, medium dice
1/2 tsp turmeric
1 tsp kosher salt
1/2 cup cilantro, chopped
2 tsps garam masala
Prick the eggplant(s) in several places with a knife. If grilling, set your grill on very high heat and place the eggplant(s) on the grill. As the skin blackens on the bottom, turn the eggplant(s) to get an even char all around. Remove the eggplant(s) from the grill when the skin is charred and the eggplant begins to collapse (this took me 30 minutes, but it was a windy day). If using the oven, set the oven on the highest possible setting. Place the eggplant in a cast iron pan and broil or roast until the eggplant collapses (about 20 minutes). Let the eggplant(s) cool on a plate until you can handle it without burning your fingers. Peel the skin and stem away from the eggplant and place the flesh in a medium bowl. Add the lime juice to the eggplant and mash or chop them together.
Place the vegetable oil in a skillet or sauté pan over medium high heat. When the oil is hot, add the onions and cook, stirring until translucent and golden – about 10 minutes. Stir in the garlic and green chili and sauté for a minute. Add the tomatoes, turmeric, and salt. Stir and simmer for 5 minutes until the tomatoes soften. Stir in the eggplant and cook for 3-5 minutes, stirring occasionally. Finally, mix in the cilantro and garam masala. Remove from heat and serve with warm chapati or over rice. Serves 4.

more goodness from the use real butter archives