Consider a small mountain town (population around 1,500), geographically tucked away in a nest of towering snow-capped mountains. You might assume that there wouldn't be much in the way of good places to eat. In most cases, you'd be right. But if you were talking about Crested Butte, Colorado – you'd be oh, so wrong. Among the several wonderful dining establishments in this finest of mountain towns, Bonez is a terrific stop for top notch food in a casual, festive setting near the west end of Elk Avenue, Crested Butte's main drag.

the entrance to bonez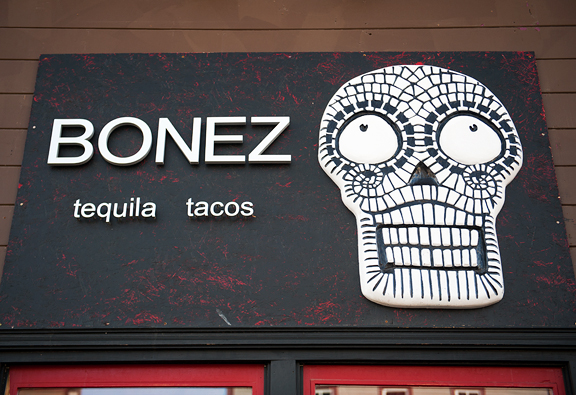 A spacious interior decorated with local artworks and other fun and funky touches greets you upon entering the building. There is a nice long bar, some high tables, booths, and plenty of regular seating, and community tables to bring folks together. It's a place where folks might go to catch a game on the big screen television at the far end of the room (actually, there are two large rooms, but I'm talking about the main room), a place where people gather over noshes and drinks, and it's a fantastic place to indulge in some creative, delicious food.
the bar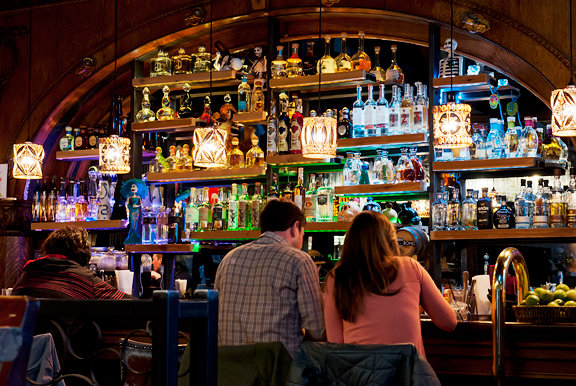 love the chandelier of upcycled empty glass bottles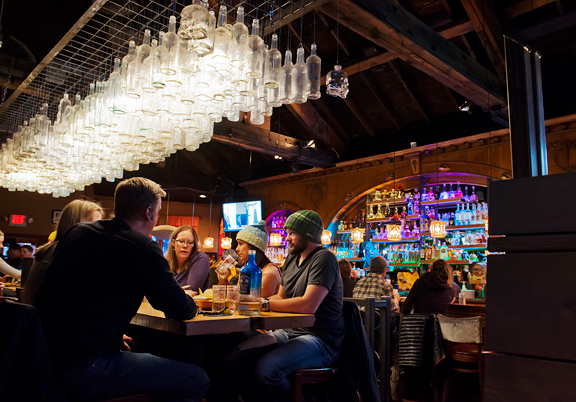 having a look at the menus
Start with a glass of nice cold water because you're at 9000 feet above sea level. The beverages on offer include menus of tequila, mezcal, wine, beer, cocktails, and non-alcoholic drinks. Tequila flights are available as are some tasty signature margaritas. The Scorpion incorporates serrano- and habanero-infused tequila. Or if you prefer a fruity experience, The Eleven is highlighted with blood orange liquor and cranberry juice.
jeremy got the silver queen margarita (silver tequila, triple sec, fresh lime)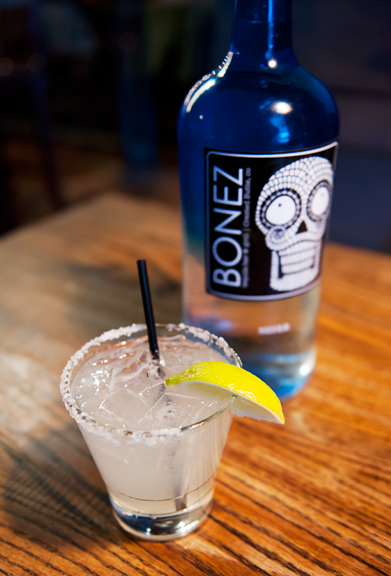 Happy hour is nestled between that time after the ski lifts close (or maybe you rode or hiked really hard and can't wait another minute), but before dinner technically starts. Bonez' happy hour is a terrific deal. Most of the appetizers and drinks on the regular menu are available during happy hour at reasonably discounted prices. Our first visit to Bonez straddled happy hour and dinner, and the kitchen was perfectly happy to oblige orders from both menus.
It's hard to not be tempted by the nachos, because it's the first thing you think to start with in a tequila bar. The problem with that reasoning stems from the array of other appetizers like green chilies topped with chorizo and melted Mexican cheese, short rib empanadas, a flight of fresh salsas, or fresh guacamole (of course!). We began with the chorizo sliders (you get three) which can only be summed up as bites of heaven on Earth. The sweet potato buns are buttered and grilled so they have that nice crisp face that gives way to the tender, fluffy, slightly sweet bread. Between the two halves of the roll are a spicy chorizo patty, black garlic aoili, tomato and serrano jam, and fennel slaw. We loved this combo so much that I went and blogged a recipe for it!

chorizo sliders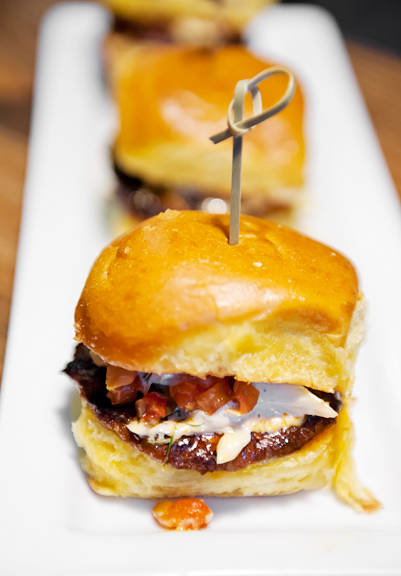 Despite how busy Bonez can get, their servers are always friendly and quick, covering for one another as needed. It's a well-run operation that whips up delicious food in no time, marching one gorgeous plate out after another. Next up – street tacos served on little corn tortillas (two or three bites each). We decided to get three so we could sample an assortment of fillings. The barbacoa filling is slow-cooked tender pork with nice warm spice accents. Bonez' carnitas have the nice crisped ends and super flavorful, falling-apart pork meat. And the third taco was the carne asada which were crunchy pieces of beef with an awesome smoky flavor. I think the carnitas taco was our favorite of the three, but they are all nicely prepared, fresh, and delightful to eat.
street tacos: barbacoa, carnitas, carne asada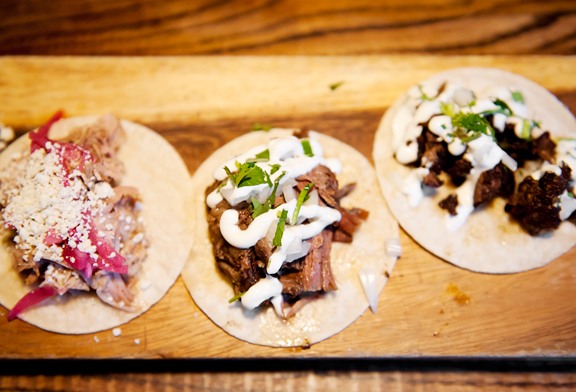 We didn't realize that the whole evening would be tacos (aside from those amazing chorizo sliders), but that is where our stomachs led us. A tray of six ahi mini tacos were set on the table just as we finished the street tacos. The shells were extra crunchy delicate fried wontons filled with fresh, gem-colored spiced ahi tuna tartare (raw). Each taco was set on a little pillow of avocado purée and finished in a sweet and spicy chili agridulce drizzle that complemented the tuna beautifully. These were far too easy to inhale in one sitting.
ahi mini tacos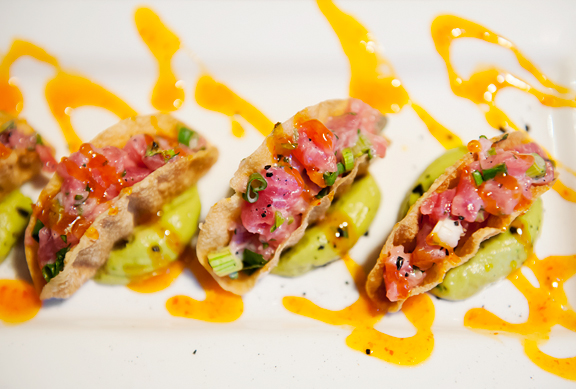 Initially, we figured three appetizers and a shared entrée would be just about right. Jeremy and I hadn't counted on the portions being as generous as they were. That's another great thing about Bonez – you won't leave hungry (unless you didn't eat anything). The main dish that we both wanted to try was the lobster tacos. What we got were two large flour tortillas filled with big chunks of perfectly tempura-fried fresh lobster meat. Topping the lobster was that tasty fennel slaw, a tropical pico de gallo, and avocado crema. This was a really nice combination of flavors and textures. Bonus: the rice and beans are great, too.
lobster tacos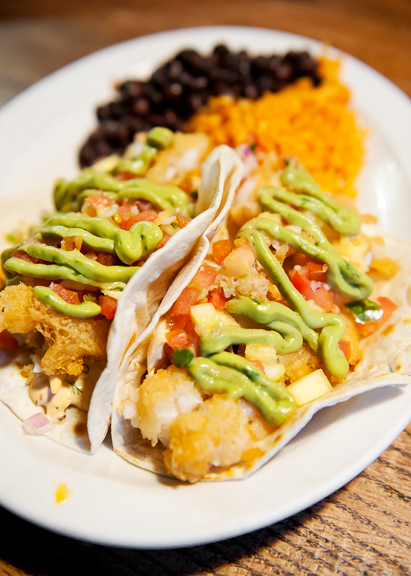 It was deemed necessary to return to Bonez a second time to explore more of the menu. Our first visit was filled with so many appetizers we hardly had room for the lobster tacos and couldn't even think about dessert. On our second meal at Bonez, we had to exercise extreme discipline and pass over the salads, soups, and other temptations so we could focus on more entrées and dessert!
The Mexican pot roast is serious comfort food. The boneless short rib is fall-apart tender and seasoned with an array of warm spices. It sits atop an island of creamy, slightly cheesy potatoes accented with green chiles, floating in a little pool of braising liquid reduction. Floating alongside the potatoes are a handful of sweet, slow-cooked pearl onions. All of this is finished with pickled fennel that lends a lovely tart crunch to round out the whole blessed dish. This is what you want in your belly after a day of playing on the mountain.

mexican pot roast: braised short rib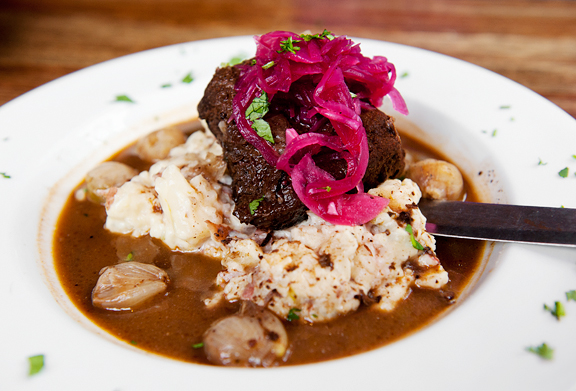 I am a huge fan of chile rellenos, and I am also rather picky about them. I prefer green chiles over poblanos, but the West Elk chili relleno sounded like it could be a good thing. Why not take a chance? Everything else had been good so far. I'm so glad I tried it. It was ridiculous. As in, even Jeremy was completely smitten with it (and he's not a huge fan of chile rellenos). First off, the fried beer batter was crazy delicate, light, and airy – like a web of fried goodness. The poblano pepper was de-seeded (major props to Bonez for that) and filled with spiced ground elk meat and five different cheeses. You know how some dishes can be overwhelmed with cheese? This was a beautiful balance of cheeses and elk meat and hints of cinnamon. All of it was served with a side of those lovely beans and rice and a spicy red enchilada sauce.
west elk chili relleno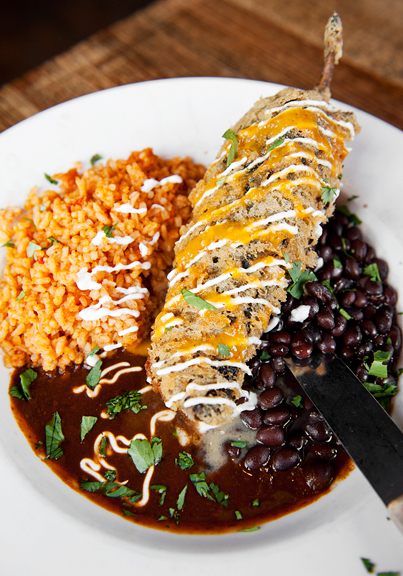 Now for dessert. There were three items on the menu: a flourless chocolate cake, cheesecake chimichanga, and churros. I understand why restaurants like to put flourless chocolate cake on their menu (it's gluten-free, you can make it ahead, it's chocolate), but I am 100% sick of flourless chocolate cake, so our decision was made. The cheesecake chimichanga is exactly what it sounds like, a flour tortilla wrapped around soft cheesecake filling and deep fried. It arrived hot and rolled in cinnamon sugar on fluffy puffs of whipped cream. There was a caramel drizzle and a dusting of chili powder on everything. It was lovely, but I might have liked some sort of fruit with it to fool my brain into thinking it tasted lighter than it actually was.
cheesecake chimichanga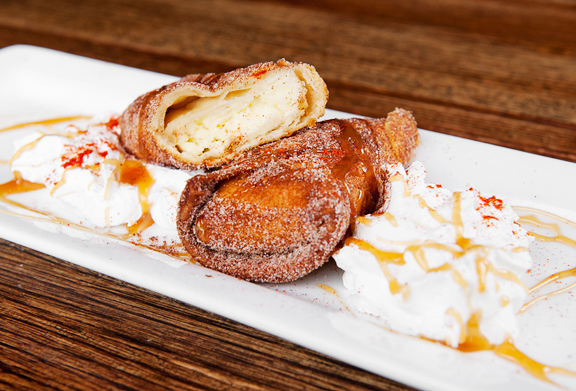 The favorite dessert of the night was the plate of churros. This is an ideal dessert for sharing with others. These arrive as nine little churros, freshly fried and rolled in cinnamon sugar, stacked on clouds of whipped cream and bathing in pools of warm chocolate sauce. Crisp outsides and soft insides. Each bite you take will lull you closer to a blissful slumber as the sweet, the spice, the chocolate, and the pastry round out a perfect meal.
churros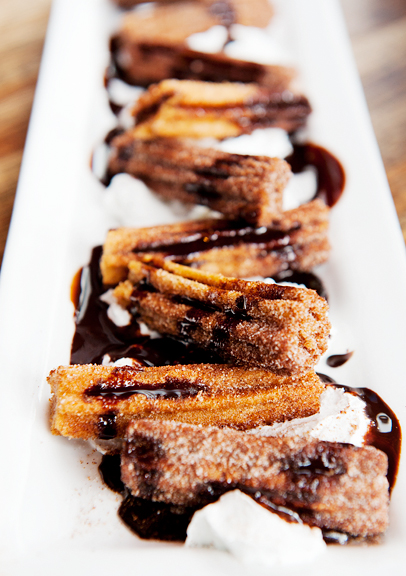 I'm always thrilled when I find a restaurant that truly delivers on quality and value. But Bonez isn't just a restaurant – it is a communal space and an experience and a delight. It's a lot like Crested Butte. Definitely put this one on your radar when you visit!
Bonez
130 Elk Ave.
Crested Butte, CO 81224
Ph: (970) 349 5118
Happy hour and dinner service from 4 pm to 10 pm daily in winter, Wednesdays through Sundays in spring and fall. Lunch, happy hour, and dinner served from 10 am to 10 pm daily in summer.
Call for hours.
Facebook: Bonez Facebook Page
Full Disclosure: No comps. All opinions are mine.