When you grow up in a popular tourist center, you might be forgiven for rolling your eyes at the attractions your hometown has to offer. Despite the frequent eye rolling (hey, I was a teenager), I can look back in hindsight and recognize just how special Williamsburg, Virginia, is. In the southeastern corner of the state, Williamsburg (population ~15,000) sits atop the Virginia Peninsula, which is flanked by the James and York Rivers. Colonial Williamsburg ranks as Virginia's number one tourist draw. A favorite destination for history enthusiasts, family vacations, and school field trips, this impressive living history museum enjoys its greatest visitation in the summer high season, although Colonial Williamsburg in winter embodies the essence of Christmastime. But wait, there's more! Williamsburg is also home to The College of William and Mary, Busch Gardens theme park, and Water Country USA (waterpark).

williamsburg is in southeastern virginia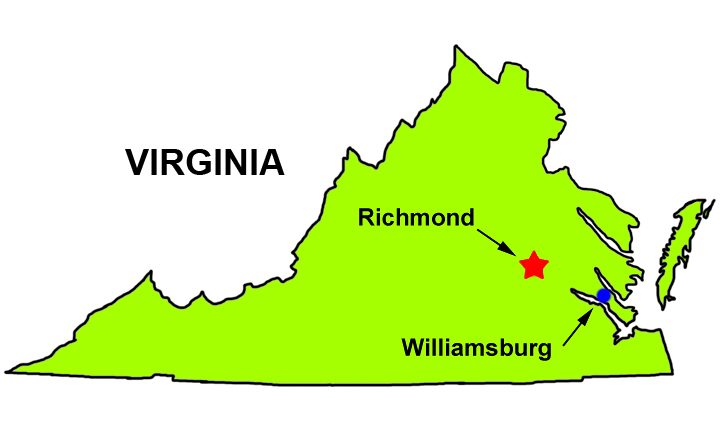 Did I mention great restaurants? They've got those, too. There are just too many for me to try when visiting my parents in Williamsburg. I've compiled a sampling of my favorites from the past several years. If you happen to be traveling to or through Williamsburg, these eats are worth a try.
First up was Emily's Donuts and Café – a nondescript shop off Merrimac Trail (Route 143) that is easy to miss if you aren't looking for it. The morning line moves quickly as orders for doughnuts and caffeinated beverages are filled. Despite ample seating in the brightly lit interior, most patrons grab and go as evidenced from the constant shuffling of vehicles in the parking lot. I selected an assortment of cake, yeast, filled, split, and ring doughnuts. Overall, the doughnuts were fantastic. The sleeper-winner was the key lime filled doughnut with a tangy sweet lime curd inside. Pure heaven. The split creme came in as the other favorite, filled with a sweet vanilla creme and dusted with powdered sugar – a top seller. Emily's also serves lunch, which we didn't try, but the doughnuts… they crank out some amazing doughnut love.

left to right, top to bottom: vanilla glazed ring, raspberry filled, split creme, key lime filled, glazed chocolate cake, cinnamon apple filled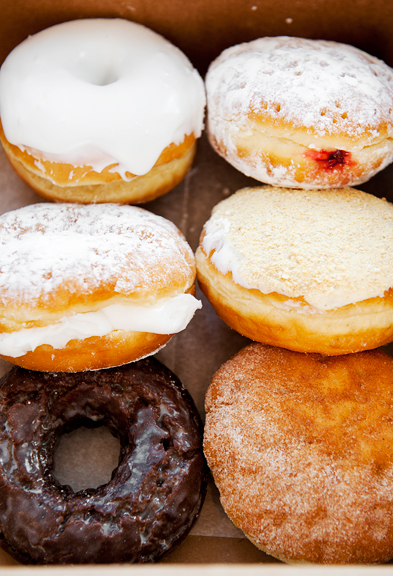 If you are in search of pastries, breads, and other baked sweets, allow me to point you to
Blackbird Bakery
in Colonial Williamsburg's Merchants Square. Their tempting array of desserts and breads are all made in the
Trellis
kitchen just behind the bakery. Choose from flaky croissants, fresh scones, beautiful fruit tarts, golden baguettes, and dinner plate-sized sticky buns, to name a few. Don't forget your cup of Illy coffee to sip with your treat. We tried the canelés, which were wonderfully custardy inside and caramelized outside – French pastry perfection.
pastries on offer at the front counter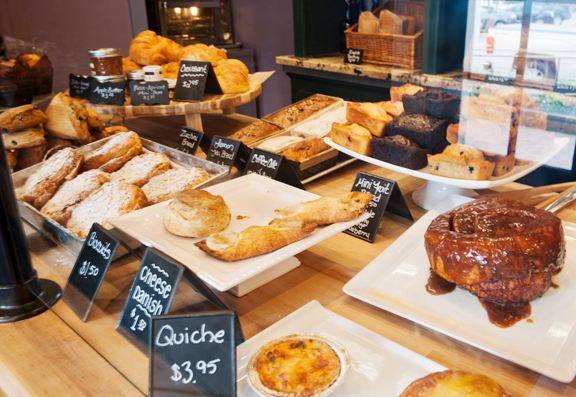 showing off the most adorable desserts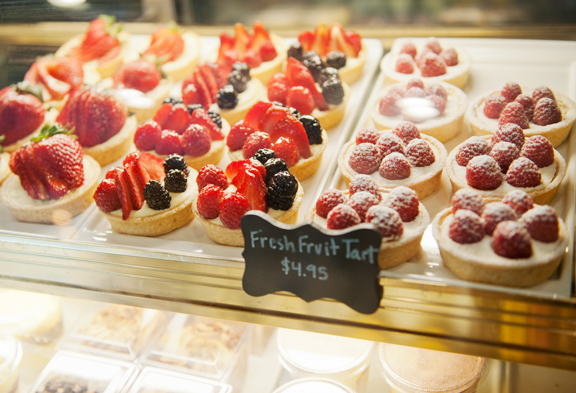 beautiful and irresistible canelés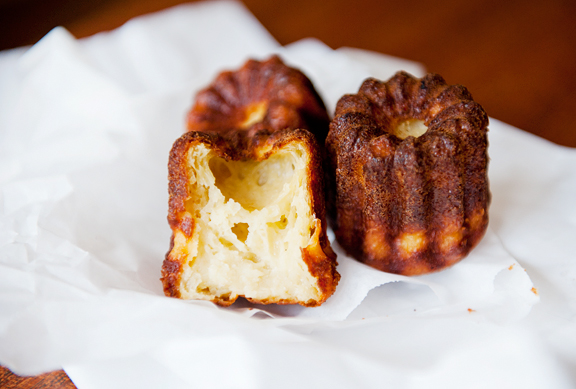 Swing by
Shorty's Diner
(also on Merrimac Trail) for quick, friendly service and a no frills plate of hearty morning fare. Breakfast is served all day, with lunch options like sandwiches, burgers, and salads. Portions at Shorty's are generous, especially for the reasonable prices. The food we ordered was neither outstanding nor terrible – just solid and good. The chicken fried steak was tender enough to be eaten with just a fork. The creamy sausage gravy and flaky biscuits were satisfying. Other menu items included omelets, pancakes, waffles, and breakfast sandwiches. Just for giggles, we took home two slices of pie: coconut cream and chocolate cream (the other choice was key lime that day), piled high and pretty darn delicious.
the shorty's special: 3 eggs, hash browns, biscuit, sausage patty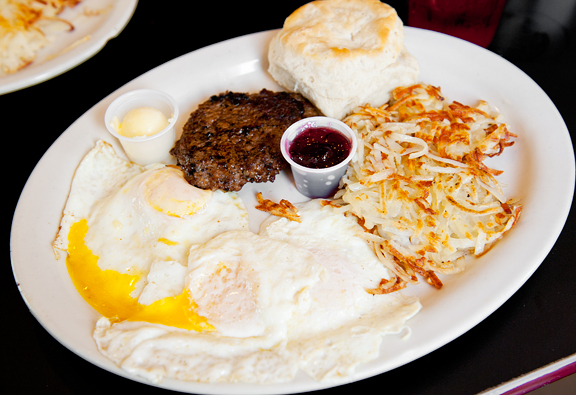 chicken fried steak with eggs, hash browns, and biscuit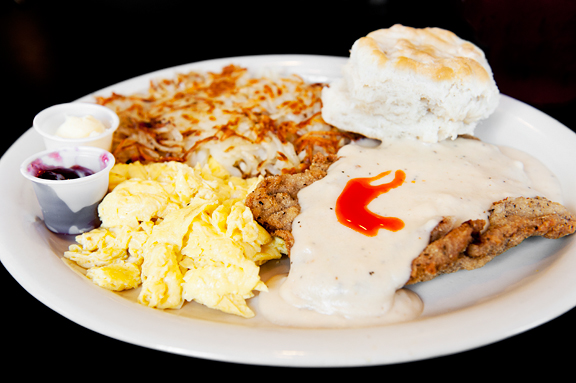 because pie: chocolate cream and coconut cream
Your lunch options are many and varied in and around Williamsburg. I'm all about a quick lunch because we're always on the go midday. I cannot resist a good sandwich. People rave about the subs at
New York Deli and Pizza Restaurant
on Richmond Road (Route 60) and with good reason. Jeremy and I split a hot sub that was stuffed to the gills with pastrami, cheese, lettuce, pickles, and tomatoes. The side of crisp onion rings were a hit. But you aren't limited to sandwiches when you walk up to the counter to place your order. Consider their pizza, burgers, salads, platters, gyros, and Italian plates, too.
hot pastrami with onion rings and fries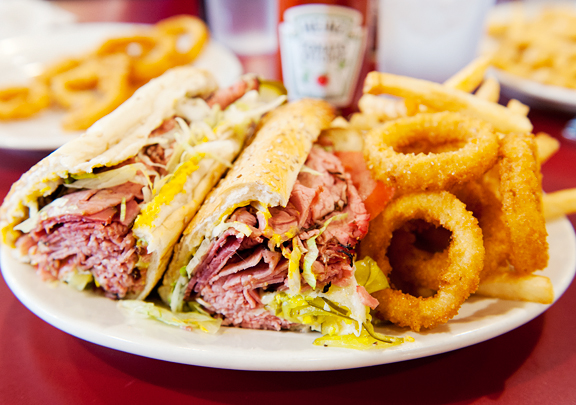 Ask about barbecue in the area and
Pierce's Pitt Bar-b-que
is sure to come up in conversation. You can find Pierce's north of Williamsburg on Rochambeau Drive (a frontage road along Interstate 64). While standing in line to place my order, several of the patrons ahead of me went for some variation on the barbecue sandwich: pulled pork or barbecue chicken, barbecue sauce, and coleslaw on a soft bun. There are also brisket sandwiches, ribs, whole smoked chicken, burgers and hot dogs, salads, and let's not overlook the sides. The sides are the best aspect of eating barbecue: coleslaw, baked beans, macaroni and cheese, hush puppies, onion rings, fries, collard greens, potato salad, corn bread, brisket chili, brunswick stew. It's not pretty, but it is certainly tasty southern barbecue.
barbecue sandwich with hush puppies and onion rings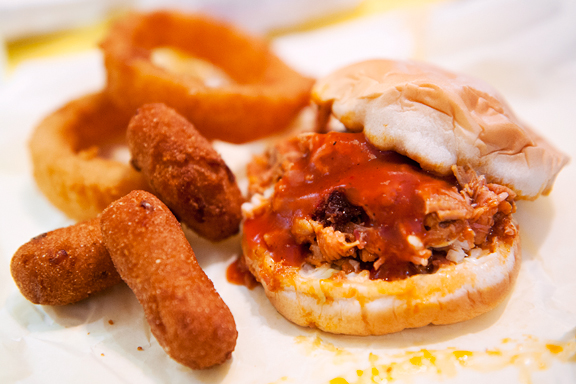 My absolute favorite sandwich – the one I've been eating for thirty some years – comes from
The Cheese Shop
. Centrally located in bustling Colonial Williamsburg's Merchants Square, The Cheese Shop is an institution. The store carries all manner of cheeses, salumi, gourmet foods, and wine downstairs, but the real draw is their sandwiches. Choose your type of bread, meat, cheese, dressing, and any extras. Walk to the back counter and wait in line to place your order, then wait some more before they call your name. You can pick up a small bag of chips and a drink if you have a picnic in mind. My standard order: the roast beef on French (bread) with provolone and house (dressing). [I used to order it with muenster cheese, but they stopped carrying that long ago.] The consensus among my childhood buddies is that the house dressing is the way to go as is the French bread. The Cheese Shop even sells the ends of the French bread baguettes for dipping in their house dressing. It's a thing. It's a very good thing.
the cheese shop at christmastime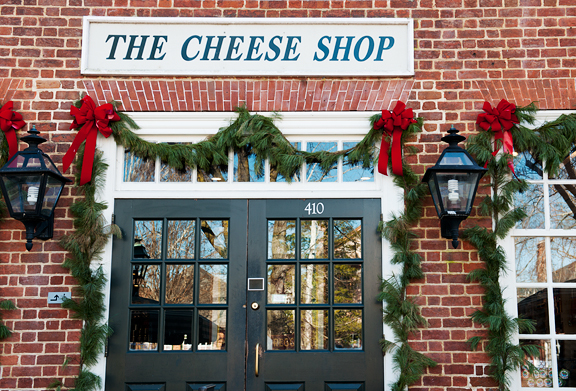 ace number one roast beef and provolone sandwich on french with extra house dressing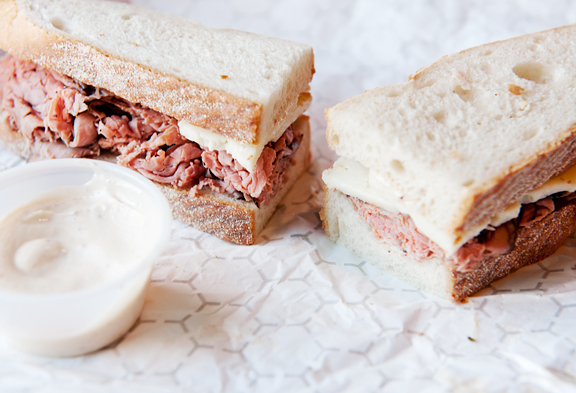 Now, if you are looking for a sit-down lunch, consider the 20 minute drive (make it scenic by taking the famed and beautiful Colonial Parkway) to Yorktown, part of the Historic Triangle of Virginia along with Colonial Williamsburg and Jamestown. Cross the York River via the Coleman Bridge to Gloucester Point and enjoy the freshest of oysters and a variety of other tasty noshes at the casual
York River Oyster Company
located in York River Yacht Haven. Sandwiches, burgers, pizza, salads, soups, pasta, and desserts tempt you, but I highly recommend the fresh local seafood.
fried oysters and oysters on the half shell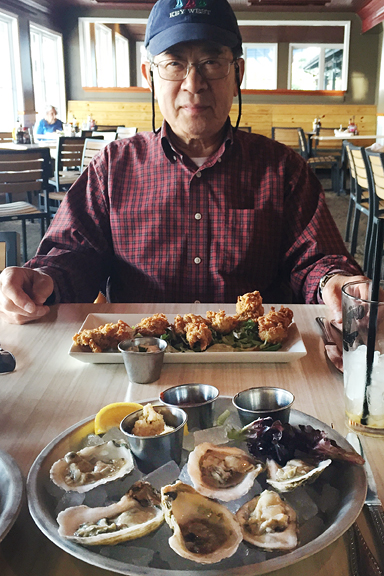 If you don't feel like driving across the river, hang out in Yorktown and explore historic Main Street, the battlefields, or the Yorktown Victory Center. Work up your appetite for lunch at
Riverwalk Restaurant
, the more upscale sister restaurant to York River Oyster Company. Generous portions, fresh seafood. A popular order is the she crab soup – creamy and chock full of lump crab meat, finished with sherry. The oysters on the half shell are normally served with cocktail sauce, but the kitchen will whip up a mignonette on request. My favorite dish was the ahi tuna tower which came loaded with creamy avocado, lump crab meat, and sliced ahi tuna. Menu choices range from small to large plates, light to hearty fare, and of course, sweets to finish your meal – all with a waterfront view.
ahi tuna tower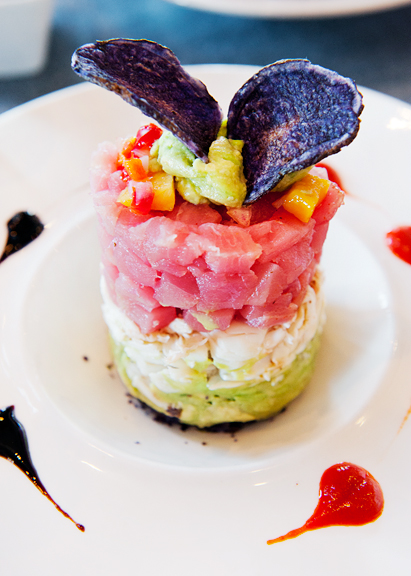 oysters on the half shell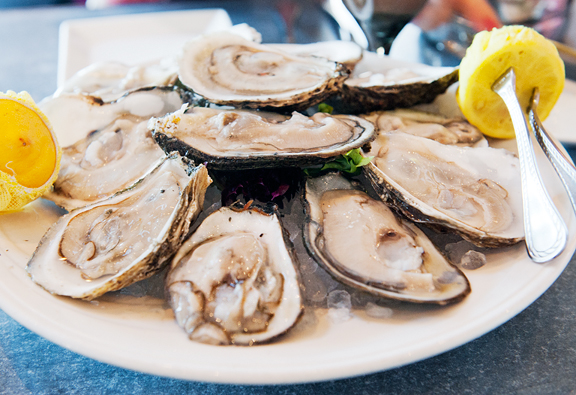 lobster roll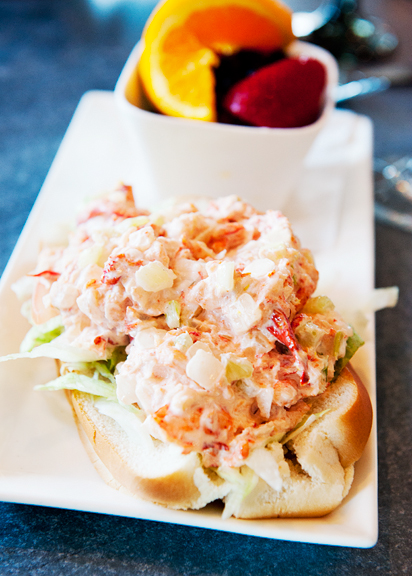 Back in Williamsburg,
James Landing Grille
offers delectable food on the lovely shores of the James River – right where I spent my childhood summers fishing, crabbing, sailing, and generally goofing off. Part of
Kingsmill Resort
, James Landing Grille is one of several restaurants in the Kingsmill complex. With a menu dominated by seafood options including selections from the raw and steam bar, there are also chicken, beef, pork, or vegetarian plates from which to choose. Kingsmill's signature corn and crab chowder is a must try for the uninitiated. Does slapping a crab cake atop a double burger seem odd? Well, it was FANTASTIC! I love the food and the laid back atmosphere.
flash fried calamari with banana peppers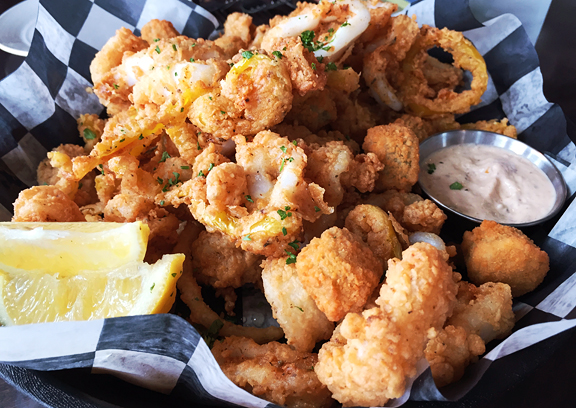 mom with her corn and crab chowder, dad with his burger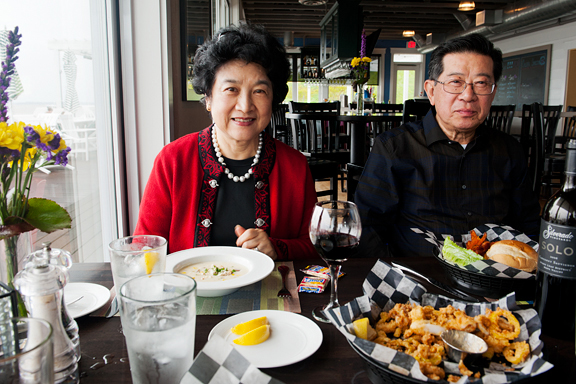 the jlg burger with a crab cake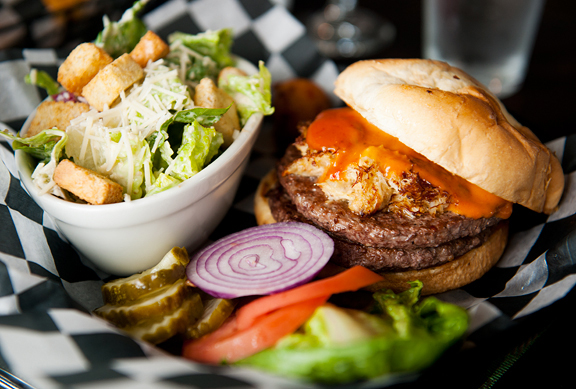 pulled pork sandwich with coleslaw, hush puppies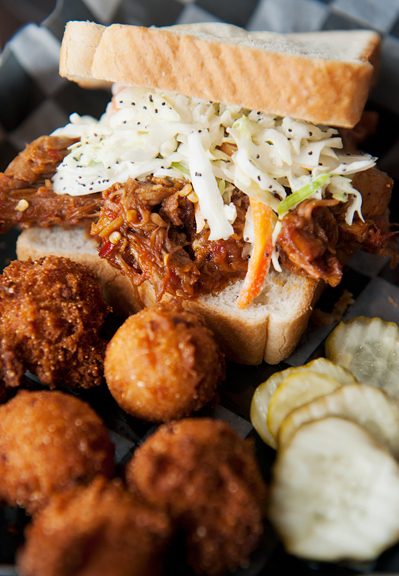 Williamsburg boasts more dinner options than you can shake a stick at, although one particular gem is not in Williamsburg at all. Family owned and run
Café Europa
, an old-school Mediterranean establishment lauded for its elegance, excellence, and service, is worth the one-hour drive south to Olde Towne Portsmouth (across the Elizabeth River from Norfolk). Consistently rated one of the top restaurants of Hampton Roads (a collection of cities, counties, and towns of which Williamsburg is one), this is where you want to have that special romantic dinner (or lunch). Chef Mike has been working his kitchen magic for 30 years on the impeccable preparation of classics like rack of lamb, almond-crusted salmon, osso bucco, seared duck breast, or steak frites. Partner and wife, Veronique, creates tantalizing French pastries for dessert and charms patrons in the front of the house. This delightful duo and their team provide more than just a meal – Café Europa is a divine experience that is not to be missed.
the entrance to café europa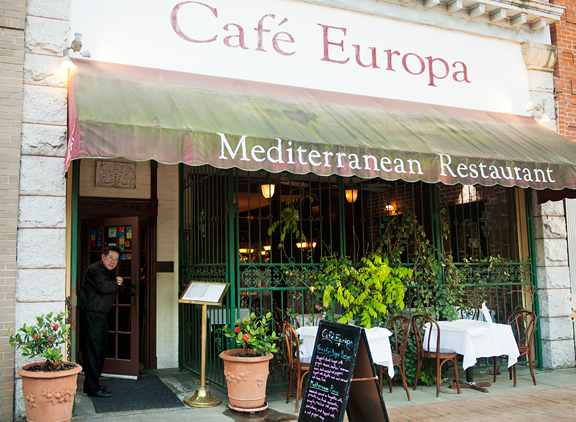 warm goat cheese salad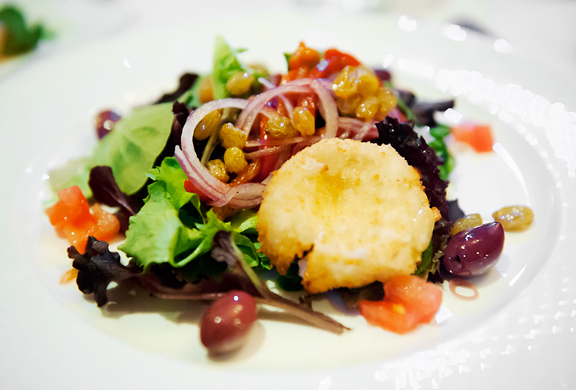 seared scallops in sherry-soaked raisins with bacon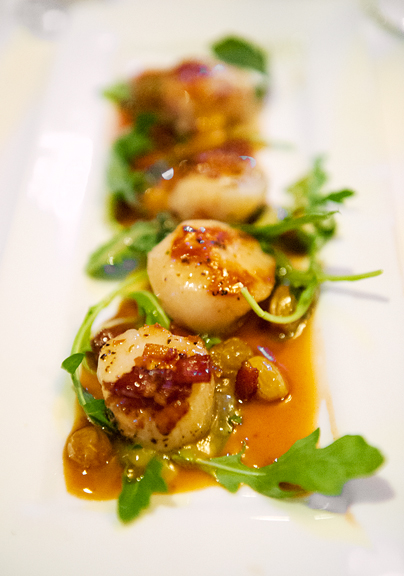 rack of lamb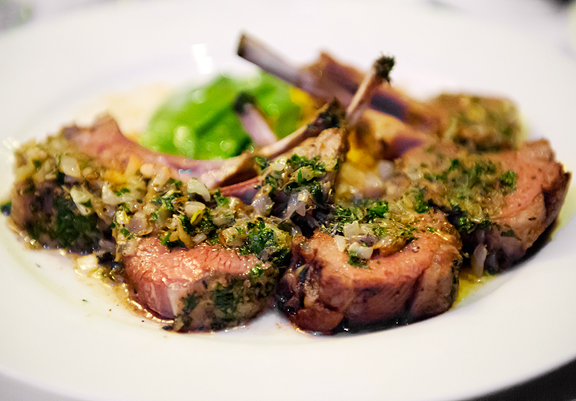 almond-crusted salmon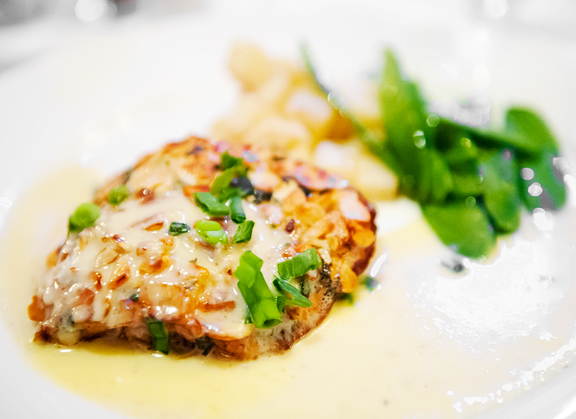 golden genoise with apricot and vanilla buttercream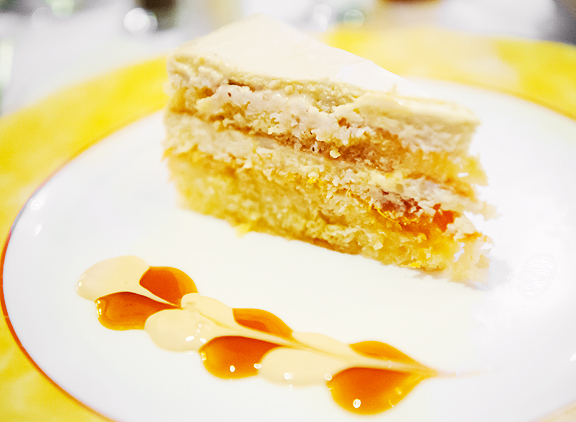 love is the magic ingredient: pastry chef veronique and chef mike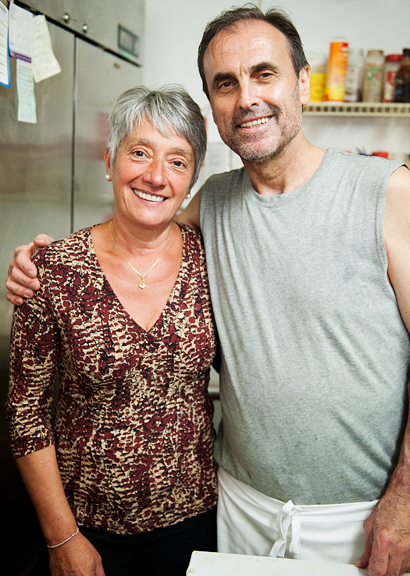 Le Yaca
(off Richmond Road), a top pick of Williamsburg locals, has been serving delicious French cuisine for lunch and dinner since 1980. You can sample the menu by ordering à la carte, 3-course prix fixe, or dégustation (chef's tasting menu). A great start to your meal would be the French onion soup that everyone raves about or perhaps try the escargots in garlic and parsley butter. Entrées offer something for everyone. Love seafood? Go for the pan-seared diver scallops or lobster tails poached in beurre blanc. If your tastes skew toward something meatier, I'd suggest the seared duck breast, steak au poivre, or rack of lamb. I especially love the trio samplers that free one from the pressures of deciding. Pro tip: leave room for dessert because it would be a shame to pass on their beautifully plated sweet endings like the crème brûlée or tiramisu. We have been dining at Le Yaca for decades, and I'm glad to see that it continues its tradition of preparing exquisite food.
la soupe du jour: celery root soup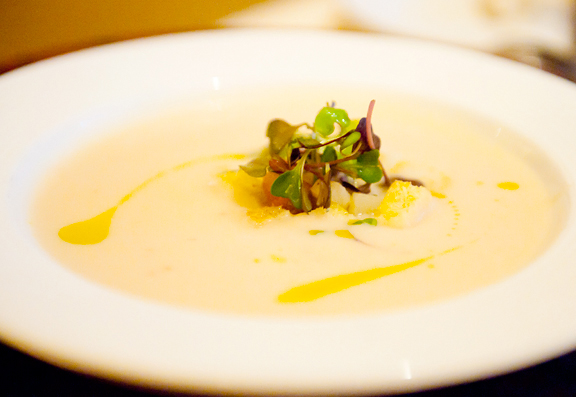 hand-cut ahi tuna 2 ways: classic tartare and seared carpaccio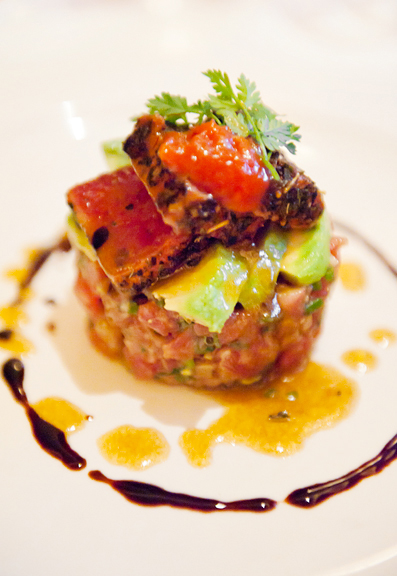 seared duck breast with white peach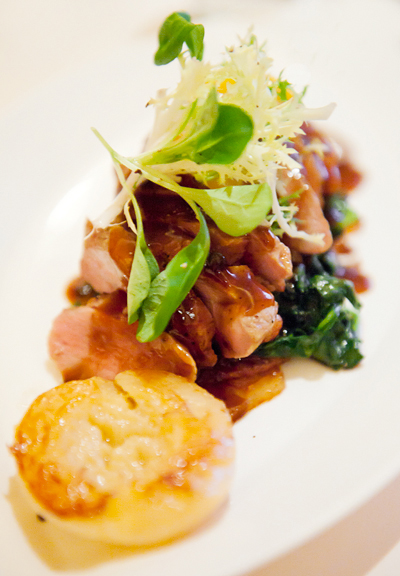 grilled lobster tail, dover sole meunière, pan-seared scallops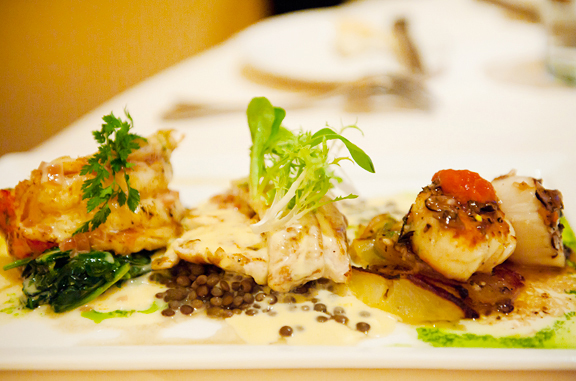 the apple tart with vanilla ice cream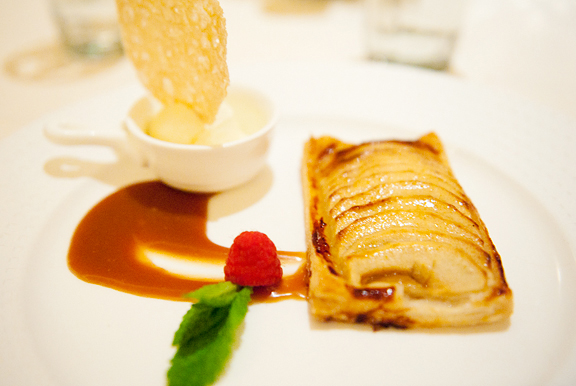 grand marnier soufflé with crème anglaise and raspberry sorbet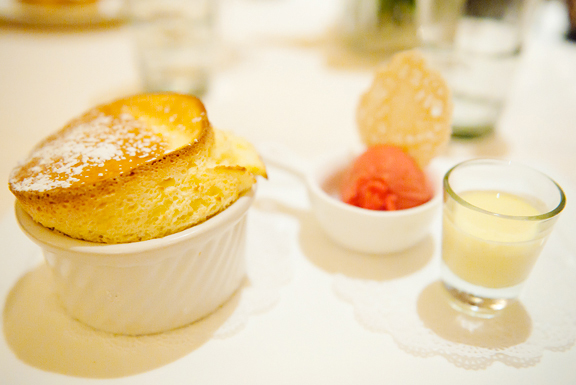 A relative newcomer to Williamsburg's fine dining scene,
Waypoint Seafood and Grill
routinely delivers on mouthwatering creations incorporating locally sourced ingredients – all served with some of the best hospitality in town. Don't let the strip mall location on Quarterpath Road fool you. This is the real deal. As the name of the restaurant would indicate, seafood dominates the seasonal menu. That said, their veal schnitzel is REALLY popular among regular diners. If you love oysters, this is the place to be. Waypoint serves the oysters every which way and all of them are delectable. Even if you don't love oysters, the freshness of the food and the artistry of the preparation is worth a visit or two, or three. The food is prepared with respect, and that is evident in the quality and utter deliciousness of every single dish.
the waypoint oyster: oysters, virginia ham, cheddar, spinach, crab, and bearnaise sauce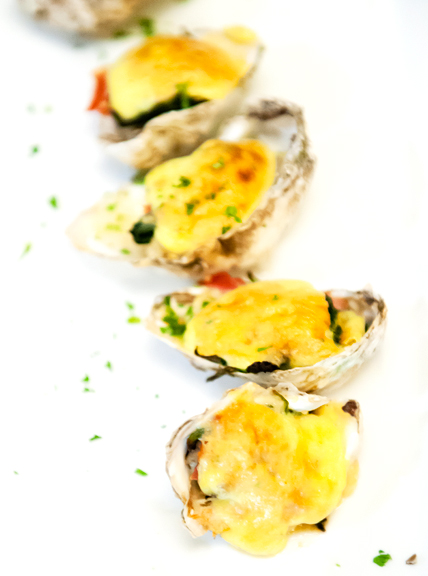 the "blt": fried green tomato, virginia fried oyster, house-cured bacon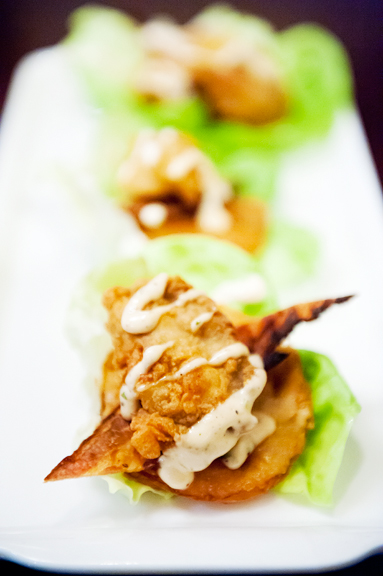 shellfish and grits: lobster, scallops, shrimp, stone ground smoked gouda grits, tomato lobster nage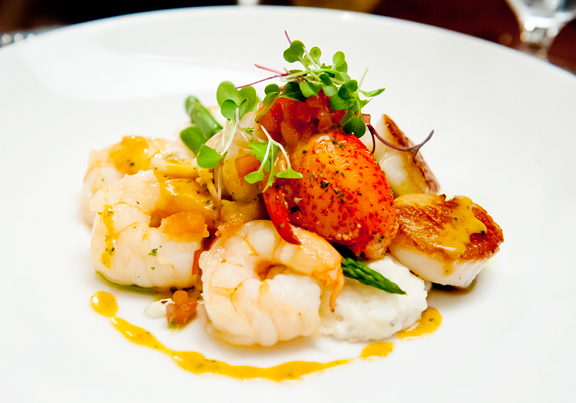 rockfish on roasted vegetables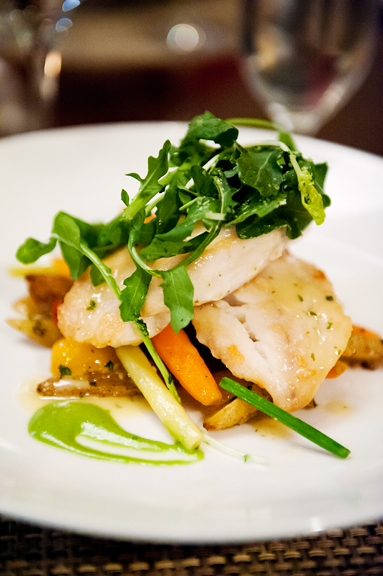 doughnuts with spiced apples and whipped cream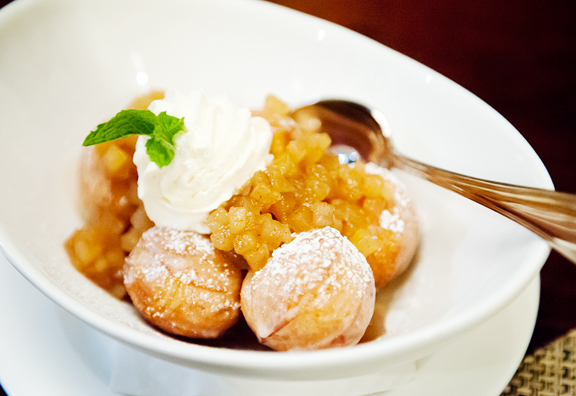 snickers torte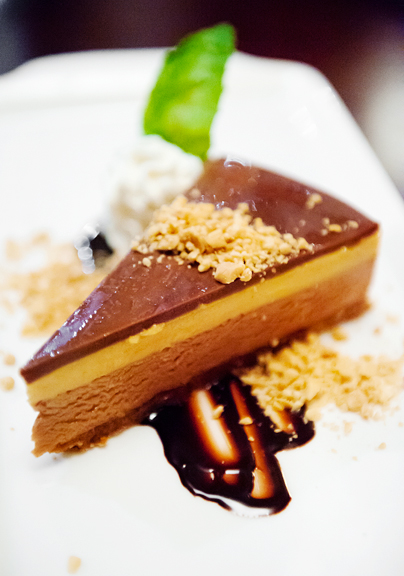 Since opening their doors over a decade ago,
Fat Canary
has earned a good bit of buzz and accolades for their fine wines, fresh and creative plates, and exemplary service. The restaurant sits adjacent to and is affiliated with The Cheese Shop in Colonial Williamsburg. Both Fat Canary and The Cheese Shop are proudly owned and operated by the Powers family. Very popular with locals and visitors alike, Fat Canary offers a nice array of seasonal menu selections. While it seems every fine restaurant in the area serves up seared duck breast, rack of lamb, or pan-seared scallops, I like Fat Canary's fresh take on these classics. Be sure to end your meal with one of the beautiful plated desserts – you will eat them with your eyes as well as your mouth.
crispy oysters, sweet onion, tomato, green chile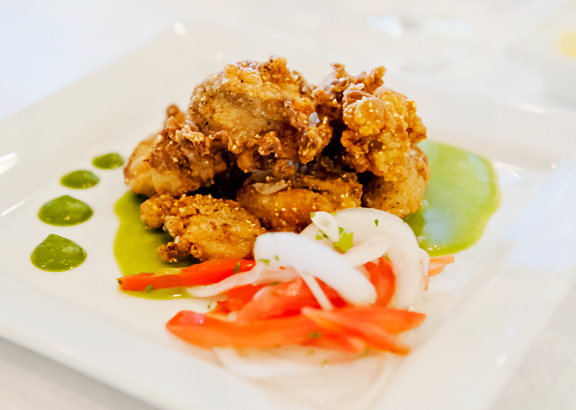 braised lamb shank on mashed potatoes with green beans and mushrooms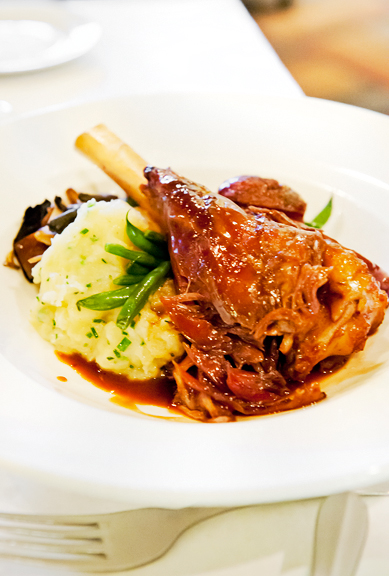 duck breast on a bed of spring vegetables, wild mushrooms, and noodles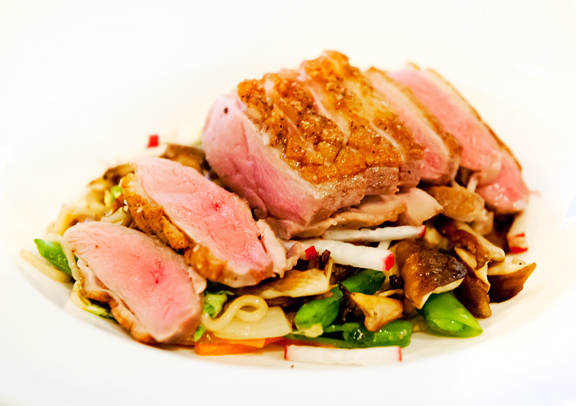 pork chop with charred onions, stewed apples, and cheese soufflé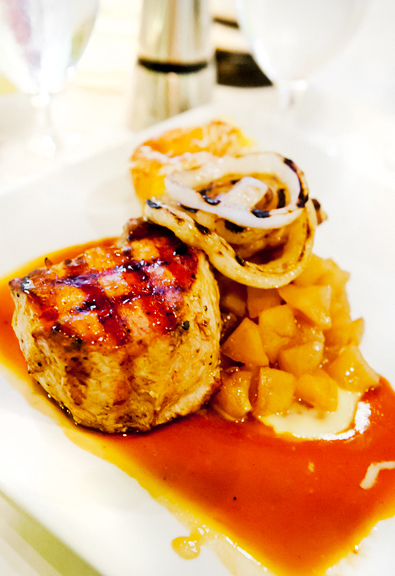 chocolate mousse cake with ganache, cookie, and raspberry purée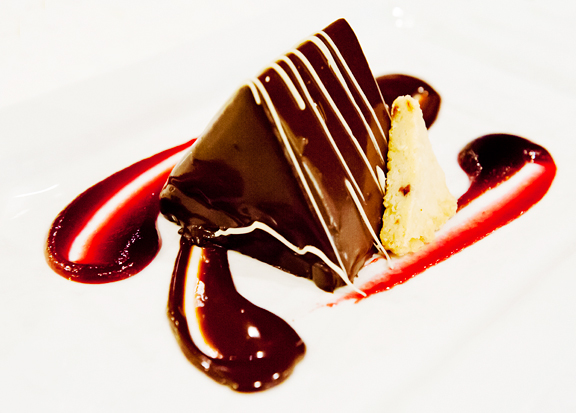 macadamia nut pie with vanilla ice cream, caramel, and caramelized pineapple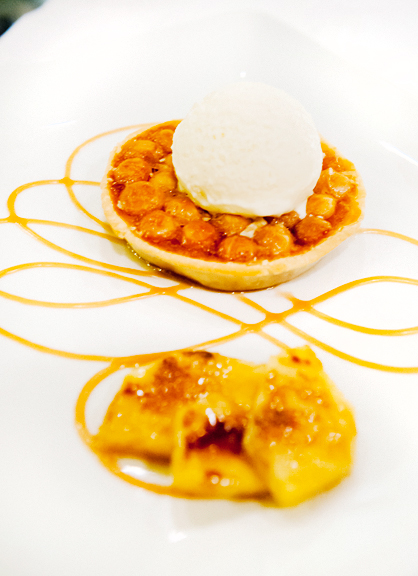 As I warned at the start of this post, there are far more restaurants in Williamsburg than I have days to visit. That's not a bad thing, though. I love trying out fun new places as much as I enjoy revisiting old favorites. Should you find yourself in Williamsburg wondering where to grab a bite or sit down to a meal, this list should get you pointed in the right direction.
Full disclosure: I was not compensated in any way by the dining establishments mentioned in this post. All opinions are my own.

more goodness from the use real butter archives